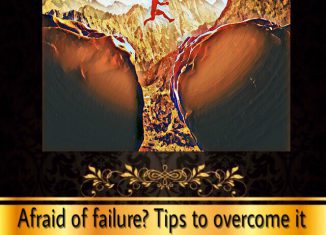 Have you ever wanted to try something so bad but didn't do it just because you feared that it wouldn't go well? Perhaps you've experienced this before. A lot of us have experienced this at least once in our lives.
The fear of failing (also called atychiphobia) can be paralyzing, since it causes you to do nothing, preventing you from achieving success and enjoying the good things life has to offer.
Doesn't it suck? I bet it does. Imagine everything you would do and accomplish if you were not afraid of what it could happen.
The good news are that you will learn what failure really means, how to know that you fear it and ways to overcome it, so keep reading 🙂 
.
What is failure?
---
What does it come to your mind when you hear the word failure? Perhaps that you're not good enough?
A simple definition of failure is "a failing or proving unsuccessful; lack of success". While failure is associated with negative thoughts and emotions, we can also learn from it.
Let's take a look at some famous quotes from successful people:
"I haven't failed. I've just found 10,000 ways that won't work." – Thomas Edison
"Think like a queen. A queen is not afraid to fail. Failure is another stepping stone to greatness." – Oprah Winfrey
"I've missed more than 9,000 shots in my career. I've lost almost 300 games. 26 times I've been trusted to take the game winning shot and missed. I've failed over and over and over again in my life. And that's why I succeed." – Michael Jordan
"Success consists of going from failure to failure without loss of enthusiasm." – Winston Churchill
"Failure is simply the opportunity to begin again, this time more intelligently." – Henry Ford
.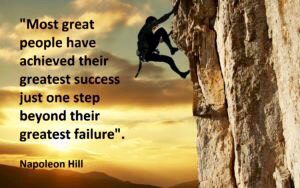 .
When you take these words into consideration, you understand how powerful failure can be. The truth is that you only fail when you give up or don't try at all. You're not a failure if you try something and it doesn't go as you want. When you keep trying until you've found the solution or answer, you achieve success. Failure is not the opposite of success, it's part of success! 
.
Signs that you may have fear of failure
---
In order to overcome this fear, it's essential that you first get to know if you're suffering from it. 
That's why I'm about to mention some symptoms that you might be experiencing:
You worry about what other people will think about you if you fail

. In this case, your fear of failing is bigger than your motivation to succeed. This may happen because you seek approval from people who are important to you, so you are afraid of disappointing them and that's what stops you from taking action.
You doubt yourself because of your past failures and mistakes

. We all have made mistakes and failed before, so maybe you have these kind of thoughts: "I don't have any talent", "I've tried a lot of times to lose weight but I haven't", "I started a business but went to bankruptcy"… Then you reach the point where you think "why to try again if I've always failed?". Let me tell you that every time you try, no matter how it goes, you end up learning something and get closer to success.
You're very perfectionistic

. If you're a perfectionist, you want to avoid all kind of mistakes and flaws, and that's why you feel the need to be 100% in control of everything. The problem is that is not possible to have everything under control, but you at least do the best you can.
.
Ways to overcome the fear of failure
---
If you've come to the conclusion that you're afraid of failure, don't worry. I'm about to explain how you can overcome it.
Change your beliefs about failure

. You fear failure because you see it as something negative, you see it as the opposite of success. Instead of that, take into account that failure makes you learn, what makes you wiser and leads you to succeed. As I said before, you only fail if you quit or do nothing at all.
Avoid the "all or nothing" mentality

. You may be one of those people who think that there's nothing positive if something doesn't go 100% well, that's typical of perfectionistics. Instead of thinking this way, set goals and measure your progress, focus on improving and becoming the best version of yourself. Not everything is black or white. Perfection does not exist.
Stop expecting fast results

. Perhaps you're so desperate to see fast results that you get anxious. Let's say that you want to build a business and you're like "how long will it take me to make a profit? I'm sure not the first month, but when?", and this way you begin to think about things not going well before getting started. Instead of that, you need to keep calm and take one step at a time in order not to get stressed or anxious.
Learn from your failures

. Everytime something doesn't go as you want, ask yourself these questions: "Why hasn't gone as expected?", "What can I do next time to get a better result?". The answers to these questions will tell you what didn't work and what can be improved. These learning experiences can be of great value to your life.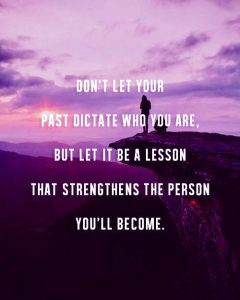 Don't take it personal. Understand that your results don't define you as a person. You're not a failure or a loser in case you have never achieved your goals or got the results you wanted, and it doesn't mean that you will not be successful in your future. Your past doesn't define your future. Always remember that you can grow as a person and do better in anything you do.
.
It may interest you
---
Turn Failure Into A Positive Force
.
I hope this article was helpful for you and you finally eliminate your fear of failure so you can start taking action in the direction of your dreams and become who you were born to be. If you have any questions or feedback, feel free to leave a comment below! Thanks for dropping by! 🙂