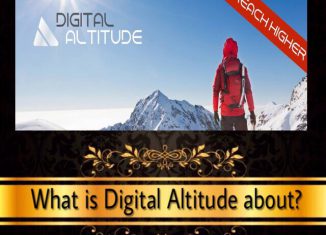 Hey there!
Perhaps you've landed here because you've come across Digital Altitude while looking to join an online program or course that teaches you how to make money or how to build a business, and you may be wondering whether it's a legitimate opportunity or another devious scam.
Let me tell you that you've come to the right place at the right time, since I'm about to explain what this program offers, who it is for and more. 
.
Digital Altitude review
---
Name: Digital Altitude
Website: www.digitalaltitude.co
Founder: Michael Force
Created in: 2015
Who it is for: network marketers, risk-takers and people who have money to invest
Price: from $37 to $27,997
Overall Ranking: 46/100
.
What is Digital Altitude? 
---
Digital Altitude is an online training business program that is supposed to help people from all walks of life succeed and achieve financial freedom. They offer a variety of products (which I will introduce you to later) that focus on personal development, entrepreneurship and online marketing.
This platform was created by Michael Force, a retired US Marine and very successful entrepreneur who built his first multi-million dollar business by the age of 27. He also was an Empower Network top producer and one of the websites he created, www.mobilemoneycode.com (now shut down), was reported as a scam (see more here).
What does Digital Altitude include?
---
In this section I will tell you about the Digital Altitude six core products, which are based up off the mountain theme.
Let's start from the low ticket products to the high ticket ones.
.
Aspire – Digital Business System
---
This is the entry level membership of the program. These are the services that you receive with this product: 
Latest tools & resources. This will allow you to be on top of trends so you always know what's new and what works in this changing online world.
Sales funnels & websites. This will let you automate the sales process.
Digital business video trainings. These video trainings will teach you marketing tips so you can grow your online business.
Done-for-you branding solutions. This will help you get more conversions and sales.
Traffic & social media solutions. Traffic is essential for any digital business.
Follow up sequences & sales automation. Here you will find out how to follow up with your prospects so you can achieve bigger profits.
Merchant & payroll services. Accounting, funding and cashflow services that will save you time so you can focus on what really matters.
High commission back end products. Resellable back end products that will let you leverage the platform.
Private digital client for life coaches. One on one private coaching from seven figures earners that will help you accomplish your goals faster.
Networking, coaching & live events. Your network determines your net worth, an important aspect that their networking events show.
Community & leadership. It's like the private digital client for life coaches but in a VIP mode.
Forums, live chat & support. This is something that helps folks in their path to success, so it's needed in every community and program.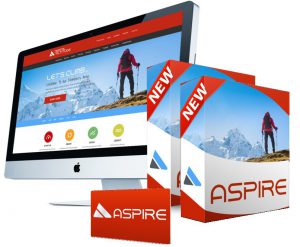 This product offers these three membership levels:
Aspire Walker

. This Aspire membership will give you access to the start up training videos, a tier payout, the members area and a 40% commission on each sale. Price: $37 per month.
Aspire Hiker. If you choose this level, you will have access to the same as the Aspire Walker plus monthly conference calls, additional sales funnels, a weekly training, client for life coaches and a 60% commission on each sale. Price: $67 per month.
Aspire Climber. It's the same as the Aspire Hiker plus a live climber training, sales assistance, done-for-solutions and traffic solutions. Price: $127 per month. 
.
Base – Digital Business Mastery Course
---
This product is all about the basics of a digital business, like setting up your website, your business goals, your financial goals… It contains 12 modules that are divided into these 3 sections:
Prepare

.

 

It includes

 the secrets of  setting the right foundations during the start up phase of your online business. 

Launch

. Teaches you how to release your business the right way the first three months while being in business.

Grow

. Once your business is up and running, this part of the training teaches you how to take your business to the next level. 
The price of this product is $597 (one time payment).
.
Rise – Digital Marketing Mastery Course
---
This one is like the advanced version of the Base membership. It consists in 19 modules, which are broken up into 5 sections:
Commit

. It's about the huge role that commitment plays when it comes to succeeding in your business. It teaches you the mindset you need to have to thrive. 

Customers

. It helps you understand the mind of your customers to attract them and make them buy from you.  
Create. It includes what you need to know about copywriting and creating good content to connect with your prospects.

Words

. This section reveals the secret to profit by using specific words for your ideal customers.

Partners

. This will teach you how to find other top marketers or people in your industry to make connections with and how to leverage joint ventures and other people's lists to become an authority in your niche.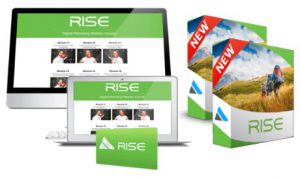 This Digital Altitude product costs $1,997 (one time payment).
.
Ascend – Digital Business Profit Workshop
---
The Ascend membership is a three days live workshop that takes place in Las Vegas. This workshop is led by Michael Force and his team. This is what's included:
Day 1. You will learn three funnel formulas, seven figures conversion hacks, six strategies to scale traffic and the top five most effective traffic sources.
Day 2. They will teach you how to tell your story, the power of a personal brand, how to find the guru in you and how to master video.
Day 3. You will get to know how to increase conversions with analytics, how to create amazing content, how to work smarter with outsourcing and how to build a team.
This three days workshop costs a one time payment of $9,997.
.
Peak – Digital Business Prosperity Retreat
---
The Peak membership is another live workshop like the Ascend membership, but this one lasts five days and it's for two people. Michael and his team cover twenty topics that are broken up into four topics per day:
Day 1

. You will learn to find the best talent to get the job done, how to scale your online business, how to add massive value when creating a product and how to create joint ventures therefore earning six/seven figures.

Day 2

. You will be taught how to prepare your legal entity, how to build your team to create a solid organization, strategies for awesome accounting and strategies for motivating a winning team.

Day 3

. You will get to know how to create customers for life, how to create powerful presentations that persuade, the power of influence and powerful sales growth strategies.

Day 4

. They will teach you about time management and productivity, how to create more efficiency in your digital business, how to create more time freedom and how to automate 80% of your business so you can work less.
Day 5. In the last day of this workshop you will learn the top five big financial mistakes to avoid, how to create more cashflow, how to raise more capital in your business and how seven figure earners made it.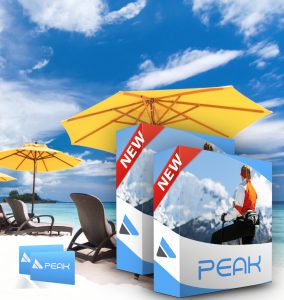 The price of this live workshop is $16,997 (one time payment).
.
Apex – Digital Business Legacy Experience
---
The last Digital Altitude product consists in a seven days retreat for two people. It's designed for very successful entrepreneurs who have already made millions. According to Michael Force and his team, it's the best business training event in the world. See what's covered during this one week period:
Day 1

. 

You will learn to secure your retirement income, how to build streams of cash flow, how to create additional income and how to become financially free.

Day 2

. 

They will explain how to take control of your financial future, how the rich get richer, how to beat wall street and how to fund your investments with other people's money.

Day 3

. 

You will get to know to create long-term wealth strategies, leverage secrets, how to invest like the rich do and how to boost your financial IQ.

Day 4

. 

You will be taught about the law of attraction, your financial thermostat, the inner game of wealth and how to stay wealthy for life.

Day 5

. 

They will teach you how to create your own bank, how to create a tax-free retirement, how to win the "credit score game" and how the rich use their individual retirement accounts.

Day 6

. 

You will learn about risk management tactics, the ultra rich legal tax strategies, impressive asset protection and annuity analysis.

Day 7

. 

In the last day you will be told about rising real estate, time tested tax liens, hidden markets & no money down and wholesaling & rehabbing profits.
The most expensive Digital Altitude membership costs $27,997 (one time payment).
..
Pros & Cons
---
So what's sexy about this program and what's not that sexy? Let's see that in this section…
.
Pros
---
Opportunity to earn recurring commissions (from 40% to 60% commissions).
Money back guarantee after a product's purchase. 
It's not a get-rich-quick system, it takes hard work to succeed!
 .
Cons
---
They don't give you the possibility to get started for free. They give you a 14-day trial for $1 but you can't try things out without giving them your credit card information.
It costs you $17 per month to become an affiliate. Affiliate networks and companies with their own affiliate program (for example the Wealthy Affiliate affiliate program) don't usually charge their affiliates to participate in the program.
You need to purchase the DA product you want to promote. No matter if you want to use the product or not, you'll have to buy it if you want to earn commissions by promoting it. 
You only get commissions for the level you're a member or for a level lower than yours. Let's say that you bought the Aspire hiker membership and you recruit someone who purchases the Aspire climber, in this case the commission from the purchase will be earned by your sponsor or another person who's on a higher level than you. 
If your coach/sponsor helps, your commission gets reduced. If your sponsor helps you close a deal or make a sale, you'll get a 40% commission instead of 60%. Doesn't it suck?
Recruiting is essential to make money. How are you going to make commissions without recruiting people to the program? Take into account that it's a MLM opportunity, and recruiting is one of the most important activities you need to do to succeed in this kind of business. 
.
My final verdict
---
I believe this program is for people who are not new in the internet marketing world, risk-takers and people who have been in the MLM industry before, especially people who have experience in recruiting and selling expensive products.
In case you're a beginner and are on a low budget, then I don't recommend DA to you, since this program will require you to invest thousands of dollars before you see a return on your investment.
If you want to participate in their affiliate program to earn commissions, you'll have to spend $54 per month as a minimum ($37 Aspire walker membership monthly fee + $17 affiliate program monthly fee). Take into account that if you purchase the Aspire walker membership, you'll only receive commissions if you recruit someone who buys the same membership as you.
I personally don't think it's one of the best programs out there but I won't call it a scam either.
There are a lot of people who say that DA is a scam because they haven't made any money with this system or have been scammed in the past by other programs similar to DA.
There are also other people who say that it's a legitimate business opportunity. Why? Because the program has made them successful and they're making huge profits.
But want to know the truth? 
Most people who are searching how to make money online are on a low budget, which means that they're not willing to spend lots of money to purchase a Digital Altitude high ticket product. You don't need to spend thousands of dollars to build an online business!
Like who says that you need to spend a lot of money to start a business when you have the chance to start for free thanks to a platform called Wealthy Affiliate? 
In case you've never heard of WA, it's the 1st online business program I recommend. They teach you to build a successful digital business through step-by-step training. If you want to know more about it, I invite you to read my top recommendation or you can join for free if you prefer 🙂  
So now it's your turn! What do you think of Digital Altitude? Do you think it's for you? Are you a member of this program?
I would love to hear your thoughts and feedback, so don't hesitate to leave a comment below. I'll be very happy to connect with you! Thanks for dropping by 😀