Welcome to my review of WorkForMoney.online!
You've come across WorkForMoney.online and are wondering if you can earn easy money, right? Or is WorkForMoney.online a scam like the others?
I'm glad that you've suspected of this money-making opportunity because there are too many scams out there so you need to be careful.
Here in this review, I will show you what WorkForMoney.online is about, why it's not what it appears to be, how it really works and more.
.
WorkForMoney.online review
---
Name: WorkForMoney.online
Website URL: workformoney.online
Owners: Hidden
Price: Free to sign up
Created in: March 2018
Overall Rating: 0/10
.
---
If you're sick of scams, check out my 1st resource to make money online here!
---
.
What is WorkForMoney.online about?
---
WorkForMoney.online is a website that claims you can start earning cash from home today. 
I don't like the fact that they don't tell you about the way you're going to make money in the homepage. There's not enough information to determine whether or not to get involved with this site.
Well, I can tell you right now, I've come across many sites like this one and know what this is all about so I decided not to use my personal data to join this site.
So what do you supposedly have to do to earn money from this site? 
After signing up, you will get to the dashboard area where you can find your referral link, similar to the one seen below:
They claim you will make $10 for each unique click your referral link gets, which sounds unheard of and very unrealistic.
I mean, most programs and sites that claim you can earn money without doing much work end up being scams. And I can guarantee you that workformoney.online is no different.
Let's see how this program really works so that you get to know the truth about it.
.
Can you make money with WorkForMoney.online?
---
The short answer is no, you will not earn money with WorkForMoney.online.
Even though it might seem like you are making money when you see your earnings rise and rise, the problem comes when you reach the minimum payout threshold of $300 and want to get paid.
You will claim your payment but they will not send you any money. Instead of paying you, they will tell you to complete a fake captcha test that is a list of offers to take. 
These offers consist in downloading games/apps, filling in forms, signing up for trials… and are very time-consuming. They're the kind of offers you would rather ignore.
Why do they want you to complete those offers? Because they will earn some cash for each offer you complete.
That's just one of the ways they try to make money at your expense. 
Another goal they have is collecting as many details as possible. They want to collect people's email addresses and they use you to get them.
They tell you to share your referral link to get other people to join and then collect their email addresses. 
And then, once they have collected a lot of email addresses, they will sell them to other companies or con artists.
That's why you can expect to receive spam emails from people you don't know. I don't recommend that you check out those emails because they probably are related to other scam sites or might contain malware.
So the truth is that you will not earn any money from WorkForMoney.online. The people behind it have not paid anyone.
I know this because WorkForMoney.online is the same scam I exposed a while ago called Employthere.online. They look the same: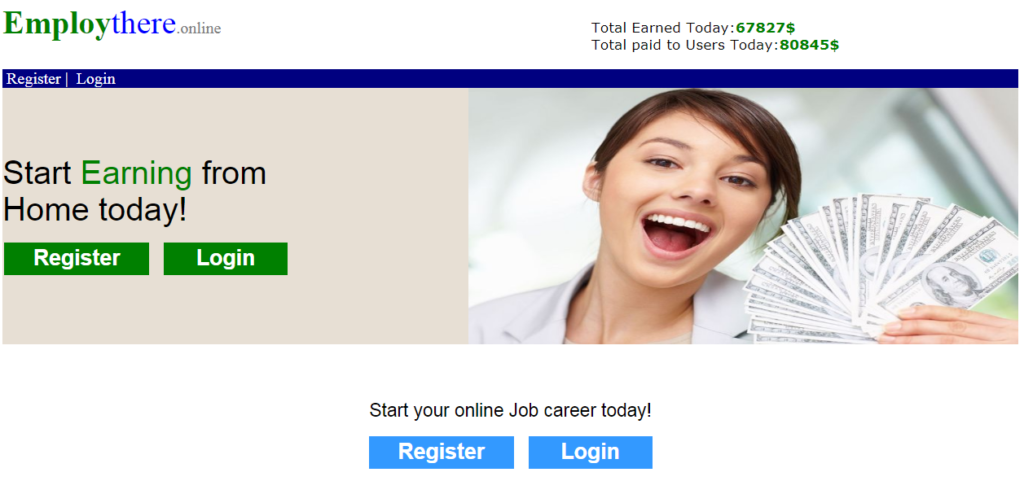 .
Is WorkForMoney.online a scam?
---
A site that doesn't live up to its promises and wastes people's time is a scam, in my opinion.
It works in a way that only makes money to the con artists who have created it, which is very unethical.
Apart from that, I want to point out some red flags I've found out as you need to be aware of them.
.
No way to know the creators of WorkForMoney.online
---
There's no information about the people who have created WorkForMoney.online so there's no way to know who we are dealing with.
Whenever I come across a website, I like to know who has created it in order to determine whether or not it's trustworthy.
The fact that the people behind that site don't show up is a clear indication that they're trying to hide something. 
I've reviewed many scam sites like WorkForMoney.online and most of them say nothing about the people who have created it or use fake characters.
.
Lack of important information
---
There's no privacy policy, earnings disclaimer or terms & conditions page. These are pages that you would expect to find in a legitimate website.
This is a red flag because those pages contain essential information that you want to consider in order to decide whether or not to get involved in a money-making opportunity.
Therefore, there's no way to know what they're going to do with the information you provide (for example, your email address) or what are their rules when it comes to closing accounts.
All of this leads me to believe that they don't really care about you making an educated decision concerning their site.
.
No support
---
What if we have some questions or issues regarding Workformoney.online? Is there someone we can get in touch to get help? No. 

The people behind WorkForMoney.online don't provide any email address or any other way to contact them, which leads me to believe that they don't want to hear from us and they don't really want to help us make money.
If they really cared about us, they would let us know how we can reach out to them, but they say nothing, nada about it.
.
A real way to earn money online
---
After everything I've seen and explained, I highly don't recommend that you try out Workformoney.online because it's not going to benefit you in any way. 
I've reviewed many scam sites like this one and no one has ever got paid. Some of them are already shut down like FixMonthlyIncome, Coin4Job, Income4Tasks…
But these scammers never stop. They buy other domains and use them for the same scam. The only difference between these scam sites is their names.
So how can you stop falling for these fraudulent websites? If your goal is to make a full-time income online, you need to keep in mind that it's not easy or fast. 
The day I realized that I was not going to earn anything without putting in the effort and time, is the day I started working my butt off, and I have no regrets.
The business model I've been using has given me a way to earn a consistent income month after month. 
I believe that anyone who is committed to learning, working and having patience can build an online business and make a living online. It's just a matter of time and effort.
By clicking the button above now, you will find out where you can get the step-by-step training and marketing tools that will help you build your own online business. And you'll also be able to get started for free =)
You will learn how to build a sustainable online business based on a topic you're passionate about.
To add to it all, you will also be well supported by me and other bloggers & Internet entrepreneurs! It's great to know that you don't have to do this alone 🙂 
It's your time to say bye to the scams and start building your future today!
LEARN ABOUT MY TOP RANKED PROGRAM NOW!
I hope you've found the answers you were looking for concerning WorkForMoney.online.
If there's something else you want to know or you want to share your opinion, please feel free to leave a comment below. I'll get back to you soon =)
Best wishes 🙂