Welcome to the TeensMakeCash.com review!
Have you stumbled upon TeensMakeCash.com and wondering if you can earn good money? Or is TeenCash a scam that will waste your time and leave you with less money than you have?
I'm glad that you've landed on this review because here you're going to find out the truth about this program.
Let's see why TeensMakeCash.com is not what it appears to be, how it really works and more.
.
TeensMakeCash.com review
---
Name: TeenCash
Websites: teensmakecash.com
Owner: Unknown
Price: Free to sign up
Created in: March 2018
Overall Rating: 0/10
.
---
If you're sick of scams, check out my 1st resource to make money online here!
---
.
What is TeensMakeCash.com about?
---
TeensMakeCash.com is a website that claims you can earn money by getting other people to join their site through your referral link and you can also make money for completing tasks.
According to the information on the TeenCash homepage, you will make $25 after joining and $10 for each person who signs up through your affiliate link.
The minimum payment threshold is $100 so you only need to get 8 referrals to get paid. Sounds good, right?
It's free to join so is TeenCash the program that will finally enable everyone earn money online?
I mean, it doesn't require you to have any special skills or previous experience. You only need to promote your referral link to get other people to sign up and make money so it sounds very easy and simple, doesn't it?
I thought it was a good money-making opportunity until I noticed some red flags (more on this later) that made me start suspecting.
But I really wanted to know how this really works so I decided to join using some dummy details and see what I found.
.
Does TeensMakeCash.com work?
---
I hate to be the bearer of bad news, but the truth is that TeensMakeCash.com only works for the people who have created it. Yes, it doesn't work to make you money.
.
It makes no sense
---
According to them, their money comes from some advertisers but this is not true.
Their site is free to join but there are no ads on it and they're not offering any products, so they do not get paid when you get other people to sign up.
There's no way that they're going to pay you $10 for each referral you get without them getting paid first.
The truth is that they want you to believe that they're going to pay you so that you get other people to join. They want as many people as possible to join so that they can make money. The more people who join, the more money they will earn.
.
What they really want
---
If you try to reach the minimum payout threshold of $100 and claim your payment, they will not pay you. They will take you to perform some tasks like filling in forms, taking surveys, downloading apps/games…
The thing is, these tasks and offers are very time-consuming and never end. The reason why they want you to take them is to get paid. The more offers you complete, the more money they will earn.
But that's not all, they also want to collect as many personal details as possible in order to sell them to other companies or scam artists.
Therefore, you can expect to receive spam and junk emails from people you don't know. I don't recommend that you check out those emails because they usually contain links or files that contain malware or viruses.
.
Is TeensMakeCash.com a scam?
---
Yes, I have no doubt that TeensMakeCash.com is a scam because it was created to generate profits for the con artists behind it.
I've explained why they will never pay you and how they try to make money at your expense.
In this section I want to point out the red flags that reveal how much of a fraudulent site teensmakecash.com really is.
.
No information about the people behind TeenCash
---
Whenever I come across a site or program like TeenCash, I like to know who has created it because it helps me determine whether or not to trust it.
I've reviewed many money-making opportunities and have found out that most scam sites usually have fake characters on it or do not reveal who the owners are because the con artists want to avoid persecution.
In this case, the people behind teensmakecash.com don't show up, which indicates a lack of transparency. Why don't they tell us anything about them? Most legitimate sites and companies reveal the identity of their owners.
.
Their email address is fake
---
I checked out their email address of their contact section and was wondering whether or not it was real.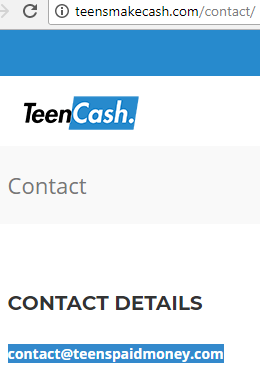 I remember many of the scam sites I've come across provide fake email addresses so I wanted to know if this one was fake or not.
The answer is yes, the TeenCash email address doesn't exist (see proof below) so you cannot expect to receive a response from them.

The fact that they lie about their email address leads me to believe that they don't want to hear from us.
If they really wanted to help us make money, they wouldn't lie about their contact information (their phone and address are also fake).
.
"As seen on" lie
---
Another thing that is not true is that they've been featured on famous news sites like CNN, ABC, Forbes…
I did some research and didn't find any connection between those news companies and TeenCash.
In fact, I've seen the "as featured on" lie in many scam sites that I've exposed. Con artists do this to gain credibility so that you end up getting involved in their crap.
.
Unrealistic income claims
---
Another scam sign is the "earn $500 today" claim. Whenever you stumble upon a site that claims you can start earning money easily or immediately, run away because it's a low-quality program or a scam.
The truth is that there's no way you will earn a lot of money the same day you get started. No matter the method you choose to make money, it will not happen fast or easily. 
Without putting in the effort and time, you will not earn a substantial amount of money. Don't you think all of us would have got rich online if it were easy?
.
It's a rehashed scam
---
TeensMakeCash.com is the same scam as TeensPaidMoney, TeensPaidCash,  TeensEarnMoney or Paid2Share.me. It's an old scam that has got its name changed multiple times to mislead potential victims.
In their about section, you can observe how they mention "Teens Paid Money" instead of TeensMakeCash or TeenCash.
Those scam sites no longer exist so I will not be surprised if TeensMakeCash gets shut down soon.
Another lie they tell us is that it's existed since 2008. I checked out the domain registration date and it's not even been a month since it was created:
.
My final conclusion on TeensMakeCash.com
---
My final verdict is that TeensMakeCash.com is a fraudulent site that was only created to make money at your expense. That's why I highly do not recommend that you try it out, but the final decision is up to you. 
I believe people who have been sharing their referral links to get other people to join TeenCash don't know it's a scam. I'll personally do not waste my time on that site and you will not see telling you to join.
When it comes to earning money online, there are more scams than programs I can recommend. You need to keep in mind that this requires you to learn, work and have patience. This is just like anything worth achieving in life.
The day I realized that I would not earn anything without working my butt off, is the day I stopped falling for the scams.
The business model I've been using has shown me the way to earn a consistent income month after month.
I love this business model because it's given me the chance to make money while helping people. 
I believe that anyone who has the right step-by-step training & tools and is committed to doing what it takes, can make it happen. It's just a matter of time and effort.
By clicking the button above now, you will find out how this business works, how and where you can get started for free and more.
You will learn how to build a viable online business based on something you love. An online business that makes you passive income month after month.
In addition, you will get the chance to get help and support from a big community of bloggers and Internet entrepreneurs. Not to mention that I'll personally be there for you as well =)
It's your time to stop falling for the scams and start building your future today!
LEARN ABOUT MY TOP RANKED PROGRAM NOW!
I hope this review has been helpful to you and you will end up making an educated decision.
If you have any questions or opinions concerning TeenCash or anything else, don't hesitate to leave a comment below and I'll get back to you soon! 🙂 
Have a great day =)