Have you been asking yourself "Is Gold Opinions a scam that will waste my money and time"?
Or perhaps you hope that this is going to help you earn a living online?
To begin with, I must congratulate you for taking the time to do your own research before buying into another money-making product.
You might already know that there are many frauds out there so doing your due diligence is the way to avoid scams and find the genuine way to make money online!
When it comes to Gold Opinions, it's not as great as they tell you in their sales page and my honest review is going to reveal everything they are hiding from you.
Gold Opinions review
---
Name: Gold Opinions
Website URL: goldopinions.com
Owner: "Paul Parker"
Launched in: 2015
Price: $1 for a 7-day trial + $27/month
Overall Rating: 2/10
---
If you're sick of scams, check out my 1st resource to make money online HERE!
---
What is Gold Opinions about?
---
The moment I came across Gold Opinions, I thought it was another low-quality or scam product like others I have come across in the past.
But I didn't want to judge it based on its appearance so I looked deep into it.
Gold Opinions claims to be an online paid survey portal where you can find surveys to complete and get paid for sharing your opinions.
They make it sound it's very easy and that anyone can do it because it doesn't require you to have any special skills or previous experience.
Not only that, they also claim you can earn up to $50 per survey, which sounds very unrealistic.
I mean, paid surveys are just a way to make some extra cash, not a substantial income online.
After having done intensive research on Gold Opinions, I cannot see how this is better than other paid survey programs I have reviewed.
It's not as good as their sales page says, so I am going to explain how it really works.
How Gold Opinions really works
---
The truth is that Gold Opinions is not a platform where you can find surveys to complete.
Gold Opinions works as an intermediary between survey takers like you and market research companies that provide paid surveys.
If you decide to purchase Gold Opinions, you will get access to a list of websites/platforms that you need to join to get them to send you paid surveys.
These websites are the ones that will pay you, not Gold Opinions.
So why does Gold Opinions exist?
Well, they can help you save some research time but you also need to know that they will make money if you sign up to the sites from their list.
The more survey companies you join, the more money they will make.
In my opinion, I don't believe the people behind Gold Opinions are making money taking paid surveys.
I believe they are earning money by selling Gold Opinions itself and referring their customers to paid survey sites.
After all, there's not much money to be made for taking paid surveys.
Get My FREE Step-By-Step Earn Money Online Guide here!
Paul Parker is not the real owner
---
The man who appears in the sales video is not the real owner of Gold Opinions.
He's said to be Paul Parker but the truth is that the person or people behind Gold Opinions don't show up.
How do I know this? I have seen this man in other sales videos so I'm sure he's a paid actor that has got paid to present Gold Opinions.
Not only that, poor quality products like this are usually promoted under fake names.
When the creators of a program/product don't show up, it's an indication that what they are selling is not as good as they want you to believe.
Fake testimonies
---
What about the positive comments we can read in the Gold Opinions sales page?
These people claim to have earned money taking paid surveys, one of them even claims to have made $1500.
However, the problem here is that these people are not real members of Gold Opinions.
That's right, they haven't bought Gold Opinions so these comments are invented by the people behind Gold Opinions.
Let's just take a look at this proof:

It happens the same with the rest of testimonies.
They are all fake, which means that the people who appear on those pictures are not related to Gold Opinions.
The owners of this product have basically bought those pictures on stock photography sites and then they have invented the comments.
The news logos are misleading
---
Something that made me start suspecting of Gold Opinions are the news logos.
They want you to believe that they have been recognized by these famous websites, but the truth is that they have nothing to do with these websites.
If you click on the logos, it takes you nowhere you can verify they have appeared on those sites. 
Not only that, I searched for Gold Opinions on those websites and didn't find anything so they don't have any kind of connection.
It's overhyped
---
The Gold Opinions sales page is very overhyped and contains various fake claims.
They are marketing it as if it were an easy or fast way to make money online when in reality it is not.
But that's not all. They want you to think that you can earn $50 per survey, which is not possible.
Companies usually pay from cents to $4 per survey, so you can't expect to make that much money.
It's not even easy to earn money this way because surveys take a lot of time to complete and you first need to qualify to complete them.
Also, when you are starting out, they will not send you many surveys so it's very limited.
Here's a case study on Upfuel about taking paid surveys. If you put in a lot of effort and time, you can earn up to two hundred dollars a month.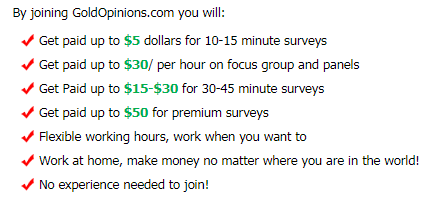 It's a clone of another product! 
---
Gold Opinions looked really familiar to me when I first came across it, and now I know why.
It's almost a clone of another product called Paid-Surveys.tv, which I reviewed two months ago.
As you can notice in the screenshot below, in the Paid-Surveys.tv sales page, they mention Gold Opinions: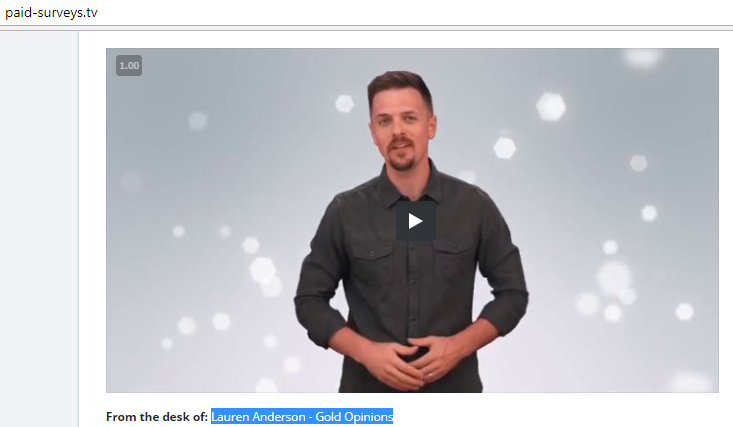 Now take a look at the Gold Opinions sales page:
As you can observe, both products are presented by the same guy!
It's even funny how this man is Paul Parker in Gold Opinions and Lauren Anderson in Paid-Surveys.tv.
Lol it's obvious his real name is not Paul or Lauren. He's not even the real creator of these products.
I laughed so hard when I found this out, honestly. 
He's probably a Fiverr actor who has got paid to recite the script given to him.
I have reviewed many money-making websites and products and can say that low-quality products like these usually use paid actors to prevent then real owners from showing up.
Check Out My FREE Step-By-Step Earn Money Online Guide here!
Is Gold Opinions a scam?
---
Whether Gold Opinions is a scam or not is something that depends on how you define a scam.
If you take into account their misleading and fake claims, then you will call it a scam.
However, if you consider that you might earn some money then it might not be a scam to you.
It all really depends on what's your main goal.
Apart from that, Gold Opinions is a ClickBank product which means that you can get a refund if you end up buying it.
But you need to keep in mind that it costs $27 a month after their $1 7-day trial, which means that you might not be able to get a full refund if you pay for their membership each month.
With that being said, I don't believe Gold Opinions is worth your hard-earned money or precious time.
If you asked me "would you pay $27 a month just to get access to a list of websites that you can find for free??", I would say a rotund no.
Just think about the amount of time you would have to spend taking surveys to make those $27 back.
In my opinion, taking paid surveys is not a good way to use your time to make money.
If you love answering questions and have a lot of free time, then I would say that taking surveys is for you.
However, if you are just looking to make money online, I recommend you to look for something else.
Gold Opinions is no better from these other platforms I have reviewed:
Because of everything I have explained, I do not recommend Gold Opinions.
What if you go for the big bucks?
---
If you are really serious about generating a full-time income online, it's best that you start doing something else instead of taking paid surveys.
I remember I got into taking paid surveys when I was starting out some years ago, but I gave up on it because I realized it was not the way to go to make a living online.
I'm grateful that I learned about a newbie-friendly business model that has given me a way to earn a consistent income online month after month.
It's a business model that takes advantage of millions of products and services that are available online, and it's only getting better because every day there's more and more products for sale.
In fact, people who created Gold Opinions are also using this business model to make money online but the difference between them and I is that I do not make fake claims to make a quick buck.
The truth is that you do not need to deceive people to make money. There are many people making an honest living online.
You can find more about this business in my FREE step-by-step earn money online guide here:
My free guide reveals what I do, why this business works so well, the step-by-step training and tools I used, proof that this business works…
And I also show you how to start today for free!
Yeah I'm not kidding, you can check it all out without spending a dime! Sounds cool?
Another great thing is the fact that you also get the chance to get free help and support from me and other like-minded people who want to see you succeed! 
Are you ready to leave the low-income potential opportunities behind and start building your future today?
CHECK OUT MY FREE EARN MONEY ONLINE GUIDE HERE!
I hope this Gold Opinions review has been helpful to you and you will make the best possible decision.
Don't hesitate to share it with whoever you believe that will benefit from it!
If there's something else you want to know or you have any questions, feel free to leave a comment below and I'll get back to you ASAP! ? 
Whatever you do next, I wish you nothing but the best =)