Is Slice The Pie legit? Or is it just another scam you need to stay away from?
To begin with, I need to congratulate you for taking the time to do your own research before getting involved in another money-making opportunity.
There are many scam websites out there, so doing your due diligence is essential to avoid scams and find the real way to earn money online!
When it comes to slicethepie.com, a short answer to some of your questions is that it's not a scam.
But is Slice The Pie worth your precious time?
My honest review reveals how this platform really works, whether or not you can benefit from it, the complaints and more.
Slice The Pie review
---
Name: Slice The Pie
Website URL: slicethepie.com
Owner: David Courtier-Dutton 
Created in: 2007
Price: Free
Overall Rating: 4/10
---
If you're sick of scams, check out my 1st resource to make money online HERE!
---
What is Slice The Pie about?
---
Slice The Pie (slicethepie.com) is a platform that gives you the opportunity to make money for reviewing songs and physical products like fashion items and accessories.
It was founded in 2007 by David Courtier-Dutton, who is also the founder of SoundOut.
They have recently partnered with fashion retailers from the US and UK to offer members the opportunity to earn money for reviewing other kind of products, not only songs.
Slicethepie basically connects unsigned artists and fashion designers with people like you.
They upload their music or designs and you are the one who helps them improve by offering feedback.
It sounds like a great opportunity to earn some money because it's free to join and it doesn't require you to have any experience or special skills.
In addition, they also have an affiliate program so you can also make money for referring people to their site.
How Slice The Pie works
---
In order to get started, you will have to complete a form, confirm your account and login.
Once you are inside, you will have to select a category to write a review. 
You might get different categories to choose from, since I have noticed that not everyone gets the same categories after joining.
The music category is the one that you will surely get because Slicethepie's focus is on songs.
After choosing a category, they ask you questions regarding the category.
For example, if you choose music, they will ask you what your favorite music genres are and how much you like each of them.
This is to match you with your kind of songs so that you can provide better reviews.
Earning money for reviewing songs and products
---
Before leaving a review, you will have to listen to the song for at least 90 seconds.
They will ask you how you feel about the song, how it can be improved and you will also have to choose a rating between 1 to 10.
Note that the minimum amount of words for each review is 60 words, so you cannot say the first thing that comes to mind.
They are quite strict when it comes to the quality of reviews so your reviews need to be original and unique. 
Something you can't do is use the same words for all your reviews, not to mention that you cannot copy and paste either.
Not only that, they do not allow you to offer too many reviews within a certain period of time so it's kind of limited.
Another thing is, they will not show you the name of the song and the singer after you have submitted the review.
They do this to prevent you from looking for information that can help you with your review.
When it comes to the money you can earn, when you first get started you can expect to make $0.01-$0.02 per review.
If you consistently write quality reviews, your star rating will get higher and will be able to earn more.
What about reviewing products? It's like reviewing songs but you will have to give your opinion about the material, the pictures… and will also have to rate the product.
Below you can see an example: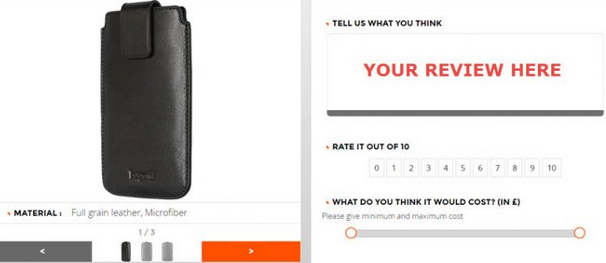 I noticed that they pay $0.1-$0.2 for reviewing products, which is higher than songs.
One of the reasons for this is that a product like this costs more than a song, so product owners are willing to pay more money to know what improvements they can make and boost their sales.
Earning for referring people
---
After signing up, you can access the referral link and invitation code that you will be using to get others to join through you.
This is what you will see right after joining:
You can share your link or code wherever you want like Facebook, Twitter, forums, chats…
Your referrals will need to be active for you to earn 10% commission from the money they make.
Click here to check out my FREE Earn Money Online Guide!
Is Slice The Pie legit?
---
In short terms, yes, Slice The Pie is legit.
They have been around since 2007 and many people have showed screenshots of the payment they have received via PayPal.
So yeah, you can earn some cash if you put in the work and time.
I also like the fact that the people behind Slice The Pie show up on their social media accounts because it's an indication of transparency.
There are so many websites and products that I have reviewed and it turns out that many product owners don't show up.
In my opinion, when the people behind a website or company reveal their identities is a good sign.
If you have some extra time and love listening to music, why not join Slice The Pie and make some money? It's also a good platform to discover new songs.
Is Slice The Pie worth it?
---
The answer to this question really depends on what you are looking for.
If you are looking to earn some pocket change, then Slice The Pie might be for you.
But you need to take into consideration that you might not be able to start making money the same day you get started.
Depending on your location, you might see this message after signing up:

But you still can share your referral link to get other people to sign up.
You at least need to reach $10 to cash out, but there will be a delay of up to 5 working days before you receive your money.
They say that they will read all your reviews before paying you, and they might even reject them and not pay you.
So there's no guarantee that they will reward you for your time and effort.
Even though there are people who have got paid, there have been many complaints lately.
Some people claim they haven't received the payment, others have had their account banned and are calling Slice The Pie a scam.
You can read all the complaints here.
Even though it's possible to earn a few dollars, it takes a lot of time to reach the minimum payout of $10.
You cannot expect to reach the minimum payout the same day you get started because there's a limit when it comes to the amount of reviews available.
Not only that, the most you can make is $2 per hour, given that you write a review every 90 seconds and get paid $0.05 per review.
In my opinion, reviewing songs and products is no better than completing paid surveys because the income potential is the same.
So is Slice The Pie worth it? I know it's not for me.
After everything I have mentioned, I don't recommend Slice The Pie.
What about going for the big bucks?
---
Want to know what's cool? There's a way to make a living online writing reviews!
For example, you can use the same business model I use and make money when people purchase the products you review.
You can do this by building a website concerning a passion that you have and write reviews related to your passion.
There are millions of products and services out there so you can write reviews about anything.
Best part is, you can earn passive income with this method!
In other words, you can review a product once but make a commission every time someone purchases the product.
If you review products on sites like Slice The Pie, you only make money per review so you stop making money if you stop writing reviews.
Because of this, building your own website and reviewing products on there has so much more potential.
You can find out what this business model is about on my FREE step-by-step earn money online guide here:
My free guide shows you how this business works, how easy it is to build your website, why this business works, proof that it works…
And I also reveal how you can start for free today!
That's right, you don't have to spend a dime to check it all out and decide if this is right for you =)
Your free account will give you access to step-by-step training and tools that will show you how to get started properly.
This business takes commitment, time and effort to make it work, but when you are making passive income you realize every step you take is worth it.
Another great thing about this is the fact that you can get free help and support from me and other people who want to see you succeed! 
Are you ready to stop wasting your time on GPT sites and start building your passive income machine today?
CHECK OUT MY FREE EARN MONEY ONLINE GUIDE HERE!
I hope this Slice The Pie review has been helpful to you and I have answered the question "Is Slice The Pie legit?".
Don't hesitate to share this post with whoever you believe that will benefit from it!
If there's something else you want to know or you have any questions, feel free to leave a comment below and I'll get back to you ASAP! ? 
Whatever you do next, I wish you nothing but the best =)