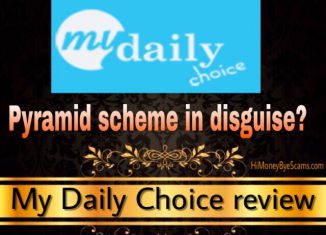 Have you been asking questions like "Is My Daily Choice a scam that will waste my money and time?" or "Is My Daily Choice a pyramid scheme in disguise?".
Well, first of all, congratulations on doing your own research before getting involved in another money-making opportunity.
There are too many scams and frauds out there so doing your due diligence is the way to avoid scams and find the legit way to earn money online!
To be straightforward with you, I am not associated with My Daily Choice so you can rest assured knowing you are getting an honest review here.
Mydailychoice.com review will show you what this company is about, their compensation plan, what I like and don't like about it and more.
My Daily Choice review
---
Name: My Daily Choice
Website URL: mydailychoice.com
Owners: Josh Zwagil & Jenna Zwagil
Created in: 2015
Price: $69 – $599 + $20 activation fee + cost of products
Overall Rating: 5/10
---
If you're sick of scams, check out my 1st resource to make money online HERE!
---
What is MyDailyChoice.com about?
---
My Daily Choice has not been those many years in business. They started out in 2015, which got me surprised.
I mean, many MLM companies that offer physical products have been at least 10 years in business so My Daily Choice is one of the newest.
My Daily Choice was founded by Josh Zwagil and in June 2017 it merged with Hempworx, a company owned by Jenna Zwagil.
This multi level marketing company offers products from the health and wellness niche, all of which are created with Deer Antler Velvet.
They claim these products can improve some areas of your health and reverse aging, which sounds great.
Apart from their products, they also give people the chance to become independent distributors and earn money promoting what they offer.
My Daily Choice's product line
---
The products provided are the My Daily Choice sprays and the HempWorx's oils.
As I said, their products help improve your health.
Let's see what the 7 MyDailyChoice sprays help you with:
Peak. Boosts your immune system and supports anti-aging
Shield. Reduces the risk of chronic diseases and boosts your energy levels
Boost. Increases your energy levels with Vitamin B12.
Trim365. Helps you suppress your appetite and burns fat faster.
Sleep. Helps you rest and sleep better.
Brain. Improves your cognitive function & memory and helps you with your mood and anxiety.
I like the fact that their sprays are said to be more absorbent than other kind of supplements like pills, gels or patches.
Many people, especially old people, struggle to swallow pills so these sprays make it easier for them to improve their health. 
Their sprays contain an ingredient called Deer Antler Velvet, which is a substance that has been used to cure a wide range of diseases.
Not only that, these sprays also include super food ingredients like Vitamins, Glycerin, Raspberries, Resveratrol…
Their other products are HempWorx oils that help you control your pains related to your immunological and neurological health systems
I love the fact that their products are tested and contain high quality clinically proven ingredients.
Many people who have consumed them claim to have had many benefits curing pains that they didn't find in other products or methods.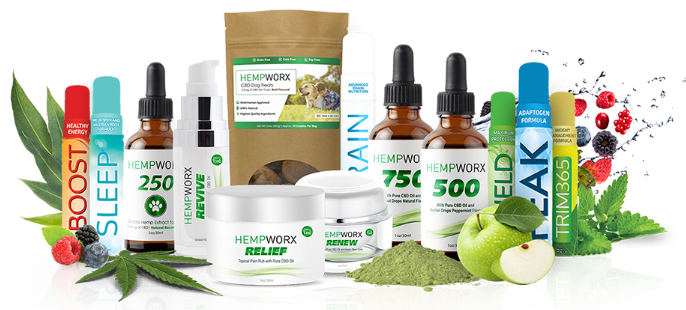 Click here to check out my FREE Earn Money Online Guide!
My Daily Choice's opportunity
---
Just like every MLM company, My Daily Choice has a business opportunity that enables you to make money by recruiting people into the company and selling their products.
I searched for their compensation plan and I have to say that it's very complex because it has 19 pages and there are many ways to earn.
Honestly, I don't like the fact that they make things complicated because the easier it is to understand, the less confusions there would be.
There are many MLM opportunities out there and some companies that had a complex compensation plan have turned out to be pyramid schemes.
Anyway, I'm going to explain how you can get started and the ways to earn money with the My Daily Choice opportunity.
My Daily Choice's compensation plan
---
In order to get started, you will need to choose one of their product packages which are the following:
Builder Pack – $69

2 Pack – $138

Director Pack – $199

Executive Pack – $599
The package you purchase will affect the level you start at, the products you get and the business volume you need for your level.
Not only that, you will also have to pay an initial fee of $20 to become an affiliate.
Each ranking determines the amount of money you can make from your downline.
Its structure is 10 levels deep and they provide these 8 ways to earn:
Selling their products to other people, even if they are not involved in the business opportunity. You will sell their products at a higher price than you buy them at.
Jump Start Bonuses. Depending on your business volume, you get more or less bonuses.
Binary Team commissions. You get to earn commissions depending on the sales made by your team.
Leadership Check Matching. Earn up to 10 levels of matching bonuses on your team.
Global Bonus Pool. It gives you the chance to make 2% of total revenue earned by the company.
Rank Incentives & Bonuses. You can earn gifts if you reach the highest ranks.
VIP Auto Club. If you reach at least the 5K Affiliate rank for 3 months, they will give you car allowances.
Elite Expense Accounts. They pay all travel expenses and hosting of events to affiliates who reach the 100K rank or higher.
To know more about their compensation plan, you can watch the video below:
How much money can you make with My Daily Choice?
---
They claim everyone can earn $1,000,000 a month, which doesn't sound realistic to me.
I mean, when it comes to MLMs, a minority of people get to make most part of the money.
In order for you to earn a million dollars, you would have to recruit thousands and thousands of people, who would earn way less than you.
If we take a look at their income disclosure, we can see that more than 50% of affiliates earn $10.22 a month on average.
More than 90% of affiliates (from Builder to Executive rank) get to make an annual average income of $1,086.24 or less.

It's less than the 1% of affiliates that get to make hundreds of thousands of dollars, as you can observe in the screenshot above.
That's what happens in most (not to say all) MLMs, most people don't earn that much money.
Most people quit the first months after getting started because it can take them a lot to make the money they have spend on the products.
Beginners who don't have much experience or marketing skills will have a hard time selling those products and building a team.
Leadership skills are essential to succeed in MLM business opportunities, and this is something that not everyone masters.
They will recommend that you promote these products to your friends, family members and people close to you but there's a limited number of people in a village or city.
If you are an extroverted person and have many connections and contacts, then it will not be that hard for you to sell these products or get others to sign up.
In my opinion, a network marketing business opportunity is best suited to people who have that salesperson personality.
Is My Daily Choice a scam?
---
Still wondering "Is My Daily Choice a scam"?
Well, in my opinion it's not a scam because they provide real products that can benefit people and it's also possible to make monet from their business opportunity.
However, they don't help much when it comes to the marketing part so that's why many people end up quitting.
It takes a lot of work and effort to reach their highest levels and earn 6 or 7 figures a year, just like any other business opportunity out there.
In my opinion, there are business models like the one I use (affiliate marketing) that cost less to get started but give you the chance to make the same kind of money.
Affiliate marketing has some advantages over MLM, such as the following:
It doesn't require you to recruit anyone.

You can work with multiple companies.

Option to earn commissions on products from different companies.

It's possible to get started for little to no money.

The compensation plan is not complex, you only get paid when you make a sale.

You don't need to buy the products you want to promote.
When you are in a MLM company, you depend 100% on it so you don't really own your business.
I believe that choosing a company that has been around for many years is essential if you are looking to get involved in a MLM biz opportunity.
Is My Daily Choice a pyramid scheme?
---
I don't believe My Daily Choice is a pyramid scheme because they offer valuable products and they also have retail sales.
A pyramid scheme would be a company or program that relies on recruiting without providing quality products.
For example, programs that don't offer their products to people outside the system usually end up being pyramid schemes.
Why?
Because the money only comes from the people who join the program.
A pyramid scheme will leave you with nothing when it falls down, so it's important that you make sure the MLM company you want to join is not a pyramid scheme.
For example, many people who were involved with Digital Altitude, Empower Network or MOBE ended up losing their money.
Another thing, beware of done-for-you systems because most of them usually end up being pyramid or ponzi schemes.
Some done-for-you systems I have reviewed are the following:
Just because My Daily Choice is not a scam or pyramid scheme, it doesn't mean I recommend it.
I don't like the MLM business model because it's pricey, outdated and limiting.
Because of this, I will not be recommending My Daily Choice.
A simple but lucrative business model
---
Like I said, the affiliate marketing business model is more simple than MLM but allows you to make a substantial income as well.
I personally prefer this business model because it has way more advantages, which I mentioned before.
Building an affiliate marketing business is not easy and also requires you to learn, take action and stay committed.
It's important that you learn from a reliable source because learning from outdated or incomplete training would make it way more complicated to build this business.
I'm grateful that I found a safe and legitimate online platform that offered me the training and tools that have helped me earn a consistent income month after month.
I started out as a complete newbie so it's thanks to this platform that I started making an online income, and it's only getting better because I work everyday on my business.
You can discover how all of this works in the FREE step-by-step earn money online guide here:
My free guide shows you how this affiliate marketing business works, why it works, the 4-step formula I followed, the step-by-step training and tools I used…
Not only that, you can also get this business started today for free!
That's right, the place I show you allows you to check it all out without taking out your credit card =)
Another cool thing about this is the fact that you can get free help and support from me and other affiliate marketers!
Are you ready to leave the MLMs behind and start building your own biz today?
CHECK OUT MY FREE EARN MONEY ONLINE GUIDE HERE!
I hope this MyDailyChoice.com review has been helpful to you and I have answered the question "Is My Daily Choice a scam?".
Don't hesitate to share it with whoever you believe that will benefit from it!
If there's something else you want to know or you have any questions, feel free to leave a comment below and I'll get back to you ASAP! ? 
Whatever you do next, I wish you nothing but the best =)