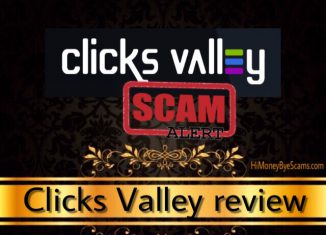 Welcome to my Clicks Valley review!
Will ClicksValley.com scam you out of your hard-earned money or is it an amazing platform to make an online income?
First of all, I must congratulate you for taking the time to do your own research before investing in another money-making opportunity.
There's a sea of scams out there so doing your due diligence is the way to avoid scams and find the real way to make money online!
To be completely straightforward with you, ClicksValley.com is a complete scam to stay away from!
My honest review reveals how Clicks Valley really works, the ugly truths and more of what you need to know.
Clicks Valley review
---
Name: Clicks Valley
Website URL: clicksvalley.com
Owners: Hidden
Created in: 2018
Price: at least $250
Overall Rating: 0/10
---
If you're sick of scams, check out my 1st resource to make money online HERE!
---
What is Clicks Valley about?
---
Clicks Valley is said to be a platform where you can find banners to buy and sell.
They claim you can make money when people click the banners you have bought.
It sounds very attractive because it doesn't require you to have any previous experience or special skills.
The people behind this platform say that flipping ads is the easiest and coolest way to generate an income online, but can we believe them?
This business is supposed to create a win-win situation for everyone involved, which sounds good because this is the way businesses get to last long-term.
The idea here is to buy and sell banners to help brands grow, and then they allegedly pay you when people click on the bannner ads you have invested in.
It sounds like an awesome opportunity to make money online because it doesn't take much work and most people with an Internet connection can do this.
When it's all said and done, I can guarantee that this doesn't work like they claim.
If you believe what they say and get involved in ClicksValley, you will get disappointed when you realize you don't earn any money with this.
Clicks Valley is a copy of these other online advertising scam platforms I have reviewed:
These scammers usually create new scam websites or platforms with different names to prevent potential victims from finding honest reviews like mine.
That's why you always need to do your own research before giving away your personal or financial information.
How Clicks Valley really works
---
Clicks Valley doesn't work the way they tell you.
This platform basically works to make money to the unethical people who have created it.
I mean, they are the only ones who get to benefit from this so they don't really provide a win-win situation.
In case you get involved, they will be the only ones who earn money at your expense which means that you will lose your hard-earned money.
In order to get started, you need to complete a form with your name, your email address, a username, a password, your phone number and your country.
Once you are inside, they will tell you to choose one of their packages and fund your account.
Without funding your account, you cannot buy banners.
Their packages range from $250 to $25,000, as you can observe below:

They will tell you that you will make more money if you invest in the most expensive package, since you get a bigger matching bonus and a VIP mentor.
But the truth is that it's all fake and their packages are not worth the cost because this doesn't work to make you money.
If you invest in one of their packages, you will be able to buy, bid and sell banners from their marketplace.

These banners supposedly appear on websites that get visitors and you supposedly make money when people click on the ones you have bought.
Not only that, you can also profit by selling these banners at a higher price than you purchased it.
Well, that's what they say, but let me reveal some ugly truths…
It makes no sense
---
If you use some common sense, you will reach the conclusion that ClicksValley cannot work.
The people who get paid when others click on ads are the people who host the ads on their sites!
You never have to pay for hosting ads and you cannot buy the right to own these ads.
The truth is that ClicksValley is not really partnered with any company so buying banner ads from their marketplace only makes money to them.
In other words, buying banners is the same as paying for nothing because these banners cannot make you any money.
Think of these banners as pictures that you can download for free on the Internet. You wouldn't pay for them, right?
So buying banners on ClicksValley is like spending money on pictures that you can get for free.
Click Here To Get My FREE Step-By-Step Earn Money Online Guide!
They will not send you any money
---
Let's say that you fund your account and buy some banners.
What will happen if you try to withdraw your money? They will not send you a dime.
The creators of ClicksValley will tell you to provide some documents like your ID, your credit card, your passport, an utility bill… 
This is actually very dangerous because they can use your personal and financial information for profit. 
They can sell it to other companies or scammers, which puts you at risk for identity theft.
Even if you provide them with those documents, they will not send you your money.
These con artists will do the most to make money at your expense.
They never limit themselves when it comes to the amount of money they can receive and they don't really care about ruining other people's lives.
The owners don't show up
---
Honestly, I'm not surprised that the creators of ClicksValley.com don't show up.
I have reviewed many scam websites and it turns out that scammers hardly ever reveal their identities.
These unethical people don't show who they are to avoid getting caught or persecuted by their victims.
They don't reveal anything of themselves but they want to get as much information as possible from their victims.
Remember that they ask for your phone number before joining? That's why they want to get in touch with you to convince you to give them your hard-earned money.
But that's not all. They will also send you BS emails related to other scams.
Conclusion on ClicksValley.com scam
---
There's no doubt that Clicks Valley is a scam that will take your money giving nothing in return.
I got to know about this scam thanks to one of my readers who got fell for this scam, unfortunately.
Below you can read the comment I received:
They read my review of BannerBit, which is the same scam as Clicks Valley.
Another scam that you need to avoid is ClicksDealer. I have noticed that these scammers have been using fake pages to drive people to these scams.
These are the fake pages to stay away from:
I hope you don't experience the same as my reader and avoid this ClicksValley.com scam.
Because of everything I have explained, I have to conclude that I highly do not recommend Clicks Valley.
A real method to make money online
---
As I explained, flipping ads is not a way to earn money online.
Scammers usually invent ways of making money online that don't really exist. They do the most to deceive other people and get their money.
If you are serious about generating a full-time income online, know that you will have to put in the effort and time to make it happen.
The method I use has given me a way to make a consistent income month after month, and it's only getting better because I put in the work everyday.
In fact, there are many people using this method to make a living online so I believe this is possible for you too!
This business model I use is newbie-friendly and lets you make money from many of the products and services that are available online.
Not only that, you will also be able to choose a topic you have a passion for to build your online business around.
You can learn more about this business in my FREE step-by-step earn money online guide here:
My free guide shows you what this business is about, the 4-step formula I followed, proofs that this business works, the step-by-step training and tools I used…
And the best part is, you will be able to get started today for free! 
Exactly, you will not have to spend a dime to determine whether or not this business is right for you. 
Another thing that you need to know is that you will receive free help and support from me and other Internet entrepreneurs! Details in my free guide!
Are you ready to say bye to the bastard scams and start building your money-making asset today?
CHECK OUT MY FREE EARN MONEY ONLINE GUIDE HERE!
I hope this honest Clicks Valley review has been helpful to you and you will make the best possible decision.
Feel free to share it with whoever you believe that will benefit from it!
If there's something else you want to know or you have any questions, don't hesitate to leave a comment below and I'll get back to you ASAP! ? 
Whatever you do next, I wish you nothing but the best =)