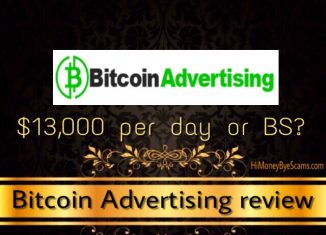 Hey everyone!
You've come across Bitcoin Advertising and are wondering whether this one is a legit money-making system or just another scam, right?
Well done on doing your research! I'm glad that you have landed on this review I've prepared because you're about to know the truth about the Bitcoin Advertising system, which will help you make an informed decision.
.
Bitcoin Advertising review
---
Name: Bitcoin Advertising
Website URL: bitcoinadvertising.co
Owner: hidden
Price: at least $200
Created in: November 2017
Overall Rating: 5/100
.
---
If you're sick of scams, check out my 1st resource to make money online here!
---
.
What is Bitcoin Advertising about?
---
Bitcoin Advertising claims to be making people rich and that you can become the next millionaire, which sounds amazing!
This is supposed to be an advertising app that has a 99.4% accuracy, something that is unheard of and makes no sense. 
I've been reviewing money-making systems and programs for a while now and I remember that all systems and softwares that claim to have a 99% winning rate end up being scams. 
So this Bitcoin Advertising software is said to be ahead of the online advertising market by 0.01 seconds, which apparently makes it the most consistent ad flipping app in the world.
Apart from that, Bitcoin Advertising claims you can at least earn $13,000 per day, which I consider to be way too much, especially if you're a newbie and are on a low budget.
I personally don't like systems or programs that make high income claims because the truth is that there's no success or income guaranteed and most systems and platforms that promise you easy riches end up being frauds.
.
How does Bitcoin Advertising work?
---
According to the information on their page, this is what you have to do in order to start making money:
Complete a form with your name, your phone number, your email address and a password.

Fund your account with at least $199.

Start flipping ads and profit.
I was suspicious because I noticed a lack of information in the Bitcoin Advertising page so I completed the form with random details. 
Then I got taken to the checkout page and got surprised. This is what I saw: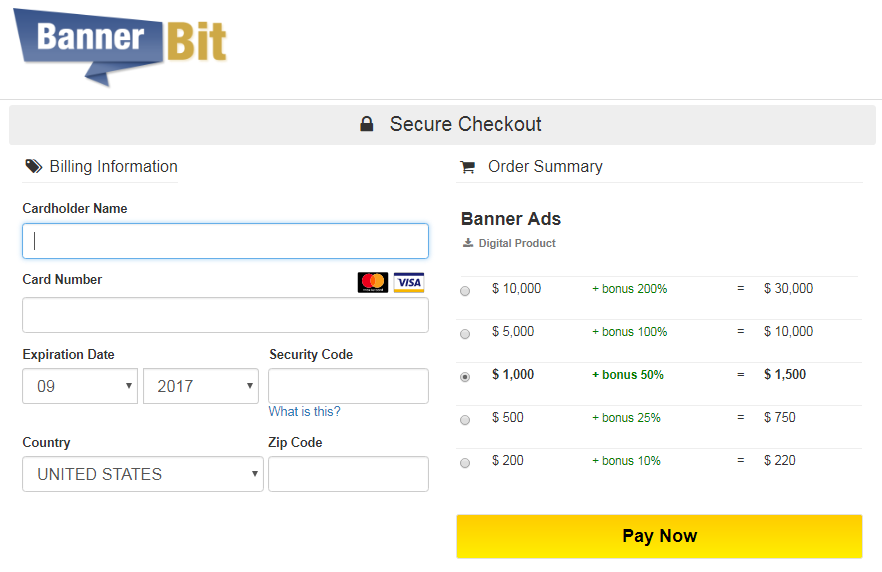 Why don't they tell us about BannerBit? Why do they call this software Bitcoin Advertising and then take you to BannerBit? 
Why do they ask you for your personal information without saying nothing about BannerBit? This is a huge red flag that indicates what the Bitcoin Advertising owners are really after.
When it comes to BannerBit, I remember reviewing it some weeks ago and also got comments from people who haven't had a positive experience. 
They first tell you to make a deposit of at least $200 and then you'll have to gamble it all. 
In addition, you can expect them to call you to tell you that they'll give you a bonus if you spend thousands of dollars on another package.
And you can also expect them to send you emails related to other scam systems or programs. 
The truth is that BannerBit is no different from other binary options scams like the Bitcoin Code, the Ethereum Code, 1K Daily Profit… 
And last but not least, BannerBit has nothing to do with Bitcoin. I've lately come across lots of scams that are taking advantage of the cryptocurrencies boom.
You can read my review of BannerBit if you want to know more about how it really works.
.
Is Bitcoin Advertising a scam?
---
There's no doubt that Bitcoin Advertising is a scam because it doesn't live up to its promises. In fact, it's not the name of the real platform. 
Bitcoin Advertising is just a page created with the purpose of getting you to buy BannerBit. There would be no problem if BannerBit was legit, but it turns out it's not. 
With that being said, let's see some scam signs that tell me we cannot trust Bitcoin Advertising.
.
Fake testimonials
---
In the Bitcoin Advertising page we can read some comments from people who are supposed to be members but the problem is that these comments and testimonials are fake.
Take a look at these two testimonials below: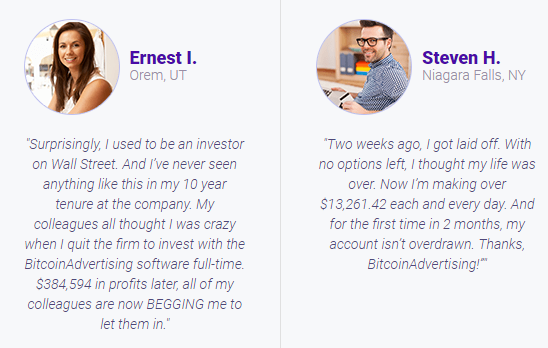 Those comments are completely fabricated. The people who appear in those pictures haven't tried Bitcoin Advertising or BannerBit and might not even know about their existence.
I did some image searches and found out those pictures are stock photos: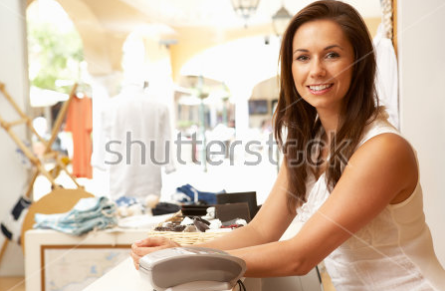 If this system really worked, there would be real positive reviews on the net and they wouldn't need to use stock pictures in order to create false testimonials and make you believe that this system will make you money. 
.
No information about the owners
---
There's no information about the people who are behind Bitcoin Advertising. This is another red flag because it indicates that they're trying to hide something.
This is something scammers do in order to protect themselves. They don't want anyone to persecute them after finding out their frauds. 
I personally don't trust sites or platforms whose owners don't show up or lie about their identities.
.
Lack of important pages
---
Bitcoin Advertising has no privacy policy, no earnings disclaimer and no terms page. Why don't they address this important information?
There's no way to know what they're going to do with your personal details. No way to know whether they're going to share or sell it with other companies or unethical folks. 
Note that most (not to say all) legit sites and companies have at least one of those important pages.
.
No way to contact them
---
And last but not least, what about support? Why don't they give us an email address or a contact form to get in touch with them?
What if you have any questions or issues? It looks like they don't want to hear from us and they don't really care about us.
This is what you can expect from con artists. They want you to pay for their good-for-nothing product and that's it. They don't care whether it's going to benefit you or not. They just care about themselves.
.
My closing thoughts
---
I strongly recommend that you stay away from Bitcoin Advertising and BannerBit because they've only been created to make the scam artists richer.
It's not going to make you $13,000 per day and it's not going to benefit you in any way. 
I'm very familiar with these get-rich-quick schemes and it turns out that not a single one works for people who're looking to make a living online in a legitimate way. 
The truth is that earning a full-time income from home requires real work, patience, consistency, learning… Don't you think everyone would have already made a fortune if it were that easy? 
And not only that, no one would value great things if they were that easy to obtain. The easier something is, the less people value it.
If you're committed to doing what it takes to generate an income online, then I believe you'll benefit from my favorite digital marketing platform.
This platform includes step-by-step training, courses and other useful tools that will guide you through the process of building an online business the proper way.
You can also rest assured knowing that you're not alone in this! This platform offers many ways to get support and help from other members and the owners =) I'll personally be there for you as well.
I also let you know that you can join for free! It's great the fact that you can try this platform without spending a penny and see if you like it.
If you're interested in learning more, click the button below now:
It's your time to say bye to scams and get on the right track to make money online!
I hope you've found the answers you were looking for concerning Bitcoin Advertising.
If you have any questions or opinions, don't hesitate to leave a comment below. I always love hearing from you!
Best wishes 🙂