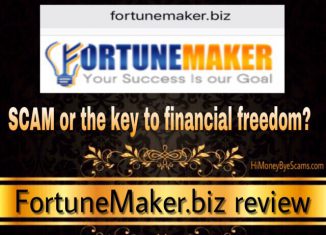 Welcome to my Fortune Maker review!
Have you come across Fortune Maker (fortunemaker.biz) and are wondering if you can become financially free thanks to it? Or is it another scam that doesn't live up to its promises?
There are too many online money-making opportunities out there so it's great that you take your time to do some research before getting involved in one of them because many of these money-making opportunities end up being scams ready to rob you blind.
Before getting started, I want to let you know that I'm not affiliated with FortuneMaker as a member or distributor.
Here in this FortuneMaker review, I will show you what this program is about, how it really works and what you need to know to make an informed final decision.
.
FortuneMaker review
---
Name: FortuneMaker
Website URL: fortunemaker.biz
Owner: Chuck Dhuey
Price: $30 – $10,000
Overall Rating: 2/10
.
---
If you're sick of scams, check out my 1st resource to make money online here!
---
.
What is FortuneMaker about?
---
FortuneMaker is a website that supposedly gives you the opportunity to earn a lot of money without having to recruit anyone. That's what they say.
But after looking deep into it I realized this does have to do with recruiting, even though they call it "sponsor". So yeah, recruiting is essential in order to make money here.
According to the information on their homepage, FortuneMaker is a great solution for most people who are struggling financially. Their success formula is helping average people create a life-changing income and become financially independent.
I personally don't like the fact that they claim that this is easy and you can make a lot of money because that's something I usually hear in scams or get-rich-quick schemes. I mean, legitimate programs are not the ones to tell you that making money is easy.
Anyway, this program is basically based on getting other people to sign up and purchase the same levels you have purchased (in case you get involved in it). 
When it comes to the product, it's about advertising. They claim you don't need to refer anyone to the platform to be able to receive additional earnings, since the FortuneMaker system will do it for you.
After taking a closer look at their website, I noticed that there are some banner ads regarding other business opportunities. 
But the thing is, they're not offering any packages you can buy to get your banner ad on their website which means that you have to register to fortunemaker.biz in order to promote your business.
It would be better if they offered the advertising service separated from the business opportunity, in my opinion.
.
How does FortuneMaker work?
---
In short terms, it's possible to make money with FortuneMaker but recruiting is not optional, it's essential to earn the big bucks they talk about in their website.
In order to join, you need to have a sponsor. You'll have to fill out a form with your name, your address, your email address, your phone number…
After that, you will receive a confirmation email that will give you access to a security code (necessary to make withdrawals) and a welcome email with your username and password to log in.
Then you will have to choose the cryptocurrency (yup, they don't allow you to pay with PayPal, credit card or bank transfer) with which you want to pay the initial fee of $30 to get started and join their "Million Dollar Matrix".
If you take a look at the picture above, this is the most you can earn in each level (MO a.k.a. Matrix Overide):
MO1 – $708

MO2 – $36,195

MO3 – $361,950

MO4 – $3,619,500
In order to get from MO1 to MO2, you will have to accumulate over $120 and then $100 will be used to upgrade to MO2.
When it comes to qualifying to MO3 and MO4, you will need over $1,000 and $10,000 in your account, respectively. This means a lot of recruiting!
So what if you don't earn enough money to qualify to MO2 and want to make a withdrawal? Commissions will only be available 120 days after you've joined the program. Yup, you will have to wait 4 months to get paid if you cannot upgrade to MO2.
.
Can you become a millionaire with FortuneMaker?
---
They really know how to get you excited by showing you those big numbers.
However, will it work? Is it really possible to make millions doing this? The short answer is no. Let me explain.
The compensation plan chart is not easy to understand as it makes no sense. If everyone who joins this program only pays $30, there's no way you only need to recruit 3279 people because $30 x 3279 people = $98,370. Not even $100,000!
Therefore, you need to refer waaay more than 3000 people to make millions. Even if you managed to recruit 100,000 people, it wouldn't be enough because that's only $3 million dollars coming into the scheme.
If you take into account that the money that comes into the scheme doesn't only go to you, then it's clear that more than 100,000 are needed for you to make the millions of dollars they speak of.
In my opinion, I don't see 100,000 people joining this program. Not even 10,000.
If you think about it, the advertising service is not for everyone because not everyone has a business. It's only for people who want to promote their business so you can't expect a lot of people to join if we only take into consideration the service.
So most people who end up getting involved in these kind of programs do it because of the money-making opportunity, not the service. 
And the problem I see with this is that the money-making opportunity is all about recruiting other people into the same program, something I'm not a fan of because this is not providing value and it's not sustainable for the long-term. More on this later.
.
Is FortuneMaker a scam? 
---
I don't consider FortuneMaker to be an outright scam because of the advertising service they're offering, but it doesn't live up to its promises when it comes to the money-making opportunity.
As I've explained before, there's no way someone can make millions from this.
Apart from that, I've noticed other red flags that I'll be discussing in this section because it's something you might want to know.
.
The Team Leaders of the month are fake
---
Whenever I come across a money-making opportunity, I like to check out if they mention who's running it.
In this case, I was kind of surprised to see that they're not lying about Chuck Dhuey being one of the people behind FortuneMaker. He even posted it on his LinkedIn account.
However, I also checked out the "Team Leaders of the month" and found out that they're fake.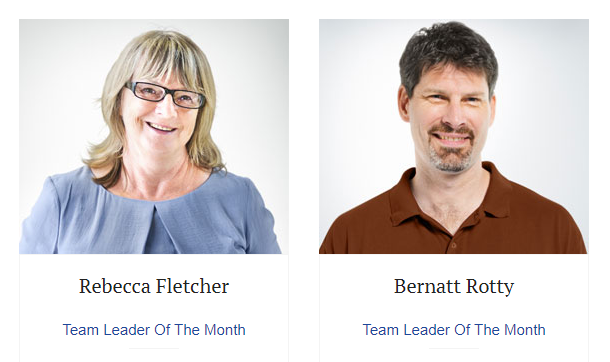 I did some image searches and see what I found: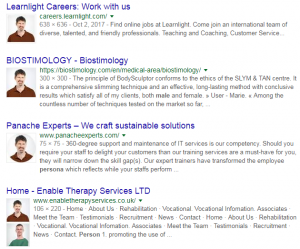 Those pictures can be found all over the Internet, which means that they've been used in many websites. I searched if these people are members of FortuneMaker but I didn't find anything. 
It's clear that they are not real members of FortuneMaker. This leads me to believe that if there really were successful FortuneMaker members, they wouldn't have lied about it.
.
The testimonials are made up
---
It's not only the team leaders that are not real, the comments and testimonials are fake as well!
For example, take a look at this one below:
The truth is that this man in the picture is not Robert Harris. He's a stock model I found on Shutterstock, as you can see below: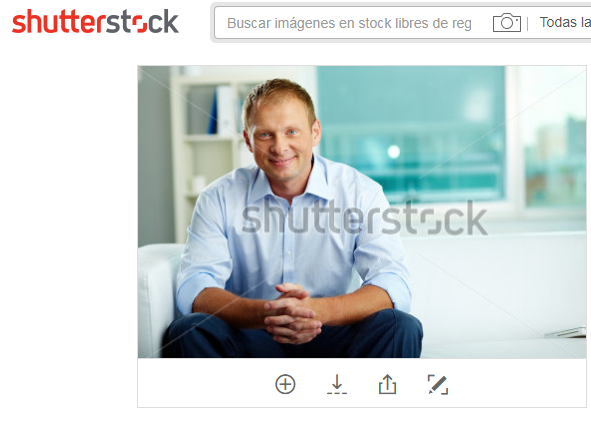 Apart from that, the comment is also invented. They want you to believe that this money-making opportunity doesn't require you to do much work to make a lot of money, which is not true.
I will never get tired of saying this: no matter the money-making opportunity you want to try out, you will always have to put in the work and time, especially if you want to earn a substantial amount of money.
In fact, in their  income disclaimer they claim the testimonials results are exceptional and do not apply to the average purchaser.
.
It's not sustainable for the long-term
---
The thing is, there's always someone needed to join FortuneMaker in order for the money to come into the scheme.
So when people stop joining, there will not be any money coming in which means that no one will profit and it will eventually fall down. People who only rely on this program to make money, will stop making money when this program falls down. That's what has happened to many people who have been involved in other ponzi or pyramid schemes.
If they were providing a valuable service or product, then there would be no problem because money would come in regardless of the amount of members that take part in the money-making opportunity. But that's not the case.
Most people who get involved in FortuneMaker are doing it because of the opportunity, as I said before. And the truth is that there is a limited amount of people who will sign up (not to say that not everyone will pay the $30 initial fee), so it will not last unless they provide a better service/product.
.
Learn to build a real online business
---
After everything I've found and explained, I definitely don't recommend FortuneMaker.
Even though you can make some money from this program, it's not sustainable for the long term and can be considered a ponzi scheme because it's based on recruiting and there are no real products or services.
Not to mention the lies about the testimonials and the team members… I personally don't like websites that deceive people this way because that's typical of scams.
When it comes to earning money online, there are more scams than programs I can recommend. No matter the method or way you try to make money, you will need to put in the effort and time. It doesn't come the easy or fast way as most scam artists want you to believe.
If your goal is to make a full-time income online, I believe it's best to build your own online business that you're in control of. 
The business model I'm using has given me and many people a way to earn a consistent income month after month. 
This is a business that allows you to help other people while making money from any kind of product you want. It's been working for decades!
With the right step-by-step training and marketing tools, I believe that anyone who's committed to doing the work can make a full-time income doing what I'm doing.
If this is something you're interested in, you can click the button below to read the guide where I explain how it works, why it works and where you can get started for free:
This online business you will build will be based on a topic you're passionate about, something that will make the process more enjoyable =)
In addition, you will also get to meet other like-minded people who want to see you succeed! Not to mention that you will always get my personal help and support too.
There's no reason why you can't make money if you follow the same training I and thousands of people have been following!
LEARN ABOUT MY TOP RANKED PROGRAM NOW!
So excited to see you leave the scams behind and get the real deal!
If you have any questions or opinions concerning FortuneMaker or anything else, feel free to leave a comment below and I'll get back to you ASAP. 🙂 
Best wishes =)