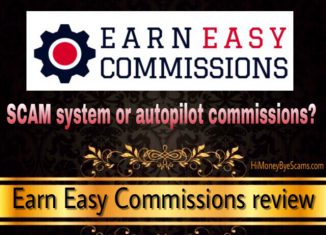 Welcome to my Earn Easy Commissions review!
Have you stumbled upon Earn Easy Commissions (earneasycommissions.com) and are wondering if this system will enable you to make $100,000? Or is it just another scam that will leave you with less money at the end of the day?
I'm glad that you are doing some research because the Earn Easy Commissions sales presentation doesn't cover everything you need to know about it, so here I am to explain what they don't tell you.
Here in this review, I will show you what Earn Easy Commissions is about, how it really works, the problems and red flags I've found and more.
.
Earn Easy Commissions review
---
Name: Earn Easy Commissions
Website URL: earneasycommissions.com
Owners: Chuck Nguyen
Price: Free + upsells
Overall Rating: 23/100
.
---
If you're sick of scams, check out my 1st resource to make money online here!
---
.
What is Earn Easy Commissions supposed to be?
---
Earn Easy Commissions is said to be an automated selling system that can easily make you $100,000.
This system has nothing to do with building websites, learning coding, writing blog posts, doing data analysis or optimizing sales funnels.
Chuck Nguyen, the guy behind this system, claims the Internet marketing industry is changing so he's offering a new way of doing business. This time he's not going to teach you to create your own business, he's giving you the chance to copy his business.
Everything about this system sounds great:
You don't need to have any special skills or previous experience in the Internet marketing industry.

You will not have to sell anything.

You will be able to make money on autopilot a.k.a. passive income.

The system does everything for you.
Oh, and the best part is, this system is completely free so you don't need to spend a single penny to finally make a job replacing income.
Doesn't it sound way too good to be true? I personally thought there was something he didn't talk about because it makes no sense that this money-making system is 100% free.
I mean, money doesn't come out of thin air so is there a catch? Yes, let's see how this really works in the next section.
How Earn Easy Commissions really works
---
In order to sign up, you will have to complete a form with your full name, your email address, a username and a password.
After that, you will have to confirm your email, log in and then will get access to the members area, which looks like this:
So how are you going to earn free easy money with this system? To say it in a few words, you will have to sell this system to other people.
You will have to promote Earn Easy Commissions and get other people to sign up through your referral link.
Inside the members area, you will get banner ads and images that you can use to promote this system on social networks like Facebook and Twitter. You will also get some email swipes that you can copy and paste to promote this system to your email subscribers (if you have an email list).
Every email you send and every social media post you publish contains your Earn Easy Commissions affiliate link, so people who click it will get taken to the Earn Easy Commissions sales page. The same sales page and sales video that told you how easy it is to earn money with this system.
So… where does the money come from if this system is free? Well, it's free to join but they offer two memberships that you will have to purchase if you want to make a substantial amount of money.
.
The compensation plan
---
How much money can you earn with each membership and how much do they cost? Let's see.
Free membership:
It doesn't cost you a dime.

Access to the training videos and tools.

You can earn $1 per qualified lead and $100 if your referral purchases the VIP Partner membership.
Pro membership:
It requires you to purchase GetResponse (at least $15/month) and Click Magick (at least $12/month).

Access to the training videos and tools.

Apart from earning $100 for your referrals that become VIP members, you will also be able to make 33% commissions when your referrals purchase GetResponse and Click Magick.
VIP Partner membership:
Apart from buying GetResponse and Click Magick, you will have to pay $100/month for 12 months or $750.

Access to the tools and training videos.

You can earn $1.20 per qualified lead, 33% commissions when the people who join through you purchase the GetResponse and Click Magick memberships, $100 when a referral of your referral buys the VIP membership, $500 for each referral that purchases the VIP membership.
As you can see, all memberships give you access to the training videos and promotional tools like banner ads and email swipes.
I like the fact that they allow you to make money without becoming a Pro or VIP member, but there's always someone who needs to make a purchase in order for other people to make money.
If nobody pays for the Pro or VIP membership, no one will earn money as money doesn't come out of thin air. So this is not free for everyone involved.
In order to become a Pro member, you will have to spend at least $27 per month on the GetResponse and Click Magick memberships. GetResponse will allow you to send out automated emails to your email subscribers and Click Magick is an analytics service that you can use to track your affiliate links and improve your campaigns.
When it comes to the VIP membership, you will have to keep on paying for GetResponse and Click Magick and will also have to pay $100 per month or $750. This membership includes the same as the other ones, it only gives you the chance to make more money.
.
Is Earn Easy Commissions a scam?
---
In my opinion, a scam is something that takes your money for nothing in return, so I don't consider Earn Easy Commissions to be a 100% scam because you get some training for free.
However, is it worth it? For me, it's not worth it and I'll explain you why. But you might looking for a different thing so this system might be worth it for you.
If you're looking to earn money in the short term, then this system might help you make some money.
If your goal is to make a full-time income online for a lot of time, then this system is not for you.
Anyway, let's see the red flags and problems I see with this system.
.
Lack of transparency when it comes to the cost
---
I personally dislike systems that claim you don't need to spend a dime to make a lot of money because there's no way something that can make you money is 100% free.
Saying that something is 100% is what I've seen in scam pages. They try to trick you into believing that you will not have to pay for nothing and once you've given them your personal information, then you find out it actually costs something.
In this case, I don't like that Chuck doesn't mention the membership costs in the sales video because the price is something you want to know in order to decide whether or not to get involved with this system.
Not to mention that he doesn't say anything about the advertising costs to promote this system.
.
"Done-for-you" is not that good
---
I know the idea of having almost everything done for you sounds attractive because it allows you to save time and money on learning how to do it.
However, a system that does everything for you also put you in the situation that you depend on it.
In this case, you entirely depend on the Earn Easy Commissions system to make money. If this system gets shut down, you will stop earning money.
So what will you do then? You will have to learn to create your own system a.k.a. your own business.
Therefore, the easy way where you don't have to learn or make efforts is not the best way.
.
It doesn't work on autopilot
---
This system requires you to put in the work to make money, it doesn't make sales on autopilot. There's no button you can push to make this system sell memberships non-stop. 
If you don't work on driving traffic to your Earn Easy Commissions "affiliate" sales page, you will not get any referrals and will not make sales. 
The thing is, not everyone who joins will be willing to pay $750 or $100/month for the VIP membership, so you will have to constantly promote Earn Easy Commissions in order to find the few people who are willing to spend hundreds of dollars on this system.
It's not risk-free
---
The truth is that this system is not risk-free because they don't give people the option to get their money-back. There are no refunds.
Therefore, if you pay for the VIP membership but don't get any of your referrals to pay for the same membership you've purchased, you can lose money.
.
It will not last
---
Chuck Nguyes, the owner of this system, had created another system like this one that was called Digital Elites Academy, which got shut down.
Not to mention that he also had a website called chucksaboss.com that he used to tweet back in 2014, but it no longer exists. This is an indication that his businesses have not lasted long-term.
Apart from that, I don't believe this system will last because the business model is not sustainable.
If everyone gets the same training for free, then there will be people who will not want to pay. 
I mean, if the Earn Easy Commissions Pro and VIP memberships included something of value, then this would justify the price. But people are only paying for it to make more money, not to learn more. 
Therefore, when people stop joining Earn Easy Commissions or stop paying for the memberships, money will stop coming into the scheme, which means that it will fall down eventually.
False expectations
---
I saw some Facebook posts from people who are promoting this system and I don't like the way they're doing it.
For example, let's take a look at the one below: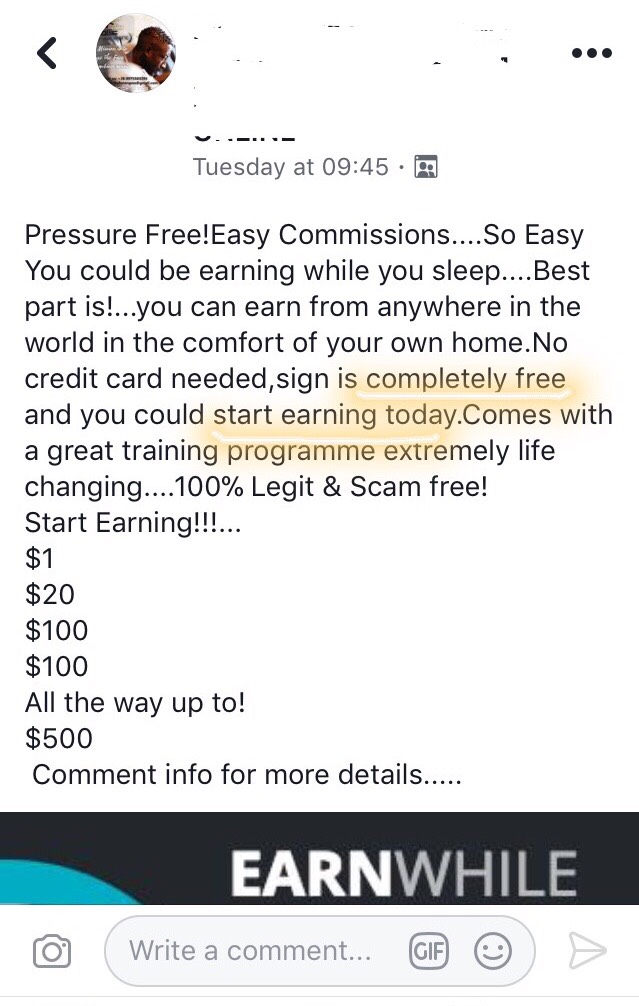 This person claims that this system is completely free and that you can start earning money today, which is not true.
They're making this system look like the typical get-rich-quick scheme, something that I consider very unethical.
Do you think it's ok to tell people that this is free and then want them to pay for the memberships? This is giving people false expectations.
I mean, if they mentioned the memberships costs then there would be nothing wrong with it, but they want people to believe that this is 100% free.
They're telling people what they want to hear, not what they need to hear. They are doing this just to make a quick buck, but deceiving people does not work for the long-term. 
I could also be promoting this system to earn some cash, but I choose not to do it because I know that lying to people is not necessary to make money and also know that this system is not sustainable.
Learn to build a real online business
---
I definitely don't recommend Earn Easy Commissions because it doesn't live up to its promises, but the final decision is up to you.
Even though it's not a 100% scam system, I don't like the business model because it's not sustainable and don't even like the fact that they're promoting it in a deceitful way.
As I said before, it's not necessary to use scam tactics to make money. There are many people who are making a full-time income online in a honest way.
Many people and I are using a business model that allows us to earn money while helping other people. 
This business model takes advantage of millions of products you can choose to promote and earn money from. Yes, you don't have to create your own products and you don't even have to promote the same products as other people.
You will be able to choose a topic you're passionate about and build your online business around it. 
With that being said, this business requires a long-term commitment from you because it takes work and time to build. If you want to enjoy the great rewards, you also need to put in the effort to be successful.
I believe that anyone who's willing to do what it takes and has the right step-by-step training and marketing tools can make it happen. It's just a matter of time.
By clicking the button above now, you will learn how this business works, how it works, how and where you can get started for free and more.
In addition, you will get the chance to meet other like-minded people that are on the same path as you. Not to mention that you will always get my personal help and support =)
It's your time to say bye to these get-rich-quick schemes and start building your online asset today!
LEARN ABOUT MY TOP RANKED PROGRAM NOW!
I hope you have found the answers you were looking for regarding Earn Easy Commissions.
If there's something else you want to know or want to share your opinion, feel free to leave a comment below and I'll get back to you soon.
Best to you 🙂