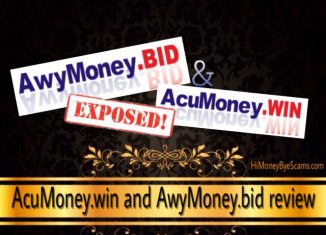 Hey everyone!
Looking at AcuMoney.win or AwyMoney.bid and wondering if you can earn real money? Or will these sites scam you?
Well, first of all, I'm glad that you're taking the time to research and have come across this post because here you're going to find out everything you need to know about these sites.
Here in this review, I will show you what these sites are really about, how they try to take your money and more.
.
AcuMoney.win and AwyMoney.bid review
---
Name: 
AcuMoney.win

AwyMoney.bid
Websites:
acumoney.win

awymoney.bid
Owners: Unknown
Created in: April 2018
Price: Free to join
Overall Rating: 0/10
.
---
If you're sick of scams, check out my 1st resource to make money online here!
---
.
What are these money-making websites supposed to be?
---
Both AcuMoney.win and AwyMoney.bid look exactly the same and work the same way. The only difference is their name. They're almost clones.
Both websites claim that you can earn money just by viewing ads and getting other people to sign up.
After signing up, you will see that the only thing you need to do is type some digits to confirm you've viewed the ads and earn 10 cents. 
You will get excited when you see your balance rise and rise so you will try to view 1000 ads per day to earn at least 100 daily bucks.
Apart from that, you will use your referral link to get other people to join and earn 50% of their earnings.
When people see how easy it is to make money from these sites, they will not stop viewing ads and sharing their links, which will make you even more money.
It's not that hard to get other people to sign up because AcuMoney.win and AwyMoney.bid are free to join.
You can also choose to get paid through PayPal, credit card, bank account or Western Union.
So what's wrong with these sites? They apparently have everything you need to earn money online, don't they?
I know they seem the real deal but the truth is that they are not what they appear to be and they can make you lose more than you think.
.
How AcuMoney.win and AwyMoney.bid try to scam you
---
How can AwyMoney.bid and AcuMoney.win take your money if they are letting you join for free? Let's see how they really work.
First of all, they want you to fill out a form with a username, an email address, a password and a number.
The truth is that they want to get as much information as possible in order to sell it to other scam artists or companies. Therefore, the more email addresses they sell, the more money they will make.
That's why they want you to tell other people to join. They want you to do all the work for them to make money themselves.
If you have used your main email address to join one of these sites, you can expect to receive spam and junk emails from people you don't know. I recommend that you ignore them because they might contain malicious links or files.
But that is not all. There's another way they try to make money at your expense.
When you try to claim your payment, you will have to choose a payment method and fill out a form with your information.
However, they will not send you any money. They will tell you that you need to have at least $150 in your balance to cash out. You will see a message like this:
But they will not pay you even if you manage to reach the minimum payout threshold of $150. This time they will tell you that you need to have 40 referrals and they will give you the option to buy them.
What will it happen if you buy them? These referrals are fake so the con artists will take your money without delivering nothing. They will kick you out of your account and will get away with your money.
They will not let you log into your account and that's when you will realize AwyMoney.bid or AcuMoney.win is a scam.
If you're viewing ads to make money, I recommend that you stop wasting your time on it.
If you have already got scammed by buying the fake referrals, I suggest that you contact your bank and let them know that you have used your credit card in a fraudulent website.
They should be able to cancel the transaction and get you a refund, and then cancel your credit card to prevent the scammers from charging you.
.
AcuMoney.win and AwyMoney.bid scam signs
---
I have no doubt that AcuMoney.win and AwyMoney.bid is the same scam and only work to take your money and information, as I've explained before. 
I have come across other scam sites like these two I'm exposing so I know what to look out for whenever I come across a website or platform.
In this case, I didn't have to join these fraudulent websites to conclude that they're scams because of the red flags I noticed in the main page of these sites.
Let's see these scam signs I've found.
.
Hidden owners
---
The owners of AwyMoney.bid or AcuMoney.win don't show up, which is a red flag because it means that they do not want you to know who they are.
Whenever I come across money-making websites like these, I like to know who is behind it because it helps me determine whether to trust it or not.
I usually don't trust websites whose owners don't show up because it's a sign of lack of transparency, something we can expect from scam artists.
.
No legal information
---
The fact that these sites do not provide any legal information (privacy policy, terms & conditions or disclaimer) is another indication that they are not legitimate.
In order to make an educated decision, it's important that you take into consideration how they're going to use the information you give them or their rules when it comes to terminating accounts. 
I don't know about you, but I do not trust websites or companies that are not clear about this information because it means their intentions are not genuine.
.
The comments are fake
---
Both AcuMoney.win and AwyMoney.bid have the same comments, something that makes no sense.
I mean, the comments have not been written by other members because there's no way that the same people have joined both sites and write the same comments.
Because of this, it's obvious that the comments have been written by the con artists who are running this scam. 
As you can observe in the pictures above, the comments have supposedly been written by "JemmaRicker" and "Lizzie_Crowley", but the truth is that they're not real members of these sites because it makes no sense that they have joined both sites.
The truth is that the scammers have invented those comments and have copied and pasted them in all their scam sites. 
No one has made $4800 or $2500 from these sites, it's all invented.
Oh, and the "confirmation screenshot" is another thing they use to gain credibility and make you believe that it's real.
.
Lack of support
---
They do not provide any email address, phone number or contact form. 
The only way you can allegedly contact them is by leaving a comment in the support section. But remember that all those comments are fake so don't expect them to reply to your comment.
However, without registering they do not allow to post comments which means that what they want you to sign up and get your email address before letting you ask questions.
So what if you have some questions whose answers are important for you in order to decide whether to join or not? No one will reply to you.
The fact that they do not provide any support is an indication that they don't really care about us. They only care about getting our information and money.
.
A real way to earn money online
---
AcuMoney.win and AwyMoney.bid is the same scam, so there's no way I can recommend these fraudulent sites.
The creators of these sites only care about making money themselves, and they do deceive people to reach their selfish goal, which is very unethical. That's why I suggest that you stay away from these websites.
When it comes to earning money online, there are more scams than legitimate programs I can recommend. The way you can avoid these scams is by keeping in mind that there's no method or push button system that will make you easy and fast cash.
Making money online is not magic, it's like making money offline because it requires you to put in the effort and time. Don't you think everyone would have made a fortune online if there were magical automated money-making systems that worked?
Everything worth achieving takes time and work to build, so earning a living online is not different.
There are many ways you can use the Internet to make money, but if you're looking to make a full-time income online then I believe it's best to build your own online business.
The business model I use has allowed me to earn a consistent income month after month. In fact, many people are using this business model to make a substantial income online.
It's a beginner-friendly business model that takes advantage of millions of products you can find online. Yes, you will not need to create your own products to make money.
If you're interested in learning how this business model works, why it works and more, click the button below now:
You will find out where you can get the same step-by-step training and business tools I and thousands of people are using to build our online businesses. Not to mention that you will be able to get started for free!
In addition, you will get to meet other like-minded people, blogger and Internet entrepreneurs once you're inside this safe and supportive training platform. 
So excited for you to leave the scams behind and get on the right track to build your online business!
LEARN ABOUT MY TOP RANKED PROGRAM NOW!
I hope you have found the answers you were looking for regarding AcuMoney.win and AwyMoney.bid. 
If there's something else you want to know or you want to share your opinion, please don't hesitate to leave a comment below and I'll get back to you ASAP.
Best wishes! ?