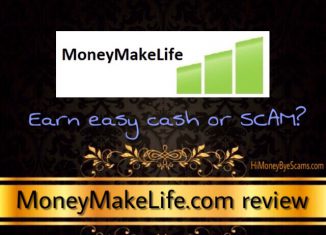 Hey everyone!
You've come across MoneyMakeLife.com and are wondering whether this one will take you to financial freedom or is MoneyMakeLife a scam?
Well I'm glad that you've landed on this review because I've prepared this review to let you know what that site is really about so that you make an informed choice by the end.
.
MoneyMakeLife.com review
---
Name: MoneyMakeLife
Website URL: MoneyMakeLife.com
Creator: unknown
Cost: free to sign up
Overall Rating: 1/10
.
---
If you're sick of scams, check out my 1st resource to make money online here!
---
.
What is MoneyMakeLife.com?
---
MoneyMakeLife is a site that claims you can make money in an easy and simple way.
All you have to do is to share your referral link wherever you want (Facebook, Twitter, Instagram, email, private message, blogs, forums…) and get others to visit and join the MoneyMakeLife.com.
You can earn $5 each time someone visits MoneyMakeLife.com through your affiliate link and $10 per referral. Sounds pretty good, right?
It would be great that they allowed you to withdraw the money you make whenever you want but they don't let you cash out until you have at least $300. 
They claim to make payments through PayPal, MoneyGram, bank transfer, check and BitCoin.
.
What if you join MoneyMakeLife.com?
---
In order to join MoneyMakeLife.com, you have to complete a form with a username, your name, your email address, a password and your address, but I noticed that it's possible to register without giving a name or an address.
Once inside, you'll see an affiliate link similar to the one below:
And you also get a $10 for signing up. So it looks like you'll only have to get 29 people to join in order to earn $290 ($10 per referral) and reach the $300 and get paid, right?
It sounds too good to be true because it's something that anyone can do as it doesn't require any type of experience. And the fact that it's free to join makes it easy to get referrals.
After taking a closer look to the dashboard and the MoneyMakeLife homepage, I reached the conclusion that MoneyMakeLife.com is not what it claims. Let's see the truth about it.
.
Does MoneyMakeLife.com really work?
---
The truth is that MoneyMakeLife doesn't work to make you money, it works to generate profits to its owners.
First of all, it makes no sense that they're going to pay you to bring traffic to their site and get others to join.
Why? Because they're not getting paid for getting visitors.
They claim they get paid for the traffic they bring to their advertisers, but this is not true because they have no ads in their site and they're not offering any product or service, they don't provide anythig valuable.
And the fact that it's free to join is another indicator that they're not going to pay you for getting referrals. If people pay nothing to join, then they're not getting paid so that's why they will not pay you.
Imagine if they paid you without them getting paid first, they would get into huge debt.
Then why do they claim they're going to pay you? What are they after? What's their real purpose?
They're after your personal information and your money. 
They want to collect as much information as possible in order to sell it to other companies and scam artists. That's why you can expect to receive unwanted emails from people you don't know. This is dangerous because they put you at risk for identity theft.
And that's not all. Want to know what will happen if you try to reach the minimum payout threshold of $300 and claim your payment?
This it it: you'll be asked to complete a fake captcha test, which is basically a list of sites that have affiliate links embedded.
This means that they'll get paid if you sign up for those sites and make some kind of payment or do some specific tasks. This can be dangerous because some of those sites might require you to download apps or softwares that contain virus or malware.
.
Is MoneyMakeLife.com a scam?
---
Yes, MoneyMakeLife.com is a scam because it doesn't live up to its promises.
In the previous section I've explained how it really operates and now I'm going to post some scam signs that I noticed on their site so that you know what to look out for whenever you come across another similar site.
.
No information about the owners
---
There's no information about the people who are behind MoneyMakeLife.com. This is a red flag because it means that they might be trying to hide something or that they don't want to be disturbed.
Scam artists usually use fake identities or hide their real identities so that nobody persecutes them when their scams get unveiled.
Why would you trust a site whose owners don't show up?
.
Lack of important pages
---
They have no privacy policy, no terms & conditions or earnings disclaimer page.
This is a scam sign because there's no way to know what they're going to do with the information you give them, which is something important to take into consideration in order to make the right choice.
Keep in mind that all legit companies and sites have at least one of those pages.
.
They lie about the payment methods
---
It's not true that they make payments via PayPal, MoneyGram, bank transfer or BTC. 
The withdrawal type that appears in the "payment withdraw" are is cheque and they don't let you change it.
And they don't give you any other option. There's nowhere to put your PayPal email address.
.
No way to get in touch with them
---
And last but not least, there's no way to get in touch with them. Yes, they claim you can contact them via email but the problem is that that email address it's fake.
I tried to send them a message and got the "mail delivery subsystem". This proves that they don't really care about what we have to say because they lie about their email address. Their real purpose is not to help us make money.
.
My final thoughts
---
I've come across other sites that work the same way as MoneyMakeLife like DollarTable.online and Bitcoin4Job.
They claim that you can make money easily just for sharing your referral link but the truth is that what they're after is your personal information and money. 
That's why there's no way I can recommend this. My advice for you is that you stay away from MoneyMakeLife.com because it will not benefit you in any way. It was only created to make money to the con artists who created it.
When it comes to making money online, you need to keep in mind that it's not easy or fast like lots of scam sites claim.
Generating an income online takes real work, commitment, patience, time, learning… Just like all great things in life. Nothing great has ever come easily or quickly.
If you're willing to do what it takes to earn a living online, then I highly sugges that you check out my favorite digital marketing platform.
This platform provides courses, step-by-step training and other helpful tools that will guide you through the process of building an online business in a way that's sustainable for the long-term.
In addition, you can count on me and other bloggers & Internet entrepreneurs for help and support. It's great the fact that you can rest assured knowing that you're not alone in this =)
I also love that this platform lets you get started for free so you can join without spending a dime and see if you like it.
If you're interested in learning more, click the button below now:
It's your time to get on the right way to make money online!
I hope this review has been helpful to you and you get to make an informed decision. 
In case that you have any questions or opinions regarding MoneyMakeLife, don't hesitate to leave a comment below and I'll be very glad to connect!
All the best 🙂