Have you been asking yourself "Is Income League a scam that will not help me earn any money"?
Or perhaps you believe this system can help you make $1,000 a day posting tiny little ads, right?
Well, firstly let me congratulate you for taking the time to do your own research before purchasing another money-making product.
The Internet is full of scams so doing your due diligence is the way to avoid scams and find the legit way to earn money online!
When it comes to Income League, it's not as amazing as they tell you in the sales video and my honest review is going to show you the truth.
Income League review
---
Name: Income League
Website URL: incomeleague.com
Owners: Matthew Neer and Jamie Lewis
Created in: August 2018
Price: $47 + upsells
Overall Rating: 2/10
---
If you're sick of scams, check out my 1st resource to make money online here!
---
What is Income League about?
---
Someone sent me a link to this new product so I thought I would check it out to see if this one was worth it or not.
The moment I came across one of their sales pages (they are using at least two), I thought I was in front of another low-quality ClickBank product.
However, I didn't want to judge it without knowing what this is about so I watched both sales videos.
No matter the sales video you have watched, it's easy to get excited after seeing that Matthew Neer makes $1,000 per day posting free little ads.
He makes it seem it's very easy to make money with this system because it doesn't take much to set it up and watch the commissions rolling in.
It sounds like an amazing system that can make you money on autopilot with a few hours of daily work.
Well, that's what he says. He supposedly only works one or two hours a day to generate that kind of money.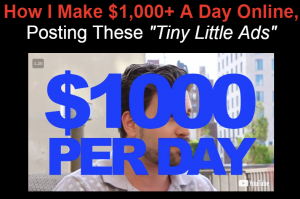 Conclusion after the sales video
---
After watching the sales video and doing intensive research, I realized they don't tell you everything you need to know to make an informed decision.
Everything they claim make this look easier than it really is, honestly.
They claim this is newbie-friendly because it doesn't require you to have any prior experience or special skills but the truth is that it's not that easy.
I mean, it's possible to make money with this system but not the kind of money they talk about.
Matthew Neer has been in this Internet marketing industry for many years already, which means that he has a lot of experience and knows what works for him.
He doesn't only make money as an affiliate, he also earns money as a product creator and has a big email list and lots of affiliates that promote his products.
Because of this, making $1,000 a day might not be that difficult for him but for someone who is starting out, results like these don't happen in a short period of time.
I personally don't see how Income League is better than these other ClickBank products I have reviewed:
How does Income League work?
---
Income League is not a new or secret way of making money online because there are many marketers doing this to make money already.
The business model this product is geared towards is affiliate marketing, which I personally use to make money as well.
If you haven't heard of affiliate marketing before, your job as an affiliate marketer is to promote other people's products and earn a commission per sale.
This system is focused on doing email marketing to promote affiliate offers and products.
Let's see how it works:
You create landing and squeeze pages to collect other people's email addresses in order to build your email list.

When someone enters their email address, they get sent to your recommended product through your affiliate link.

If they purchase it, you will make a commission.

In case they don't buy that product, you will send them emails to convince them to buy that product.
What about those free tiny little ads that Matthew talks about? These ads are messages that you will post on social networks like Twitter and Facebook.
They will include an affiliate link to your recommended product or a link to your squeeze page.  
The system sounds simple and something that you can make money with, but I see some drawbacks and issues that I'm going to point out.
Not designed to build trust
---
Building trust with your audience is something very important when it comes to building your business online, no matter the business model you use.
I mean, how are people going to buy from you without knowing who you are?
Income League only shows you how to promote products, but they don't teach you to create trust.
These ads you will be posting and squeeze pages are very similar to the low-quality ads and pages we usually see.
The "earn $500 a day starting today" stuff that we can call false advertising.
In other words, they teach you to tell peope they can make a lot of money so that you can earn money.
There are many affiliates doing this and even though it's possible to make money this way, it doesn't work for the long run.
Why? Because people will not take you seriously if they see you are promoting BS products that don't work.
This is one of the main issues I see with products like Income League.
Instead of teaching you to promote relevant products that are beneficial to your audience, they tell you to promote products that are low-quality or even scams.
I personally don't like promoting these kind of products because they are misleading and don't live up to their promises.
There are many affiliates who promote these products without trying them, and I know some make money but you know what?
When a product is not good, you can expect customers to ask for refunds.
So yeah, doing this you might make a quick buck but then lose money if people ask for their money back.
From my point of view, building an email list is not enough to build an online business.
For people to trust you, you need a platform a.k.a. a website that people can visit to get to know you and interact with you.
The problem with the traffic methods
---
Traffic is very important when it comes to building a business because without visitors coming to your sales pages, there's no money to be earned.
You can post free ads on social media but you cannot expect anyone to click on your link if you have no followers.
Even if you have a big following, if they are not interested in what you are promoting,  you cannot expect to get many people to click on your links.
Another way they tell you to drive traffic to your offers consists in doing paid advertising, which is kind of risky.
Yes, buying traffic is a good way to get fast traffic, but it's also risky because you don't know if it will convert and cannot get a refund.
I personally don't use any paid traffic sources to make money because I found a way to get free traffic to my offers and it's not posting free ads.
Getting free organic traffic is one of the best ways to drive people to your offers because this is the way to make the money come to you.
It's another done-for-you system
---
If you buy Income League, you will be provided with done-for-you stuff like templates and squeeze pages.
The problem with this is that you don't really have control over this, so what will it happen if they shut down?
You will be left with nothing!
There are many done-for-you systems in the online space and they can work for a period of time, but they eventually disappear or get shut down.
Because of this, I don't recommend that you only rely on a system like Income League.
I know that building your own asset takes more time and work than having something done for you, but if you are here for the long-term, it's best to create your own system that no one can take away from you.
Click Here To Get My FREE Step-By-Step Earn Money Online Guide!
Other red flags
---
If you buy Income League, you can expect to get bombarded with some upsells just after purchasing it.
Well, this is not new because that's what happens with most (not to say all) ClickBank products.
Below you can take a look at their sales funnel:
If you think about it, it would make no sense that they sold a system that can make you $1,000 a day for only $47.
And this is not all. They don't mention the paid advertising and email service costs so you can expect to spend thousands of dollars if you decide to build your business using this method.
In my opinion, when a product has upsells, the initial product (the one that costs $47) is not as good as advertised.
Lack of legal information
Another thing I don't like about their sales page is the fact that they don't provide any legal page.
They have a menu at the bottom of their page, but when I clicked on it to read their privacy policy and their disclaimer, I got taken to the "404 Not Found" page.
The fact that they don't provide these legal pages doesn't mean that Income League is a scam, but is it legal?
Not so sure, honestly.
I have reviewed many websites and products, and I have noticed that many scams never provide these legal pages.
Because of that, I decide not to get involved with companies or websites that don't provide legal information.
I personally don't like products that make high-income claims because they look like the typical get-rich-quick scams.
Not only that, they also make false promises so customers can get disappointed and feel ripped off.
These products only give the Internet marketing industry a bad reputation because it's hard to know who to trust when you have been lied to.
Many newcomers lose hope when they realize there are many scams and it's not possible to make a lot of money fast.
That's why it's not funny to find products that make empty promises.
Is Income League a scam?
---
Still wondering "Is Income League a scam"? I'll let you be the judge.
I know some people will call this system a scam because it doesn't live up to the promises made in their sales video.
Others will not call it a scam because it provides some training for your money and you can also make money with this method.
Not only that, you can also get your money back because this product is sold on ClickBank.
In my opinion, it's a decent product but it's incomplete because they don't teach you to build a complete business.
As I said before, their upsells are not the only cost, you also need to take into consideration other costs I have mentioned earlier.
So building an online business using this method can cost you thousands of dollars. That's why this is not newbie-friendly from my point of view.
After everything I have found and explained, I conclude that I don't recommend Income League.
What about building a complete business?
---
The method I use shows you to build your online business in a way that creates trust with your audience.
What Income League teaches you about building an email list is legit, but it's only a part of this business.
You can learn how to build your own business in a way that's sustainable for the long-term, so that you don't have to jump from system to system.
Not only that, my favorite training reveals how you can build your online business in a way that attracts free organic traffic.
This way, you will not have to spend money on paid advertising.
I personally haven't paid to get you to read this post. Sounds cool?
My proven method is all explained in my FREE step-by-step earn money online guide here:
My free guide will show you my 4-step formula, why this method works, proof that it works, the step-by-step training and easy-to-use tools I used…
But this is not all. You also get the chance to get free help and support from me and thousands of affiliate marketers and Internet entrepreneurs =)
Want to know the best part? You can get started today for free!!
That's right! You don't need to spend a cent to check it all out for yourself and decide if this is right for you. 🙂 
This business takes time, work and commitment to get great results…
But there are many people making money with this so who says you can't? You do!
Are you ready to get on the right track to build your online business?
CHECK OUT MY FREE EARN MONEY ONLINE GUIDE HERE!
I hope this review has answered the question "Is Income League a scam?" and you will make the best possible decision.
Feel free to share it with whoever you believe that will benefit from it!
If there's something else you want to know or you have any questions, don't hesitate to leave a comment below and I'll get back to you ASAP! ? 
Whatever you do next, I wish you nothing but the best =)