Welcome to my Viral Cash App review!
Have you come across Viral Cash App and are wondering if this program is going to help you become financially free or is Viral Cash App just another scam that will leave you with less than you have?
I'm glad that you've landed on this post because you're going to find out what this Viral Cash App is really about, what they don't tell you in the sales video and what you can expect from it.
.
Viral Cash App review
---
Name: Viral Cash App
Website URL: viralcashapp.com
Creator: Matthew Neer 
Price: $47 or $24.95 + upsells
Launched in: March 2018
Overall Rating: 35/100
.
---
If you're sick of scams, check out my 1st resource to make money online here!
---
.
What is Viral Cash App about?
---
The moment I came across the Viral Cash App sales page I thought it was another get-rich-quick scheme because its layout it's like other scam pages.
But I didn't want to judge it by its cover so I started watching the sales video and the first thing I watched was a news report about work-at-home jobs and local YouTubers, which has nothing to do with Viral Cash App.
This doesn't have anything to do with MLM, cryptocurrencies, paid surveys or e-commerce.
This product has been created by Matthew Neer, even though he doesn't show up in the sales video, which I don't like it because that's what I've seen in most scam videos.
I've recognized him because I've watched other sales videos of some of his other products like Wealth Ascension.
So, what's Viral Cash App? It's supposed to be a software that profits from a $70 billion dollar free traffic source.
This app is said to be very easy because it doesn't require you to install anything and there is no setup process. You just have to login and start using it to make money.
The only requirements you're supposed to meet to make this work are these 3:
Have a basic level of computer skills, but not advanced.

Watch and share videos regularly on Facebook and YouTube.

Post a minimum of 10 videos using the Viral Cash App.
Everything Matthew says about this software sounds too good to be true, but there are some things he seems not to take into consideration, which I'm about to explain next.
.
Does Viral Cash App work?
---
According to Matthew, Viral Cash App does all the hard work and technical stuff for you, so you don't need any technical skills or previous experience to make money with this software.
But is this really true? Let's see how this is supposed to work and how it really works.
.
How Viral Cash App supposedly works
---
In order to start using it, you have to pay $47, even though you can get it for $24.95 if you try to exit the page.
After buying it, you only have to follow these steps:
Login

Choose a category (choose the niche you want to make money from)

Pick a keyword

Add monetization

Click "you're done"
This software will create a website and will add the custom pages that contain other people's content, ads and your links.
Most of the content are YouTube videos that people love watching because they're funny, entertaining and surprising.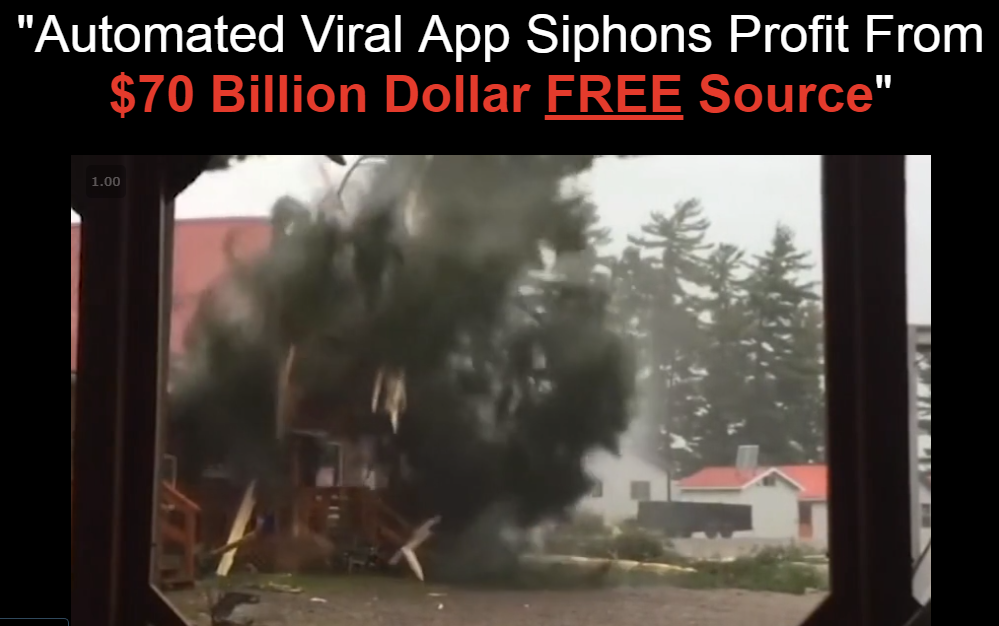 These kind of videos go viral, so a lot people will share them and this way you will get a lot of traffic to your website, so you will not have to do paid advertising to get visitors.
Once people land on your website, they will see the ads and you will start making money.
The more times your website link gets shared, the more people who will come to your site and the more views the ads on your site will get, which will generate more profits for you.
.
How Viral Cash App really works
---
There are some steps that Matthew has not explained thoroughly, so let's see what you need to know.
When it comes to building your site, this is the problem:
You do not own your website. Matthew claims you will not have to purchase a domain or spend money on hosting, which means that your site will have a subdomain and will be owned by Matthew and his team. This is not good because you don't have control over your site, so you'll stop making money if they shut it down.
But that's not the only problem, there are more:
Your website will not get organic traffic. Free organic traffic is the best kind of traffic your website can get, but the website built with the Viral Cash App will not get this kind of traffic because it will not get high rankings. This is because the content it contains it's duplicated (other people's videos), something that search engines like Google don't like.
Conversions will be low. Your site will be monetized through ads and affiliate products that have nothing to do with the hilarious videos your visitors are interested in watching, so you can expect people to come to your site to watch the videos and leave without buying anything.
It's not automated. You can't just share your website link a few times and expect to get unlimited free traffic because not everyone who comes to your site will share your link. Therefore, you can't expect to get many visitors to your site unless you have many followers on social media or a mailing list with lots of subscribers.
Click here to check out my top recommendation (FREE to get started)!
.
Is Viral Cash App a scam?
---
I wouldn't consider the Viral Cash App to be 100% scam, but I feel it kind of scams people by giving them unrealistic expectations.
I've explained why it will not work like Matthew claims and now I'm going to post some scam signs that you need to be aware of:
The sales video is not private. Honestly, I couldn't help but laugh when I heard Matthew claim that the video is not available to most people because it's complete BS. Anyone who has an electronic device and Internet connection can watch that video.
It's not as easy as they want you to believe. Matthew claims you will only have to click a few buttons to make money, which makes it sound like a push button system and get-rich-quick scheme. If softwares like this really worked, then everyone would be rich already.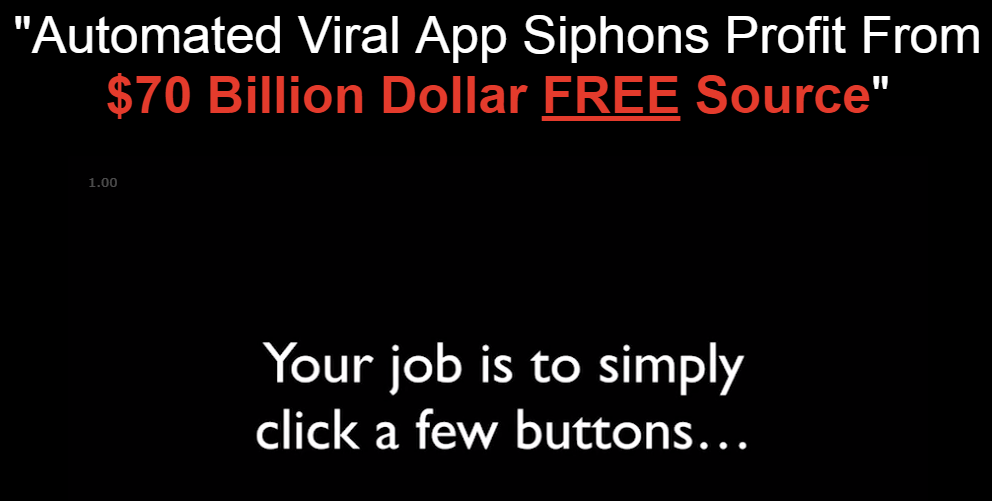 The upsells & downsells Matthew doesn't mention. I found out that this software costs way more than $47. The truth is that it would make no sense that a software that can apparently make you a lot of money only cost $47. I personally don't like programs or systems that hide something like the real cost.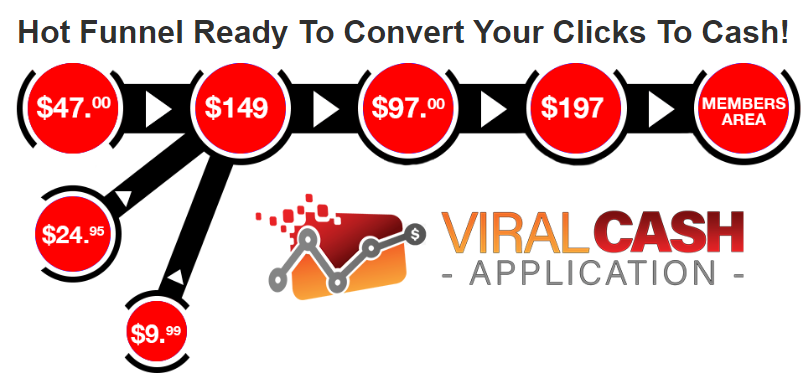 .
Build a real online business 
---
Viral Cash App is not a 100% scam but I will not be recommending it because of the red flags I've posted and the fact that it will not work like Matthew claims.
Another thing is, you need to be careful with the fake reviews out there. There are people who promote these low-quality/scam programs just to make some fast cash.
I know I would probably earn more money if I did the same as them, but I don't like ripping people off so I don't promote programs or systems I don't believe in.
The way you can leave these get-rich-quick schemes behind is by keeping in mind that there's no push button system or program that will make you money easily without doing much work.
The day I realized that I wouldn't earn anything without putting in the work is the day I started working my butt off, and I have no regrets.
I'm glad that I found out about a business model that has given me a way to make a consistent income month after month.
I don't rely on a so-called software that has control over my business. I own my site and know how to get free organic traffic so I don't need to do paid advertising if I don't want to.
I believe that anyone who gets the right step-by-step training, marketing tools and support network can do what I'm doing and make a full-time income online.
If you're willing to put in the effort and time, there's no reason why you can't make a full-time income online.
If you want to learn more about this business, click the button below now:
You will learn how this business works, how you can get started without spending a dime and more.
You'll also be able to get help and support from a big community of bloggers and Internet entrepreneurs, including myself! 🙂 
Stop falling for the get-rich-quick schemes and start building your very own online business that's viable for the long-term!
LEARN ABOUT MY TOP RANKED PROGRAM NOW!
Thanks for reading this review, I hope you've found the answers you were looking for.
If you have any questions or opinions concerning Viral Cash App or anything else, don't hesitate to leave a comment below and I'll get back to you soon.
Have an amazing day =)