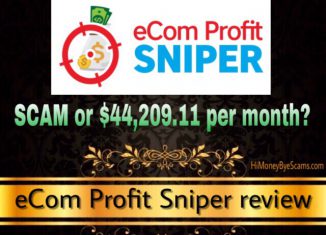 Welcome to my eCom Profit Sniper review!
I've recently received an email regarding eCom Profit Sniper so I thought I would check it out and see what it's really about and whether it's a scam or not.
There are many money-making opportunities out there so it's great that you're doing your research because you need to ensure you know what you're in front of before getting involved in it.
In this review, you will find what eCom Profit Sniper is about, whether or not it's worth it and more.
.
eCom Profit Sniper review
---
Name: eCom Profit Sniper
Website URL: ecomprofitsniper.com
Owner: "Tom Parker"
Created in: January 2018
Price: $37 + upsells
Overall Ranking: 21/100
.
---
If you're sick of scams, check out my 1st resource to make money online here!
---
.
What is eCom Profit Sniper?
---
The eCom Profit Sniper sales video can really get you excited, doesn't it?
This program is supposed to give you the chance to make over $44,000 per month and you'll only have to work 20 minutes per day, something that sounds very outrageous and unrealistic. 
The spokesman even claims you can make $2000 every day starting today without having any experience.
Well, it can sound awesome for those who believe that magical systems or shortcuts to success work. I know I would have got very excited if I were starting out or didn't know how things work in the digital marketing world.
But the truth is that there's no such thing as building an online business just by working 20 minutes a day. Just because it's online, doesn't mean it's easy.
After reading that crazy claim, I thought this product was a scam but I didn't want to judge it so I started watching the sales video.
Tom Parker, the alleged owner of eCom Profit Sniper, claims he's going to show you a "little known secret" to make big profits by building an e-commerce store.
So what's this little known secret? Shopify, which is not even a secret because a lot of people already know about Shopify.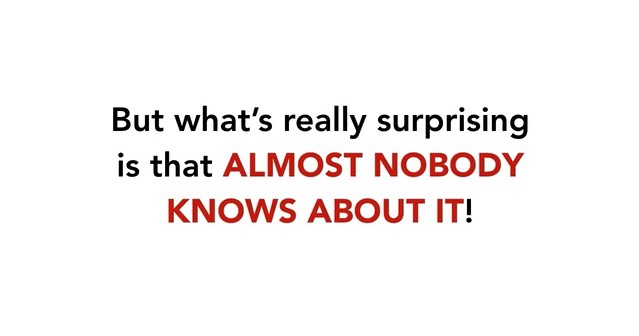 If you haven't heard of this before, it's a platform that provides e-commerce hosting to create your own online store. 
So what does eCom Profit Sniper provide? Will it really help you make thousands of dollars per month?
.
How does eCom Profit Sniper work?
---
Let's see how the business model that eCom Profit Sniper teaches work and what training eCom Profit Sniper provides.
.
The business model 
---
eCom Profit Sniper focus on the dropshipping business model, which is a type of e-commerce.
Dropshipping is selling physical products online that you don't own, produce or ship. You don't need to purchase them in order to sell them.
Your job is to find products from another website and then sell them on your store at a higher price in order to profit. Then when you make a sale, you'll have to buy the product with the customer's money, and then the provider/supplier will send it to the customer. 
But keep in mind that you're responsible for the customer service as customers don't know that you're selling products you've found on another store.
For example, you find a handbag that costs $150 on eBay and then you put it on sale for $180 on your Shopify store. Then someone purchases this handbag, you receive the money, and you buy it on eBay (the store where you've found it initially). After that, eBay sends the handbag to the customer and you make a $30 profit.
.
The training
---
eCom Profit Sniper's training shows you how yo set up a Shopify store, how to add products to your store, what extensions to add and how to create a Facebook business page to promote your store.
They show the basic stuff to get started, so the problem here is that they don't show you what to do once you have your store set up. They don't show you how to get free organic traffic to your store or how to use paid advertising.
Even though in the sales video we're shown that Tom uses Facebook ads to get traffic, this is not included in the training.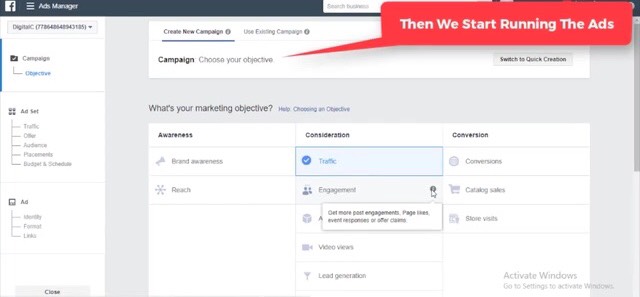 Paid advertising is not the best way to try to get traffic if you're on a low budget or you're a newbie and don't have much experience because it can be quite risky.
So this is the main problem with the training. If they don't teach you how to bring high quality traffic to your store, you're not going to make money. Without people, there's no business.
It's possible to make thousands of dollars per day dropshipping, but this is not as easy as eCom Profit Sniper claims it to be. And the fact that they don't provide training on how to generate traffic and make sales, make it impossible for beginners to make money with what eCom Profit Sniper teaches.
Click here to check out my top recommendation (FREE to get started)!
.
Is eCom Profit Sniper a scam?
---
The answer to this question actually depends on your definition of scam.
If we judge eCom Profit Sniper based on the fact that it's not going to show you how to make $2000 per day, then it's a scam.
However, if we judge this program based on the fact that you're actually getting some training in exchange for your money, it wouldn't be a scam.
I personally consider it to be another one of the many low-quality programs out there.
Other low-quality products I recently exposed are: 
With that being said, let's see some red flags and things you need to take into account in order to make an informed decision.
.
Tom Parker doesn't show up
---
The fact that Tom Parker doesn't show up is a clear indication that he or the people behind eCom Profit Sniper don't want us to know who we're dealing with.
Scam artists usually hide their identities or create fake characters, so Tom Parker could be a made up character used for this program as this is what I've seen in many other get-rich-quick schemes.
I personally don't trust products or systems whose real owners don't show up.
.
Misleading information about Shopify
---
Tom claims that Shopify has generated over $151,000,000 in the second quarter of 2017, but this is just what they've earned from people who've paid for their hosting service.
This doesn't have anything to do with the money people are earning from their stores hosted on Shopify, so I don't understand why Tom doesn't clarify this. Maybe he wants you to believe that Shopify can easily make you thousands of dollars.
.
Lack of transparency when it comes to the cost
---
Another question you might have is, how can a program that can supposedly make you thousands of dollars only costs $37?
Well, the truth is that eCom Profit Sniper costs way more than $37. I know this because I checked out their affiliates page and they claim affiliates can make $844 per sale.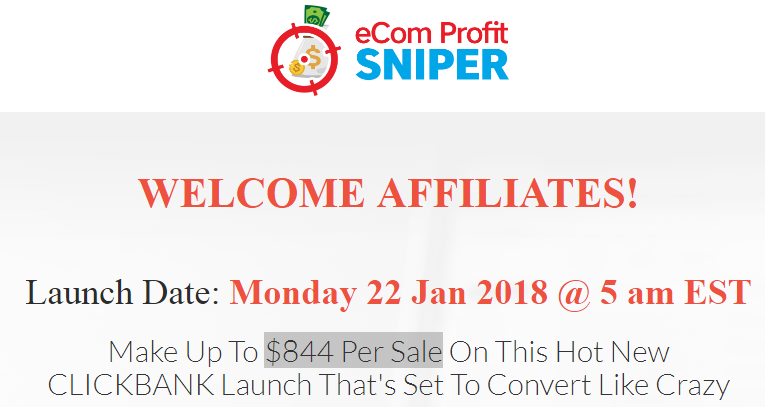 This means that there's no way eCom Profit Sniper only costs $37. If you buy it, you can expect them to try to get you to buy another something else. They will claim you need this in order to make money. 
That's the nature of low-quality programs like this. They try to make you believe you're getting a lot for a low price just to get you to buy it and then get you ready to do the massive spending.
I've never liked programs or systems that hide important information like all the costs involved and everything you're getting, since this information is essential for the customers to make good decisions.
.
Another thing you need to know
---
You also need to take into account how they're going to use the personal information you provide, such as your email address. You can read about this in their privacy policy page:

As you can read above, they might share your personal information with other people who offer similar services, which means that you can expect to receive emails related to other money-making opportunities, especially low-quality and scam programs.
.
A better business model
---
I don't recommend eCom Profit Sniper because it doesn't live up to its promises. 
What's good about it is that it's a ClickBank product so you can try it (get it here) and then ask for a refund if you end up not liking it.
The dropshipping business model can make you money, I've personally made money dropshipping but I didn't like the fact that I didn't have full control of how the products were delivered to customers and had to deal with refunds.
The business model I'm currently using to make money doesn't require me to deal with refunds and doesn't even require me to sell a product that I don't own at a higher price.
I don't need to create my own products and the price of the products I recommend remain the same. I don't even have to worry about the way the products get delivered to clients because they're not my own products.
I also love this business model because it enables me to help people while making money. 
With that being said, this method I use requires learning, working, patience, consistency… Without working, you'll not earn anything.
I've seen many people quit because they don't make money the first or second month. If you're new to the online business world, you can't expect to earn money if you don't work hard enough.
The day I understood this is the day I started working my butt off, and I have no regrets.
I believe anyone can do the same I'm doing if they put in the effort and time. I'm no guru and I still have a lot of learning to do.
Thanks to the place where I got started back in 2016 and still very active today, I'm learning something new everyday because there are many bloggers and Internet entrepreneurs who share their experiences, advice and success stories.
If you're interested in learning more, click the button below now:
You'll find out how this business works, where to find the proper training and tools, how to get started for free and more!
I know you will love this business model because it's newbie friendly and can be lucrative when it's done the right way.
To add to it all, you'll get my full help & support, and will also get to meet like-minded people who're on a similar path as you =)
It's your time to leave the "make money online" scams behind and get on the right way to online business success!
LEARN ABOUT MY TOP RANKED PROGRAM NOW!
I hope this review has been helpful to you and have found the answers to the questions you had regarding eCom Profit Sniper.
In case you have any questions or opinions, feel free to leave a comment below and I'll get back to you soon 🙂 
Best wishes!