Welcome to my Tube Crusher review!
You have been sent to the Tube Crusher sales page and wondering if this is your ticket to financial freedom?
Or is Tube Crusher a scam that will waste your time and money?
First of all, I must congratulate you for taking the time to do your own research before purchasing another "make money online" product.
As you might already know, there are lots of scams out there so doing your research is the way to avoid scams and discover the real way to earn money online!
To be completely honest with you, I'm not affiliated with Tube Crusher so you will not see me promoting it like other people are doing.
In this Tube Crusher review, I will show you what this product is about, how it works, whether or not it will benefit you, the scam signs I have found and more.
Tube Crusher review
---
Name: Tube Crusher
Website URL: tubecrusher.co
Owner: "Ciaran"
Launched in: July 2018
Price: $37 + upsells
Overall Ranking: 1/5
---
If you're sick of scams, check out my 1st resource to make money online here!
---
What is Tube Crusher supposed to be?
---
I got emailed a link to the Tube Crusher sales page so I thought I would check it out to see if there's something good with it.
The second I landed on their sales page I thought it was another "not-so-good" product because of the high income claims they make.
But I didn't want to think it was like the others I have come across so I started watching the sales video and did intensive research to find out the truth.
The spokesman, "Ciaran", claims to offer a system that can help you go from earning 0 dollars to quickly start making thousands of dollars on YouTube.
He claims you don't need any digital expertise, technical skills or a degree in order to go from "YouTube rookie to wealthy vlogger".
He even says that you only need to work 15 minutes a day to make these thousands of dollars he's talking about. Sounds exciting?
The sales video also shows us some people who are supposedly successful YouTubers but they don't even mention their YouTube channel.
Thanks to this amazing system, you will finally be able to quit your job and live the life of your dreams! 
Well, that's what he wants you to believe. He basically tells you what you want to hear, not what you need to hear.
This is what happens with most ClickBank products in the Internet marketing space, they try to get you excited so that you buy them but then you realize that they promised something different than what they provided.
In other words, what you get inside is different than what they tell you outside (in the sales page).
I usually review this kind of products so I'm sure that you will get disappointed if you believe what the Tube Crusher spokesman claims.
The truth is that Tube Crusher can be included in the collection of the low-quality ClickBank products because it's no better than these others I have reviewed:
How does Tube Crusher work?
---
Tube Crusher works in a different way than what the spokesman tells you.
From the sales video, you would think that you are getting a system that is connected to YouTube and enables you to click a few buttons and start making thousands of dollars.
The spokesperson makes it sound like this is a magical system that very few people have heard of.
But the truth is that you are getting no system at all! You will get some information about getting started on YouTube and making videos, but the problem is that this information will not be enough for you to make the kind of money they say.
I have purchased many products like this one so I'm sure that the training Tube Crusher provides you with is not high quality training.
This is no different than another product called 60 Minute Profit Plan, which provides training that you can find online for free!
Yes, that's right, if you buy it you will see the members area full of YouTube videos that are not even made by the owners of this product. They grab YouTube videos from other channels and use them as their own.
They also add some PLR (Private Label Rights) material like e-books and video training that can also be found online for a very low price or even free. The problem with this is that the information provided is out of date, which means that some techniques they teach do not work nowadays.
The creators of Tube Crusher try to take your money by convincing you that they have a secret system that does everything for you so you only need to work 15 minutes a day but this is nothing new. 
No one has made a fortune on YouTube just with 15 minutes of daily work. Don't you think most people would be already rich if it were possible to make a killing with minimal effort?
Why Tube Crusher does not work
---
Tube Crusher does not work because there's no way to make money on YouTube the same day you open your channel because you first need to create lots of videos that get high rankings on YouTube, which is not going to happen the first day, not even the first month.
Yes, it's possible to earn thousands of dollars a month and even millions, but it's not even going to happen this year because it takes a lot of time and effort.
I know YouTubers that are very talented and work really hard but still not making that kind of money their second year. I remember that in February 2018, YouTube established some new rules that made it harder for some people to monetize their videos with ads. They require you to have a certain number of views and subscribers in order to add ads to your videos.
I noticed that Tube Crusher also talks about making commissions thanks to YouTube, which basically involves recommending other people's products/services and adding your affiliate link to the description of your video.
The problem with this is that Tube Crusher does not teach you to build an audience which is essential when it comes to making money by recommending other people's products, which takes waaay more than 15 minutes a day.
I mean, you first need to build trust with your subscribers before selling any products. This is what successful YouTube creators like PewDiePie have done in order to reach a high level of success.
Only $37? Way more than that!
---
If you purchase Tube Crusher for $37, expect to get bombarded with two or three upsells.
They will tell you that you can earn more money faster or easier if you purchase these additional products, but the truth is that they are no better than first one.
How do I know this? Well, I checked out the Tube Crusher page for people who want to promote this product and they claim they can earn $199 per sale, which is way more than $37. That's why I'm 100% sure that they are trying to take more than $37 from you.

If you think about it, if would make no sense that they sold a valuable system for just $37. 
The fact that they have upsells is an indication that the initial product is worse than they claim in the sales page.
Click here to check out my FREE Earn Money Online Guide!
Is Tube Crusher a scam?
---
Tube Crusher does not live up to its promises so this is the reason why some people will call it a scam.
Others will not call it a scam because they give you something for your money and also have a 60 day money-back guarantee.
So is Tube Crusher a scam? It actually depends on your definition of scam.
In my opinion, it's a low-quality product like many others I have reviewed but it's not a complete scam because you can get your money back.
With that being said, I want to point out some red flags and scam signs that I believe you should be aware of.
The owner does not show up
---
The owner claims to be Ciaran, a YouTube "celebrity". But why doesn't he show his face?
Honestly, I couldn't help but laugh when I heard that because it seems so fake. I personally haven't heard of a YouTube celebrity called Ciaran, have you?
Someone who supposedly is a YouTube "star" would be confident enough to show his face or at least tell us what his YouTube channel is, don't you think?
But he doesn't even mention how we can get in touch with him, so I'm sorry but I do not trust him.
The video testimonials are fake
---
Remember the people who appear in the sales video and claim to have earned thousands of dollars?
Well, the truth is that they don't have YouTube channels and haven't even purchased Tube Crusher. 
They are people who sell their acting services on freelancing sites like Fiverr.
Scammers usually hire these actors because they sell their video testimonials for as little as $5, which is no big deal for the scam artists.
Let's see the proofs below: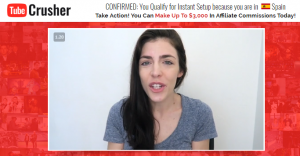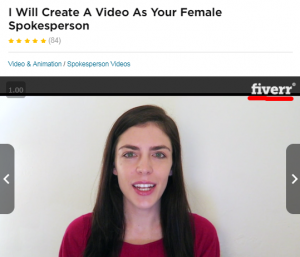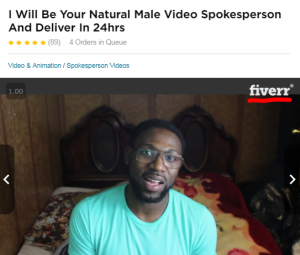 This is a clear indication that Tube Crusher is not as good as the spokesman claims. 
I mean, if it really worked they wouldn't have had to pay these Fiverr actors in order to get positive reviews.
The success stories are probably invented
---
In the sales video we are also told that members have been earning thousands of dollars per day, but we are not shown any picture of this people so there's no way to confirm they are real success stories.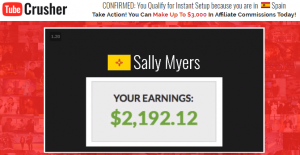 There's no proof that these success stories are from real members. I personally believe they are fake because almost everything on Tube Crusher is fake.
And the fact that Tube Crusher has recently come out is another reason why I believe no one has been successful thanks to it.
As I said, earning thousands of dollars online takes time and effort so there's no way that people have purchased this product and earned thousands of dollars right away.
Another thing you need to know
---
Last but not least, you also need to take into consideration that they might share with other companies or scammers the information you provide.
What does this mean? You can expect to receive emails that contain links to other low-quality/scam products similar to Tube Crusher.
The way to build a complete online business
---
Tube Crusher is not a reliable product to make money from YouTube or earn money online because the training provided is not good enough, just like I have explained.
Because of this, I don't recommend Tube Crusher but the final decision is up to you, you are free to do whatever you want with your time and money.
Another reason why I don't recommend it is because it's not complete, since they don't show you how to build an audience which is essential to build a sustainable online business.
That's why, if you are looking to earn thousands of dollars online, it's important that you focus on building an audience in order to build a complete and viable online business that makes you money for many years to come.
As I said, it takes a lot of commitment, patience, effort and time to build a successful online business, but when you reap the rewards, you will be glad that you put in the work!
You can do the same as me and many other people, who use a business model that enables us to make a consistent income month after month.
This business model allows me to work from home at any time I want, and I can also work from any other place as long as I have a laptop and Internet connection.
This business has many benefits so this review would be way too long if I had to explain it all here. That's why I created a FREE step-by-step earn money online guide where I explain it all in detail:
In my free guide, you will learn how this business works, why it works, what you need to do to achieve success, the step-by-step training and easy-to-use tools that I personally used…
And you will also discover how you can get started for free! Yes, you will not have to provide your financial information in order to check it all out and decide if this is right for you =)
Not only that, you will also get the chance to get free help and support from me and a huge community of like-minded people who want to see you succeed! I will personally be there for you to answer all your questions so you don't have to do this alone! 
Are you excited to leave the scams behind and get on the right track to make money online?
CHECK OUT MY FREE EARN MONEY ONLINE GUIDE HERE!
I hope this Tube Crusher review has been helpful to you and you will make the best possible decision. Don't hesitate to share it with whoever you believe that will benefit from it!
If there's something else you want to know or you have any questions, feel free to leave a comment below and I'll get back to you ASAP! ? 
Whatever you do next, I wish you nothing but the best =)