Welcome to my Cash Sniper review!
Looking at cashsniper.co and wondering if it's a scam or a legit system that can help you make $3,500 today?
If that's what you want to know, I'm happy that you are here because this honest review reveals the pure truth about this program.
Before answering your questions, let me congratulate you for taking the time to do your own research before taking out your credit card.
That's the way to avoid the ugly scams and discover the honest way to earn passive income from home!
When it comes to Cash Sniper, the truth is that they haven't told you everything you need to know so keep reading to discover some hidden truths!
Cash Sniper review summary
---
Name: Cash Sniper
Website URL: cashsniper.co
Owner: "Ray Pickard"
Launch date: March – April 2019
Price: $9 + upsells
Recommended? No
---
If you're sick of scams, check out my 1st resource to make a 4-digit monthly passive income HERE!
---
What is Cash Sniper said to be?
---
I got sent a link to this system via email, so I decided to check it out because I always like to determine whether a website is real or a scam.
To be honest, when I read the name, I didn't have high hopes for this program because many of the low-quality/scam products that I have reviewed in the past had the word "sniper" (Tube Profit Sniper, AZ Sniper, eCom Profit Sniper, Kindle Sniper, Crypto Coin Sniper).
But I didn't want to conclude this one was another scam so I gave it a chance and looked deep into it.
The sales video starts in a very similar way as other sales videos I have watched. The spokesman claims you have received a private link to access an automated system that is helping ordinary people become millionaires.
I don't like this kind of sales videos because they are clearly focused on how much money you can make and give you false expectations. I have realized that many of the sales presentations that talk about making millions tend to be scams, so we're not off to a good start…
The spokesman even says that over the past 30 days, more than 50 people have earned over $100,000 quickly and easily.
Lol I couldn't stop laughing when I heard that because it sounds too unrealistic. I think this is one of the most overhyped sales videos I have come across.
Then he shows some income proofs and mentions some people who have supposedly made over $20,000 in a week, but he doesn't provide anything that proves the people he mentions are real members.
According to him, this system takes care of everything for you so you don't need any special qualifications and it doesn't matter if you have no experience.
So is Cash Sniper the system that will enable everyone to achieve financial freedom online?
I mean, if it only costs $9 to get access to a system that can make you $3,500 today, isn't this a life saver to many people? 
Oh, and the fact that he says that you can start making money after a few clicks makes it even more exciting, don't you agree?
Well, everything this man says makes this system sound way too good to be true a.k.a. a get-rich-quick scheme that doesn't work as advertised.
He basically tells you what you want to hear instead of what you need to hear, since if he told you what it really takes to make those thousands of dollars, you would probably not get excited about Cash Sniper.
RECOMMENDED: Check Out My FREE Earn Money Online Guide Here!
How does Cash Sniper really work?
---
Cash Sniper works in a way that the ones who make money are the people who have created it. It wasn't designed for you to become a millionaire.
Well, it wasn't even designed for you to earn thousands of dollars fast or without doing much work. You'll definitely have to work waaay more than 5 minutes if you want to profit.
The truth is that you are not getting any system that can help you earn commissions on autopilot. The provide some training on how to make money with affiliate marketing.
If you have never heard of affiliate marketing, it's a legitimate business model that you can use to profit from other people's products.
In other terms, you help companies or individuals sell their products and you get paid commissions. It's quite simple to understand the concept, but it still takes work and time to make money this way.
The problem with products like Cash Sniper is that they don't provide anything special that can help you generate the kind of profits they advertise. They give you access to some basic, generic PDFs and videos that you can find for a very low price or even free. 
You see, it's possible to earn $3,500 per day in affiliate commissions, but this is something that definitely doesn't happen overnight.
When you are getting started, you cannot expect to make money anytime soon because you first need to build your audience! Without having people who click on your affiliate links and spend money on your affiliate offers, you will not earn anything.
When it comes to driving traffic, there are free and paid methods. The fastest way to get traffic is by paying for it, but it's also highly risky because it takes a lot of trial and error, so if you cannot afford to lose money to get started, I don't recommend that you pay for traffic. 
Most newbies start with free traffic methods because it's not that risky, but keep in mind that it takes a lot of time and effort. 
Also, you need to make sure that the products you promote are relevant to your audience and can help them. Sure, you can make money from low-quality/scam products, but this is not the way to go if your goal is to make a full-time income for the long-term.
The problem with promoting products that cannot help your audience is that they will ask for refunds and will stop trusting you, so helping your audience is a priority.
Who's the owner of Cash Sniper?
---
Ray Pickard, who is said to be the owner of Cash Sniper, claims to be a self-made millionaire. But I personally have my doubts because he doesn't prove he's a real person.
He says that he has more than $2 million in his bank account, but this is something that anyone can say. If he's a successful marketer, why doesn't he show a picture of himself? Does he have a website? Is he on social media? 
He doesn't provide anything to prove that he's not a con artist like the others. Words are very easy to say, but actions speak louder than words. And the fact that he acts the same way as other scammers makes me conclude that he's not the real owner.
I have exposed lots of scammy websites and ClickBank products like Cash Sniper, and I have realized that website owners that don't reveal their identities tend to be scam artists. It's obvious that scammers don't say who they are because they don't want to face the consequences of scamming.
The testimonials are not real
---
It's easy to get excited when you hear that people who have tried this system have succeeded, isn't it?
Well, I hate to be the bearer of bad news, but the truth is that the people who appear in the Cash Sniper sales video are not real members.
They haven't spent money on this product, so they have not made the kind of money they mention. Their claims are not genuine.
How do I know they are not real testimonies? I have seen some of them in other scammy videos so I could recognize them.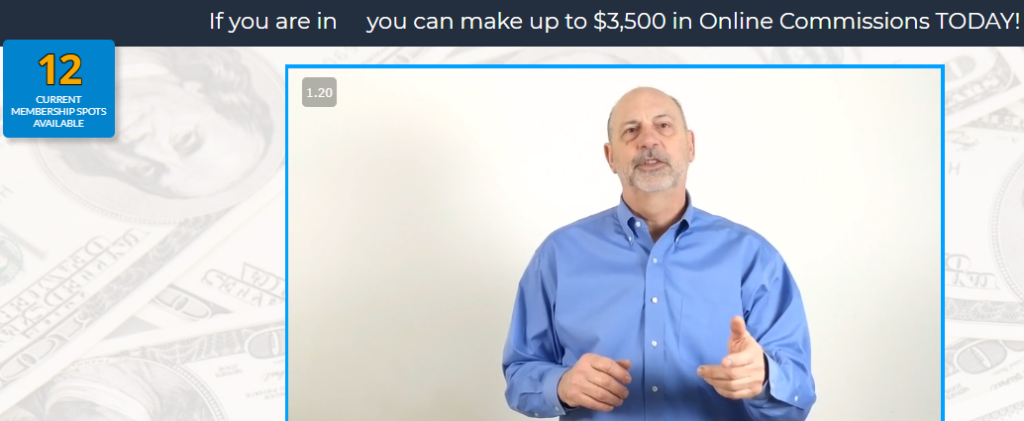 As you can see below, this man sells testimonials on a freelancing platform named Fiverr:
Don't you think that actors like him wouldn't have been hired if there were people who were actually making money with Cash Sniper?
In my opinion, it's still too soon for members to say that they are making money because Cash Sniper has come out this month (as of this review).
RECOMMENDED: Learn How I Make a 4-Digit Monthly Income Here!
How much does it really cost?
---
Another thing that makes no sense is that making thousands of dollars is only going to cost you $9. If this system works so well and can make money overnight, why are they selling it for only $9? Why don't they keep it a secret? Lol.
Truth be told, if you purchase this product, you will be bombarded with some upsells that cost hundreds of dollars. They will try to get you to spend as much as possible because they want to make as much money as possible.
Not only that, building this kind of business has other costs, so it's clear that you will have to spend way more than $9 to build your business.
This is something that they don't mention, but I believe you need to know it before making a final decision.
Another lie they tell you is that there are limited spots left. Many scammers use this fake scarcity tactic to make people buy on impulse.
In case you don't buy Cash Sniper but give them your email address, you can expect them to send you spam emails related to other "make money online" offers. They will try to convince you to buy other products.
Not only that, they will also share your personal info with other marketers, so you can expect to receive emails from people you don't know.

Is Cash Sniper a scam?
---
The answer to this question depends on how you define a scam.
If a scam to you is something that takes your money for nothing, then Cash Sniper wouldn't be a scam because you get some training for your money.
However, if you call a scam whatever has false advertising, then Cash Sniper would be a scam because it's very misleading and doesn't give you realistic expectations.
In my opinion, Cash Sniper is not a complete scam because it's sold on ClickBank, which means that you can get a refund in case you buy it but end up not satisfied.
I would call it a scam if it didn't give you rhe option to get your money back, but that's not the case. I personally never had problems with getting my money back from a ClickBank product.
WIth that said, I decided not to buy Cash Sniper because of all the red flags I have found. Yes, I would be able to get my money back, but my time would be wasted. 
What you decide to do is up to you, but everything I have found and seen makes me conclude that I do not recommend Cash Sniper.
The method I use to make passive income
---
I want to be completely honest with you, so I'm not going to say that it's easy for me to make an income online.
I personally earn passive income every day using the affiliate marketing business model, so I'm living proof that it works.
As you can see below, there are days that I have earned over $200: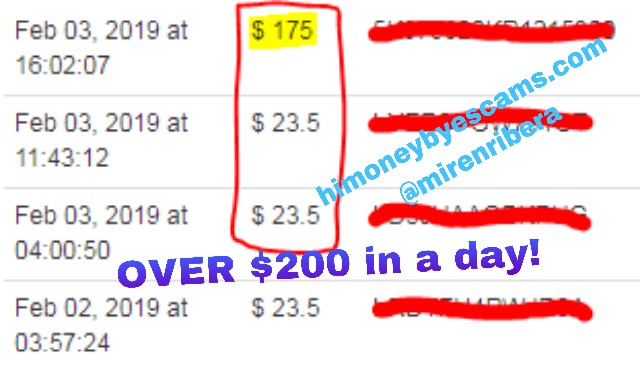 I believe this and more is achievable for anyone who puts in the effort and time. If someone like me (I started with no experience and English is not my native language) can do it, anyone can. 
To be transparent with you, I'm going to show you that I'm a real person. I'm Miren Ribera and we can connect on social networks like Instagram and Facebook.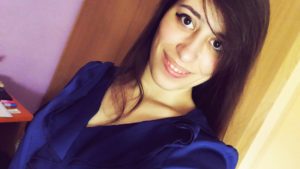 You see, I'm not hiding my identity like the owner of Cash Sniper does.
There's a lot to say about what I do, so if you're committed to learning and taking action, I invite you to check out my FREE guide here:
In my free guide, you will discover the method I use to make passive income without having to spend money on advertising, the reason this method works, the tools and training I used…
And that's not all! You also get the chance to start today for free! Yes, you don't need to spend a dime to get started. How cool is that? 
Like anything new that you start, you probably have lots of doubts and questions. But don't worry, you are not alone in this new venture! In my guide you will discover how you can get my personal guidance and how you can receive support from thousands of affiliate marketers.
I really appreciate the messages that I've been getting lately. This message you can read is from one of the +4,000 people who have read my guide and taken action:
And now let me ask you: Will you keep wasting your time on get-rich-quick schemes that don't work? Or will you get on the right way to build your affiliate biz today?
CHECK OUT MY FREE EARN MONEY ONLINE GUIDE HERE!
I hope this Cash Sniper review has been helpful to you and you will make the best possible decision.
Don't hesitate share it with whoever you believe that will benefit from it!
If there's something else you want to know or you have any questions, please feel free to leave your thoughts below and I'll get back to you ASAP! 
Whatever you do next, I wish you nothing but the best =)