Welcome to my Pay It Forward System review!
Are you wondering if payitforwardsystemnow.com is a scam? Or is this your ticket to financial freedom?
First of all, congratulations on doing your own research before making another purchase. 
There are so many frauds out there, so I'm glad that you are doing your due diligence because this is the way to avoid scams and discover the legit way to make passive income online.
When it comes to Pay It Forward System, there's many important details they don't tell you, so here I am to reveal the complete truth.
By the end of this post, you will know whether this system is right for you or not.
Pay It Forward System review summary
---
Name: Pay It Forward System
Website URL: payitforwardsystemnow.com
Owner: "Danielle Rose"
Price: $1 + upsells
Recommended? No
---
If you're sick of scams, check out my 1st resource to make a 4-digit monthly passive income HERE!
---
What is Pay It Forward System about?
---
I recently received an email about this Pay It Forward System a.k.a. Let Me Pay It Forward Now, so I thought I would check it out to see if this one would be better than the others I have come across.
Honestly, I didn't like how the sales page looked because it was very similar to some get-rich-quick scams I have exposed, so the first impression was not good.
But I never like to reach final conclusions without looking deep into it, so I took the time to do my homework.
According to "Danielle Rose", the spokeswoman, she's giving away her money generating website to the first 35 people who claim a spot on her team.
She claims the website she's giving away helped her earn over $6K in a week by spending less than 20 minutes a day. Sounds cool?
Honestly, it sounds very unrealistic because making money online doesn't work that way. It doesn't even make sense…
You see, it's possible to make that kind of money in a week, but it doesn't happen by only working 20 minutes a day. Don't you think many people would have already quitted their 9 to 5 jobs if making thousands of dollars was that easy?
Another lie she tells you is that the site will be taken down when the timer hits zero, since there's no timer!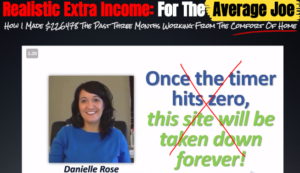 Why would she take the site down? Doesn't she want to make as much money as possible? It's clear that what she says is not true…
She even says that she's giving this system away for free, which is another lie because it costs $1 to get access.
Yes, I know that $1 is not that much, but the truth is that making money with this system costs waaay more than that, which is something she doesn't tell you. 
She basically tells you what you want to hear, just to get you excited and get you to make the payment. And once you are inside, you realize that this system is not as awesome as you were told. 
She claims to have been scammed when she was starting out, but this is something that many con artists say just to get your trust. She's definitely acting like the others because she's not being honest about what this is really about, so I cannot trust her.
RECOMMENDED: Learn How I Make a 4-Digit Monthly Income Here!
How Pay It Forward System really works
---
The Pay It Forward System does not work like Danielle claims because it's not been designed to help you become a millionaire.
In fact, it hasn't even been created to help you earn thousands of dollars or quit your job, so it doesn't really work for you. This "system" basically works for the people who have created it.
If you end up paying $1 to get access, you will not get access to a system that you just need to activate and make money. There's no such thing as a money-making system that makes you money on complete autopilot without doing much work, so don't be fooled by scammers that prey on your hopes and dreams.
So what will you receive if you make the payment? Some basic & generic training on how to make money with affiliate marketing.
Affiliate marketing is a business model that actually works, and many people (myself included) are using it to generate a full-time income online.
It's about promoting other people's products or services and earning commissions when people buy anything through your affiliate links. 
There's nothing wrong with this. The problem is that Pay It Forward System does not provide the training that's necessary for you to make the kind of money they advertise.
It's not a real system
---
The truth is that Pay It Forward System is not a real system, so it doesn't really exist.
How do I know? The spokeswoman shows a fake check (yes, it's not real) where it says "My Super Affiliate Mentor".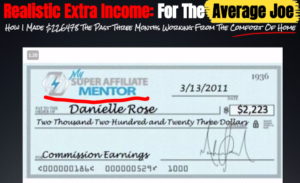 So, the real program is My Super Affiliate Mentor", which is another name for The Super Affiliate Network. I know the check is fake because The Super Affiliate Network didn't exist in 2011, it was created in 2015 (see my The Super Affiliate Network review).
Because of this, I believe that the sob story she tells you is also invented. It's proven that she's told so many lies, so I believe that her story is not real either.
When it comes to The Super Affiliate Network, it's a program about recruiting so you'll have to recruit lots of people into the system in order to make money.
Also, it has high-ticket products, which means that they will try to make you spend thousands of dollars on their products. That's how your coach a.k.a your sponsor makes the big commissions.
Most people who get involved in this kind of programs end up spending more money than they earn, and the ones who profit are the ones who already have some experience.
So, in my opinion, programs like this are usually created to take advantage of newbies and people who are on a low budget.
Yes, if someone doesn't have those thousands of dollars to invest, they will try to convince this person to get a loan just to buy the expensive products.
Fake testimonials
---
What about the people who appear in the Pay It Forward System sales video and claim to have earned thousands of dollars within a short period of time?
I know it's easy to get excited when you hear that there are people who have succeeded thanks to this system, but the truth is that these video testimonials are fake.
How do I know they are not genuine? Well, I could recognize them because they have appeared in other sales pages.
For example, this woman testimonial has appeared in other scammy videos like Kindle Sniper: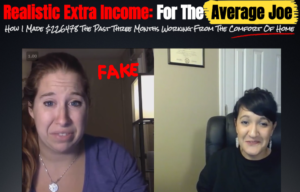 As you can see below, she sells her acting services in a freelancer site called Fiverr: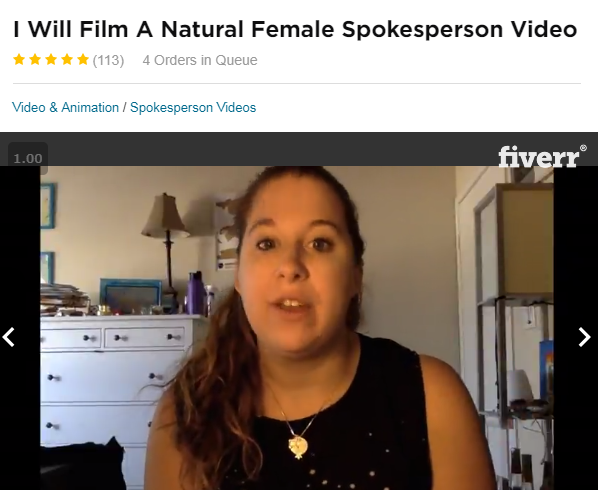 The rest of the people who appear in the video are also Fiverr actors that have made money by saying what the owners of Pay It Forward System wanted them to say.
So, they are using these fake testimonies to gain credibility, which would make you buy this system. Well, now that you know how it works it's up to you to decide what to do.
Honestly, I wouldn't expect much from people who are using deceit to make money. If what they say were true, don't you think they wouldn't have had to hire these Fiverr actors?
RECOMMENDED: Check Out My FREE Earn Money Online Guide Here!
Is Pay It Forward System a scam?
---
The answer to this question depends on your personal perspective.
For me, Pay It Forward System is a scam for several reasons that I have mentioned. Let's sum up:
It doesn't exist as a real system because the real program is The Super Affiliate Network. 

It's very misleading because they promise that you will easily earn lots of money but the truth is that it's been designed to make you spend money.

It has hidden costs.

It's full of red flags: fake testimonials, fake scarcity, hidden information, fake spokesperson…

The training is not much valuable because most of the information provided can be found for free online.
Something I want to add is that Danielle Rose is probably a paid actress and her real name is not even Danielle because her story she tells is fake.
When it comes to The Super Affiliate Network, it's technically not a scam but the fact that they are using scam pages like Pay It Forward System is something that I don't like.
I mean, how can you trust people who are lying to you in the first place? We all have lied at least once, but not all of us have the same purpose.
Sometimes we tell lies to avoid problems or make a surprise, but in this case, these people are lying to make money at your expense which is very unethical.
What you end up doing is up to you, but after everything I have mentioned, I have to conclude that I do not recommend Pay It Forward System.
Here's how to leave the get-rich-quick scams behind
---
The way you can stop wasting your energy on scams or systems that don't work is by keeping in mind that earning a full-time income online takes work and time.
Just because it's online, it doesn't mean it's easier than if it was offline. We are used to get things instantly when it comes to getting access to websites and sending messages, but making money online doesn't work that way.
So don't be fooled by fraudsters who claim to have a done-for-you automated push-button system that you can use to get money instantly. These kind of systems only make the scammers richer.
When I realized that, I stopped wasting my time on these kind of systems and started working on something that work, which is affiliate marketing.
Like I said, this is a legitimate business model that can help you make passive income if you use it the proper way. There are days that I have earned over $200 in affiliate commissions, as you can see below: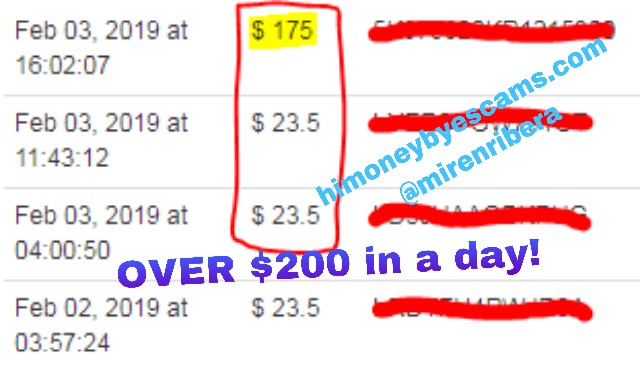 I'm living proof that this business works, so I believe that if someone like me (I started with no experience and English is not my native language) can do it, anyone can. 
The method I use will not require you to spend thousands of dollars, so if you put in the work, you will end up making way more than what you spend.
This is not MLM or a pyramid scheme because it doesn't require you to recruit or promote the same product as everyone else. Instead, you can choose between millions of products to earn money from and the best part is that it will be related to a topic you have a passion for, so you will not get bored =)
There's a lot to say about what I do, so if you're an action taker, I invite you to check out my FREE guide here:
In my free guide, you will discover the training and tools I use to earn passive income, the 4-step method I followed, the reason this method works…
 Additionally, you get the chance to start today for free! Yes, it costs $0 to get started. How cool is that? 
Like anything new that you start, you probably have questions and doubts. But don't you worry because in my guide I reveal how you can get support and help from me and other affiliate marketers, so you can rest assured knowing that your questions will be answered.
I really appreciate the messages that I've been getting lately. This message you can read is from one of the +4,000 people who have joined me:
And now let me ask you: Will you keep wasting your time on scam systems that don't work? Or will you get on the right way to build your online business today?
CHECK OUT MY FREE EARN MONEY ONLINE GUIDE HERE!
I hope this Pay It Forward System review has been helpful to you and you will make the best possible decision.
Don't hesitate share it with whoever you believe that will benefit from it!
If there's something else you want to know or you have any questions, please feel free to leave your thoughts below and I'll get back to you ASAP! 
Whatever you do next, I wish you nothing but the best =)