Welcome to my Kindle Sniper review!
I just came across this new ClickBank product called Kindle Sniper (kdlsniper.com) and was wondering if it's a scam or if it really works to make $1,000/day with Amazon Kindle Publishing.
I've noticed that many ClickBank products that are being launched lately don't live up to its promises so I was wondering if Kindle Sniper is like the others.
If you also have questions about KDL Sniper, then you're in the right place because I've purchased this product and looked deep into it to write this Kindle Sniper review and let you know what this is really about and all the red flags I've found.
Kindle Sniper review
---
Name: Kindle Sniper or KDL Sniper
Website URL: kdlsniper.com
Creator: "Martin Price"
Price: $37 or $27 ($10 discount) + upsells
Launched in: May 2018
Overall Ranking: 1/5
---
If you're sick of scams, check out my 1st resource to make money online here!
---
What is Kindle Sniper supposed to be?
---
The Kindle Sniper sales page is similar to other low-quality products sales pages I've come across in the past. It has some overhyped claims, a video presentation and then a form to complete to purchase it.
I didn't want to think it was like the other ClickBank products I've reviewed, so I gave it a chance by watching the sales video and purchasing it.
Martin Price, the alleged owner of KDL Sniper, claims to offer a system that will allow you to make thousands of dollars authomatically by using one "secret" website that sells one single type of product.
Well, the truth is that this website he's talking about is Amazon, which is far from being secret. And selling e-books on Amazon Kindle is not new, it's just a way of making money online that people have been using for years already.
He makes it sound as if it were so easy to make a substantial income by selling e-books on Amazon Kindle, since you don't need to spend time on writing.
You can use ghost writers so you will not need to write anything yourself, but this is nothing new so I don't get why "Martin" talks about this as if it were a secret.
He even claims you don't need any previous experience or special skills. You just need an Internet connection, a smartphone/laptop and only 10 minutes of work per day because he's supposedly done all the hard work for you. How generous of him, isn't it?
The Kindle Sniper sales video also shows us some testimonials that claim to be earning five figures per week the same week they've got started, doesn't it sound amazing? 
Well, the truth is that they haven't even purchased Kindle Sniper themselves, it's all hype and I'll prove it to you when I reveal all the red flags I've found.
How does Kindle Sniper work?
---
Well, the truth is that Kindle Sniper doesn't work like the spokesman wants you to believe. He claims you're going to get a system that will teach you to earn thousands of dollars per day doing little to no work.
However, after purchasing this system for $27 (I got a $10 discount when I tried to exit the page), I can confirm that Kindle Sniper is not what the spokesman claims it to be.
Let's take a look at how the members area looks like: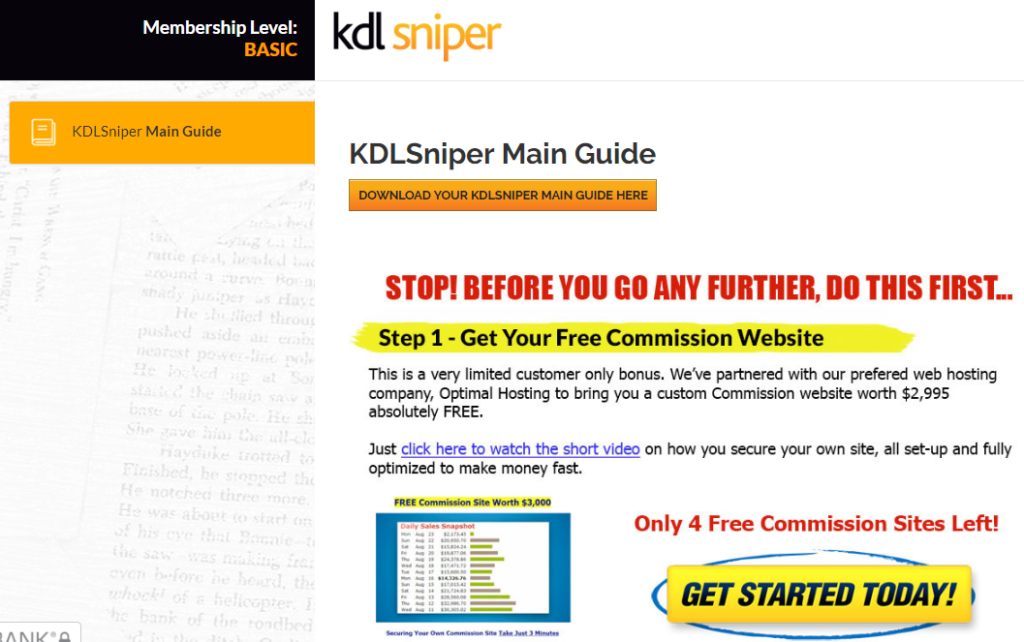 To be honest, I wasn't expecting much after watching the sales video. It's like other low-quality products I've come across in the past. 
Basically, what you get after purchasing this is a Kindle publishing guide of 72 pages. It doesn't look like anything special and it doesn't have any secret tactics to make thousands of dollars per day.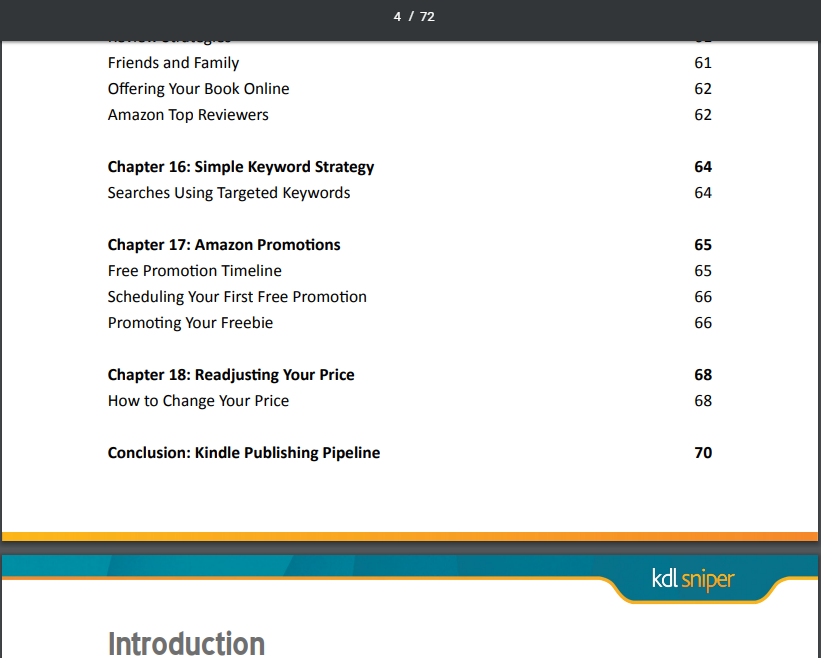 The guide contains these 18 chapters about niche research & selection, creating a title, cover design, publishing to KDP, publishing to CreateSpace, Amazon promotions, getting reviews…
I personally don't like the fact that the spokesman calls this a system because a PDF is no system at all. That's all you get after paying $27 or $37.
Apart from that, they recommend you to get a "free commission website", but I checked it out and saw that this is not free at all. So why do they claim this is free? I'm tired of these con artists that don't seem to stop lying about their offers.
They recommend that you get a 2-year package of hosting and security on CoolHandle. 
The problem I see with this is that CoolHandle is not a reputable company and has many customer complaints. 
Coolhandle doesn't really care about their customers and I've heard that no one has got their money back. As you observe above, they have a 1 out of 5 stars rating. That's why I don't recommend that you get involved with coolhandle. 
The reason why the people behind Kindle Sniper are recommending Coolhandle is because they're affiliated with them, which means that they will earn a commission if you end up making a purchase.
In my opinion, this proves that they just care about making money themselves. They don't really care about helping their clients. Why do they recommend something that is not going to benefit their customers? This is unacceptable and it shows what their true intentions are.
Click here to check out my top recommendation (FREE to get started)!
Is Kindle Sniper a scam?
---
Well, I know a lot of people would call Kindle Sniper a scam because it doesn't live up to its promises, the sales page is misleading and they recommend a scam hosting platform (CoolHandle).
In my opinion, it's not a 100% scam because they provide the PDF guide and you can get a refund. I will call this a low-quality product like these other ClickBank product I've exposed:
In this section I want to point out some of the red flags I've found so that you know what to look out for whenever you come across other products like this.
Martin Price doesn't show up
---
The spokesman claims to be Martin Price but he doesn't show his face and doesn't tell us where we can find information about him.
He claims to have earned $500,000 with Amazon Kindle but there's no real proof. I found out that there's an author called Martin Price but there's no way to know if he is the same person who has created Kindle Sniper.
The spokesman sounds like a voice actor to me, so I wouldn't be surprised if Martin Price was a made up character to promote this product. Low-quality/scam products usually use fake characters to avoid revealing the identity of the con artists behind them.
The testimonials are paid actors
---
The people who appear in the Kindle Sniper sales video are not real members and have not invested in it, so you can't believe in what they say.
These people sell their acting services on Fiverr for as little as $5, which is no big deal for the scam artists who need positive reviews to get people to purchase their BS products.
Let's see some of these fake testimonials and the proofs that they're Fiverr actors: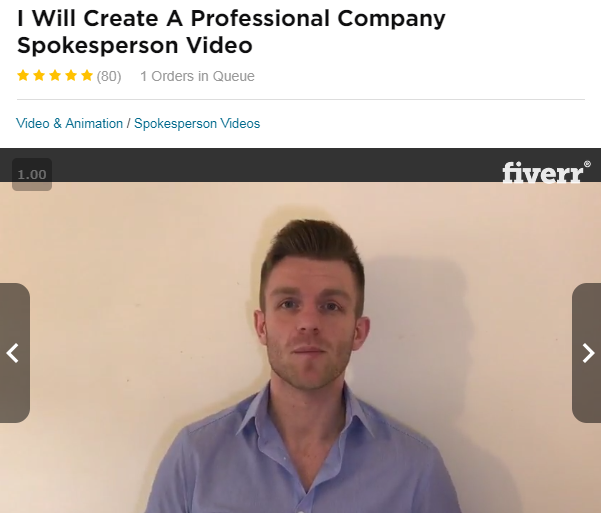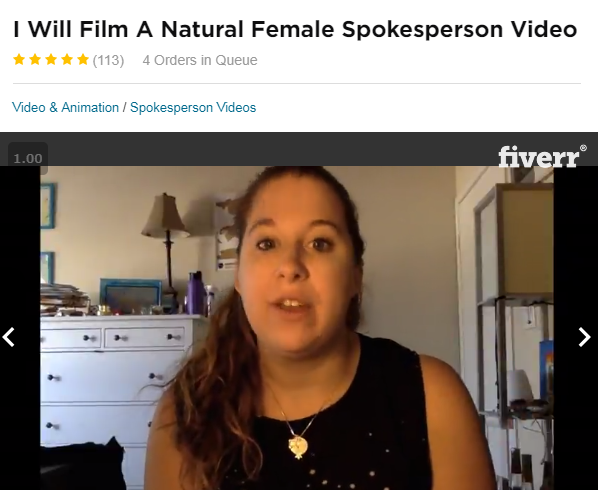 Fake success stories
---
Below the Kindle Sniper sales video, you can read that someone who's supposed to be a Kindle Sniper member has made thousands of dollars within a day.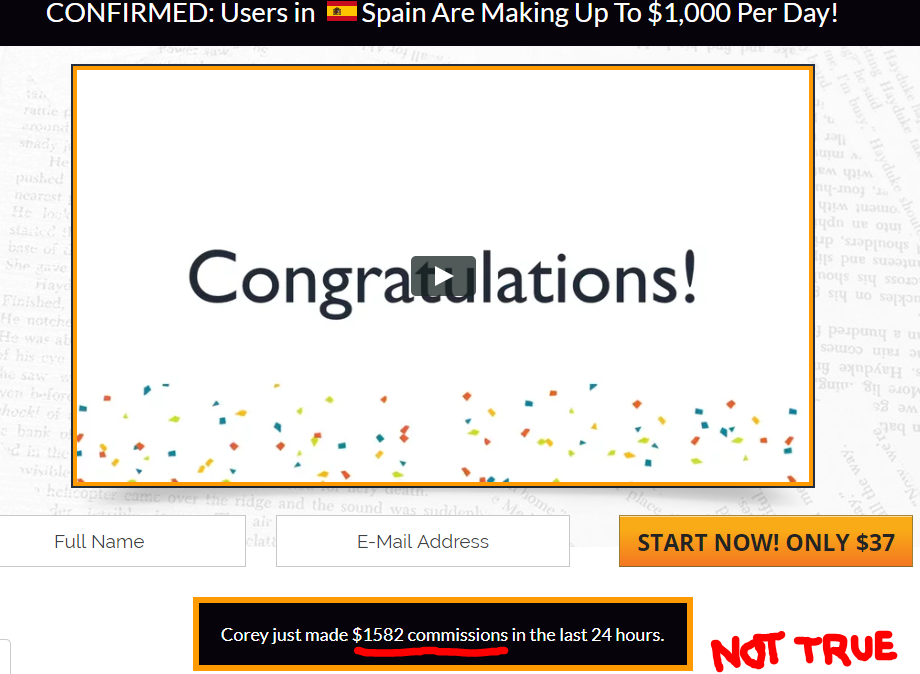 I personally don't believe it's a real success story because:
There's no real proof

It makes no sense that they have earned commissions because this product doesn't involve promoting other people's products. 
That's just a fake claim that they use to make you believe that it's possible to earn a lot of money in a short period of time, just to get you excited so that you end up purchasing this product.
They're not transparent when it comes to the price
---
Another thing I don't like about this product is the fact that they don't mention the upsells because I know that knowing the total cost upfront is important to make an informed decision.
In this case, there are 2 upsells and 1 downsell:
Upsell 1 – Kindle Sniper Premium ($97)

Downsell 1 – Kindle Sniper Premium ($77)

Upsell 2 – Niche Destroyer ($65)
Oh, and they don't even mention the advertising costs. In order to make a lot of sales, you will need to invest in marketing and promotional campaigns.
After seeing all the red flags and scam signs, I decided not to purchase these additional products. 
More fake claims
---
Other fake claims that I've found are:
"Users in Spain are making up to $1,000 per day"

"You've received a special invitation"
First of all, no matter the country you're from, it always says that users are making $1,000/day. The country you're from has nothing to do with the amount of money users are making.
Here's a proof that it's the same for someone who lives in the US: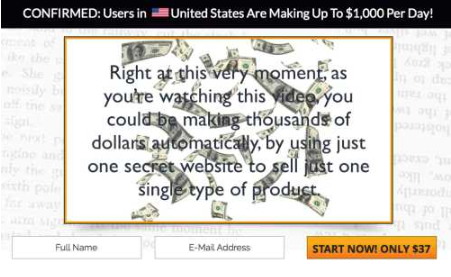 Another thing is, people are not making $1000/day with this program because the PDF they provide is not enough to reach that level of income.
Secondly, there's nothing special about this because many people have been emailed this product. There are many marketers who are sending this product to their email subscribers, so these "invitations" are not special. 
They make these overhyped claims just to get you excited and convince you to purchase this product. 
How to make a full-time income online
---
My final conclusion is that Kindle Sniper or KDL Sniper is not worth it, so I don't recommend it. They do false advertising, which gives some people unrealistic expectations and makes them lose hope when it comes to making money online. 
People who create products like Kindle Sniper are the ones who give the "make money online" industry a bad reputation. It's possible to earn $1,000/day online but it takes a looot of work, learning, patience and time. It's definitely not going to happen without making efforts.
If it were easy, don't you think that most people would have already made millions online? 
Remember that the con artists behind Kindle Sniper are referring people to CoolHandle in order to earn commissions when people buy a CoolHandle hosting package? What they're doing is called affiliate marketing.
I also do affiliate marketing to make money, but the difference between what they do and what I do is that I don't promote products or services that are bad/scams. I only tell people about products that I believe in and know they can benefit from.
In fact, there are many people using affiliate marketing to make a full-time income online. It's a lucrative business model that takes advantage of the millions of products that are being sold online, included the products that are being sold on Amazon. 🙂 
I also love the fact that you can choose a topic you're passionate about to build this business, since doing what you love makes the process more enjoyable =)
If you're interested in learning more, click the button below now:
You will learn how this business works, why it works and the place where you can get step-by-step training and other useful resources.
I will also show you how to get started for free! Yes, you don't need to spend a dime to get started =)
This will require a long-term commitment from you, but I don't see why you can't make it if you put in the effort and time. If I and other people can do it, I believe you can too!
I and other bloggers & Internet entrepreneurs will be there to help you along the way. You don't have to do this alone!
LEARN ABOUT MY TOP RANKED PROGRAM NOW!
I hope this honest review has been helpful to you and you will make an educated & wise decision. Don't hesitate to share it with whoever you believe that will benefit from it!
If there's something else you want to know or you have any questions regarding Kindle Sniper, feel free to leave a comment below and I'll get back to you ASAP! ? 
Best wishes =)