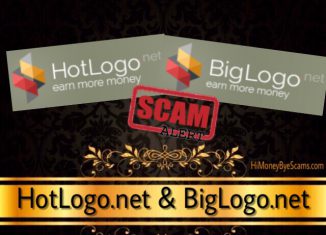 Hey everyone!
I recently came across two websites called HotLogo and BigLogo, which look exactly the same way and work the same way. That's why I thought I would write a post to talk about both sites.
If you have come across one of these websites, you might have some questions like:
Is HotLogo.net a scam?

Is BigLogo.net a scam?
If you are also wondering if these websites will help you make real money online, then you're in the right place because I'm going to reveal the truth about HotLogo and BigLogo.
In this review, I will show you what these websites are about, how they really work, all the red flags I've found and other things about making money online.
HotLogo.net and BigLogo.net review
---
Name: 
Website URL:
Owners: Hidden
Price: Free to join
Overall Rating: 0/10
---
If you're sick of scams, check out my 1st resource to make money online here!
---
What are BigLogo.net and HotLogo.net supposed to be?
---
BigLogo.net and HotLogo.net look like legitimate websites that give people the chance to earn some extra money for performing some simple tasks like choosing and rating logos. 
They are like clones, as you can observe below: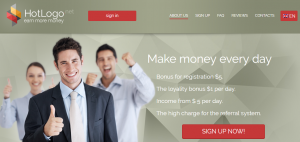 They give you a $5 bonus when you first sign up and $1 for logging in every day and using their site, and you can make at least $5 per day.
On top of that, you can also make 1 buck per referral (every person who joins HotLogo or BigLogo through your affiliate link) and 30% of their earnings.
They supposedly send payments via Payza, Visa, Skrill, Maestro, PayPal… when you have a minimum account balance of $20.
And the best part, it's free to sign up so it seems like a great opportunity to earn extra money online, doesn't it? I mean, you don't need any prior experience or technical skills to choose and rate logos or perform other little tasks.
Well, the truth is that these websites are not what they appear to be. There are some red flags and scam signs that I'll go over so that you know why HotLogo.net and BigLogo.net are not legit.
How HotLogo.net and BigLogo.net allegedly work
---
Getting started is easy. All you have to do is to fill out a form with a name, a password and an email address.
After joining, you get a $5 bonus and then can take a look at the available jobs, which are not really jobs. They're like tasks to complete.
These tasks are said to have 3 different levels: easy, normal or hard. But I completed a task of each type and they're all easy. Anyone can do them, honestly.
This is all you have to do to is this:
Pick a logo you like.

Tick four or more boxes to answer the question "why did you choose this option?"

Do the same as before to answer the question "what else would you have chosen?"
After doing that, you will apparently have earned between $0.3 and $0.6 per task. They claim you can earn more money per task if you complete at least 20 tasks and get 7 referrals, but I don't think it's worth it and I'll go over it in a bit.
It's really encouraging to see your account balance increase and increase, right? It's similar to completing paid surveys but the difference is that paid surveys ask even more questions that are more complex and take more time to comlete.
That's why I think that these tasks are way too simple and easy to pay at least $0.3. Even though it's little cash, it's a lot when you take into account how easy the tasks they provide are.
I personally will not waste my time on sharing the biglogo or hotlogo referral link because it's not going to benefit anyone but the scam artists behind these websites.
How BigLogo.net and HotLogo.net really work
---
Both HotLogo.net and BigLogo.net only work to make money themselves. They don't work to help you earn money.
I know it's easy to get excited when you're seeing your account balance grow because it seems like you're finally making money online. But the truth is that all that money is fake money and does not exist, so they will not pay you. They will not send you any money.
What they really want is to get as many people as possible to sign up because they want to collect as many email addresses as possible. 
Once they have a big list of email addresses, they will sell them to other companies or con artists. 
Therefore, if you have signed up with your main email address, you can expect to receive spam and junk emails from people you don't know. I don't recommend that you open their emails because they might contain links to other scams or files infected with malware, which can put you at risk for identity theft.
Not only that, they will also try to rob you blind. That's why they ask for your number of purse:
The fact that they want to know your PayPal or Payza number of purse is a big red flag because this number links your PayPal or Payza account to your bank account, which means that they will be able to access your bank account if they obtain your number of purse.
Imagine how much money they will earn if they get the number of purse of everyone who joins!
If they really wanted to pay you, they would only need to know your email address linked to PayPal or Payza, but you can see they don't really intend to help you make money.
HotLogo.net and BigLogo.net scam signs
---
There's no doubt that HotLogo.net and BigLogo.net are a total scam because they don't live up to its promises and try to make money at your expense.
With that being said, I want to point out some of the red flags I've found because they're an indication that these websites are not what they appear to be.
The owners don't show up
---
To be honest, it doesn't surprise me the fact that the people who are running these websites don't mention their name or reveal their identities.
Scam artists usually create fake characters or avoid showing up to avoid getting persecuted by their victims.
I don't know about you, but I personally don't trust websites whose creators don't show up because it's an indication that they're trying to hide something and that's what scammers do.
The reviews are fake
---
They have a section with positive reviews that are supposed to have been written by members, but the truth is that they're invented by the scam artists.
Firstly, they all contain grammar mistakes and are written in a similar way.
Secondly, it makes no sense that the same people have joined both websites and have copied and pasted the comments.


Apart from that, if there websites were legitimate, don't you think there would be some positive BigLogo and HotLogo reviews on the net? I personally haven't found any real positive review.
They contradict themselves
---
Another thing I don't like about these websites is the fact that they're not clear about the minimum payout threshold.
In their homepage they claim that you need to reach $30 in order to get paid.
However, in another section they claim the minimum withdrawal is $20.

This is another indication of their lack of honesty. If they were really paying people, don't you think they would be clear about the minimum amount of money you need to get paid?
They haven't paid anyone
---
The truth is that they haven't paid anyone and they don't even reply to their members emails. If you have a question or issue, these con artists will not help you.
HotLogo.net actually came out in 2017 and BigLogo.net is a clone of HotLogo that has been created this year. Scammers usually buy different domains for the same scam in order to prevent potential victims from finding honest reviews like this.
Below you can read a HotLogo real review:

He's not the only one who has got scammed by HotLogo, there are more people who have fallen for this scam.
In fact, I remember some months ago I exposed another "clone" site called PipLogo. 
The truth about earning an income online
---
HotLogo.net and BigLogo.net are complete scams, so I don't recommend that you spend time trying to make money on those sites.
In case you have already joined and are sharing your referral link to get referrals, I suggest that you stop doing it in order to prevent other people from falling for this scam.
If you share your referral link, the only ones who are going to earn money are the scammers, which is not okay because they're wasting other people's time. 
I've reviewed hundreds of websites like these and they all claim making money online is easy, which is far from the truth.
If it were easy, don't you think that most people would already have made a fortune online? No one would be searching how to make money online.
The more you search for ways to make money easily, the more scams you will come across. So, if you want to make real money online, know that you will have to put in the work and time.
The business model I use has given me a way to earn a consistent income month after month while helping other people. 
In fact, there are many people who are using this business model to make a substantial income from home. 
Not only that, this business also takes advantage of the millions of products that are being sold online so you will not have to spend time on creating your own products.
You will also be able to choose a topic you love to build this business around, which will make you enjoy the process even more =)
There are many things I love about this business model and I explain it all in my FREE step-by-step earn money online guide, which you can read by clicking the button below:
You will learn how my favorite business model works, why it works, where you can find the step-by-step training and tools I use and more!
I also explain how you can get started for free! Yes, you don't need to worry because it's risk-free to get started. 🙂 
To add to it all, you can rest assured knowing that you're not alone on this because you get the chance to join a huge community of bloggers and Internet entrepreneurs willing to help you out =) 
I'm so excited for you to finally leave the scams behind and get on the right way to make money online!
CHECK OUT MY FREE EARN MONEY ONLINE GUIDE HERE!
I hope you have found the answers to the questions you had concerning BigLogo.net and HotLogo.net. Don't hesitate to share this post with whoever you believe that will benefit from it!
If there's something else you want to know or you have any questions, feel free to leave a comment below and I'll get back to you ASAP! ? 
Best to you =)