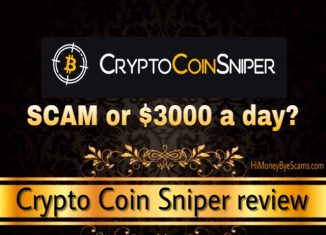 Welcome to my Crypto Coin Sniper review!
You have landed on the Crypto Coin Sniper sales page (cryptocoinsniper.co) and are wondering if this system will help you become financially independent?
Or is Crypto Coin Sniper a scam that you need to stay away from?
Well, the first thing I need to do is to congratulate you for taking the time to do your research before getting involved in another online money-making opportunity.
As you may already know, there are too many scams out there so doing your research is the way to avoid scams and find the real way to earn money online!
In this review, I will show you what Crypto Coin Sniper is about, how it really works, the scam signs that I have found and more.
Crypto Coin Sniper review
---
Name: Crypto Coin Sniper
Website URL: cryptocoinsniper.co
Owner: "Paul Scott"
Created in: March 2018
Price: $37 + upsells
Overall Ranking: 27/100
---
If you're sick of scams, check out my 1st resource to make money online here!
---
What is Crypto Coin Sniper about?
---
The moment I came across the Crypto Coin Sniper sales page I thought it was a scam because it looks very similar to other scams that I have exposed.
But I didn't want to judge it based on its appearance so I decided to watch the sales video to see if this one was different from the others.
Crypto Coin Sniper is said to be a cryptocurrency software that can make you $20,000 in a single week thanks to a little known secret.
The spokesman even claims you can make up to $3,000 every day, even the same day you purchase this software. How cool, isn't it?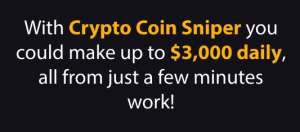 He really knows how to get people excited by telling them what they want to hear. Another outrageous claim he makes is that you can earn $1,000,000 in less than a year.
This software is so powerful and amazing because:
It doesn't require you to have any previous experience or special skills.

You don't need to know anything about Bitcoin or cryptocurrencies to make it work.

It takes care of everything for you.

It only takes 20 minutes to set up.

You cannot lose money.

It works on complete autopilot.
All you have to do is to place the trades the software tells you to make and watch the money rolling in.
Doesn't it sound too good to be true?
I mean, if this Crypto Coin Sniper software can supposedly make you a millionaire, why is he selling it for only $37? Something doesn't feel right here.
How does Crypto Coin Sniper work?
---
Crypto Coin Sniper is said to use complex algorithms to find profitable trades and then it tells you when and what to trade so that you make money.
It sounds like an amazing software, right?
Honestly, there's no such thing as never losing the trades. I've only heard this kind of claims in other scam softwares like the Bitcoin Code, 1K in 1 Day, Crypto Genius… 
The cryptocurrency market is very volatile so there's no such thing as a software that can predict what's exactly going to happen.
If a software with 99-100% accuracy really existed, don't you think it would cost a fortune? They wouldn't be giving it away for $37.
Yes, it's possible to make lots of money with cryptocurrency and it's true that there are people who have earned millions, but you know what? None of them have used an "automated done-for-you software". They all have had to spend time on learning and working. 
The owners of Crypto Coin Sniper just want to take advantage of the fact that there are people who don't know much about trading or making money online.
They just tell you what you want to hear to get you to purchase their product and once they have your money, you realize it doesn't work like they advertise.
What if you end up purchasing this software? Let's see what's included inside the members area.
Inside the members area
---
This is how the members area looks:
They tell you to follow a 4-step process to get started:
Buy Bitcoin. They tell you to buy Bitcoin to be able to buy other cryptocurrencies like Ethereum, Ripple…
Join a cryptocurrency exchange. They recommend that you open a trading account on Bittrex, Bitfinex or Binance.
Go through the user guides or video tutorials. They provide 6 video tutorials that explain how to buy Bitcoin, how to join the trading platforms, how to transfer Bitcoin from your Coinbase wallet to your Bittrex or Binance wallet and some tutorials about signals.
Start trading. Follow the Crypto Coin Sniper trading signals.
The upsells
---
Just like most ClickBank products, Crypto Coin Sniper also has upsells.
After paying the $37 initial fee, you will be bombarded with two upsells:
Upsell 1 – Crypto Coin Sniper Pro signals. This is supposed to help you make your trades more profitable. Price: $197 ($97 downsell).
Upsell 2 – Crypto Coin Sniper Pro training. This is a document about cryptocurrencies, the blockchain and other trading strategies. Price: $97.
Honestly, I don't believe the content of these upsells is worth the price.
If you end up buying Crypto Coin Sniper, I suggest that you don't invest more than you can afford to lose.
Click Here To Get My FREE Step-By-Step Earn Money Online Guide!
Is Crypto Coin Sniper a scam?
---
Crypto Coin Sniper doesn't live up to its promises when it comes to the sales video because there's no way you are going to earn $3000 the first day you get started.
So is Crypto Coin Sniper a scam? The answer actually depends on how you define a scam.
There are reviewers who are calling Crypto Coin Sniper a scam because it's marketed like a get-rich-quick scheme and looks similar to other binary options scam softwares.
In my opinion, Crypto Coin Sniper is not a 100% scam because they provide something for your money and you can also get a refund because the payment is processed through ClickBank.
With that being said, I am going to point out some scam signs that you need to be aware of because they are present in other scam videos.
Paul Scott is probably a made up character
---
The spokesman claims to be Paul Scott, but he doesn't show a single picture of himself and doesn't even tell us how to get in touch with him.
Why is he hiding? If he's offering an amazing software, shouldn't he be proud of himself and show up?
From my experience, I believe that Paul Scott is not the real owner of Crypto Coin Sniper.
Scammers and unethical marketers usually invent fake characters and stories for their BS products, that's what I have seen in other scam/low-quality products that I have reviewed.
The reason why these con artists don't show up is to avoid getting caught or reported by their victims.
The video testimonials are fake
---
Another indication that this Crypto Coin Sniper software does not work like they tell you is the fact that the video testimonials are not real members.
Yes, that's right, those people haven't tried the Crypto Coin Sniper software. They have got paid to recite the scripts that were given to them by the scammers.
Let's see the proofs that confirm the video testimonials are Fiverr actors: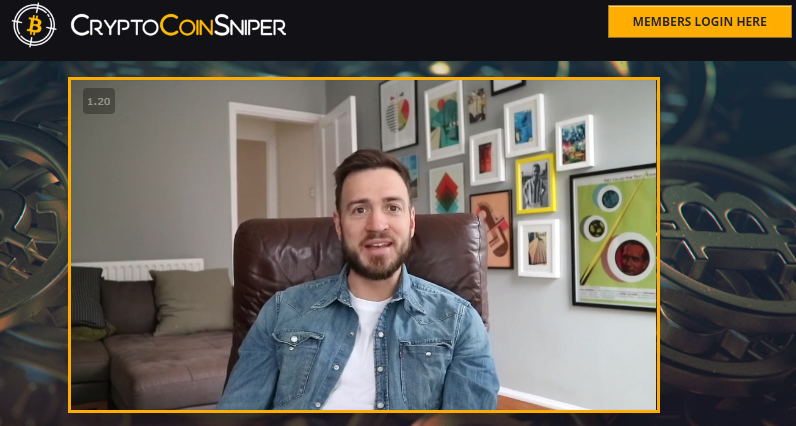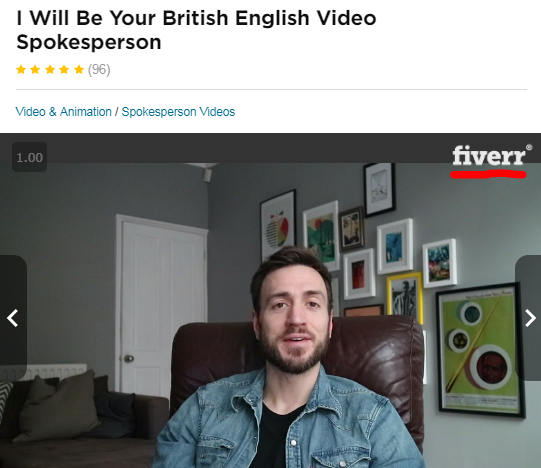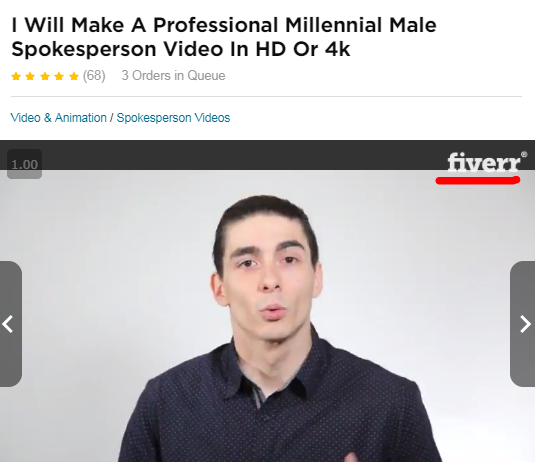 If the software works so well, why did they pay these Fiverr actors to get positive opinions? This is what most scammers do to lure innocent people in.
It's not risk-free
---
Another fake claim they make is that this is a risk-free opportunity.
I mean, trading has always carried a certain level of risk and this software will not change that, so there's no such thing as this having 0 risks.
"Limited copies available"
---
They also claim there are limited copies available and that they can only share this software with a select few, but this is a lie.
Crypto Coin Sniper has been around for more than 3 months, so there's no way there are limited spots available.
Another thing is, these people would never limit the amount of money they can make.
The truth is that they want as many people as possible to purchase this software.
Another thing you need to know
---
Last but not least, you also need to know that these people might share your personal details with other companies or scammers.
What does this mean? You will receive emails from people you don't know. I don't recommend that you check them out because they might contain links to other scams or low-quality products.
A less risky way to make money online
---
Crypto Coin Sniper is very similar to other ClickBank products that end with "Sniper", and it's kind of funny the fact that they all are very similar, maybe they have been created by the same con artist.
These other low-quality products that I have reviewed are:
Because of all the red flags I have found, I definitely don't recommend Crypto Coin Sniper, but the final decision is up to you.
If you are interested in trading cryptocurrencies, there are free tutorials on YouTube or you can even search for courses on Udemy.
If you are looking for a less risky way to make a substantial income online, then it's best to build your own business.
The business model I use is newbie-friendly and has given me a way to earn a consistent income month after month.
It's a business model that doesn't require you to create your own products and also allows you to work on something you are passionate about =)
I love many things about this business model so I created a FREE step-by-step guide where I explain it all:
In my free guide, I explain how I make money, why this business works, proof that it works, what you need to make it work…
And I also show you how to get started for free! Yes, you will be able to check it all out without spending a dime =)
Not only that, you will also get free help and support from me and other like-minded people who want to see you succeed!
It's your time to say bye to the scams! Looking forward to helping you build your online asset! 🙂  
CHECK OUT MY FREE EARN MONEY ONLINE GUIDE HERE!
I hope this Crypto Coin Sniper review has been helpful to you and you will make the best possible decision. Don't hesitate to share it with whoever you believe that will benefit from it!
If there's something else you want to know or you have any questions, feel free to leave a comment below and I'll get back to you ASAP! ? 
Whatever you do next, I wish you nothing but the best =)