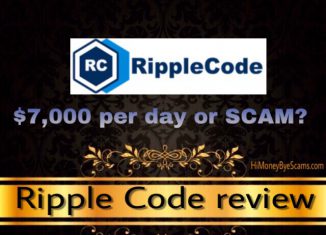 Welcome to my Ripple Code review! 
You're here because you've come across a page called Ripple Code a.k.a. Ripple Millionaire Club and are wondering if it's the real deal, am I right? Or is Ripple Code a scam that will leave you with less than you have?
Well done on doing your research! There are too many scams out there so it's good that you always do your research before getting involved in a money-making/business opportunity.
In this review of Ripple Code, you'll find out what this is really about, what they don't say in the sales video, how it works and more.
.
Ripple Code review
---
Name: Ripple Code / Ripple Millionaire Club
Owner: "James White"
Price: at least $250
Created in: February 2018
Overall Rating: 0/10
.
---
If you're sick of scams, check out my 1st resource to make money online here!
---
.
What is Ripple Code about?
---
The Ripple Code sales video is very similar to other scam videos I've exposed in the past.
The moment I came across the Ripple Code sales page, I was 100% convinced it was a scam because it's almost a clone other scams I've exposed.
Ripple Code is supposed to be a software that can make you $7000 per day starting today.
According to the alleged creator of this software, James White, everyone who's tried this software has earned at least $7000 every single day.
And now he's giving 25 people the chance to join this magical software. He claims his goal is to make 25 people millionaires.
And the best part is, this software does all for you and it's free. How generous Mr White is, isn't him?
I mean, no matter the method you use to make money, it's not as easy as he claims. Just because there are people who have got rich investing in cryptocurrencies, doesn't mean that this software is as good as he's trying to make you believe.
.
Does Ripple Code work?
---
The truth is that this software only works to generate profits to the people who have created it.
It's not going to help you make $7000 per day. In fact, it's not going to help you earn a dime.
Let's see how it's supposed to work and how it really works.
.
How Ripple Code allegedly works
---
The Ripple Code is supposed to work in a very easy and simple way.
You only have to join by completing a form with your name, your email address, your phone number and a password.
Then you only have to fund your trading account with $250 to activate the software, turn the auto-trader on, then the software starts working on autopilot and makes you thousands of dollars per day without you having to do anything.
You just have to push a few buttons and expect to see the profits come into your account. You'll be able to withdraw your money whenever you want and that's it.
.
How Ripple Code really works
---
If you've watched the Ripple Code sales video, you might remember seeing this:
And now you may be wondering, what is the Bitcoin Millionaire Club? How is this related to Ripple Code?
Well, the truth is that Ripple Code is like a clone of the Bitcoin Millionaire Club, which is another scam that I exposed in the past.
In fact, Ripple Code and the Bitcoin Millionaire Club are not real softwares themselves. They're just pages that the con artists have created to take you to BannerBit, which is an advertising platform that has nothing to do with Ripple or cryptocurrencies.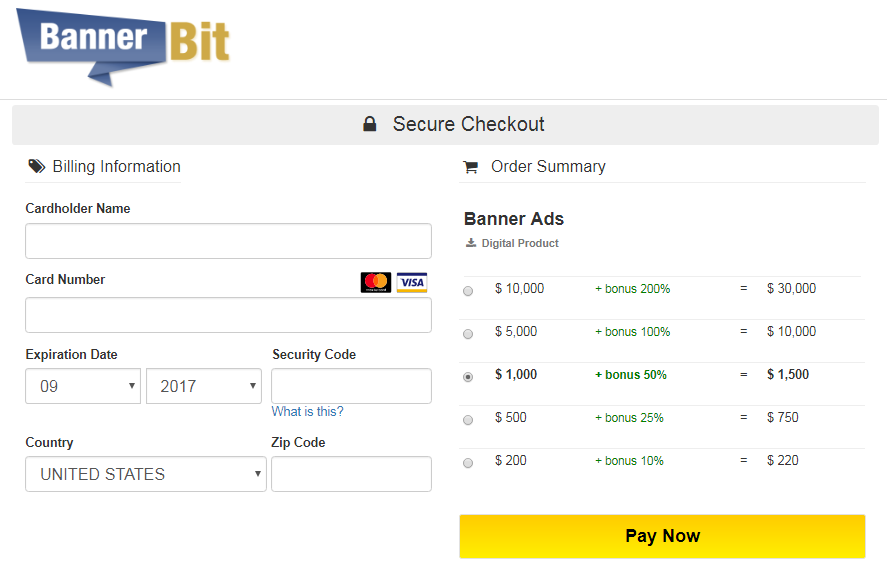 So wasn't this a software called RippleCode? Why aren't they honest about what you're really getting into?
Well, they might not tell you about BannerBit because it has some complaints from people who've got scammed.
I exposed it some months ago and have received some comments from people who've fallen for it. 
BannerBit is basically about buying and selling ads, and has nothing to do with Bitcoin or Ripple, as I've said before.
They'll tell you to buy one of their banner ads packages (see them in the picture above). They'll call you and try to convince you to purchase the expensive package in order to get a big bonus.
So… where's the catch?
Even if you profit from selling banner ads, they will not let you make withdrawals.
When you want to withdraw your money, they will ask you for your personal details and credit card & bank account information just to rob you blind. They will never send you any money.
.
Is RippleCode a scam?
---
Yes, Ripple Code is a big scam because it's not even a software itself. It's just a page that the con artists are using to get people to fall for the BannerBit scam.
A program that wastes people's time and money is unacceptable and illegal, so I suggest that you stay away from it.
Apart from that, there are so many red flags in the Ripple Code sales video that it's obvious it's all fake.
.
James White is a fictitious character
---
James White is not the real owner of Ripple Code.
He's not a software developper or millionaire investor. He's not the "100 Million Dollar man", and he has not appeared in Forbes, Wall Street Journal or CNN.
Everything we're told about him is invented in order to sell this good-for-nothing program.
Let's see the proof that the man who's supposed to be James White is a stock model: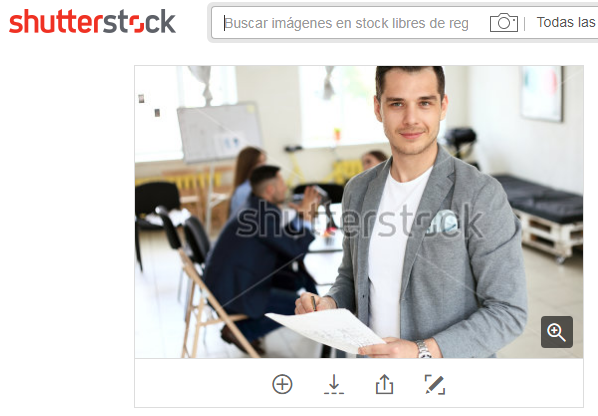 Not to mention that he's also appeared in the Bitcoin Code scam: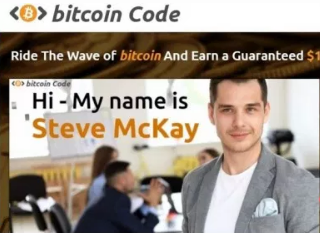 The real owners of the RippleCode remain hidden in order to avoid getting persecuted by their victims. Scam artists usually don't show up.
.
Crypto advertising doesn't make any sense
---
The truth is that there's no such thing as Crypto or Ripple advertising.
They are mixing up the cryptocurrency world and the advertising world to make it sound like this is a new opportunity that almost nobody knows about.
What they want is to take advantage of people who don't know much about the crypto trading world but know there are investors that have become millionaires with crypto.
I'm not an expert but I have some knowledge about cryptocurrency and know that crypto advertising is an invented term by the scammers.
.
Unrealistic claims
---
Another lie is that this software is completely free and you will not need your credit card or PayPal. 
They just tell you what you want to hear so that you give them your personal details like your email address and phone number.
And then when they call you and try to convince you to make the investment, you realize that this is not free.
Why did they invest in building the Ripple Code sales page then? Whenever you come across a sales video like that and hear that it's free, start suspecting because it's more than likely a scam.
Another thing is, there's no such thing as making $7000 with no effort.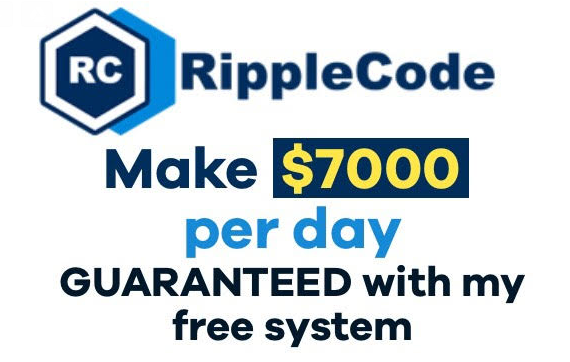 Even if the value of Ripple goes up, there's no such thing as making $7K in 24 hours because the value of the coin doesn't move that fast.
These scam artists always claim that it's all done for you so you don't need any special skills and you don't have to do any work but the truth is that people who've got rich have had to (and still) learn and work.
If this was that easy, then everyone would have made a fortune already. 
.
A real way to make a full-time income online
---
I highly don't recommend that you fall for Ripple Code and purchase BannerBit because they have only been created to make money to the scammers and cheaters.
It's not going to make you $7,000 per day and it's not going to benefit you in any way, as I've explained before.
There are many get-rich-quick schemes like this one and it turns out that not a single one works as advertised. 
Truth be told, there's no easy or fast way to make money on the Internet. No matter the way you try to earn money, you'll have to learn, work, have patience and be persistent. 
There are many ways to make a living online but the way I do it is using a business model that has given me a way to make a consistent passive income month after month.
Yes, I had (and have) to put in the effort and time, but it pays off so I don't regret putting in the work.
If you would like to learn more, click the button below now:
You'll learn how this business works, how and where you can get started for free and more!
If you're willing to learn and work hard, then I believe you can benefit from the step-by-step training and business tools I've been using to build this business.
This business you'll learn to build will be based on something you're passionate about, which will make you enjoy the process more =)
Apart from that, you'll also get to meet a big community of like-minded people and Internet entrepreneurs who are on a similar path as you. I'll personally be there to help and support you too 🙂 
It's your time to leave the scams behind and start building your future!
I hope this review has been helpful to you and you will make a good decision.
If you have any questions or opinions regarding Ripple Code or anything else, feel free to leave a comment below and I'll get back to you ASAP.
Best wishes =)