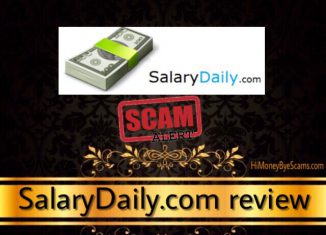 Welcome to my Salary Daily review!
I recently came across this site called SalaryDaily.com and thought I had to look deep into it because it looked very familiar to me.
I decided to write this review to let you all know what this money-making opportunity is really about, how it really works and my advice.
.
SalaryDaily.com review
---
Name: Salary Daily
Website URL: salarydaily.com
Owners: Unknown 
Price: Free to sign up
Overall Rating: 0/10
.
---
If you're sick of scams, check out my 1st resource to make money online here!
---
.
What is SalaryDaily.com?
---
SalaryDaily.com is a website that claims you can easily earn $50-$100 per day.
You just have to complete a small task that takes only 30 seconds to complete and earn $10.
They claim to help the world's professionals and leading earners collect better data through an engaging and powerful source of making money by doing simple tasks.
After reading that, I thought this would be about filling forms or taking paid surveys, but it's not.
I personally don't like the fact that they claim you can earn $10 in a short period of time because it kind of sounds like a get-rich-quick scheme.
If we do some math, $10 in 30 seconds would be over $1000 per hour!!! Such an outrageous claim, isn't it? I mean, making money online is not magical. 
That's why I started suspecting about SalaryDaily. I wanted to know what this awesome task is about, but I didn't sign up with my personal data because of my suspicions.
.
Does SalaryDaily.com work?
---
The truth is that SalaryDaily.com only works for the people who have created it. Salary Daily does not work to help you make money.
Even though it seems that you're earning money when you see the balance rise and rise, it's all fake.
The whole site has been created to make you believe that you're making money and get you excited, but the truth is that the only ones who are making money here are the con artists who have built SalaryDaily.
So how can they make money if it's free to join? Let's see the truth.
.
Why SalaryDaily.com will never pay you
---
Firstly, it would make no sense that SalaryDaily paid you because they're not getting paid for what they claim.
According to them, some advertisers are paying them to drive traffic to their sites, and then they're going to pay you $10 each time someone clicks your referral link, similar to the one below:

However, they're not going to pay you to share that link. If you get other people to visit Salary Daily, its owners are not going to get paid because there are no ads on SalaryDaily.com. 
Therefore, it's not true that they're getting paid by some advertisers. 
Another thing is, $10 for visiting a site it's way too much. Never believe someone who claims you're going to get paid something like $10 for getting only one person to click a link. 
If people paid that much for visiting sites, then everyone would have got rich already.
So… what do the owners of SalaryDaily.com really want from you? Why do they lie to you?
.
The truth about SalaryDaily.com
---
The truth is that they tell you to share the SalaryDaily.com referral link to get other people to sign up.
The owners of Salary Daily want other people to join in order to collect their personal information like their names and their email addresses.
Their goal is to collect as many personal details as possible in order to sell them to other companies and scammers.
That's why you can expect to see your spam box flooded with undesired emails from people you don't know.
But this is not the only way they try to make money.
They also try to earn money through CPA (Cost Per Action) offers.
When you reach a balance of $300 and try to cash out, you'll see they will not pay you. Instead of paying you, they'll tell you to take some offers like filling in forms, downloading apps, signing up for free trials… If you complete those offers, the creators of SalaryDaily will get paid.
If they paid you after them getting paid, then there would be nothing wrong. But the truth is that they will never pay you. They will never send you money. I know this because it's the same scam as SalaryWeekly.com, FixMonthlyIncome (already shut down) and Coin4Job.
.
Is SalaryDaily.com a scam?
---
SalaryDaily.com wastes people's time and doesn't help them make money, so I consider it to be a scam.
In the previous section I've explained what their real intentions are and how they try to earn money at your expense, and now I'm going to post other scam signs you need to be aware of.
.
Lack of important pages
---
The SalaryDaily site doesn't have any of the legal pages you would expect to see in a legitimate site.
No privacy policy, no terms & conditions and no earnings disclaimer.
Therefore, the fact that they don't let us know what they're going to do with your personal information or their rules when it comes to closing accounts, leads me to believe that they don't really care about us making an informed choice.
.
The creators of SalaryDaily don't show up
---
Whenever I come across a money-making site or program, I like to know who's running in it because it can help me determine whether I can trust them or not.
The fact that there's no information about the people who have created Salary Daily is another reason why I don't think it's trustworthy.
Scam artists usually hide behind fake characters or don't say anything about who they are, just like it happens in SalaryDaily. That's why I don't rely on sites like that.
.
Broken links
---
I thought about contacting them so I clicked on "support" but got taken to another page where it said "not found".

What does it mean? This means that there's no one you can contact if you have any questions or issures regarding SalaryDaily. There's no way to contact the owners of that site.
This is an indication that they don't want to hear from us. If they really wanted to help us earn money, they would provide an email address or a customer service.
But this is not all. They don't even have a "FAQ" section. I know this because I clicked "FAQ" and got the "404 not found error" again.

.
More red flags
---
Everything about SalaryDaily.com is fake.
Apart from the lack of transparency when it comes to the people behind it, they also:
Lie about the payment methods. They claim you can get paid via PayPal, MoneyGram, Payza and cheque but after joining you cannot choose the how to get paid.
Lie about the testimonial. The guy from the picture on their homepage is not a real member of SalaryDaily as his picture can be found on other sites. The con artists behind this scam have used his picture to create a fake testimonial.

Don't send you a confirmation email. 
.
My final verdict on SalaryDaily.com
---
My final conclusion is that SalaryDaily is not worth your time or money because it will not benefit you in any way, so I recommend that you stay away from it.
It was only created to make money to its owners at your expense, which is very unethical.
When it comes to earning money online, you need to keep in mind that most sites that claim you can make money easily or fast turn out to be scams.
No matter the method you try to make money, you will have to put in the work. There's no such thing as making a living online without doing much work. 
Don't you think that everyone would have already made a fortune if this were easy?
If you're serious about making a full-time income online, then I believe that building your very own online business is the way to go.
The business model I've been using has given me a way to make passive income on a monthly basis.
This business model doesn't require me to create my own products and I don't even have to sell anything. In fact, I'm not good at selling and still making money.
It didn't happen overnight and I've had (and still have) to put in the effort and time, but I have no regrets. Great things take time to achieve, no matter what you do in life.
I believe that anyone who is willing to do the work and has the proper step-by-step training, business tools and support, can use the business model I'm using to make money.
If you want to learn more about what I do, click the button below now:
You'll learn how this business works, how and where you can get started for free and more!
This business model will allow you to make money while doing you're passionate about and helping people =)
You will also be well supported, by me and a big community of bloggers and Internet entrepreneurs. It's great to know that you don't have to do this alone 🙂 
I'm so excited for you to leave all these scam sites behind and get on the right track to online success! 🙂 
I hope I've covered all the questions you had concerning SalaryDaily.com and you'll make the best possible decision.
If there's anything else you want to know or want to share your opinion, don't hesitate to leave a comment below. I always reply to my readers!
Best wishes =)