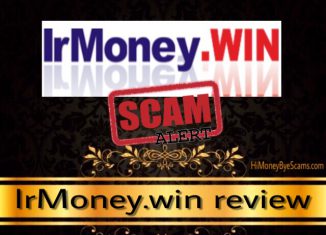 Welcome to my review of IrMoney.win!
Have you come across IrMoney.win and are wondering if it's a real GTP site that can make you some cash? Or is IrMoney.win a scam site that will waste your time and money?
Well done on doing your research! I'm glad you've landed on this post because you're going to find out the truth about IrMoney.win, why it's not what it appears to be and more.
.
IrMoney.win review
---
Name: IrMoney.win
Website URL: irmoney.win
Owners: Unrevealed
Created in: February 2018
Price: Free to join
Overall Ranking: 0/10
.
---
If you're sick of scams, check out my 1st resource to make money online here!
---
.
What is IrMoney.win about?
---
IrMoney.win is a website that claims you can earn money by viewing ads and getting other people to sign up.
According to them, you can earn 10 cents for each ad you view, so you can apparently make 100 daily bucks if you view 1000 ads per day.
Apart from that, if the referrals you manage to get are active, you can earn 50% of their earnings, that's what they say.
When it comes to getting paid, they claim to send payments via Western Union, PayPal, credit card or bank account.
And the best part is, it's free to join so anyone who has an electronic device and an Internet connection can do this.
It sounds too good to be true because you don't need any experience or special skills to view ads and share links. It's something we all usually do so getting paid for it would be awesome.
However, after having a closer look I noticed that something was lacking, something was not right.
.
Is it possible to earn money with IrMoney.win?
---
I'm sorry but IrMoney.win will not help you make money.
When you're viewing ads and see your balance rise it might seem like you're making money, but the truth is that it's all fake.
Firstly, it would make no sense that they paid you 10 cents just for viewing an ad. It's complete BS.
They're letting you to join for free because they want to collect your personal information. And they tell you to get others to sign up in order to collect other people's personal details.
The truth is that they want to collect as much information as possible and then sell it all to other scammers and companies.
If you've joined IrMoney.win with your main email address, you can expect to receive spam and junk emails from people you haven't subscribed to.
But this is not all. I noticed that they don't tell you about the minimum payout threshold after you've given them your personal and financial information.
For example, if you have earned $20 and try to cash it out, you'll be asked to fill in a form with a payment method information (your PayPal, bank account, credit card…). Then you'll see this message:
Then, if you try to reach $150 and claim your payment again, they'll tell you that you need to have 40 referrals to get paid.
They will give you the option to buy those referrals, but the problem is that they don't let you buy them with the $150 you've apparently earned.
The truth is that those referrals are fake and they want you to buy them just to get your money. This is how they try to get you.
Once they have your money, they will close your account and will not allow you to access it. They will never send you the $150.
If you've fallen for this scam, I recommend that you contact your bank and cancel your credit card or bank account, whatever information you've given to the scammers. This is to prevent the scam artists from charging you.
Click here to check out my top recommendation (FREE to get started)!
.
Is IrMoney.win a scam? Yup
---
I'm 100% sure that IrMoney.win is a fraudulent site. They don't only try to steal your money, they also waste your time to make money themselves, which is unacceptable.
In the previous section I've explained how this scam works, and now I'm going to post some scam signs that expose IrMoney.win as the fraud it is.
.
No legal information
---
The IrMoney.win site doesn't have any of the important pages you expect from legitimate sites.
IrMoney.win doesn't have a earnings disclaimer, privacy policy or terms & conditions page, which is a red flag because this legal information is something you need to know in order to make an educated decision regarding IrMoney.win.
There's no way to know how they're going to treat your personal details, and they don't even explain their rules when it comes to terminating accounts.
.
No way to know the owners of IrMoney.win
---
There's no way to know who's behind IrMoney.win because they don't show any pictures of them and they don't mention any names.
I personally don't trust sites or programs whose owners don't show up because it means they're trying to hide something.
Imagine if someone who hides his/her face came to your home and asked you for your personal details. You wouldn't give it to them, am I right? Here happens the same. It's not a good idea to give your information to people who are not transparent about their identity.
.
Lack of support
---
They have a support section but the problem is that it's fake.
Those comments that have been supposedly written by members, have really been written by the con artists. 
I know this because there are no new comments every time I check out IrMoney.win.
Another red flag is the fact that they ask you to sign up in order to post a comment, which is not good because there might be people who are not members and have important questions.
If they really cared about you, they would provide an email address or would have a customer service, but they don't. 
.
False news section
---
The news section you can see in their homepage is completely invented.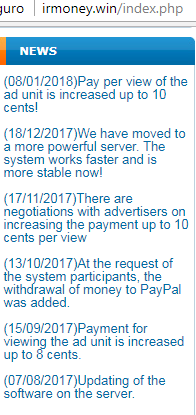 I know it's fake because I checked out the IrMoney.win domain registration date and it says it was registered on February 23rd 2018, so it makes no sense that some updates took place months before it was registered, like you can observe in the picture above.
Maybe they are not transparent about those news dates because they want you to believe that they've been around longer than they have really been.
.
My final conclusion on IrMoney.win
---
I definitely don't recommend that you try out IrMoney.win because it's not going to benefit you in any way. It will only leave you frustrated and upset if you try it and realize it's a scam.
There are many scam sites identical to IrMoney.win like SpeedMoney.club, CcMoney.club, XyMoney.club, XsMoney.club… There are too many…
The way you can stop getting scammed is by keeping in mind that making money online doesn't happen fast or easily. You'll have to learn, work, be patient and stay persistent if your goal is to earn a living online.
When I was getting started in the online money-making world, I realized that the best way to make a full-time income online was to build an online business and I haven't regretted working to make this happen.
The business model I'm currently using has given me a way to make a consistent income month after month.
If you're committed to putting in the effort and time, then I don't see why you can't do the same I'm doing. I believe anyone who has the right step-by-step training, marketing tools and support can build a successful online business.
If you want to know how you can do it too, click the button below now:
You will learn how this business works, where you can get started for free and more!
This business you're going to build will be based on something you're passionate about and will be viable for the long run as well.
You'll also get to meet like-minded people you will get help and support from and I'll personally be there for you too 🙂 
LEARN ABOUT MY TOP RANKED PROGRAM NOW!
I hope this review has been helpful to you and you will get in the right track to success today!
If you have any questions or want to share your opinion about IrMoney.win or anything else, don't hesitate to leave a comment below and I'll get back to you soon =)
All the best! 🙂