Are you wondering questions like "will 6 Steps To Freedom scam me out of my hard-earned money?"
Or maybe you hope that this system is the shortcut to financial success, right?
To begin with, I need to congratulate you for taking the time to do your own research before buying into another money-making system.
There are too many scams out there so doing your due diligence is the way to avoid scams and discover the legit way to earn money online!
When it comes to 6 Steps To Freedom, the truth is that it's not as amazing as they tell you in the sales video…
So here I am to reveal to you some ugly truths you need to know about this system before taking out your credit card.
6 Steps To Freedom review
---
Name: 6 Steps To Freedom
Website URL: thefreedomshortcut.com
Owner: Jeff Lerner
Price: $49 + upsells
Overall Rating: 2/10
---
If you're sick of scams, check out my 1st resource to make money online here!
---
What is 6 Steps To Freedom said to be?
---
Someone sent me a link to the 6 Steps To Freedom scam sales page (thefreedomshortcut.com) and thought I would check it out to see if it's a great system or another scam.
The moment I landed on their sales page I thought I was in front of another get-rich-quick scheme because this system is supposed to be the shortcut to making lots of money online.
According to the spokesman, Jordan was a guy who was broke and struggling to make ends meet.
I searched if this Jordan guy was a real person and I'm glad that he's not a fake character.
I mean, I have exposed many online money-making systems and some of them have made up characters.
Jordan became financially free thanks to this amazing system and now he has his desired lifestyle.
This system doesn't require you to have any previous experience or special skills, so can everyone achieve financial freedom thanks to this?
They claim to have an amazing success rate, which makes this opportunity sound very attractive.
However, I have my doubts because I noticed that some of their video testimonies appear in other sales videos like Coffee Shop Lifestyle Secret.
They make it sound as if it were so easy to make money but don't explain everything you need to know about this system, which is such a big red flag.
I mean, do you usually spend your money on things without knowing what you are really buying?
Truth be told, this system is no different from systems that require you to do massive recruiting to make money. 
Let me reveal to you how this system really works and why it's not as good as advertised.
How 6 Steps To Freedom scam really works
---
Jeff Lerner, the creator of 6 Steps To Freedom, is sending people to this program through The Freedom Shortcut.
I personally don't like the fact that they are promoting it as a way to make money online easily or fast.
This program provides some training on Internet marketing, but the truth is that they created it to teach people to sell this business opportunity.
In other terms, you will have to get other people to buy into this program in order to make money.
If you pay $49 to get involved in this system, Jordan will receive a commission because he is an affiliate of 6 Steps To Freedom.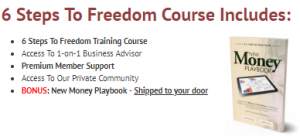 And then, you will have to recruit other people into this same system you have bought.
They also talk of making thousands of dollars in commissions, but you know what?
They will persuade you to buy other products that cost thousands of dollars. That's how they earn the big bucks.
If you end up spending $1000s on those products, you will get the right to earn commissions from them.
When other people join through you and buy the same products you have bought, you will make a commission.
So yeah, it's possible to make money with this system, but it's very risky because it requires you to spend thousands of dollars before being able to make the huge commissions.
I mean, if you don't buy into the upsells, you will lose out on commissions if your recruits buy products you haven't bought.
And what about your coach or business advisor? This person will help you make sales but he/she will also try to get you to do massive spending.
He/She will tell you that upgrading is the best you can do to make even more money.
Click Here To Get My FREE Step-By-Step Earn Money Online Guide!
It's not as easy as it sounds
---
This business is not as easy as they claim because it requires a lot of recruiting, which is harder than it sounds.
In order to make money, you cannot stop recruiting other people because the only way to make money is by getting other people to join.
They will provide you with sales pages like The Freedom Shortcut, which you will use to get leads to 6 Steps To Freedom.
Not only that, their way to drive traffic to these pages is by doing paid advertising, which is a risky business.
Paying for traffic is a fast way to get visitors to a sales page or offer, but it doesn't guarantee that you will earn money.
If you are new to this business, you cannot expect your first campaign to be profitable because you first need to find out what works for you.
That's why you will need to spend a lot of money in general.
I personally don't like the fact that they don't mention the advertising costs or the upsells.
I mean, before getting involved in a business opportunity, it's important to take into consideration the costs involved.
They are promoting it as if it were possible to earn thousands of dollars just after spending the initial $49 fee.
Because of this, I believe they are marketing this program in a very misleading way.
The business model is not sustainable
---
Another issue I see with this system is the fact that their business model is unsustainable and controversial.
It's very similar to the business model that other high-ticket programs like MOBE and Digital Altitude used, which is a red flag.
If you have never heard of these programs, they got shut down by the FTC some months ago for being pyramid schemes.
Many people have lost thousands of dollars on these programs, which is not a good thing.
These done-for-you systems are usually created to benefit a few people and the owner of the system.
However, most people never recoup their investments and even lose their life savings, so these programs operate unfairly.
And guess what happens when they shut down… They leave their members with nothing to show for. 
Because of this, these programs are not a good solution to make money online for the long-term.
6 Steps To Freedom scam?
---
Some people will not call 6 Steps To Freedom scam because you get something for your money and you can also make money.
But other people will call it a scam because it's very expensive, the sales pitch is misleading and the business model is not good.
It's really up to you how you call this system.
This business model is illegal and a scam according to the FTC, so you need to take this into account.
Programs like this don't really show you to build your own business. You are helping Jeff grow his business instead.
And the fact that they are not transparent when it comes to the costs is another reason I wouldn't get involved in this system.
It's not even ok to tell people this is a shortcut to making a living online when it's not true.
This program is no different than these other done-for-you systems:
Because of everything I have mentioned, I don't recommend 6 Steps To Freedom.
What about using a legitimate business model instead?
---
If you are looking for a way to make a full-time income online, I believe it's best that you use a sustainable and legit business model.
In my case, I'm grateful that I found out a sound business model that has given me a way to earn a consistent income online.
It's a newbie-friendly business model that takes advantage of the millions of products and services available online, so you will not need to spend time on creating your own products.
This business model has been working for many years and there are many people using it to make a living online.
I have to say that making money using this method requires work, time and commitment. This is not a get-rich-quick scheme.
I love this business because it enables me to work from anywhere as long as I have a laptop and an Internet connection.
But this is not all, I don't need to spend money on paid advertising because I know how to get free organic traffic to my website.
That's right, I didn't have to pay a dime to get you here.
This business has many benefits so I created a FREE step-by-step earn money online guide where I explain how it all works:
My free guide reveals how my favorite business model works, why it works, proof that it works, the step-by-step training and tools I used…
In addition, I also show you how and where you can get started today for free!
Yes, you don't need to spend a dime to determine if this business is right for you.
Not only that, you will also discover how you can get free help and support from me and other like-minded people =)
Are you ready to leave the high-ticket programs behind and start your online business today?
CHECK OUT MY FREE EARN MONEY ONLINE GUIDE HERE!
I hope this 6 Steps To Freedom review has been helpful to you and you will make the best possible decision.
Don't hesitate to share it with whoever you believe that will benefit from it!
If there's something else you want to know or you have any questions, feel free to leave a comment below and I'll get back to you ASAP! ? 
Whatever you do next, I wish you nothing but the best =)