Welcome to my Make Money Even review!
Has anyone invited you to join makemoneyeven.com and are wondering if it's a scam? Or is it a legit system that can help you earn money every day?
If you have questions or doubts, I'm happy that you have found this post because here I reveal everything you need to know about this business opportunity.
I love to see people do their own research because that's the way to avoid scams and find the real way to earn passive income online. 
To be straightforward with you, I am not affiliated with Make Money Even, so here you will not find any affiliate link.
My purpose with this post is to help you decide whether MakeMoneyEven.com is for you or not, so here you will find the pros and the cons.
Make Money Even review summary
---
Name: Make Money Even
Website: makemoneyeven.com
Owner: "Martin" 
Best for: The owner
Price: $10 + upsells
Recommended? No
---
If you're sick of scams, check out my 1st resource to make a 4-digit monthly passive income HERE!
---
What is Make Money Even about?
---
Make Money Even is a website that claims to help you succeed and make lots of money online, especially with affiliate marketing.
They say that they teach people the best marketing techniques and methods to help them grow their businesses. 
Apart from that, if you are a newbie who's looking to make money online, they claim to provide you with video & live training you need to succeed.
They have an affiliate program that you can join to make commissions by promoting Make Money Even.
The spokesman, "Martin", claims this affiliate program doesn't have many of the roadblocks other affiliate programs have.
For example, this affiliate program allegedly can make you money the same day you get started and it doesn't  require you to invest much to get started. 
He makes it sound awesome but there are some important details he does not mention.
After doing intensive research, I don't believe Make Money Even is as amazing as it claims to be.
How does Make Money Even really work?
---
Make Money Even works in a way that's more complicated than advertised.
Its main focus is on its own promotion. The truth is that this program is being advertised to people who are looking to make money online in an easy way. 
That's why they're promoting the affiliate program as the way to start making money the same day you start.
So most people who join are beginners who are looking to make money by getting other people to sign up.
You see, getting started only costs $10, which is not much. So l believe that most people pay that fee with the thought that they'll quickly make the money back.
Make Money Even is being advertised as if $10 was the only cost to start making money, which is something that sounds very attractive because it's affordable for lots of people.
However, after signing up you can see that it's not as easy as advertised because there are other costs you need to consider.
For example, you need to drive traffic to your Make Money Even affiliate link because if your link doesn't get visitors, no one will join through you.
Programs like this one usually recommend members to copy and paste ads on social media or invest in solo ads to bring traffic to a squeeze/landing page they provide you with.
There's no guarantee that you will make money the same day you get started because there's no way to know whether the people who see your link will sign up or not. 
Apart from that, they don't offer any refunds so this is quite risky. I personally don't like programs that are not transparent about the risks involved.
Sick of scams? Want to make passive income every day?
Check Out My FREE Earn Money Online Guide Here!
The Make Money Even compensation plan
---
In order to get started, you need to complete a form with your details and pay a fee of $10.
Then the $10 is added to your Make Money Even account balance. 
Every person you recruit pays $10 to get the right to promote this same system.
Out of the $10 fee, you get paid $5. But  5 of your first 10 referrals pass up their $5 to the person who recruited you a.k.a your sponsor. 
And the same happens with your referrals. 5 of the first 10 referrals of your referrals pass up their $5 to you.
The minimum you need to earn to request a payment is $25, so you need to get at least 5 referrals that pay you $5 each one.
This is such a complicated compensation plan because there are too many people involved.
And it gets even more complicated with the VIP Marketer Plan and the signing bonuses.
I'm not going to explain the whole compensation plan because it's in this video. But you get the point. 
Honestly, I wouldn't call this an affiliate program. This is more of an MLM program because you can get paid from multiple levels, not only one level. 
One thing I don't like about MLMs is that they have such complicated compensation plans because the more complicated it is, the more difficult it is for members to understand it and make it work.
Without any doubt, it has a pyramid structure and this is what makes the whole scheme unsustainable.
Who's the owner of Make Money Even?
---
The man from the sales video that I watched on the Make Money Even main page claims to be Martin, but he doesn't give any details on how we can get in touch with him or whether he has a website.
On the makemoneyeven.com main page, we can find an address, an email address and a phone number. I'm glad that they provide this kind of information because I've come across many websites that lack this. 
However, I don't like the lack of transparency when it comes to the owner or the people behind the program. Many of the websites that don't provide any information about the owner tend to be scams or they at least contain false advertising.
In my opinion, when a program or website is as awesome as advertised, the owner should be enough proud to show up.
It's connected to Club Cash Fund
---
Another thing I want to point out is that you will find promotions and affiliate links to other programs.
For example, they promote Club Cash Fund, which is a program that I recently reviewed and decided not to recommend it.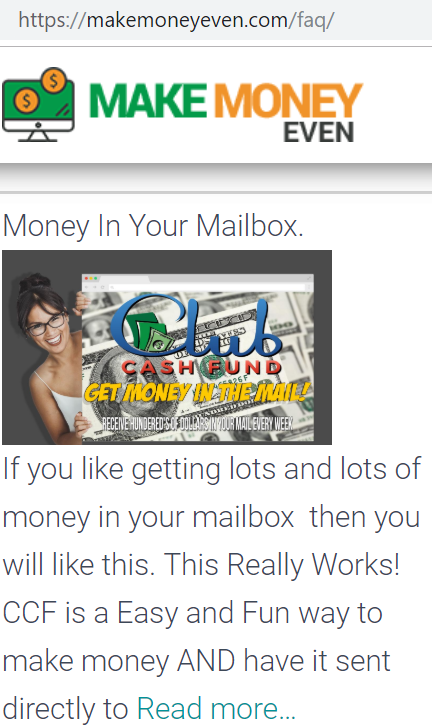 Club Cash Fund works in a similar way as Make Money Even because it requires you to do massive recruiting to make money. 
The owner of Make Money Even is probably affiliated with Club Cash Fund, which means that he/she will make commissions if you end up getting involved. 
You can do whatever you want but I personally don't believe it would be wise to join both Make Money Even and Club Cash Fund without first making money because they both require you to invest in their memberships and paid advertising, not to mention that it's easy to feel overwhelmed when you're involved in various programs at the same time.
Is Make Money Even a pyramid scheme scam?
---
As I said before, Make Money Even has a pyramid structure, just like other MLMs.
However, they don't provide any tangible product or service. They have no retail sales. 
Yes, they provide some training. But the problem is that it's more than likely about promoting this program to get other people to sign up. 
They don't offer the option of getting the training without becoming a member, that's why I believe the main focus is on recruiting new members.
This is an indication that when people stop joining, the system will collapse and the money will stop coming in. 
This kind of business is not sustainable because there's a limit when it comes to the amount of people who can sign up. 
Unless they add new products/services that non-members can purchase, Make Money Even is more than likely a pyramid scheme. 
Make Money Even review – Final verdict
---
It's possible to earn money with this program, but it's not the way to go if you're looking to earn a sustainable long-term income.
I don't believe it's for people who are on a low budget or people who don't like recruiting because:
You could end up losing more money than you earn, since there are no refunds and it requires you to invest hundreds of dollars to get enough paying members.

Recruiting is essential if you want to make money with this program.
I personally don't get involved in programs like this because they don't teach how to create something of your own or how to build a long-term business. 
Not only that, it's not beneficial for most people because it makes them lose money. 
You see, if the system collapses before some members make their money back, then they end up losing their money. 
This kind of systems are only good for a few people, so I don't believe they're worth it.
Just because a program allows you to make money, it doesn't mean it's legal or ethical.
My antivirus even recommended me not to visit the makemoneyeven.com website because there could be some risk.
Also, beware of the fake Make Money Even reviews that are created by members who want you to sign up through them. I haven't even seen any income proof that confirms members are getting paid.
What you decide to do is up to you, but I cannot recommend Make Money Even. 
What if you build your own system?
---
Instead of relying on other people's programs or systems that you don't own, what if you focus on creating your own system a.k.a building your own business?
I'm an affiliate marketer myself and I'm glad that I focused on this business instead of joining recruiting/pyramid schemes.
Before finding affiliate marketing, I actually got involved in an MLM but ended up quitting because I saw more potential in affiliate marketing.
Affiliate marketing doesn't have complicated compensation plans and doesn't require you to promote the same system or products as everyone else. It definitely gives you more freedom when it comes to the products or services you can make money from.
I'm living proof this business works, as you can observe: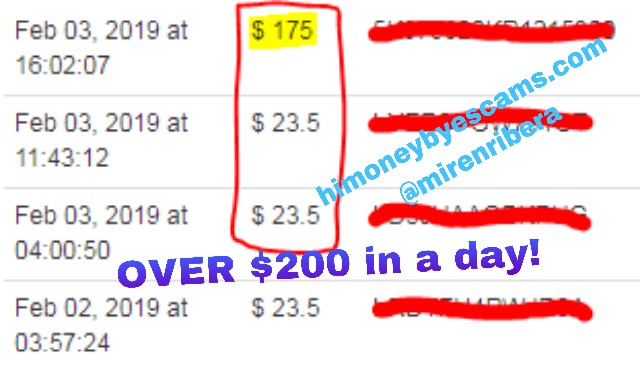 This is more newbie-friendly because it doesn't require you to pay to get traffic.
If you're willing to put in the effort and time, I encourage you to read my FREE guide here: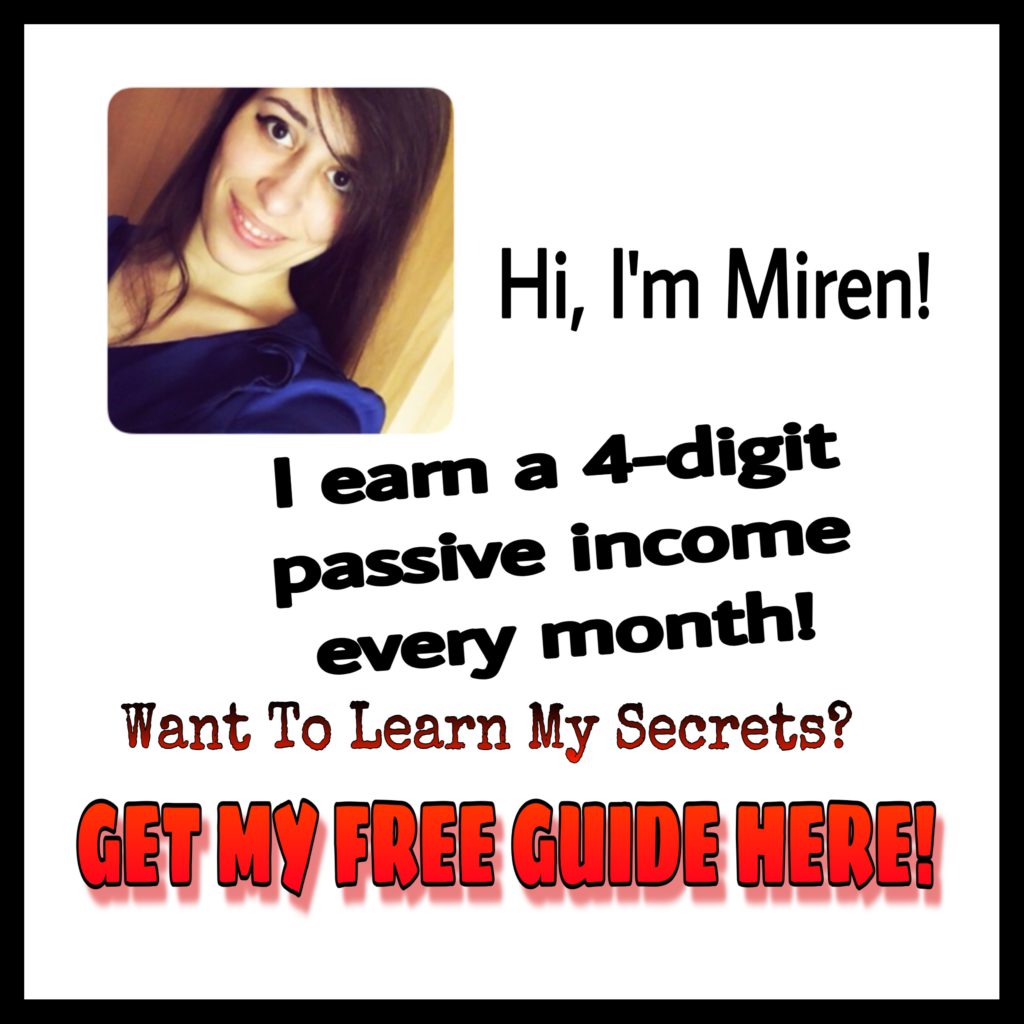 My guide is FREE (no login information required, just click here to start reading it), which means that you have nothing to lose and a lot to gain =)
Oh, and don't you worry if you ever get lost or need support, in my guide I tell you how you can receive lots of help from a big community of affiliate marketers.
Stop wasting your time on pyramid schemes and get your affiliate business started today!
I'll leave this quote here:
If you want something you have never had, you must be willing to do something you have never done.
I hope this Make Money Even review has been useful to you and you will make the best possible decision.
Feel free to share it with whoever you believe that will benefit from it!
If there's something else you want to know or you have any questions or would like to share your experience, please leave a comment below. I love hearing from you all!
Whatever you do next, I wish you nothing but the best =)