Will TheMiniPay scam you and leave you frustrated? Or is it a legit site?
If that's what you need to know, I'm glad you have found my honest TheMiniPay.com review.
The Internet is full of scams, so it's advisable to do your own research. That's the way to avoid getting scammed and find the genuine way to earn a full-time income online.
For your information, I'm not associated with TheMiniPay.com, which means that here you will not find any referral link.
My review will let you know the pros and cons of TheMiniPay and whether it's worth it or not.
TheMiniPay.com review summary
---
Name: TheMiniPay
Website URL: theminipay.com
Owner: Hidden
Price: Free to register
Best for: People behind it
Recommended? Never
---
If you're sick of scams, check out my 1st resource to make a 4-digit monthly passive income HERE!
---
What is TheMiniPay.com said to be?
---
TheMiniPay.com is a website that allegedly allows you to make money by getting other people to click on your referral link and register to theminipay.com.
They also claim you can make money by completing tasks but in the dashboard area they only tell you to share your referral link.
TheMiniPay.com is free to join, which makes lots of people think they cannot lose nothing for trying it out.
I mean, anyone with an Internet connection can join a website for free and share a link, right? So wouldn't it be wonderful to get paid for it?
However, if you think about it, you get to realize that it sounds too good to be true. 
How can they afford to pay $1 per unique visit? It's way too much because they don't get paid that much when people visit their site.
You see, there are no ads on TheMiniPay.com site so where does their money come from? They're definitely not getting paid if people only visit their site.
The truth is that they want you to believe that you can make money easily or fast just to get you to sign up. 
TheMiniPay.com is no different than other scams I have exposed like the following:
How TheMiniPay scam really works
---
TheMiniPay.com works in a way that wastes your precious energy and leaves you feeling negatively because it doesn't help you make any money.
Yes, when you share your referral link and other people click on it, your TheMiniPay account balance increases. I know it's easy to get excited because it seems like you're making money.
But the truth is, that money is not real. It's a trick that the scammers are using to lead you to believe that it works, since that's how they keep you promoting their scam. 
Many people unfortunately realize they've been scammed when it's too late and see that they haven't received any money from TheMiniPay.com.
For example, if you reach the minimum payout threshold and try to cash out, they will tell you to complete a fake captcha test, which is full of boring and time-consuming tasks.
These tasks require you to fill out forms, give away your personal info, visit fraudulent sites, installing programs infected with malware, taking surveys… When you think you are about to finish, another one pops up!
I don't recommend that you complete those tasks because they can harm your device and your information can fall into the wrong hands.
If you complete them, the scam artists are the only ones who will profit because they won't pay you.
What's "FixMonthly Inc"?
---
On the TheMiniPay.com homepage, we can see they mention "FixMonthly Inc" instead of "TheMiniPay".
This is a red flag because FixMonthly is the name of a scam website that was around in September 2017. I remember exposing it back then. 
FixMonthlyIncome had the same structure and fake claims as TheMiniPay, so I believe that TheMiniPay is just a new name for that scam.
In fact, there are too many copies of this scam. When one of the copies gets exposed, scammers change its name because that's how they can prevent potential victims from finding complaints and honest reviews. 
According to them, it has been around since 2015. But I can confirm it's not true because whois (a reputable website) says the TheMiniPay.com domain name was registered in November 6th 2018, so it's not even been a year since it was created.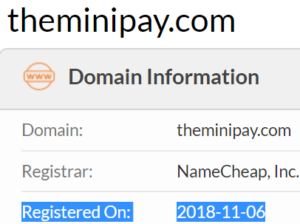 Sick of scams? Want to make passive income every day?
Check Out My FREE Earn Money Online Guide Here!
Fake email address
---
One of the multiple scam signs I have found is that the email address they mention does not exist.
What does it mean? If you email them, they will not get the message. You will receive the "mail delivery subsystem" message, which indicates that the email address was not found. 
They lie about their email address because they don't want to hear from members. They don't really want to help us.
An ethical/legal company would provide a customer service and would also let you know how to get in touch with them.
TheMiniPay.com doesn't send you a confirmation email after joining and they don't even tell you how to change your password or what to do in case of forgetting it. This is very unprofessional in my opinion.
Why is TheMiniPay a scam if it's free to join?
---
There are people who don't believe TheMiniPay is a scam because it doesn't ask you for money upfront.
Well, let me tell you that there are ways to make money without asking for it and this is what the owners of theminipay.com are trying to do.
They want you to register because this is how they get your email address and password. And then they tell you to promote TheMiniPay because they want as many people as possible to sign up.
The more people who join, the more money they can get. 
Once they have a large list of email addresses and passwords, they will sell it to other scammers or hackers.
They will try to access your personal accounts, such as your email address, PayPal and bank account. That's why I recommend that you add extra protection to your accounts.
There are people who have fallen for scams like this and have had all their money stolen. This kind of scams are more dangerous than they first seem.
Lack of important information
---
There's a big lack of information that makes me not take TheMiniPay seriously.
First of all, they don't provide any info about the owner or people who are running it. They don't mention any names and they don't show any pictures. 
If we add it to the fact that their email address is fake, then we can conclude that they are not to be trusted. 
Why give them our information when they cannot even give us a real email address? Don't you think it wouldn't be fair?
To be honest, I'm not surprised at the fact that they don't show up because it's very common among scammers.
They usually hide their identities because they don't want to face the negative consequences of defrauding people. 
And that's not all! TheMiniPay.com website is not even legal because it doesn't contain any legal page. No privacy policy, no terms & conditions, no disclaimer. Nothing legal. 
These pages are expected to be found on legitimate sites. I've realized that most websites with this lack of info end up being frauds.
TheMiniPay scam review – Final conclusion
---
There are too many websites like TheMiniPay.com. Websites that promise easy money just to profit at your expense.
There are no positive TheMiniPay reviews, but there are lots of complaints of other copies of this scam. It's obvious that it doesn't work for most people to make money.
People behind TheMiniPay just want you to do all their dirty work without compensating you, which is very cruel and unacceptable.
Honestly, it's not necessary to deceive people just to profit because there are so many legit ways to make money.
I personally will not wasting my time on TheMiniPay because it's no different than the other scams I have exposed. 
If you have been promoting it, I recommend that you stop sharing your referral link and start spending your time doing something you love. 
What you decide to do is up to you, but I have to conclude that it's best to avoid TheMiniPay.com. 
---
When I say "share legit links", I mean that if you share links to legitimate websites instead of scam websites, you can make money.
If you have driven visitors to a scam site like theminipay.com, then I'm sure you can drive traffic to legit sites like Amazon.
When you bring traffic to a site like Amazon and people purchase an item through your link, you get paid! 
The good news is that there are lots of legitimate websites that are willing to pay you for it. This is called affiliate marketing.
I personally use this business model to earn commissions every day, as you can see in my income proof: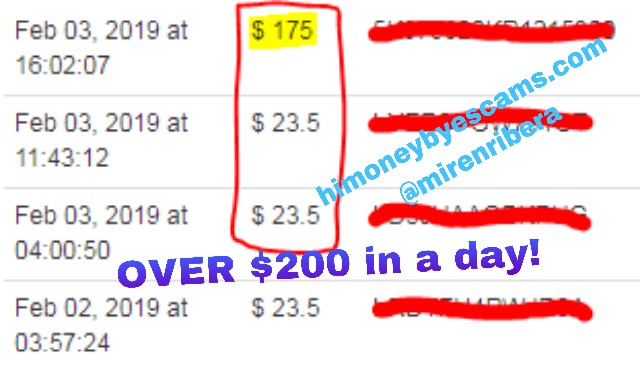 I really believe that anyone who's committed to learning and taking action, can make this business work. No matter the experience or skills you have, you can make it happen!
If you're willing to follow a simple method, I invite you to learn more about this business in my free guide: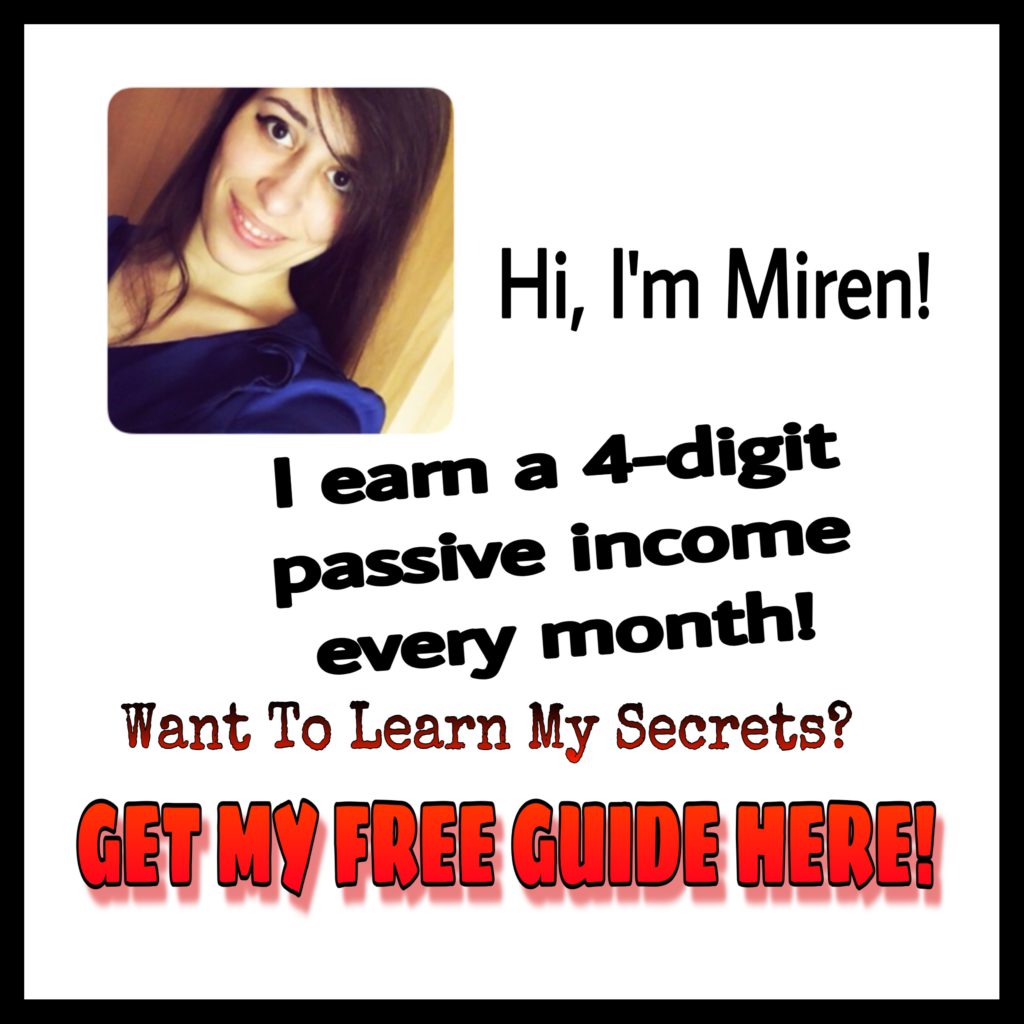 My guide is FREE (no login information required, just click here to start reading it), which means that you have nothing to lose and a lot to gain =)
Oh, and don't you worry if you ever get lost or need help, in my guide I tell you how you can receive lots of support from a great community of like-minded people.
Stop wasting your time on data harvesting frauds and get your affiliate business started today!
I'll leave this quote here:
If you want something you have never had, you must be willing to do something you have never done.
I hope this TheMiniPay.com review has been useful to you and you will make the best possible decision.
Feel free to share it with whoever you believe that will benefit from it!
If there's something else you want to know or you have any questions or would like to share your experience, please leave a comment below. I love hearing from you all!
Whatever you do next, I wish you nothing but the best =)