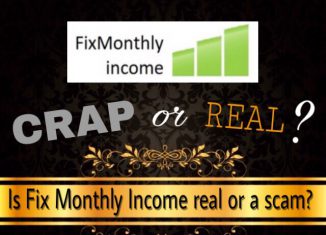 Hey people!
I recently found out a website called Fix Monthly Income, which has been getting lots of buzz especially on social media. So I was like "What is this site about? Is the Fix Monthly Income a scam?". 
If you've been told to join Fix Monthly Income but are suspicious of it, take some time to read this review because I'm going to reveal the truth about this site so that you ensure you make the right decision. 
.
Fix Monthly Income review
---
Name: Fix Monthly Income
Website: http://fixmonthlyincome.com/
Owner: unknown
Created in: 2017
Price: Free
Overall Ranking: 0/10
.
---
If you're sick of scams, check out my 1st resource to make money online here!
---
.
What is Fix Monthly Income about?
---
Fix Monthly Income is said to be a site that allows people to earn money online quickly and easily, and the best part is that is free to join!
How can this be possible? They claim all you have to do is to sign up to the Fix Monthly Income site, get your referral link and share it wherever you want and with whoever you want. 
It's very easy and anyone can do it. You can share your referral/affiliate link on your Facebook wall, Facebook groups, messenger, Twitter, Google+, private messages, email, Whatsapp, Instagram, forums, websites… whenever you can think of. 
According to the Fix Monthly Income site, everytime someone clicks your referral link and gets taken to the Fix Monthly Income page, you'll earn $5. You can also make $10 for every person that joins Fix Monthly Income through your link. 
If I shared the referral link highlighted in the picture above, I would be supposed to earn $5 for every link visit and $10 for every referral. 
If you create a free account, you get a $10 bonus, that's why it says that the total earnings are $10. 
However, I won't be able to withdraw it until I reach $300. But it doesn't seem that hard to get at least 60 people to click my referral link right? Especially knowing that I can share the link wherever I want. 
They say they make payments via PayPal, cheque and MoneyGram so I'll choose PayPal because this way I won't have to wait until my check arrives. 
But the surprise came when I created an account and saw that I couldn't choose the payment withdraw.
As you can see below, the withdrawal type is cheque and they don't let you change it:
So why don't they let you change the payment method? The fact that they lie about the payment options tells me that Fix Monthly Income is not what it claims to be.
Let's see how it really works in the next section.
.
How does Fix Monthly Income really work?
---
Fix Monthly Income only works for the people who've created it. 
They say that they're paying people to generate traffic to their website. They're supposed to get paid from their advertisers for the traffic they bring to them. 
However, no single ad appears in the Fix Monthly Income site so what advertisers are they talking about? If there are no ads, there's no way they're bringing traffic to their advertisers.
If you visit the Fix Monthly Income website, you'll see that they're not promoting anything. They don't even offer a product or service.
So people who visit the Fix Monthly Income site won't click any ad and won't purchase anything. If you visit their site, you only have tree options: register, contact them or exit. 
Therefore, what are they offering? What are they getting paid for? What we know for sure is that they're not giving free money.
This is something you need to take into consideration whenever you come across a money-making opportunity: nobody will give you something for nothing.
So if nobody purchases anything from them, they won't get paid and you will not get paid by them, consequently. 
It doesn't matter if you reach the $300 and you claim your payment, the hard truth is that they will never pay you.
If you question their claims, you can see they make no sense. If someone clicks a link and doesn't buy anything, there's no way they're going to pay you $5 because no one has paid them. 
There are programs that pay you to click, but they pay few cents per click so $5 per click is an unrealistic figure.
There have already been some complaints Fix Monthly Income on Ripoffreport.com, see one of them below:
As you can read, the person who wrote that complaint says they made $1005 but couldn't claim their money. 
When you ask for a withdrawal after reaching or surpassing the $300, you'll have to complete a Captcha test but still won't be able to get the payment as that Captcha test is absolutely fake.
That so-called Captcha test is just a list of offers that link to other sites where you'll have to do some boring tasks like taking surveys, signing up to unwanted sites and even providing your financial information or making some kind of payment.
Why do they list those offers, you may ask? Well, those are the advertisers they were talking about.
If you click in any of those offers and make any kind of payment, the creators of Fix Monthly Income will get paid. That's how they make money! 
Apart from that, they'll take advantage of the information you provide. In order to join Fix Monthly Income, you'll have to fill in a form with your name, your address, a username, a password and your email.
They want this information to sell it to other unethical people and even use it for identity theft. You can also expect to get junk and spam emails and undesired scam offers to your inbox.
They know your goal is to earn money online, so they'll take advantage of that in a way that means no good to you.
.
Is Fix Monthly Income a scam?
---
Yes, Fix Monthly Income is a scam, without any doubt. 
In the previous section I've explained how that fake site really works and why you won't get paid. 
And now let's see some scam signs that are present in Fix Monthly Income:
No way to know the owners. It's not possible to know who created the Fix Monthly Income site because they have no "about" page and they provide no names of the owners and don't show up in any way. Would you rely on a site whose creators remain hidden? I surely would not. 
No privacy policy or terms & conditions page. This is a red flag because they don't explain how your personal information will be used and they say nothing about protecting your information either.
The website is not safe. If you check out the Fix Monthly Income site, you'll see that it appears "not secure" on the left of the "fixmonthlyincome.com" domain name, which means that any information you give to that site can be stolen.
They lie about the payment methods and the website stats. They claim to pay via PayPal, MoneyGram or cheque but the truth is that they only pay by check so that they can make lame excuses as to why you don't receive it. The website stats are also fake, no one has got paid. It's all invented.

Fake contact information. There's a contact section where they provide an email address, but it doesn't exist so there's no way to contact these con artists who run the Fix Monthly Income site.
.
What do I recommend?
---
Fix Monthly Income is not a reliable opportunity to earn a full-time income online. It will waste your time, money and leave you frustrated.
My advice for you is that you always do your research when you come across a site that promises you easy and quick money because more than likely that it's a scam. 
You can make a full-time income online when other people sign up to other sites and purchase something through your affiliate link. It's actually a legit business model called affiliate marketing.
With that being said, it's not easy or fast and it will require real hard work, patience and persistence from your part. Nothing worth having has ever come without effort. 
If you're committed to doing what it takes to generate a full-time income online, then there's a digital marketing platform where you'll find step-by-step training, courses and other tools that will help you build your online business from scratch. 
This place has already existed for more than 12 years and it's constantly being updated and improved. If you join, you'll get to interact with like-minded people who are on a similar path as you.
There are really supportive and helpful members inside this platform, I've been a member for more than a year already and haven't looked back =)
It's time to stop getting scammed and get on the right track to success. You can read more about my top recommendation by clicking the button below right now:
.
I hope I've answered the questions you had regarding Fix Monthly Income. 
In case you have any questions or would like to share your thoughts about Fix Monthly Income or other money-making opportunities, feel free to leave a comment below and I'll get back to you soon. 
Whatever you do next, I wish you the best! 🙂