Hey guys!
So you've come across The Freedom Secret (thefreedomsecret.net) and wondering if you can make $10,000 per week or is The Freedom Secret a scam?
There are lots of crappy products on the net so it's important that you do your research before getting into something.
I'm very glad that you've found my review, you're in the right place as I'm going to explain everything you need to know about The Freedom Secret so that you have enough information to make the right decision for you.
.
The Freedom Secret review
---
Name: The Freedom Secret
Website: https://thefreedomsecret.net/
Owner: "Mike"
Created in: 2017
Price: $37 + upsells
Overall Rating: 39/100
.
---
If you're sick of scams, check out my 1st resource to make money online here!
---
.
What is The Freedom Secret?
---
The Freedom Secret sales page looks like a get-rich-quick scheme so my initial thought was that it was a scam but I watched the sales video and did some research to know what it really was about.
So let's see…
The Freedom Secret spokesman says that he's going to show you the method he uses to make millions of dollars per month online, and it's risk-free.
Then you can see some people who claim to have made thousands of dollars per day just after using that system, but they don't show any evidence so there's no way to verify those results.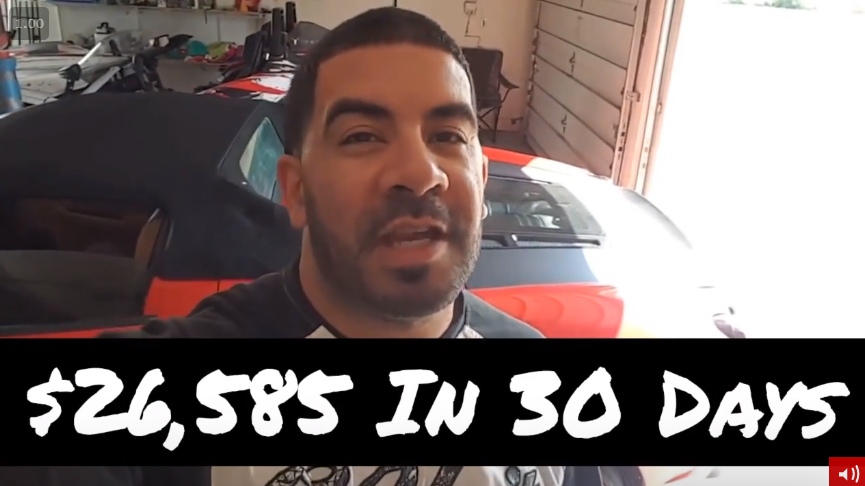 The man who narrates this video claims to be Mike and he says that it's so easy to make money with his system because:
It works on complete autopilot.

The products, the promotion, the marketing, the sales… most of the work is done for you.

It doesn't require you to have any previous knowledge, experience or skills in business or technology.

It requires little to no work to make money with it.
It sounds like a scam because we know there's no magical system that can make you money overnight, but let's see what else he says.
According to him, you'll only need to find people who are interested in the products they're selling. 
His goal is to expand his team so he's looking for driven and excited people to join him. He claims not to be interested in working with lazy folks. 
At the end of the video, he says that after joining that system you'll get a personal millionaire mentor who will close all the sales for you and ensure you earn your first big commission within 30 days.
It's not the first time I hear that and the truth is that it's possible to make money with this method but there are some important details they don't talk about in the sales video, which I'll be going over in the next section.
.
Does The Freedom Secret really work?
---
The Freedom Secret is not even a program, it's just a page created to get you to sign up to a program called Aspire. 
Aspire is the first level of a high-ticket program named Digital Altitude, which I've reviewed in the past. 
If you enter an email address in the form below The Freedom Secret video, you'll be taken to the checkout page you can see below, where you'll have to complete a form with your personal and financial information and make the $37 payment:
Once you've paid the initial fee, you'll become a member of Digital Altitude. 
As I've said before, Digital Altitude is a high-ticket program which means that it offers expensive products.
Aspire is the cheapest of the Digital Altitude memberships which means that the other Digital Altitude products will cost you more than $37 per month. The most expensive ones like the Ascend and Peak will cost you thousands of dollars. 
These products offer great digital marketing training but the problem is that they're not focused on helping you build a business based on your passion, they're more focused on helping you promote and sell the Digital Altitude memberships.
Remember how they say that they want to expand their team in The Freedom Secret sales video? Well, what that really means is that they're looking to recruit people into the Digital Altitude platform.
Each time someone pays the $37 fee to purchase Aspire, the person who's behind The Freedom Secret page gets paid as he/she's a Digital Altitude affiliate.
The millionaire mentor they claim you're going to get is your sponsor. Apart from helping you earn a big commission, they're going to try to sell you the Digital Altitude memberships because they earn commissions for each purchase you make.
Truth be told, you'll have to spend thousands of dollars on the Digital Altitude expensive memberships so that you can promote them and earn those thousands of commissions they mention in The Freedom Secret sales video. 
If you don't buy the most expensive memberships, you won't get to earn thousands of dollars in commissions. 
Let's say that you recruit someone who purchases a higher level than yours, you won't earn any money off those sales, your sponsor and people in a higher level than you are the ones who who will earn the big commissions.
That's why your "millionaire mentor" or "success coach" will close the sales for you. Every time you make money, they make money too. That's just how MLM opportunities work. 
.
Is The Freedom Secret a scam?
---
If I had to judge The Freedom Secret based on the sales page and video, I would call it a scam. But it's just a page used to promote another program that is not a scam, so I won't call it a scam. 
However, the Freedom Secret sales video and page has some scam signs that you need to be aware of so that you can spot a scam whenever you come across one.
.
Mike is a fictitious character
---
The man who claims to be Mike doesn't mention his surname, doesn't even show a picture of him and doesn't tell us any way to contact him. There's no way to verify his real identity.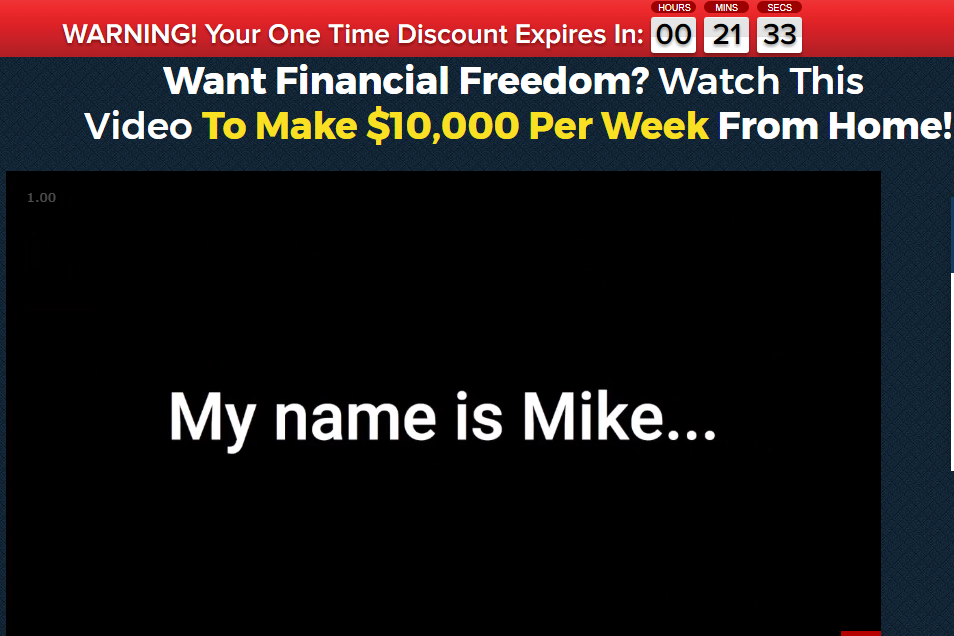 That's why I'm convinced Mike is just an invented character used for the sales pitch. The man who narrates the Freedom Secret video is a voice actor.
The real creator or creators of The Freedom Secret are Digital Altitude affiliates. I really don't like the way they're trying to get new recruits. It's kind of an unethical business practice and they're making Digital Altitude look like a scam. 
.
They're not transparent about the upsells
---
If you watch the Freedom Secret sales video, you'll hear how they say that this program only costs $37.
And we know that by paying only the $37 fee you won't earn the thousands of dollars commissions they talk about. 
They claim they're not going to charge you $2000 but they'll try to get you to purchase the Digital Altitude higher membership levels that cost way more than $2000…
They're not being real about all the money you'll have to spend to make money with this program. 
.
The fake scarcity method
---
They do their best to get you to join as fast as possible by using a fake countdown and a fake number of spots to create a sense of urgency so that you end up buying it without thinking too much about it.
We know the number of spots available is unlimited and the timer is fake because you can refresh the page and will see that it goes back to how it was the second you stumbled upon the Freedom Secret page.
.
Read the disclaimer
---
Whenever you come across a site that gives you scam vibes, I recommend that you take a look at the bottom of the page to see if there's a disclaimer.
At the footer of the Freedom Secret sales page, you can read this disclaimer:
As you can read above, the average person who follows the training (a.k.a "how to" information) gets little to no results and contrary to what it's said in the video, this business opportunity comes with a risk and it also takes hard work to get great results. 
.
My closing thoughts
---
The Freedom Secret is just a sales page created by affiliates of Digital Altitude in order to recruit more people into the program and earn commissions from their purchases.
I've been writing reviews for a while already and I can say that there are many pages similar to The Freedom Secret. Pages that are created with the intention to promote other programs.
Three of these sales pages that I've reviewed and you need to stay away from are the following:
Aspire or Digital Altitude are not scams and provide good training but it will cost you thousands of dollars to earn a full-time income with it and it will not be as easy as they claim.
I also don't like the sales tactics they use to promote it as they are lacking transparency and honesty. That's why I won't be recommending it.
If you're looking to generate a full-time income from home, there's a digital marketing platform that you can benefit from.
This platform is quite affordable (it's even free to join =)) and provides step-by-step training, courses and plenty of tools that will teach you to build a successful online business in a way that's sustainable for the long term.
I've been a member of this platform for more than a year already and never looked back. Once you're inside, you'll get on the right track to success and will not fall for the online scams anymore.
If you're interested in learning more about my top recommendation, you can read the full review I wrote by clicking the button below right now:
.
Thanks for reading this review! I hope you've found the information you were looking for and will make the right choice for you.
If you have any questions or opinions regarding The Freedom Secret or other money-making opportunities, don't hesitate to leave a comment below and I'll get back to you ASAP.
All the best! 🙂