Hey everyone!
The Job Quitter is the name of a site I came across today so I decided to look deeper into it to find out whether this one was worth it or just another one of the dangerous online scams. 
If you've also come across The Job Quitter and don't know whether to purchase it or not, make sure you read this review because I'm going to explain what you need to know about this program so that you make a good choice.
.
The Job Quitter review
---
Name: The Job Quitter
Website: https://thejobquitter.com/
Owner: "Richard Harper"
Created in: 2017
Price: $47
Overall Ranking: 21/100
.
---
If you're sick of scams, check out my 1st resource to make money online here!
---
.
What is The Job Quitter about?
---
The guy who narrates The Job Quitter sales video claims there's only one proven trigger that can force money into your bank account.
He's going to reveal how he makes a lot of money easily on autopilot using other people's efforts.
This man claims that you shouldn't watch this video if you want to get rich overnight but you can expect to make that "quit your job" income within your first month of joining that system. 
I've heard a similar thing in other scam videos. They claim that you won't make millions overnight so that you think that this system is the real deal.
But does it sound realistic to make a job replacing income within your first month without working hard? Not for me, great things don't come with minimal work.
He claims that all you need is a mobile phone or a computer and 5 minutes of your free time. Oh, and it seems to be free as this man says he doesn't need your money.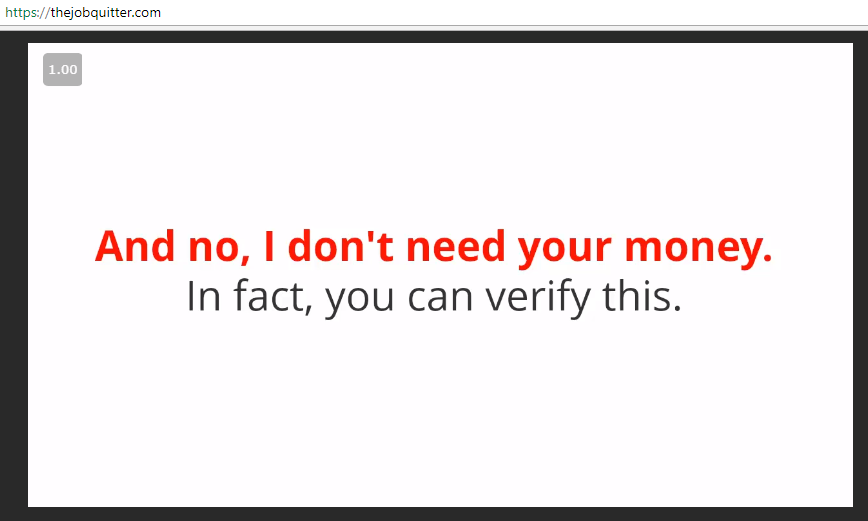 So I started suspecting it was a scam after hearing that. At the end of the video he tells you to enter your name, email address and phone number to the form below the video to reserve your spot because he's apparently only accepting 100 new students.
The fact that he doesn't explain what this system is about but asks for your personal information is a big red flag. I would feel something is not right if someone asked me for my personal information without explaining why it's needed.
Then I completed the form below the video with a random email and phone to see what I was going to find out next.
In the second sales video the narrator claims to be Richard Harper and he doesn't explain how exactly he makes money.
He talks about his life and how he started making money online in no time. He also shows some pictures of his earnings.
I have even lost the count of the times he promises to pay you $500 if you watch the video until the end. How generous of him, isn't it? $500 for only watching 2 videos that last like 15 minutes! Lol
.
Can The Job Quitter quit your job?
---
I guess this is what you're here for. You want to know whether The Job Quitter will make you money or not. 
Well, I can assure you that this system doesn't live up to its promises.
"Richard" doesn't explain what he sells or exactly does to make money online. He claims that this system has to do with affiliate marketing, even though he doesn't even explain what affiliate marketing is or how it works.
I'll tell you. Affiliate marketing is a business model that enables you (the affiliate) to earn commissions by selling other people's products. It's a lucrative business model because it can benefit everybody involved in it, if done properly.
He claims that inside The Job Quitter program you'll have access to step by step videos that will teach you how to implement his system. 
However, he doesn't mention the method you'll use to do affiliate marketing. There are good ways and blackhat ways to do affiliate marketing. Most scammers do blackhat affiliate marketing which I don't really recommend if you want to build a business that lasts long term.
I wouldn't expect to learn much from someone who lies to you and uses unethical tactics to get you to purchase a product that costs $47.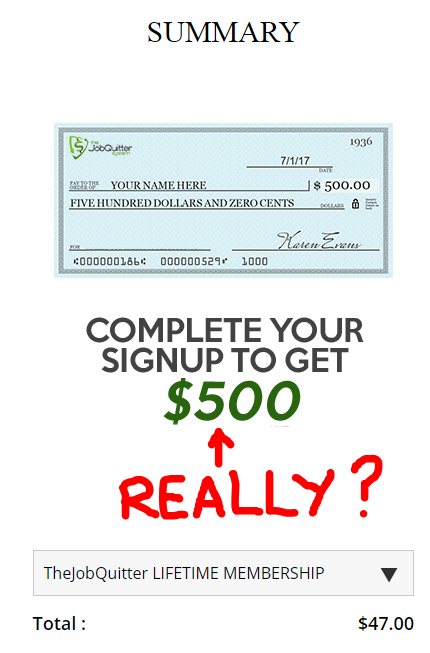 So they want you to believe that you'll get paid $500 after you have paid the sign up fee which is $47.
And that's only the beginning. Remember that they ask you to give them your phone number and email address?
If you give them your valuable personal information, expect them to call you to convince you to make the $47 payment and expect to receive spam emails related to other scam offers. They'll even sell your information to other con artists or unethical people.
The fact that he lies about the price because he first says he doesn't need your money and then you find out it costs $47, so it's not free. This should be enough to tell you this system and people who've created aren't trustworthy.
.
Is The Job Quitter a scam?
---
The Job Quitter is a scam, even though there are worse scams than this. The whole sales videos and pages are full of red flags that tell us that this system is not worth it.
Let's find out some of the scam signs.
.
Who is Richard Harper?
---
Richard Harper is not the man behind The Job Quitter. The man who narrates the sales videos sounds like a voice actor.
I also searched for information about this Richard Harper man outside The Job Quitter website and didn't find anything about him. 
What I found out is that in Whois it says that Jonathon Grey is the person who registered the thejobquitter.com domain.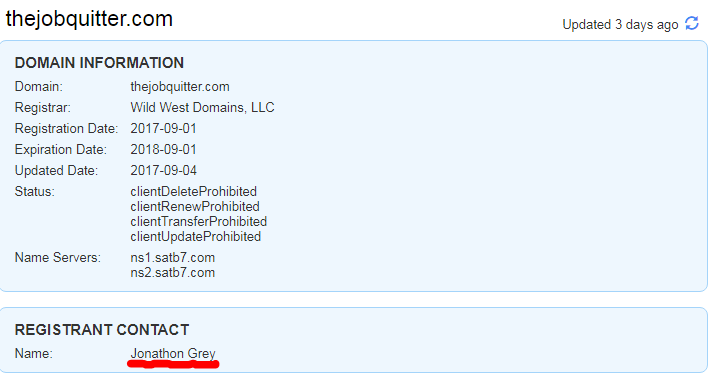 So I believe Richard Harper is just an invented character and everything he says is fake.
Would you believe in a system whose owner hides his real identity? I surely would not.
.
The fake scarcity method
---
He claims that only 100 students will be accepted and that video will be taken down soon, but this is fake because I watched it last night and today it still exists. 
It will be available as long as possible because people behind The Job Quitter want to make as much money as they can from this scam. 
The 100 students limit is also fake because that site has existed since January 2017 (according to its domain information) so there's no way they only wants 100 people to purchase this program. They want you to purchase it as fast as possible and want to scam as many people as possible.
.
Did you get invited?
---
So he claims that I got invited by one of his friends, but this is completely false. Unless he's referring to Google as his personal friend, I don't know who he's referring to. I wasn't sent an email with a special link to get access to that page, I found it while doing research to expose another scam.
Anybody can get access to that page because it's public, so you'll have also been "invited" if you check it out lol. 
They just say that you've been invited to make you feel special as everybody likes to get invited to something. But they want you to feel special and excited for what they have to say so that you stay watching that video.
.
Did you get paid $500 at the end of the video?
---
The $500 at the end of the video is complete BS. If you had been paid the $500 then you wouldn't have searched for reviews about The Job Quitter.

They make that fake claim to get you to stay watching the videos until the end. 
However, at the end of the second video he says that you'll get the $500 if you don't make $500 by following all the steps of this program.
But this system costs $47, so you'll have to spend $47 and then try to make $500 with that system. If you don't earn $500, then you can contact them and ask for the money, but they will most likely not reply or give you excuses like you should have earned the $500 if you had followed all the steps.
This is not the same as giving you $500 just to watch the video, like he claims earlier in the video.
I've heard similar claims in other scam videos, claims like "you have money on your account", "you will get $500 for watching this video"…
But then they ask you to make a payment in order to receive it. When someone promises you will make a lot of money but then asks for your financial information is always a red flag.
.
My final conclusion
---
The Job Quitter may not be the worst kind of scam out there.
In my opinion, the worst kind of scam programs or systems are the ones that don't give you anything in exchange of your money, like binary options scams where they tell you to invest $250 to start trading and then you lose it all.
Some of these scams you need to avoid are the following:
The Job Quitter actually offers some training so you won't pay the $47 for nothing. That's why I have rated it 21 out of 100. 
However, you won't make the amount of money claimed in The Job Quitter sales video by only working 5 minutes per day.
They don't tell you that it will require a lot of hard work and patience to earn a job replacing income, it will not happen within your first month.
I won't be recommending The Job Quitter because it doesn't live up to its promises and uses unethical and manipulative tactics to get you to purchase it. 
If you're looking for an ethical and non-expensive way to earn a living online, then there's a digital marketing platform where you'll find step-by-step training, courses and other resources to start your very own online business from scratch and take it to the next level. 
This platform also has a community full of bloggers and online entrepreneurs that will support and help you out with any question or issue you may have. That's where I got started and I've always got my questions answered =)
I also love that this platform is spam and scam free, so you will not get scammed anymore if you join because there you'll find what you need to generate a full-time income online!
If you're interested in learning more about my top recommendation, you can click the button below to read the detailed review I wrote about it:
.
It's time you stop falling for the scams and get on the right track to make money online. You'll finally be on your way to success if you take action on my recommended platform.
I hope this review has been helpful to you and you now have enough information to make the right decision. Don't hesitate to share it with whoever you believe that may benefit from it. 
If you have any questions or would like to share your opinion regarding The Job Quitter or other online money-making programs, leave a comment below and I'll get back to you ASAP.
Best wishes! 🙂