Hello everyone!
If you're looking for answers regarding the Million Dollar Months software, you're on the right place because I'm going to explain all the details you need to know to make an informed choice.
There are lots of scams out there and the fact that they come disguised in many forms makes it sometimes hard to spot them. Scam artists always do the most to make a quick buck at other people's expenses.
Make sure you read this review to find out the truth about the Million Dollar Months system.
.
Million Dollar Months review
---
Name: Million Dollar Months
Websites:
milliondollarmonths.com

million-dollar-months.com
Owner: "Brad Davis"
Created in: 2015
Price: "Free"
Overall Ranking: 0/10
.
---
If you're sick of scams, check out my 1st resource to make money online here!
---
.
What is Million Dollar Months about?
---
Million Dollar Months is alleged to be a piece of software that trades binary options stock markets automatically.
The man who narrates the sales video claims to be Brad Davis and he says that he's selected a few people that will be given the Million Dollar Months system for free for a limited time and then it will go back to its retail price of $9,997.
You can't help but be tempted to try it out when you hear that this software never loses and that you only need to work 30 minutes per day to make thousands of dollars each day.
Some of the features of this magical system are the following:
100% automated

100% winning rate

Absolutely free

It doesn't require you to work hard

It can make you over a million dollars in a month

It doesn't require you to have any knowledge, experience or skills in trading or tech
Do you believe in such system? I mean, it all sounds too good to be true. 
I have heard of other so-called systems and softwares similar to Million Dollar Months and none of them has lived up to its promises. 
After watching the Million Dollar Months sales video I was almost convinced it wasn't a legit system, so I did some research and finally came out to the conclusion that it's a ripoff.
.
Is Million Dollar Months a scam?
---
Unfortunately, Million Dollar Months is a scam. It won't make you any penny, it's only designed to benefit the people who've created it. 
My initial thought was that this system is a scam because I've found out that most systems and programs I've reviewed that have the words "million" or "millionaire" in their names have resulted in being scams. 
Moreover, the Million Dollar Months sales page looks similar to most scam sites. The second you stumble upon it you can see some scam signs that I'm going to post in this section.
.
Brad Davis is not the real creator of Million Dollar Months
---
I've found out that Brad Davis is a fictitious character and the story he tells us is fake. 
Scam artists don't usually reveal their real identity and use other people's pictures as a scapegoat.
I started suspecting Brad Davis as the man behind Million Dollar Months when I saw that they only show a picture of him on the Million Dollar Months site.
The fact that we're not told how to reach out to him or other sites where we can find more about him is also a red flag.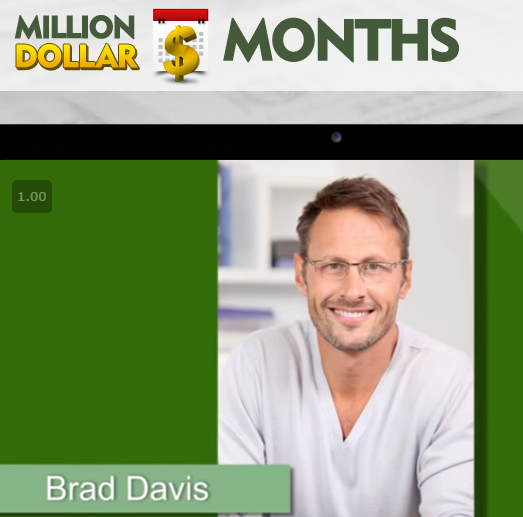 So I searched for his picture to see if I could find it in other sites and found out it was a stock photo that can be found in Shutterstock and Bigstockphoto: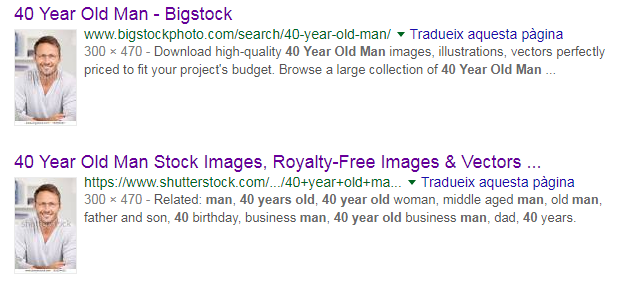 This shows that the person who appears in that picture is a stock model that doesn't have anything to do with Million Dollar Months. 
The real creators of this software have purchased that picture on a stock site and invented Brad Davis and his story. They have also hired a voice actor to narrate the video.
Oh, and they've done the same thing with the team members pictures you can see near the bottom of the Million Dollar Months sales page. They've got all those pictures from other sites on the net.
I'm sure that people who appear on those pictures don't even know their faces have been used in a scam page.
.
The video testimonials aren't genuine
---
If you watch the Million Dollar Months sales video, you'll see some people who claim to have made at least a million dollars a month after joining this system.
However, they're just paid actors and actresses that promote their services in outsourcing sites like Fiverr. They get paid to recite the script the con artists give to them.
Let's take a look at one of them: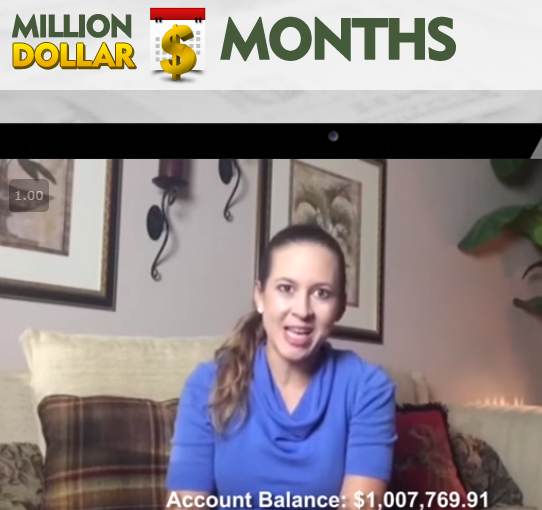 I've already seen this woman appear in other sales videos of other scam softwares like 1K Daily Profit.
I guess scammers usually hire actors to talk positive about their crappy systems because they want potential victims to believe that those get-rich-quick schemes have worked for other people so that they fall for them.
If Million Dollar Months really worked, people behind it wouldn't hide their identity and wouldn't have to hire actors to have positive reviews.
.
The Facebook and Twitter comments are fake
---
In the Million Dollar Months sales page you can read some Facebook and Twitter comments, which are fake without any doubt.
The comments and names are invented and the pictures have been purchased or downloaded from other sites. They've simply have done the same that they've done with the Brad Davis and team members characters.
You can also notice they're fake because in the Facebook comments it doesn't appear the members surnames and in the Twitter comments it doesn't appear their username.
I did an image search of that person named "Penny" who appears in the Twitter comments and found out her real name is Alexa Andrzejewski, as seen below:
.
Unrealistic and fake claims
---
They claim this system to never lose trades but the truth is that such system doesn't exist. It's just not possible that a software has a 100% winning rate.

Trading always carries a level of risk, as you can read in the Million Dollar Months disclaimer: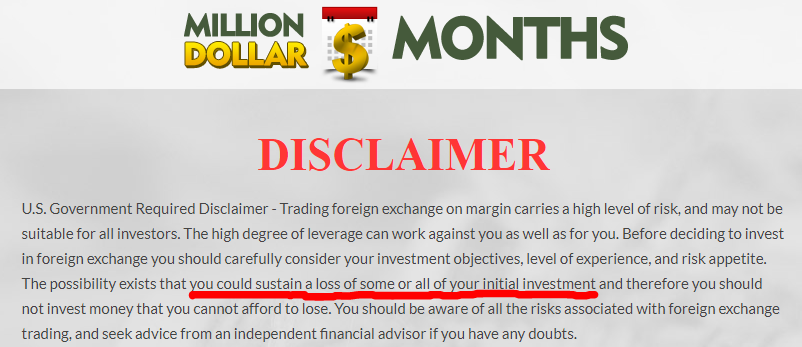 It's not guaranteed that you'll make money with this software, you can lose all of your capital. The disclaimer tells us that Million Dollar Months doesn't always win because it has a level of risk. 
Apart from that, don't believe them when they say that it's free because it is not. You'll have to invest at least $250 to use this software. Without making the $250 investment, you won't be able to start trading so that's why it's not free to use.
.
They play with your feelings
---
They want you to feel important when they claim that you have been selected from thousands of people. They want you to believe that their software is exclusive and you've been lucky to have been given the chance to join it.
However, anyone who has an electronic device with an Internet connection can access to the Million Dollar Months page so nobody has been selected. It's just a fake claim to hook you up.
They also try to get you to start daydreaming when they show pictures related the luxurious lifestyle. They want you to imagine how your life will be if you sign up to that software.
Moreover, they try to get you to rush into joining by claiming there are a few spots left. 

They want you to have FOMO (Fear Of Missing Out) so you join as fast as possible. They try to get you to fear missing this chance so you stop thinking logically and you end up signing up.
You know this is fake because you can refresh that page or come back later and nothing will have changed.
.
My closing thoughts
---
I believe I've provided enough proofs and information to reach the conclusion that Million Dollar Months is not a legitimate opportunity to generate an income online. 
Other fraudulent softwares that operate like Million Dollar Months are the following:
People behind those scam systems are affiliated with unlicensed brokers, so their goal is to bring new depositors to those brokers that will pay them commissions for each depositor. They'll try to convince you to fund your trading account with as much money as possible. 
Before joining, they ask you for your personal information like your email address and your phone number so they can contact you to lure you into other scam programs.
The truth is that you can't expect anything good from people who lie to you to steal your money and identity. My advice is that you stay away from all systems and programs that promise easy and fast riches. 
If your goal is to earn a living online, you'll have to put in the effort, be patient and stay consistent. Anything worth having comes with a price and this is no different when it comes to making money online.
#Recommended article —> Are there legit ways to make money online?
If you're willing to do what it takes to make a full-time income online, then there's a digital marketing platform that you can benefit from.
This platform is where I got started last year and where you can learn to start an online business from scratch and take it to any level of success. You'll find the proper training, courses and more resources that will help you during your path to success.
Apart from that, you'll also meet a community full of like-minded people who will support and help you out with any questions or issues that you may have. From my personal experience I can tell that there's always been someone who has replied to my questions =)
Another thing I love about it is the fact that they have a free membership so you can join for free to see what's inside the platform and see if you like it.
If you're interested in learning more, you can now click the button below to read my full review on my top recommendation:
.
That's it for today! Don't hesitate to share this review with whoever you believe that needs to know the information I've provided.
In case you have any questions or would like to share your opinion regarding Million Dollar Months or other online money-making opportunities, leave a comment below and I'll get back to you ASAP.
Have a great day! 😀