Hey people!
Stabilis Lucra is the name of the site I came across some days ago. My initial thought about that site was that it would be a legit one because it looked differently from other scams. 
However, I took a closer look and did some research to find out what I was really dealing with and whether it was worth it or not. 
If you've also heard of Stabilis Lucra but are suspicious of it, make sure you read this review because I'm going to explain what you need to take into consideration so you end up making an informed decision.
.
Stabilis Lucra review
---
Name: Stabilis Lucra
Website: stabilislucra.com
Founder: David Jukl
Created in: 2017
Price: $490, $1490 or 12 payments of $129
Overall Ranking: 20/100
.
---
If you're sick of scams, check out my 1st resource to make money online here!
---
.
What is Stabilis Lucra about?
---
Stabilis Lucra is said to be a four-time award winning Forex trading robot with a real-money six-figure performance created and developed by David Jukl. 
According to stabilislucra.com, these are the awards Stabilis Lucra has won:
Best Forex Expert Advisor 2016

Best Performing FX Strategy 2016

Best Innovative FX Product 2016

Best Expert Advisor Performance 2017
When I read that it has won awards I was like "this must be the real deal" and the fact that the site looks quite professional and it's not outrageous or full of hyped up claims makes you think that Stabilis Lucra is really worth it.
But we can't just judge a book by its cover and make our choices based on appearances. There are other important factors we need to considerate so that's why you want to make sure you do your research before getting involved in it.
After watching the Stabilis Lucra sales videos, taking a look at the whole site and looking for information outside the Stabilis Lucra site, I finally reached a conclusion which I'll explain in the next section.
.
Is Stabilis Lucra a scam?
---
I must say that Stabilis Lucra is kind of a complex scam as it doesn't look like it at first and con artists have done the most not to make us suspect about it.
.
Who is behind Stabilis Lucra?
---
David Jukl is supposed to be the man behind Stabilis Lucra and this is actually true. 
David Jukl is a real person instead of the typical fictitious character or paid actor that we usually find in scam programs. He's said to have more than 10 years of experience in Forex robot development and programming.
If you check out the Stabilis Lucra website, you'll see pictures of him in the 2016 China Forex Expo.
He also has a LinkedIn and Instagram profile and he appears in the Stabilis Lucra sales videos too, although he's not the one who does the most talking.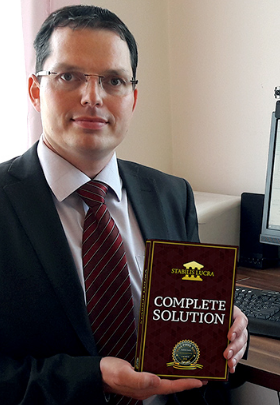 The man who narrates the Stabilis Lucra sales videos claims to be Andrew Nathan. He claims that he met David Jukl at the Forex conference in Boston in 2012 and then they became partners and Andrew helped David bring to light his hidden talent in a Forex profits machine.
But the fact that Andrew Nathan doesn't show his face or any picture of him makes me suspect about him and the story he tells us.
If you search for information about Andrew Nathan, you'll find nothing about his background and he has no social profiles so it's not possible to verify his real identity.
To be honest, he sounds like a voice actor and this is not a good indicator if we consider that most scammers hire voice actors to narrate their sales videos. 
Another thing that I noticed is that he explains that scammers usually show fake screenshots and hire actors and then says that David Jukl is not an actor.
I believe he says that because he may think that some people suspect about Stabilis Lucra being legit.
This is not new as I've heard other the same stuff in other scam videos, they talk negatively about other con artists just to make you believe that they're not going to defraud you. This is another tactic they use to earn your trust.
.
An Expert Advisor that "never loses"
---
The first claim that made me doubt about the legitimacy of Stabilis Lucra is that it has not lost for the past three years. 
Truth be told, there's no software that never loses. It's absolutely impossible. Even the best softwares that usually win the trades also have losses. 
I guess they make this exaggerated claim so that you believe that there's no risk and that winning trades are guaranteed.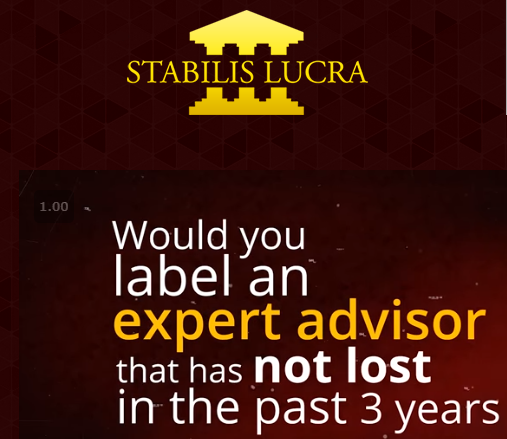 With that being said, the little note you can find at the bottom of the Stabilis Lucra site tells us the truth.
As you can read above, trading Forex and CFDs (Contract For Differences) has a high level of risk, and Stabilis Lucra is no exception to that. 
Apart from that, the fact that they mention "3 years" made me wonder about the longevity of this Forex robot, how much has this been in business? 
I checked out the stabilislucra.com domain registration date and got this result:
Unless they had another domain for this Forex robot, they have only been around for some months. There's no way that what they say in the sales videos is true.
.
Is Stabilis Lucra free?
---
In the Stabilis Lucra first sales video they tell us that it's free, and it seems true because they don't mention any price in the first page.
However, if you enter your name and email in a form you'll find near the bottom of the page, you'll be taken to another page where the real prices appear.
See below how much Stabilis Lucra actually costs (without taking into account the investment capital):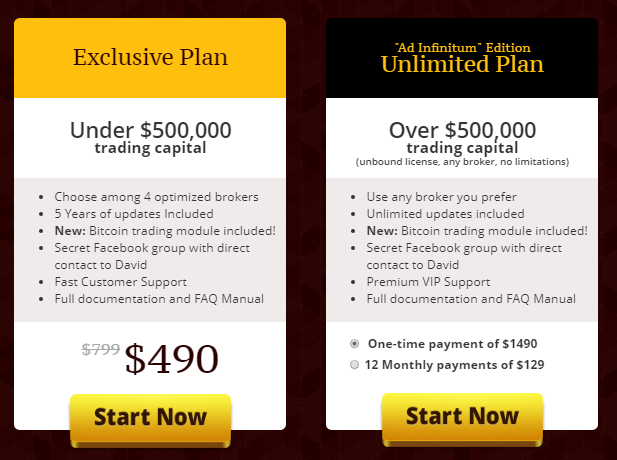 It's very misleading that they first tell you it's free and then you find out it will cost you at least $490!
I believe they first lie about the price to get you to give them your personal information like your name and your email address, which is a big red flag.
The fact that they lie to you and try to trick you into giving them your personal information should tell you a lot about who you're dealing with. 
That's something scam artists usually do so that they can send you emails about other scam offers.
.
Don't be fooled by the awards and the Forex Expos
---
They haven't received those awards because they deserve them, they've received them because they've paid for them.
Forex Expos are events where anyone that pays a certain amount of money can participate so the Stabilis Lucra scam artists have paid to get those awards.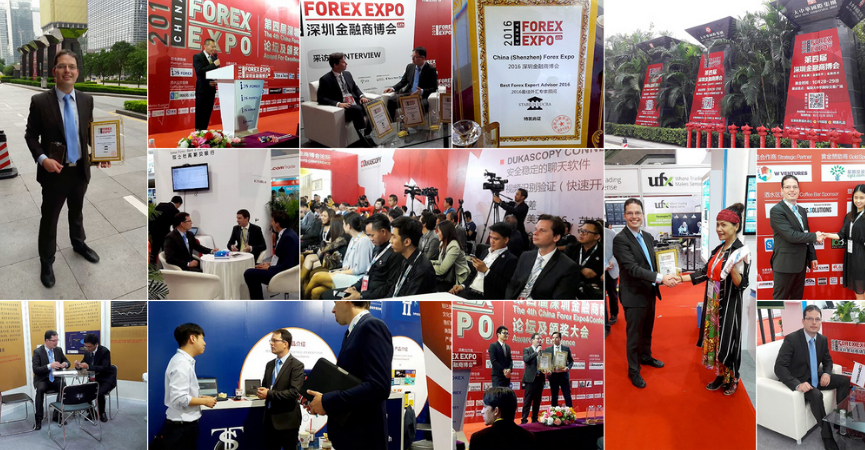 Keep in mind that lots of fraudsters attend these kind of conventions so that they can look like experts and gain credibility.
That's why you can't trust all people who take part in those events.
.
My closing thoughts on Stabilis Lucra
---
I believe I've provided enough evidence and proofs that show that Stabilis Lucra shouldn't be trusted. 
I've noticed that those review sites that claim it to be legit are just affiliated with Stabilis Lucra, they don't care about you getting scammed. And there are no real testimonials that have verifiable proofs that this Forex robot works. 
And note that the people behind Stabilis Lucra will earn commissions when you open a trading account and make a deposit as they're affiliated with the brokers they recommend (most of them are unregulated).
This fake Forex robot works in a similar way as other scam softwares I've reviewed in the past:
If you're looking to make a full-time income online, know that there's no risk free trading software that will make you a lot of money.
There's no magical system that will earn you money overnight. In order to make money, you'll have to work hard, be patient and persistent, among other factors.
If you're willing to do what it takes to earn a living online or not, let me introduce you to a digital marketing platform where you'll learn to build your very own online business.
In this platform you'll find the resources, step-by-step training, tutorials and more that will help you start and grow an online business based on your passions, the proper way.
You'll also find lots of supportive like-minded people inside that platform. People who are willing to give you a hand with any question or issue that you may have during your online journey.
I also love the fact that this platform is free to join so you can try it out and see if it's for you without worrying because you have nothing to lose.
You can read more about this platform by clicking the button below now:
.
Thank you for doing your research and I hope this review has been helpful to you. Don't hesitate to share it on social media to warn more people.
If you have any questions or you would like to share your opinion or experienece regarding Stabilis Lucra or other programs, feel free to share your thoughts in the comments section below and I'll get back to you as soon as possible.
Have a great day! 🙂