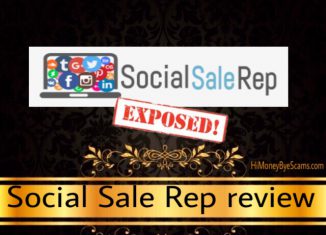 Welcome to my Social Sale Rep review!
You have come across Social Sale Rep (socialsalerep.com) and are wondering if you can make real money online, right? Or what if it's another scam product that you need to stay away from?
As you might know, there are many scams out there so I'm glad to see that you're doing your research before opening your wallet.
Here in this Social Sale Rep review, I will show you what Social Sale Rep is really about, how it works, whether or not you can earn money and more.
.
Social Sale Rep review
---
Name: Social Sale Rep
Website URL: socialsalerep.com
Owners: Hidden
Price: $17 + upsells
Overall Rating: 5/10
.
---
If you're sick of scams, check out my 1st resource to make money online here!
---
.
What is Social Sale Rep about?
---
Social Sale Rep is a platform that works as an intermediary between product creators and remote workers a.k.a. affiliates (people who promote those products to earn commissions).
If you sign up as a remote worker, you will get some training that will help you promote any product you want to earn money from.
They also provide an integrated viral mechanism inside the tools that can help these products go viral.
WIth that being said, it doesn't look like the typical scam product but they make some claims that are kind of overhyped.
For example, when they mention the "Viral multiplier technology" they make it seem as if it was the key to inmediately increase your earnings, but there's much more to that.
Apart from that, I have noticed some red flags and problems that I will point out later because it's important that you're aware of them.
.
How does Social Sale Rep work?
---
In order to join as a remote worker, you will have to complete a form with your name and email address.
Then they will send you an email with the link you have to click to get access to the sales page.
I was interested to check out everything included so I paid the initial fee of $17.
Just after making the purchase, the first upgrade came to play. It's called Video Rebrander, a tool that is said to create videos for each product you want to promote. It costs $37 but I refused to buy it as I wanted to get access to the members area and that's it.
After getting access to the members area, I took a look at the training and everything included.
Here's the training: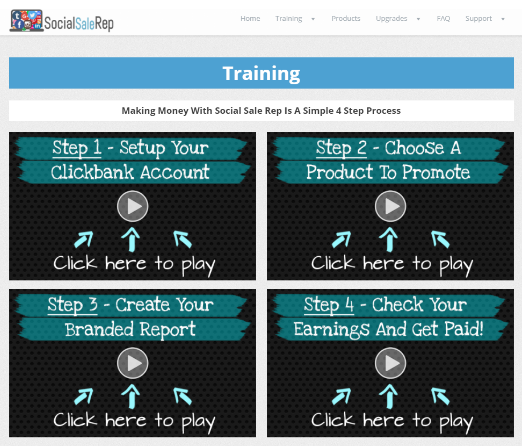 This is how the process works:
If you still don't have a ClickBank account, you will have to join ClickBank as an affiliate.
After that, you will have to look for products at the Social Sale Rep marketplace and choose the ones you would like to promote. I like the fact that there are products for different categories so you can choose whatever topic you like (art, education, health & fitness, travel, self help…).
After choosing a product, you will have to get the rebranded promotional eBook and will also be given a URL to share it.
The eBook contains your affiliate link that will put people in front of the product you want to earn money from.
When someone downloads the eBook, clicks the affiliate link and purchases the product, you will earn a commission.
It doesn't sound complicated as you don't have to create your own products and it also gives you the opportunity to earn a substantial amount of money. 
The business model they're using here, affiliate marketing, can be very lucrative when used the proper way. There are many people who earn a living online promoting other people's products.
.
Is Social Sale Rep a scam? 
---
No, Social Sale Rep is not a scam because you're getting some training and tools for your money.
It would be a scam if you made an investment and got nothing, just like it happens with scam softwares like 1K in 1 Day, Crypto Genius, Crypto Wealth Creator…
Can you make money with Social Sale Rep? Yes, but there are many factors that you need to take into account when it comes to making money from this.
That's why I'm going to point out some of the red flags, things I don't like and other problems I see with this product. 
.
No information about the owners
---
I personally don't like the fact that the people behind Social Sale Rep don't show up.
I mean, why don't they let us know who we're dealing with? What are they trying to hide?
Whenever I come across a money-making opportunity, I like to know who has created it because it helps me determine whether or not it's trustworthy.
Many of the low-quality programs or scams I've come across hide the identity of its owners, that's why I usually suspect of websites that don't reveal any information about its owners.
.
Fake scarcity
---
Another thing I don't like is that they use the false scarcity tactic to get you to purchase it.
For example, they claim that the Video Rebrander (first upgrade) will not be available if you exit that page. 
However, this is not true because when you get access to the members area you get the chance to upgrade.
They also use a fake timer to push you to purchase it. The truth is that the discount doesn't expire as the timer reached 0 seconds and I still got it for $17.
.
They email low-quality programs
---
I actually didn't purchase Social Sales Rep the same day I came across it. I subscribed to their email list to see what they would send and got kind of disappointed when I saw that they promote low-quality products.

This email in the picture above is about the 60 Minute Profit Plan program, which was launched some days ago and I've already exposed. It's not a scam but it's a program that doesn't live up to its promises so I don't recommend it. 
There's no such thing as earning $220 in 60 minutes easily or without putting in the work, so I suggest that you ignore those kind of emails.
I personally find that it's unethical that the people behind Social Sale Rep are promoting products like this because they're not high-quality products. It looks like they just want to make a quick buck like the rest of con artists.
.
Take into consideration the products you want to promote
---
It's important that you make sure the products you want to earn money from are valuable and relevant to your audience.
If I were you, I would test the products before promoting them because this way you will be able to provide a better and personalized description of those products.
I would also suggest that you read the eBooks you want to promote to ensure that the information provided is useful and not outdated.
There are many low-quality products so you need to be careful with what you choose to promote because you don't want your customers to feel ripped off and ask for refunds. 
.
It's not beginner friendly
---
Even though the process sounds easy, I don't consider it to be newbie friendly because the training you get with Social Sale Rep doesn't cover the traffic part.
Knowing how to get high-quality traffic to the eBooks you're promoting is very important because without traffic there's no money to be earned.
When it comes to this product, they tell you to share the eBooks on social media but unless you have thousands and thousands of followers you can't expect to make much money.
Even if you have thousands of followers, if most are not interested in the topic of the eBooks you promote, you cannot expect them to download it.
Therefore, you first need to build an audience if you want to earn a substantial amount of money with this method.
.
Not everyone will read the eBooks
---
If you promote the eBooks to people whose interests you don't know, you can't expect them to download an eBook that has nothing to do with what they like.
Even if they're interested in the eBook you share, many of the people who download it might not finish reading it so they will not click your affiliate link and make a purchase.
That's why you need to build an audience and know them very well to determine which products and eBooks are best for them.
.
Learn from a complete training
---
Social Sale Rep is a decent product even though it's not complete. I don't mind recommending it if you want to try it out for yourself (get it here), it's a ClickBank product so you can get a refund if you end up not liking it.
When it comes to making money online, it's best to learn from a place that provides comprehensive training that covers all the pieces of the process.
It's also better to build your own website instead of only relying on social media. It's not good to put all your eggs in one basket so I consider that having your own website is essential when you want to build an online business.
Your website will serve as a platform that connects you and your audience, so it's a very important element to build trust.
The traffic part is also essential because without traffic there's no money to be made, as I've explained. If you're a beginner, free organic traffic is the best kind of traffic you can learn to get as it doesn't require you to spend money. 
All of this is a process and it takes time, patience and work to master it. Building an affiliate marketing business that makes you passive income is just like anything worth achieving in life. It never comes easily or quickly.
With the right step-by-step training and easy-to-use tools, I don't see why you can't make it happen if you're committed to doing all the work it takes.
By clicking the button above now, you will see where you can find the complete training and tools to build an affiliate marketing business. Not to mention that you can get started for free as well!
In addition, you will get the chance to interact with other like-minded people and I'll personally be there for help and support =)
So excited to help you on your way to online success!
LEARN ABOUT MY TOP RANKED PROGRAM NOW!
I hope this review has been helpful to you and you will make the best possible decision.
In case you have any questions or opinions concerning Social Sale Rep or anything else, feel free to leave a comment below and I'll get back to you ASAP.
Best wishes 🙂