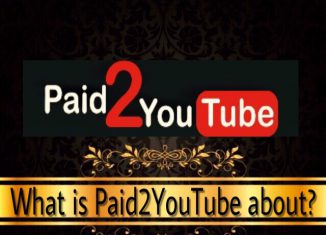 Hey everyone! 
A few days ago I came across a site called Paid2YouTube and my main question was "is Paid2YouTube a scam or it's legit?".
When I heard about that, the 1st thing that came to my mind was "is it a site that pays people to use YouTube?". Well, I wasn't wrong, but I will elaborate =)
In this review I will explain what Paid2YouTube exactly is, whether it can make you money or not and more.
.
Paid2YouTube review
---
Name: Paid2YouTube
Website: www.paid2youtube.com
Owner: Unknown
Created in: 2009
Price: Free
Overall Ranking: 4.3/10
.
---
 If you're sick of scams, check out my 1st resource to make money online here!
---
.
What is Paid2YouTube?
---
Paid2YouTube is supposed to be a platform where anyone who has a YouTube channel can promote their videos to get views, comments, likes, subscribers…
They claim that people can earn money by performing tasks like watching YouTube videos, subscribing to other people's YouTube channels, commenting on their videos and giving them thumbs up ratings.
.
How does Paid2YouTube work?
---
In this section I will explain how Paid2YouTube works whether you want to make money or advertise.
.
How to make money with Paid2YouTube
---
 This site offers various sections you can choose to make money: 
Surf Videos. You get paid $0.005 for each video you watch.
Comment. You get paid $0.10 for each comment you leave.
Subscribe. You get paid $0.15 for every YouTube channel you subscribe to.
Ratings. You get paid $0.01 for every rating you leave. 
 They also say that you can earn more money by buying and renting referrals:
I think this is a good option if you don't find anyone who wants to join Paid2YouTube under you. They let you rent active Paid2YouTube members who aren't referred by anyone.
If you have referrals, then you can get paid depending on their activity: $0.001 for each video your referrals view, $0.05 for each comment your referrals leave, $0.05 for each subscription your referrals make and $0.005 for each rating they leave.
.
How to advertise on Paid2YouTube
---
Paid2YouTube offers some packages for those who have a YouTube channel and want more subscriptions, comments, views… in short terms, more visibility. 

They state that it is not needed to sign up to Paid2YouTube in order to buy one of those packages and that the minimum purchase is $2, which would be 100 video views.
They claim that they show the advertisers' videos to the Paid2YouTube members within 5 minutes after the advertiser's payment has been made.
 .
Pros & Cons
---
In this section I will explain that cool stuff about Paid2YouTube as well as that not so cool stuff.
.
Pros
---
You can discover YouTube channels and videos you haven't heard of before.
You can get entertained and earn some coins at the same time.
It's easy to understand and use.
Not a get-rich-quick scheme. At least they're not like those scammers who claim that you'll make overnight riches.
.
Cons
---
The minimum amount you need to make in order to request payment is $10.
Low earning potential. If you take a look at the site stats you'll see that there's not much money to be made with it.
A lot of complaints from members. Some members have complained because Paid2YouTube has closed their accounts for no reason or they've never been paid.
The website looks outdated. Yes, the website looks like it was created in the early days of the Internet and never been revamped since then.
The payment proofs don't seem real. The payment proofs seem to be created by Paid2YouTube because you can't click on the user who wrote it and contact him/her.
Support doesn't always reply. Many members contacted the support team for the payments but they didn't reply or just told them that they would get paid in a few days. Unfortunately a lot of people never got paid.
Not many videos to watch. When you join you'll get a bunch of videos to watch, but you'll be getting less and less videos to watch when you're close to reach the $10 minimum requirement.
.
Is Paid2YouTube a scam?
---
I don't consider this site to be a blatant scam like Dubai Lifestyle App or Millionaire Blueprint because they don't force you to join or don't promise to make you a fortune with a couple of clicks.
The good about Paid2YouTube is that you can try it for free and see if you like it.
I would recommend it to people who have some free time and want to make some extra money, even though it's possible that they never pay you because it's been failing to pay its members since 2015. 
*2017 update: Paid2YouTube has been paying their members lately, which is a good indicator.
However, if you're serious about making a full time income, then I recommend that you build a website to earn money through affiliate marketing.
I let you know that it will take you time and effort to start earning money, but if you work hard and stay persistent, in the long term you can make a living and beyond.
I believe the best platform to create and grow an online business is Wealthy Affiliate, because it has step-by-step courses and training, a website builder easy to use, a high quality website hosting, a community full of members willing to help you and support you…

I've been a WA premium member for almost a year now and have no regrets, I can say that I made a very wise decision by joining 🙂 
Apart from that, I've noticed some improvements in the platform. You can expect that and more because Kyle and Carson (WA owners) are always updating Wealthy Affiliate to make it better for us.
If you're curious and want to try Wealthy Affiliate for free, just click on the image below: 

If you join, I'll be there to help you and support you along the way. I'll be very happy to see you inside!
Thanks a lot for reading this review about Paid2YouTube. If you have any questions about Paid2YouTube or anything related to scams and making money online, please feel free to leave a comment below and it will be a pleasure for me to reply. Thanks for dropping by! 😀