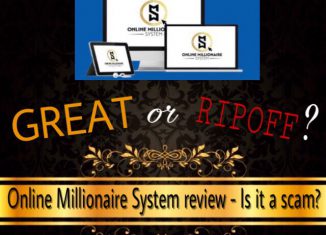 Welcome to this Online Millionaire System review!
I recently found about this system and I was wondering whether it's really worth it or it's just another bogus system.
Is Online Millionaire System a scam or does it really work? This system's name sounds very attractive and suggests that you can become a millionaire thanks to this system, but is it really the big deal?
Make sure you read this review because I'm going to explain what you need to know about this system so that you make an informed decision.
.
Online Millionaire System review
---
Name: Online Millionaire System
Website: https://onlinemillionairesystem.com/
Owner: "Sam"
Created in: 2017
Price: $97 + upsells
Overall Rating: 16/100
.
---
If you're sick of scams, check out my 1st resource to make money online here!
---
.
What is Online Millionaire System about?
---
Online Millionaire System is said to be a "done-for-you" money-making system that is allowing people with no experience in the online business world to make that "quit your job" income in record time.
This system doesn't require you to make any sales because you'll get a sales team that will close all the sales for you.
Apart from that, you won't have to put in the effort or work. This system can make you money by only working 30 minutes per day. 
The best part is that you can earn a six figure income per month thanks to this system and you'll become financially free so you'll get to have an amazing lifestyle.
If you complete the form with your name and email, you'll get to the second page where you can watch another video.
The second sales video is very similar to the first one. It's focused on how much money you can make with little to no work and how your life will change for the better.
They just try to sell you the dream of having no boss, not having to worry about money, making passive income and traveling the world.
They claim that you won't have to do much work because they do 90% of the work for you.
They create the "high value" products and services, they build the relationships with your customers and they sell them those products.
You don't need any kind of experience to get started and start earning thousands of dollars in commissions. 
Their products cost from $2500 to $30,000 and you'll get to earn 50% commissions on autopilot. The only thing you'll have to do is to direct people to their company. And trust me, this requires more than 30 minutes of work per day, more on this in the next section.
.
Can Online Millionaire System make you money?
---
Online Millionaire System is not a system itself. It's just a page that funnels people into buying another program called MOBE (My Own Business Education or My Online Business Empire), which offers very expensive digital marketing products. 
The people who created Online Millionaire System are MOBE affiliates, so they'll earn commissions for each purchase you make. When you sell the MOBE memberships to other people, they'll also make money.
That's why they'll close your sales. You'll be paying to help them build their business.
You can earn those $1250 and $10,000 they claim, but what they don't say that you need to take into account is that you'll have to purchase those products before promoting them.
This means that you won't earn much money if you don't spend thousands of dollars first. MOBE products and memberships will cost you more than $50,000 in total. I've listed them below:
Silver ($2,497 one time + $27 per month or $216 per year for the inner circle membership).
Gold ($4,997 one time + $64 per month or $512 per year for the inner circle membership).
Titanium ($9,997 one time + $121 per month or $968 per year for the inner circle membership).
Platinum  ($16,667 one time + $198 per month or $1,584 per year for the inner circle membership).
Diamond ($29,997 one time + $295 per month or $2,360 per year for the inner circle membership).
The Online Millionaire System costs $97, and the moment you purchase it, you're already inside MOBE.
You'll get a "millionaire mentor" a.k.a. your sponsor, who will help you make sales and close the sales for you, but he/she will also try to entice you to buy the MOBE pricey products and memberships.
Another thing is, you'll get websites, sales funnels, pre-made pages… All this stuff that you're getting with this program is designed to get you to sell it. You'll just be promoting what you've bought.
The problem here is that you'll get the same that others that have purchased it before have got, so you'll be selling the same as them which will make it more of a hard sell, especially if you're a newbie and have no experience in online marketing. 
You'll have to get traffic to the "done-for-you" sales page, and this takes time and doesn't happen overnight.
If you already have an email list with subscribers or have lots of followers on social media, then you may have it easier to make sales. 
However, if that's not your case, you'll have to do paid advertising which can be very risky if you don't know what you're doing.
You can't rely on organic traffic to get visitors because Google doesn't stand for squeeze pages or landing pages.
.
Is Online Millionaire System a scam?
---
Without taking MOBE into account, Online Millionaire System is a scam because it doesn't live up to its promises. 
The two sales videos and sales pages are full of red flags. Let's see some of the reasons why this system (if we can call it that way) is a fraud:
The sales videos are narrated by voice actors. "Sam" is just a fictitious character used to tell the typical sob story. They don't even say how you can know more about them and they don't even show their faces. It's clear they're trying to hide their real identity.
The amount of spots available is not limited. They claim there are only 10 spots available to make you rush into purchasing it. If you check that video another day, you'll see that they're still allowing 10 people to get that bogus system. 

The $1000 after the video. You and I have watched the Online Millionaire sales videos and haven't got paid the $1000 they said we would receive just to watch the video. I'm sure you wouldn't be reading this review if you had got paid lol. The "money after the video" thing is just a tactic to get you to watch the video until the end.
They sell you dreams. They want you to believe that this system will make you money quickly and that you'll be able to quit your job in no time and start traveling the world. Con artists always prey on your hopes and dreams to scam you.
They don't mention the hidden costs. They don't say how much money you'll need to spend to be able to earn the amount of commissions they talk about, and they don't even mention that the real program you're getting into is MOBE. This is a big red flag because they want you to make a payment without knowing what you're really getting yourself into.
.
A better opportunity to earn money online
---
Online Millionaire System is no different from other sales pages that serve to funnel you into other programs. Some of these pages that I reviewed and you need to avoid are:
Even though MOBE is not a scam because you get some training, what kind of program will make you spend thousands of dollars to make money? And the fact that they are not transparent about the hidden costs and other important information tells me that those people should not be trusted.
You can make money with MOBE, but I won't be recommending it to beginners or people on a tight budget because it's very expensive and it's focused on making money by promoting it instead of being focused on helping others earn money through their passions.
If you dream big and are committed to doing what it takes to succeed, there's a digital marketing platform that has step-by-step training, courses and other useful tools that will help you start a business from scratch and take it to the next level.
You'll learn to turn your passion into a business, which will make the process more enjoyable for you because you'll be doing something you love =)
Apart from that, you don't need to spend a penny to get started, that's right… you can get started for free! This is great because you can see how this platform is in the inside with no worries as it's risk free.
I also love how supportive the community members and owners are, there are many thing I like about this platform. 🙂  
If you're interested in learning more about my #1 recommended platform, click the button below to read the full review I wrote:
.
That's it for today! Thanks for reading. 🙂  I hope you now have the answer to the question "Is Online Millionaire System a scam?" and you make the right choice. 
Any questions or opinions about Online Millionaire System or another online program? Feel free to leave a comment below, I'd love to know your thoughts and connect with you!
Best wishes 🙂