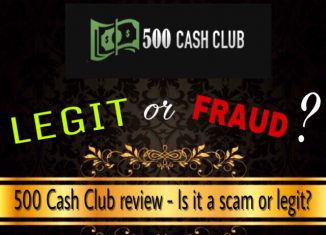 Hey y'all!
I just came across a page called 500 Cash Club so I was wondering if this one was a good opportunity or just another scam.
There are lots of scams out there so you have to make sure you know what you're getting into before opening your wallet.
In this review I'll explain what 500 Cash Club is really about and whether it can make you money or not so you end up making the right choice.
.
500 Cash Club review
---
Name: 500 Cash Club
Website: 500cashclub.com
Owner: "Richard Paul"
Created in: 2017
Price: $97 + thousands of dollars in upsells
Overall Ranking: 18/100
.
---
If you're sick of scams, check out my 1st resource to make money online here!
---
.
What is 500 Cash Club about?
---
The moment you stumble upon the 500 Cash Club first page, you can read the following:
No prior experience or skills required

Be your own boss and choose your own hours

Start earning money immediately
I agree that you don't need any prior experience to learn to make money online and you can be your own boss and choose your schedule, but it's not possible to start making money fast. I've read and heard the same stuff in most scam products and systems. 
Then you'll see a form to fill in with a name, email address and phone number (optional) and I completed it with a random name and email. I avoid giving important information without knowing what I'm dealing with.
After that I got to another page where a video started playing. I really didn't like that video because of all the overhyped claims.
The man who's narrating the video claims that you earn a buck for every second you watch the video. The video lasts 500 seconds so you're supposed to have earned at least $500 at the end of the video.
Wouldn't it be amazing if it were true? Of course, everybody would have quitted their jobs if this really worked.
I'd even tell all my family and friends to watch that video if it were true. I guess that video would be famous by now and everybody would be watching it lol.
The truth is that things don't work that way, nobody will pay you a lot of money just to watch a video. They make that fake claim just to get you to watch the video until the end.
Then at the end of the video, Richard Paul, the alleged creator of 500 Cash Club, says that you'll get $500 if you follow this step-by-step system and don't make a big commission within 30 days.
This system he's talking about is a "done-for-you" automated system that can make you earn thousands of dollars in commissions just it's set up.
This is what you're supposed to get when you join this system:
The training

Websites

The software

The advertising

A millionaire mentor that will close the sales for you.
You'll also see testimonials in the video who claim to have made thousands of dollars like $70,000 in 4 months.
All of this sounds too good to be true because we all know that anything worth having takes effort and time, and same happens when it comes to making money online. It's not fast and it won't happen overnight.
The whole video is focused on how much money you can make and how easy it will be for you. They don't even explain the process of making money or what that system is really about.
.
Is 500 Cash Club a scam?
---
Yes, 500 Cash Club is an ugly scam because all the claims they make are fake and they use unethical tactics to get you to purchase it.
It's not even a real system, it's a page that funnels you into a high-ticket program called Digital Altitude, which I reviewed in the past.
There are some signs that you need to be aware of when it comes to coming across these kind of sites that promise you easy money.
Let's see some of them in this section.
.
Richard Paul is not the real creator of 500 Cash Club
---
Richard Paul is supposed to be the 500 Cash Club owner but he's just a fictitious character.
The story they tell about him is fake and there's no way to verify it. It's the same sob story we usually hear in scam programs.
The kind of story about someone who struggles to pay the bills and make ends meet and then one day he gets presented a magical system that completely changes his life for the better.
If you search for information about this man on Google, you'll find nothing about him. There's no information about this individual outside the 500 Cash Club website.
They don't even have an "about us" section in their site and don't mention any way to contact them, so it's not possible to know about the real identity of the people who've created 500 Cash Club.
.
The Facebook comments are fake
---
Below the 500 Cash Club sales video, you'll see some Facebook comments that seem real. 
However, they're completely fabricated. When you click on them you're told to watch the video.
I found out that they used pictures from other sites to create those fake comments.
Let's take a look at one of them:

That guy's name is not Mike Gia, his real name is Chad Engle. I did an image search and got the results you can see below: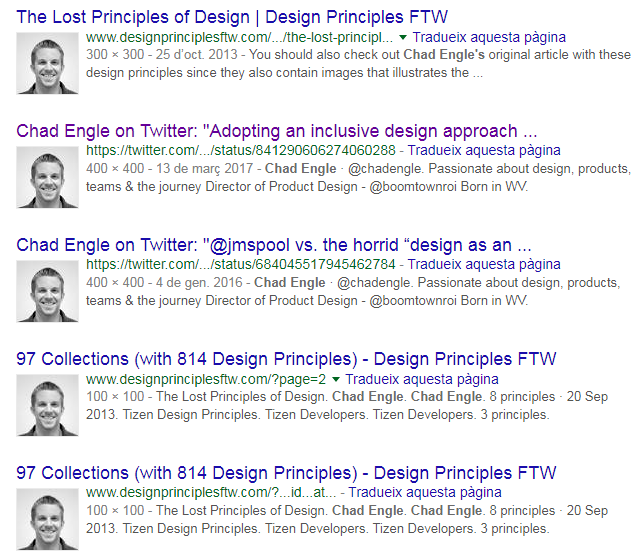 Same happens with the other Facebook comments you can see in the 500 Cash Club site, none of the people who appear in those pictures have tried that system and I don't think they know their faces appear in that scam site.
.
The false scarcity
---
They just want you to believe that this system is getting a lot of attention and that there are limited spots just to rush you to spend $97.
This is an old tactic used by most scam artists just to pressure you into joining or purchasing their crap, they want you to think that you will lose the chance to make you act fast.
.
What are you getting with 500 Cash Club?
---
In the 500 Cash Club sales video they don't tell you about the upsells and what you're really getting into.
They tell you to pay $97 for this system, but don't you think that that's the only cost. That's just the initial fee.
They'll try to get you to purchase the Aspire or Digital Altitude memberships, which are very expensive. They can cost you like $30,000 or more in total.
That millionaire mentor they say that you'll get when you join is your sponsor, someone who will try to get you to purchase the Digital Altitude memberships and will also help you recruit other people. 
Why? Because your sponsor (a.k.a. millionaire mentor or success coach) earns commissions for each membership level you and people behind you (your downline) purchases.
If you don't purchase the higher membership levels, you won't be allowed to promote them so you won't get to make those thousands of dollars in commissions that they claim.
For example, if you purchase the cheapest membership level and you recruit someone who purchases a higher level than you, you won't earn commissions off their purchase. It will be your sponsor who will make them instead of you.
Digital Altitude offers good training but it's very expensive and they push you to recruit others to make money. Without recruiting, you'll hardly make money, if any at all.
You can check out my Digital Altitude review here to know more about this program.
.
The bottom line
---
500 Cash Club is a scam because it doesn't live up to its promises. They lie about the owner, the earnings, the Facebook comments, the hyped up claims… it's complete BS. 
There are lots of pages like this that take you to other programs. Some of them are the following:
I guess the person who created is a Digital Altitude member who is looking to get people into the Digital Altitude MLM program, which I don't really recommend if you're a beginner or you're on a low budget because you'll have to spend lots of money to earn a full-time income. 
My advice for you is that you stay away from all systems and pages and anyone who promises you easy and fast money and don't purchase something you have no idea about.
If you're looking for a real and legit way to earn a living online, let me tell you that you'll have to work hard, be patient, stay persistent and never stop learning.
Building an online business takes time and won't happen overnight, Rome wasn't built in a day, nothing worth having comes fast.
If you're willing to do what it takes to generate an income online, there's a platform called Wealthy Affiliate that I highly suggest that you check out.
It's an online business platform that provides the right training, courses and tools that will teach you to start an online business and take it to the next level.
You'll also get support and help from me and other community members. I've been a member for over a year and I've always got my questions answered! 🙂 
I also love how the owners of this platform really care about the members. They're always updating and improving the platform and have done it for 12 years already.
It's free to join so you can check it out now with no worries because you have nothing to lose. 🙂  
You can also click the button below to read the full review of Wealthy Affiliate to learn more:
.
I hope this review has been helpful to you and you now have a better understanding of what 500 Cash Club is. Don't hesitate to share it with whoever you know that may benefit from it.
If you have any questions or would like to share your thoughts, feel free to leave a comment below and I'll be more than glad to reply!
Have a great day =)