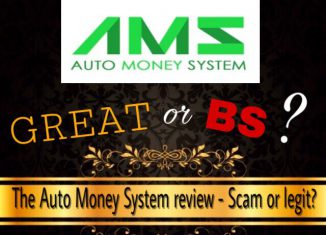 Hey guys! 
Some days ago I came across a site called Auto Money System, so I wanted to know if this one was the real deal or just another one of the vile scams that can be found online.
If you've come across it and are wondering whether this one is worth it, make sure you read this review because I'll explain what you need to know about the Auto Money System so that you end up making an informed decision.
.
Auto Money System review
---
Name: Auto Money System
Website: theautomoneysystem.com
Owner: "Kathy Graham"
Created in: 2017
Price: $37 or $27 if you try to leave the page
Overall Rating: 12/100
.
---
If you're sick of scams, check out my 1st resource to make money online here!
---
.
What is Auto Money System about?
---
The Auto Money System is supposed to be a program that is easy to use and can make you a lot of money fast. 
The woman who narrates the video, who claims to be Kathy Graham, says that she's creating your money making account where she'll be funneling commissions for the rest of the video. She claims it to be happening live as you watch the video.
To be honest, that's not true because the video was uploaded on YouTube on September 26th, so there's no way it's happening live. If you check out the video later you'll hear the same.
In addition, the video has more than 2800 views, so has she created more than 2800 money-making accounts? And she doesn't even say where the commissions come from. It's obviously fake.
She says that this system only requires 1 click to make money with this system because she's taken care of all the boring and repetitive stuff.
You don't need any previous experience and you won't have to deal with advertising, marketing, web design or coding.
Then you can sit back and watch the money enter your account while you're enjoying life. You'll be able to quit your job and travel the world without worrying about paying the bills.
This may sound like an attractive idea but the problem is that such system doesn't exist.
.
Is Auto Money System a scam?
---
Auto Money System is a scam, in my opinion. The whole sales page and video has red flags, which show us that Auto Money System is not trustworthy.
In this section I'm going to post some unquestionable proofs that expose Auto Money System as the fraud it is.
.
Kathy Graham is a fictitious character
---
Kathy Graham is supposed to be the creator of the Auto Money System, but she's a fictional character. We are not shown any picture of her and we're not even told how to know more about her or the people behind this program. 
There's no way to know who the people behind Auto Money System really are. 
Apart from that, there's no information about Kathy Graham outside the Auto Money System sales page. I believe the woman who narrates the Auto Money System sales video is a voice actress, she kind of sounds like it in my opinion.
.
The testimonials are fake
---
Those people who are shown in the sales video are not real members of the Auto Money System, so what they say about it it's not true. Some claim to be making from $3000 to $20,000 per week, but that's fake.
They're just talking positive about the Auto Money System in order to get paid. They are paid actors and actresses who sell their services on outsourcing sites like Fiverr.
Let's see one of them: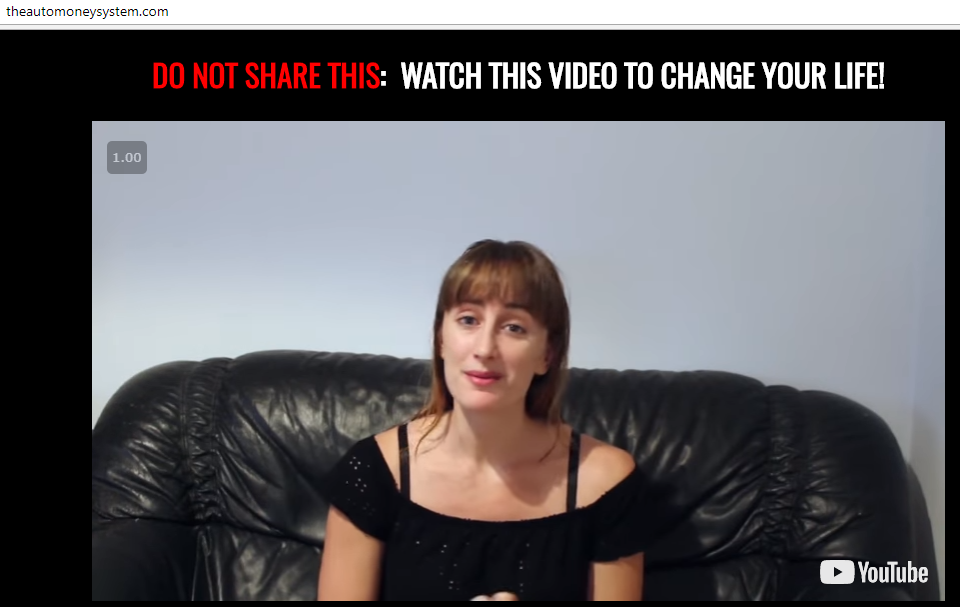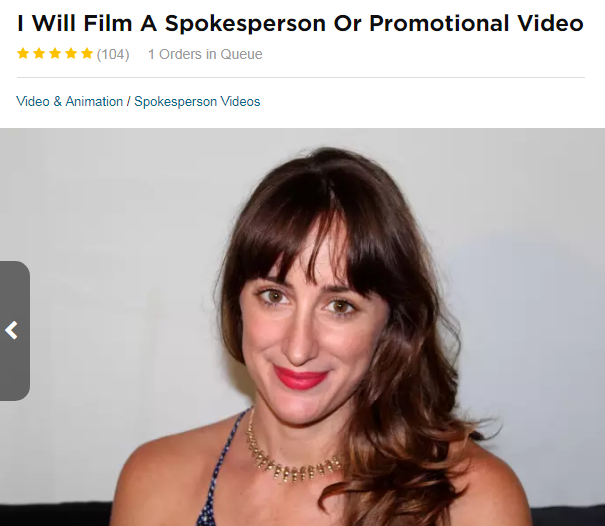 Any of those people who appear in the Auto Money System have tried it. I don't think people who have purchased it would talk positive about it. If that system really worked, what's the point in using fake testimonials?
.
The fake scarcity
---
They say there only are 45 spots available, which is fake. If you watch the video another day, there will still be 45 spots available, apparently. 
The truth is that they just want to force you into purchasing this system. They want you to think that you won't have the chance to get this system later so that you purchase it without thinking. This is a very common trick among scams.
.
How does Auto Money System work?
---
They claim that you'll only have to click a button and then the money will come in, but they don't say where the money comes from.
They don't explain what you're getting with this system or what they sell so that you make money. It's not possible to earn lots of commissions without selling nothing. 
The fact that they mention "commissions" makes me guess that you'll be selling other people's products. 
This is called affiliate marketing and there are many ways to do this, but they don't say how you'll do this or what kind of training you'll get with Auto Money System. 
The Auto Money System sales video and page is just overhyped and focused on how much money you'll earn and how happy you'll be thanks to it. 
At the end you'll be ask to enter your email address in a form below the video and then you'll be taken to a checkout page. If you try to leave the Auto Money System sales page they'll offer you a $10 discount, so the final price of this system is $27. 
As you can see above, it says nothing about what's inside this system, which is a big red flag because they ask you to pay before knowing what you're really getting into.
In addition, at the bottom of the Auto Money System sales page you can read the following disclaimer:
You can read that the typical purchaser does not make any money using this system. This just confirms that people who have bought it haven't made any money, hence the fake testimonies. 
And the fact that they mention "The Easy Internet Plan" makes me think that people behind Auto Money System are the ones who created another scam called Easy Internet Plan, so they used the same disclaimer.
.
My final thoughts on Auto Money System
---
There's no doubt that Auto Money System is a bogus system. Everything said in the sales video is fake and they just want you to think that you'll earn lots of money fast and without effort so you end up paying the $27.
It's also a red flag the fact that they ask you for your personal information like your email address before taking you to the checkout page because they want to know your information regardless if you end up purchasing the Auto Money System or not.
You can expect them to send you spam emails related to other scam products. They'll try to get the most they can from you.
They may offer some training inside the Auto Money System, but what can you expect to learn from people who use unethical tactics and lie to you? I wouldn't expect anything good to be honest.
Making a full-time income online is possible, but it's not easy or fast like those scammers want you to think it is. Success won't happen overnight, it will actually require you to put in the effort, hard work and be patient.
There's a digital marketing platform that I really recommend that you check out if you're willing to do what it takes to generate an income online.
This platform offers the proper training, courses and other resources that will teach you to start an online business from scratch and take it to any level of success.
Apart from that, inside the platform you'll meet people who are on the same path as you. The community is full of supportive people who will help you out when you have questions or issues. I've been a member for over a year already and I've always had my questions answered! 🙂 
I also love that this platform is free to join, so you can try it out with no worries because there's 0 risk! 🙂
If you're interested in learning more about my top recommendation, you can now click the button below to read the detailed review I wrote:
.
I hope this review has been useful to you and now you have enough information to know what to do next. Don't hesitate to share it on social media so more people can benefit from it.
In case you have any questions or would like to share your opinion on Auto Money System, feel free to leave a comment below and I'll be more than happy to help you out!
All the best =)