Hi y'all!
I recently found out about another software called Bitcoin Loophole.  
I wanted to know whether this software was a great opportunity to make money by trading bitcoin or just another of the many scams we can find on the net.
If you've come across it too and are wondering if it's worth it, make sure you read this review because I'm going to explain why you need to stay away from Bitcoin Loophole.
.
Bitcoin Loophole review
---
Name: Bitcoin Loophole
Websites:
bitcoinloophole.com

bitcoin-loophole.com

bitcoinloophole.co
Owner: "Steve McKay"
Created in: 2017
Price: $250 as a minimum
Overall Ranking: 1/10
.
---
If you're sick of scams, check out my 1st resource to make money online here!
---
.
What is Bitcoin Loophole about?
---
Bitcoin Loophole is allegedly a software that will make you money by trading bitcoins.
According to the alleged creator of this software, Steve McKay, you can earn almost $14,000 within a day of joining that software.
He claims that joining the Bitcoin Loophole is the best you can do to make your wildest dreams come true.
This software is said to have the following features:
100% automated.

99% winning rate.

It doesn't require you to work more than 20 minutes per day.

It only requires clicking a few buttons to make it work.

It has made 3 people financially free in 90 days.

You don't need any kinf of experience to make it generate profits for you.
Sounds amazing right? Yes, and the best thing about it is that it's free.
So they want you to think that it's possible to become rich for free, fast and with minimal effort. Don't you think that everybody would have quitted their jobs if a software like Bitcoin Loophole really worked?
It seems like the typical get-rich-quick scheme and we know that most all get-rich-quick schemes (not to say all) are scams. 
After watching the Bitcoin Loophole sales video, taking a look at the home page and doing some research, I reached the conclusion that Bitcoin Loophole is not worthy of trust.
.
Is Bitcoin Loophole a scam?
---
Bitcoin Loophole is a scam, without any doubt. I found out it's a rehashed scam. There are many scammers that are currently taking advantage of the Bitcoin and other cryptocurrencies boom to make money at other people's expenses.
They know that there are people who have made a fortune thanks to Bitcoin, so they're trying to make you believe that you can get rich by joining their crap.
The truth is that Bitcoin Loophole has nothing to do with Bitcoin, it's another binary options scam.
In this section I'm going to post some undeniable proofs that expose Bitcoin Loophole as the fraud it is.
.
The testimonials are invented
---
In the Bitcoin Loophole sales page there's a section of comments from supposed members of this software.
The problem is that they're all fake. The pictures of those testimonials are pictures that can be found in other websites on the net. 
Apart from that, the Bitcoin Loophole is in other languages, so I checked it out in German and found out the names of some testimonials were not the same but the pictures remained.
See what I mean below:
As you can see above, the pictures of those testimonials are the same but the names change. It doesn't make sense because a person can't have two different names. 
It's clear that they've downloaded or purchased those pictures on other websites and they've invented the comments and the names. 
I'm sure people who appear in those pictures don't know their pictures have been used to create fake testimonials.
I also found out that those pictures have been used in another similar scam named The Bitcoin Code, which I exposed in the past.
Take a look at another fake testimony from Bitcoin Loophole:

And now see how the same picture was used to create another fake testimony for The Bitcoin Code scam:
I wouldn't be surprised if the con artists who are behind The Bitcoin Code and Bitcoin Loophole were the same.
.
Steve McKay is a fictional character
---
Steve McKay is the same name of the fictitious owner of The Bitcoin Code. 
As I proved in my Bitcoin Code review, Steve McKay is nothing more than a fictional character. The scam artists behind The Bitcoin Code purchased a stock picture to create the Steve McKay character.
In the Bitcoin Loophole scam, they haven't even showed a picture of him. 
However, they've explained a similar story about Steve. They claim him to be a software developer turned investor, he's called the "million dollar man" and has appeared in the Forbes magazine. This is the same story explained in The Bitcoin Code sales video, so it's all a bogus story.
Apart from that, they don't tell us any way to contact them and there's no place outside the Bitcoin Loophole site where you can find information about this "genius".
He simply does not exist. Scam artists usually use other people's pictures without their consent to create fake characters and testimonials.
.
Success or money are not guaranteed
---
They claim people who join the Bitcoin Loophole are guaranteed to earn more than $13,000 in 24 hours, the same they claim in The Bitcoin Code scam.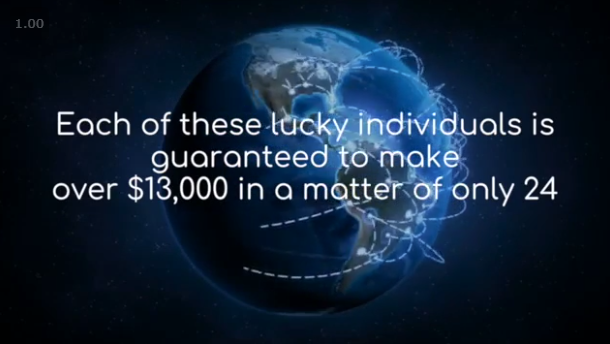 There's no system or program that will make a lot of money the same day you try it. If such thing existed, everybody would already be rich and money would have less value. The easier it is to obtain something, the less valuable it is.
Apart from that, trading has always a risk. If you scroll down to the top of the Bitcoin Loophole site, you'll read this disclaimer:

You can read that you might lose some or all of the capital you invest. This proves that they're lying when they say that this software has a 99% winning rate.
They don't tell you about how risky it is in the sales video because they hope that the disclaimer will go unnoticed and you will join without taking it into account. 
.
How does Bitcoin Loophole work?
---
The Bitcoin Loophole works the same way as other scam softwares that I've exposed in the past, like the ones listed below:
They claim this software to be free so you don't think twice and join by completing a form with your name, your email address, a password and your phone number.
The fact that they ask for your personal information without giving you important information like how to get in touch with them or how to know more about them is a big red flag. As I've said before, they don't provide verifiable information about them, which means that they're trying to hide something.
So why do they want your personal information? They want to know your email, name and number to do the following:
Send spam emails to lure you into more scams.

Call you to convince you to invest all the money you have to get away with it.

Sell your personal information to other fraudsters.
You can't expect anything good from people who lie to you and try to manipulate you. You can assume that they mean no good. They only care about themselves.
When it comes to the Bitcoin Loophole, they'll ask you to fund your trading account with at least $250 in order to start trading, this is why it's not free to use that software. 
After that, their trusted broker will manage your money in a way that you will lose all your capital. The unethical people behind Bitcoin Loophole work with unlicensed brokers, that are known to steal the trader's money.
The unregulated brokers pay commissions to the scammers for each referred trader that makes a deposit, Apart from that, they'll try to get the most they can from you, regardless of the money you have.
.
My final verdict on Bitcoin Loophole
---
Bitcoin Loophole is a scam that has only been created to benefit the people who have created it. My advice is that you stay away from it because it will waste your time and money and leave you upset and frustrated.
I believe the proofs and information I've provided are enough to avoid Bitcoin Loophole. 
I highly suggest that you avoid all programs and systems that promise you easy and quick riches because those kind of systems don't exist.
Generating an income online is possible, but it's not how scammers claim it to be. It takes time and it will require hard work, patience and persistence from your part.
If you're willing to do what it takes, then there's a digital marketing platform that can benefit you.
This platform provides the proper training and courses that will help you start an online business and take it to the next level. 
Apart from that, this platform has a community that is full of like-minded people who will support and help you with any questions or issues that you may have. I've been a member for over a year and I've always had my questions answered! 🙂 
Another thing I love about this platform is the fact that the owners and people who work behind the scenes are always updating and improving the platform to make the members lives better. They've been doing it for more than 12 years already.
Moreover, this platform is free to join which I think is great as you can try it out with no worries because it's risk-free.
If you're interested in knowing more about my favorite platform, you can now click the button below to read the detailed review I wrote about it:
.
That's it for today, folks! I hope this review has been useful for you and you never fall for scams like Bitcoin Loophole. 
If you have any questions or would like to share your opinion on Bitcoin Loophole or other online programs, feel free to leave a comment below and I'll give you a response as soon as possible. I always love hearing from you! 🙂 
Cheers =)