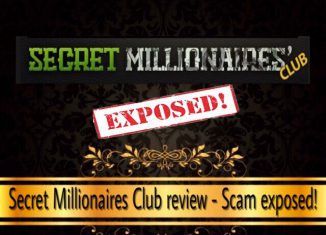 Hey everyone!
Today I came across another so-called software named Secret Millionaires Club, which has resulted in being a scam.
If you've stumbled upon it but are not sure why it's a bogus system, make sure you read this review because I'm going to explain the truth about it.
.
Secret Millionaires Club review
---
Name: Secret Millionaires Club
Website: https://secretmillionairesclub.co/
Owner: "Sam Johnson"
Created in: 2016
Price: "Free"
Overall Rating: 0/10
.
---
If you're sick of scams, check out my 1st resource to make money online here!
---
.
What is Secret Millionaires Club about?
---
Secret Millionaires Club is supposed to be a 100% automated binary options trading software.
When you land on their home page, you'll get to watch the sales video where the narrator, who claims to be Steven, says that he's made $1,135,659 in 6 months thanks to this amazing software. 
Now they're allowing 50 people to get this software for free. So they're giving away free money? They're giving 50 people the chance to become millionaires for free? How generous of them, isn't it?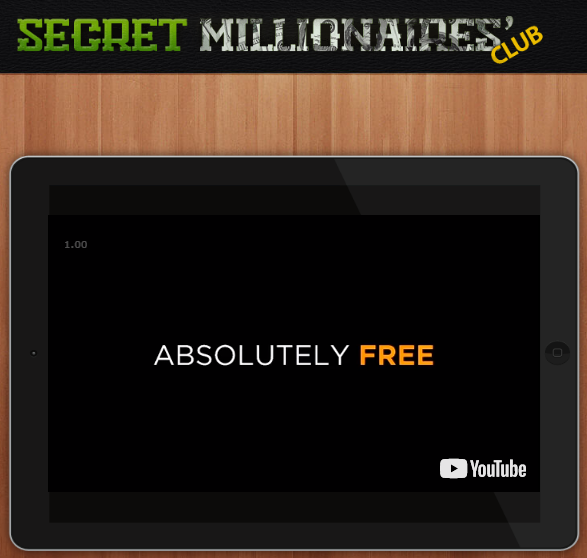 They claim that they're giving it for free because they want to sell it to an investment bank for millions and millions of dollars, and they want this software members to send them a screenshot of their bank accounts once they're millionaires just to prove that that software works.
He claims that he only invested $200 to get started and the same day made $4200 in just 3 trades. This is overexaggerated and not possible because trading is risky and it's very unrealistic because a trading system can't offer a 2000% ROI (Return On Investment).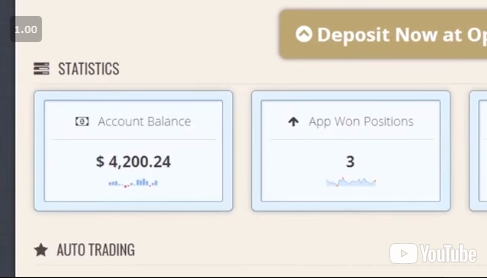 Another thing is, it's not possible to earn over a million dollars in 6 months by making $4200 per day. The markets are only open from Monday to Friday, so $4200 per day would be $21,000 per week, $84,000 per month and $504,000 in 6 months. There's no way that he made $1,135,659 in 6 months. It's completely fake.
There are more red flags in the Secret Millionaires Club home page and sales video that scream scam. This man who narrates the sales video doesn't show his face and the story he tells is not verifiable.
.
Is Secret Millionaires Club a scam?
---
Of course, Secret Millionaires Club is an ugly scam that is not worth your time and money. It's only designed to generate profits to the scam artists behind Secret Millionaires Club.
In this section I'm going to post some proofs that expose Secret Millionaires Club as the fraudulent system it is.
.
Steven and Sam Johnson are fictitious characters
---
Steven is supposed to be one of the Secret Millionaires Club members and Sam Johnson is supposed to be one the creators of this software.
The man who narrates the sales video is supposed to be Steven, and Sam Johnson is alleged to be the one who narrates the second video (the video you can watch in the Secret Millionaires Club second page).
The problem is that these two men don't show their faces and don't tell us how we can reach out to them. This indicates that they're trying to hide something, which is a big red flag.
Apart from that, there's no information about them outside the Secret Millionaires Club page.
We could assume that the men who narrate the sales videos are voice actors. To be honest, they sound like voice actors because of the way they talk and their accent, they don't seem anything genuine.
.
Fake scarcity tactics
---
The number of spots available that appears on the sales page is fake, as well as the countdown. 

The number of spots is also fake because they go up if you refresh the page. There's not a limit when it comes to the amount of spots available. Those con artists want as many people as possible to join their crap.
The countdown got to 0 and nothing changed. I refreshed the page and it went back to 11 minutes.
These tactics are used to pressure you, to make you afraid to lose your chance to get that software so you end up joining. Scammers have been using these tactics for a long time.
.
No real testimonials
---
In the first page of Secret Millionaires Club they don't show any testimonial, but after you complete a form with a name and an email you'll get taken to another page where you can find pictures and profits of supposed members.
However, they're all fake. The pictures can be found on another websites on the net and the people who appear in them have nothing to do with Secret Millionaires Club.
Let's see one of them below:
This guy's real name is not Antonio, he's David Ingledow and here you can check out his Twitter account.
I don't think he knows that his picture has been used to create a fake testimonial. Same happens with the other false testimonials.
.
Lie about the price
---
They first tell you that this software is absolutely free and that you won't need your credit card, your PayPal or your bank account.
That claim is completely fake because when you join, they will ask you to fund your trading account with at least $250.
In order to deposit $250, you'll need a credit card and you'll need to have money in that credit card. For a lot of people, $250 is not a little amount of money.
This is why it's not really free to use that software and it's also a big red flag the fact that they're asking for your financial information before allowing you to try it out. 
.
How does Secret Millionaires Club scam people?
---
Secret Millionaires Club works the same way as other binary options scams like the following ones, which I've exposed in the past:
As I explained in the last section, they'll ask you to fund your trading account with $250 in order to turn the auto trader on. Their recommended broker (an unlicensed broker) will then start managing your money in a way that you'll lose it all.
Secret Millionaires Club is designed to make you lose the trades so you lose the money you invest. People behind this scam will get paid huge commissions by the unregulated broker if you make the deposit. 
The people who created Secret Millionaires Club are affiliated with scam brokers that pay them commissions for referring depositing traders.
Moreover, they ask you for personal information like your phone number and your email address in order to send you spam emails and call you to convince you to fund your trading account with all the money you can. And they'll also sell your information to other unethical people, who will try to lure you into more scams. 
Keep in mind that they don't care if you lose it all, they only care about their own benefit.
.
My last thoughts on Secret Millionaires Club
---
I advise you to avoid Secret Millionaires Club at all costs because it's only designed to rob you blind. I believe I've provided enough information and proofs that show that that system is not to be trusted. 
The fake trades, the invented testimonials, the false story, the pressure tactics… all of this give us reasons to stay away from Secret Millionaires Club.
Apart from that, they also promise easy and fast riches, which is another big red flag because we know that there's no system or program that will give you a lot of money fast without putting in the effort.
If get-rich-quick schemes existed, they would not be free and not everybody would have access to them. If it were that easy to make a fortune online, don't you think that everybody would be rich by now? 
It's possible to make a full-time income online, but it comes with a price. It will require you to work hard, have patience and stay persistent. 
If you're willing to do what it takes to earn a living online or more, then there's a digital marketing platform that you'll love.
This platform provides step-by-step training, courses, lessons and more tools & resources that will help you start an online business from scratch and take it to the next level.
This business will be based on your passions, which will make the process more enjoyable because you'll be doing something you're passionate about! 🙂 
If you join, you'll get to meet other like-minded folks who are in the same path as you. They'll support and help you with any questions and issues that you may have during your journey. I've been a member for over a year and I've always got answers to my questions!
Apart from that, I also love the fact that they offer a free membership and this is great because you can try it without spending a penny, so you can join and see if you like it without worries because there's no risk.
To be honest, there are many things I love about this platform. If you're interested in learning more, you can click the button below and read my detailed review right now:
.
I hope this review has been helpful to you and you never become victim to scams like Secret Millionaires Club. Don't hesitate to share this review on social media to prevent more people from falling for this scam.
If you have any questions or opinions, feel free to leave a comment below and I'll be more than happy to help you out.
Have an amazing day! 😀