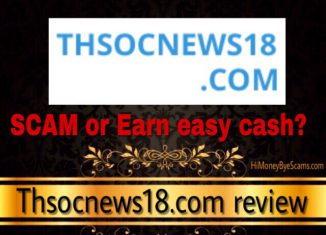 Welcome to my review of Thsocnews18.com!
Have you come across Thsocnews18.com and are wondering whether that site will help you earn money online or is Thsocnews18 just another scam that will not make you a single penny?
I'm glad that you've decided to do your research and have come across this review because you're about to find out everything you need to know about this money-making opportunity, which will help you make a good decision.
.
Thsocnews18.com review
---
Name: Thsocnews18
Website URL: thsocnews18.com
Owner: Unrevealed
Price: Free to join
Created in: January 2018
Overall Rating: 5/100
.
---
If you're sick of scams, check out my 1st resource to make money online here!
---
.
What is Thsocnews18.com about?
---
Thsocnews18.com is supposed to be a company that connects the media with the readers. 
They claim their clients to be owners of news sites whose goal is to gain more popularity by getting more visitors.
So Thsocnews18 is supposed to get paid for bringing readers to these news sites, and then they pay 80% of their profits to people who read those news like you and me.
Wondering how much they pay? $4 for every piece of news that you read, which I honestly think it's too much just for reading.
They say that they let you read 30 pieces of news per day, so you can earn $120 per day equal $840 per week.
In addition, they also have an affiliate program. They're supposed to pay you $170 for every person who joins Thsocnews18.com through your referral link.
If people who join through your link are active readers, you can supposedly earn 15% of their earnings.
In my opinion, it sounds way too good to be true because they're basically telling you that you can earn over $100 per day for doing something you usually do like reading and sharing links.
Anyone can do that so it seems like this is the easiest money-making opportunity out there because it doesn't require you to have any previous experience or special skills and it's free to join.
And when it comes to payments, they claim to send payments via PayPal and Payza when you have earned at least $1700.
Overall, it sounds way too good to be true so let's see what you can really expect from Thsocnews18.com.
.
The truth about Thsocnews18.com
---
I hate to be the bearer of bad news but the truth is that Thsocnews18.com will not pay us for bringing other people to their site or reading news.
That's the reason why I will not bother sharing my referral link. No one is going to benefit from it but the scammers.
Wondering why they will not pay us? Let me explain.
They let us join for free so if other people join for free, where does the money come from? It makes no sense that they're going to pay us $170 for each person that joins through us if Thsocnews18 is not getting paid when someone joins. 
And it would make no sense that they gave away free money because they would get into huge debt if they did.
When it comes to getting paid for reading the news, they're not going to pay us for that either.
Why? Because they're not partnered with the news sites.
I know this because I noticed that the links they use to bring visitors to the news sites are non-affiliate links (example below), which means that the owners of the news sites are not going to know when their visitors are coming from Thsocnews18.com.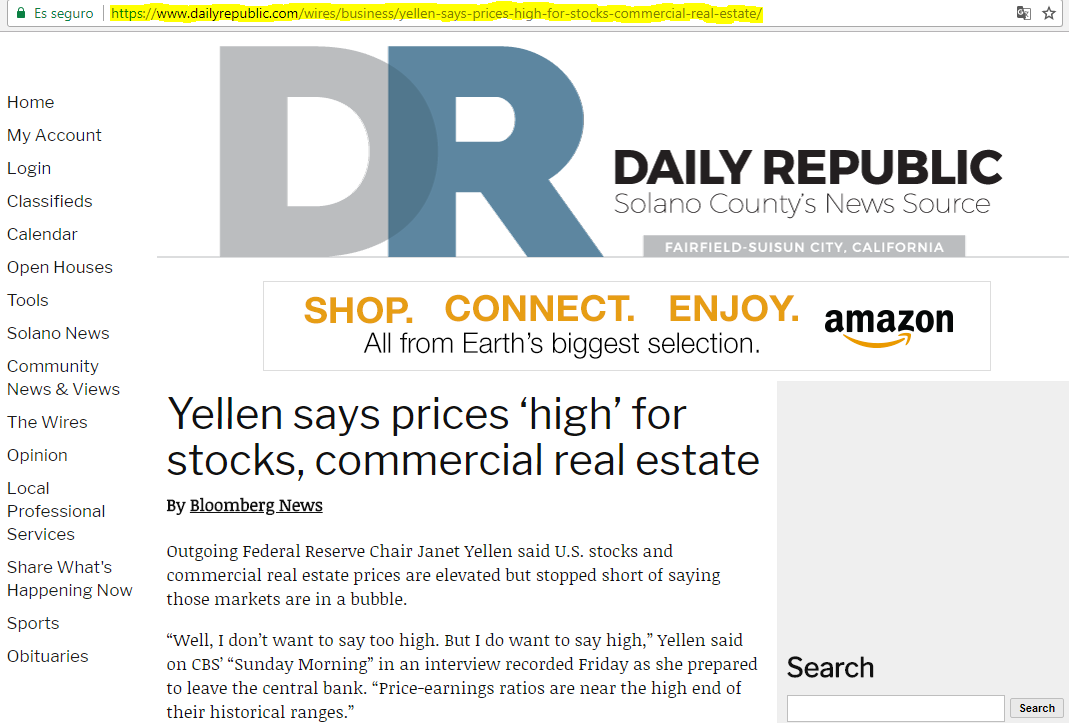 Therefore, they will not pay Thsocnews18.com because they don't know when the traffic is coming from them. 
Even if they were getting paid by those news sites, it still wouldn't make sense that they paid you $4 for each piece of news because the news sites don't get paid that much for every visitor. 
So why does Thsocnews18.com claim they'll pay us if they will not? Why do they lie to us? What's their real purpose?
.
How Thsocnews18.com really works
---
The reason why they let you join for free is because they want to get your personal information. 
In fact, they want to get as much personal information as possible. That's why they claim they'll pay you to get other people to join.
And then, once they have collected a lot of personal details, they will sell it to other companies or con artists.
Therefore, if you've joined Thsocnews18.com with your personal details, you can expect to receive some unwanted emails from people you don't know. 
That's just one of their ways to make money, but there's more.
In the section where you have to enter your payment information, they ask for your PayPal or Payza account number in order to steal your account.
Truth be told, if they really wanted to pay you, they would only need to know your email address linked to PayPal or Payza.
.
Is Thsocnews18.com a scam?
---
If we take into account that Thsocnews18.com doesn't live up to its promises and their main goal is to make money themselves, then yeah, it's a scam.
They are not only lying to get your personal information and steal your account, they're also wasting your valuable time, which is very unethical.
With that being said, there are some red flags that prove something is not right about Thsocnews18.com.
.
They contradict themselves
---
In their homepage, they claim you'll earn $170 for every person that signs up through your referral link. 
However, in the members area they claim you'll earn $90 and then they claim you'll earn $170, which makes no sense.

So what's true? If they really knew how much they're going to pay you, they would be clear about it.
Anyway, they haven't paid and they're not going to pay anyone so maybe that's why they've made this little mistake.
.
Their news project section is fake
---
There's a section called "news project" on their site where you can see two updates, but the problem with this is that they're fake.
I know they're invented because of their domain registration date. I checked it out and found that thsocnews18.com exists since January 6th 2018, so there's no way that those two updates are from November and December.
.
No way to know the owners
---
Whenever I come across a site or a program, I like to know who's running it in order to determine whether I can trust it or not.
The fact that Thsocnews18.com doesn't have a section where the owners introduce themselves and don't mention their names makes me believe that there's something they want to hide.
Why don't they let us know who we're dealing with? I personally don't trust sites whose owners don't show up because that's something scam artists usually do (they hide their identities or fake them).
.
Lack of important information
---
Last but not least, they don't have a privacy policy, terms & conditions or disclaimer page, which is a red flag.
They're not transparent about the way they're going to use the information you provide and they can terminate your account whenever you want and not pay you. 
This proves that they don't really care about us making an informed decision because this information they don't address is something you need to take into consideration ir order to decide whether to get involved with them or not.
.
My final verdict
---
Thsocnews18.com is not worth your time or energy because it will not benefit you in any way.
They lie to you by telling you that you will make money easily just to get your personal information and money, so there's no way I can recommend it. 
The people who are behind sites like Thsocnews18.com and Earningood.com are just looking to take advantage of people who know nothing about making money online. They tell you what you want to hear just to get you into their schemes.
But the truth is, making a full-time income online is not that easy. If it were, don't you think everybody would be doing this already?
In fact, it's no different from making money offline. It requires hard work, learning, time and patience, among other factors. Without putting in the work, you'll not earn anything.
If you dream big and are willing to do what it takes to generate a full-time income online, then I strongly that my favorite digital marketing platform will benefit you.
This platform is quite affordable (even free to join) and provides video tutorials, courses and other useful tools that will guide you through the process of creating an affiliate marketing business in a way that's viable for the long haul.
I've been a member of this platform for almost 2 years and I've never looked back. I've learned so much and have made money online as well.
I love the fact that they offer many ways to get support and help within this platform. There are thousands of members who interact with each other on a daily basis, so you can ask any questions that you might have and rest assured knowing that there's always someone willing to give you a hand =)
If you'd like to know more, click the button below to read my full review now:
It's your time to get on the right way to earn money online!
I hope you've found the answers you were looking for concerning Thsocnews18.com.
In case you have any questions or opinions, please feel free to leave your thoughts in the comments area below and I'll get back to you soon.
All the best 🙂