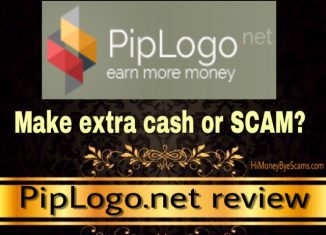 Hey everyone!
I recently came across PipLogo.net and was wondering whether this online money-making opportunity would be real or just another ugly scam.
I'm glad that you're doing your research before getting involved in it because there are many sites and programs that look legit but then turn out to be scams.
In this review of PipLogo.net, I will show you everything you need to know about it so that you end up making the right choice.
.
PipLogo.net review
---
Name: PipLogo
Website URL: piplogo.net
Owner: Hidden
Price: Free to sign up
Created in: May 2017
Overall Rating: 1/10
.
---
If you're sick of scams, check out my 1st resource to make money online here!
---
.
What is PipLogo.net?
---
PipLogo.net is a site that claims you can make some extra money by completing some little tasks like choosing and rating logos.
They claim you can at least make $5 per day. They give you a $5 bonus after joining and $1 for logging in every day and using their site.
Apart from that, you can also earn $1 for every person who joins PipLogo through your affiliate link and 30% of their earnings.
When it comes to payments, they claim to make payments via PayPal, Payza, Visa, Skrill, Maestro… when you have reached $20.
And the best part is, it's free to join so anyone can do it. It doesn't require you to have any previous experience or special skills.
So… doesn't it seem like a good opportunity to earn some extra cash? Yes, but I noticed some details on their site that made me feel like something wasn't right.
.
How is PipLogo.net supposed to work?
---
In order to get started, you have to fill in a form with a name, an email address and a password.
After signing up, you get a $5 bonus and then can check out the available jobs a.k.a. the tasks you can complete to make money.
These tasks are supposed to have a specific difficulty level (easy, normal or hard), but I did some of all types and they're all the same. They're not difficult at all, anyone can do it.
For example, I chose one of the "hard" tasks and this is all I had to do:
I chose the logo I liked the most and then had to tick four boxes to go through, like seen below:
After that, I had to do the same with another question and done. I supposedly earned $0.6 for doing that.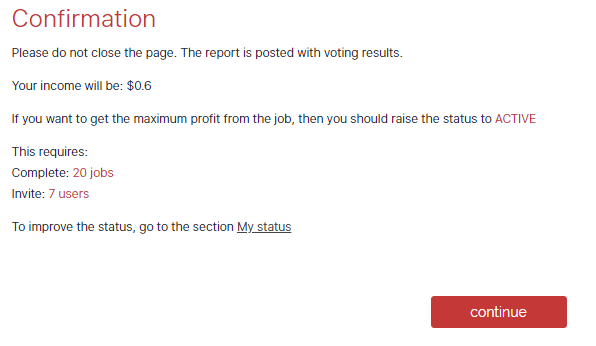 Quite easy, isn't it? This is similar to taking paid surveys but the truth is that completing paid surveys takes way more time and the questions are more difficult.
That's why I think these tasks that piplogo.net provides are way too simple.
And then, if you want to make more money to reach the minimum withdrawal of $20, you can share your affiliate link on social media and get other people to join.
I personally didn't bother sharing my affiliate link because I know piplogo.net will not pay me, and it's not even going to benefit anyone.
.
Is PipLogo.com a scam?
---
Yes, PipLogo.com is a scam that doesn't pay its members. 
After seeing how easy it is to make money on their site, I started suspecting because I know that money never comes easily.
So I did some research and found out some red flags that tell me PipLogo.com is not a reliable site to earn extra cash.
.
They contradict themselves
---
In the referral system section, they claim they're going to pay you $0.2 for every person that becomes a member through your affiliate link.
However, in the FAQ section they say that they pay $1 per referral.

This makes it very misleading, to be honest. Why can't they be clear and transparent about the amount of money you can earn? 
Anyway, they're not going to pay you anything for getting referrals. It's free to join, so it makes no sense that they're going to pay us for getting other people to register.
.
No information about the owners of PipLogo.net
---
Honestly, this one doesn't surprise me. I've noticed that most of the scam sites I've come across don't reveal the people behind them or create fake characters.
But the real scammers always remain hidden in order to avoid getting persecuted by their victims.
In the PipLogo.net site, there's no section to get to know who we're dealing with, which is an indication that they're trying to hide something.
I personally don't trust sites or programs whose owners don't show up because that's what scam artists do, as I've explained.
.
Fake contact information
---
I checked out whether it's possible to get in touch with them and found out an email address.
The problem here is that this email address provided is not real. I always check out whether an email address exists or not and in this case, it doesn't.
If it existed, the result would be ok instead of bad. This means that if you send them an email, you'll get the "mail delivery subsystem" indicating that their email address cannot be found.
This is a clear indication that they don't care about the questions we might have. If they really wanted to hear from us, they wouldn't lie about their contact information.
.
False reviews
---
They have a section with some reviews but the problem is that there's no way to verify whether these reviews are real or not because there are no pictures of the people who have written them.
Anyone could invent positive reviews about their product or program just to make it look like it's legit.
I personally believe that they were written by the con artists behind PipLogo.net because of the way they're written (the poor grammar).
Apart from that, don't you think that there would be positive PipLogo reviews on the net if there were people who had got paid? 
.
They want to know your number of purse
---
This is one of the biggest scam signs that I found.
In their payment settings section, they ask for your PayPal or Payza number of purse, as seen below:

If they really wanted to pay you, they wouldn't want to know your number of purse. They would only need to know your email address linked to PayPal or Payza.
Wondering why they're asking for your number of purse? Well, the number of purse is the number that links your PayPal or Payza account with your bank account, which means that they can access your bank account if they know it. This proves that they just want your money.
.
How PipLogo.net makes money
---
First of all, the owners of PipLogo.net make money by showing ads on their site. 
Therefore, the more people who join and use their site, the more clicks their ads will get and the more revenue they'll earn.
But that's not the only reason why they want as many people as possible to join. Another way they make money is by collecting email addresses and selling them to other companies or scammers. That's why you can expect to receive spam and junk emails from people you don't know.
And last but not least, they also want your number of purse to get your money, as I've said before.
My closing thoughts
---
PipLogo.net is not a site we can trust to make some extra money.
Let's recapitulate:
They contradict themselves

The owners don't reveal their identities

They lie about their email address

The reviews on their site are invented

They ask for your PayPal or Payza account number to get access to your bank account

They lie about the money you'll make as they haven't paid anyone

Their real goal is to make money themselves
Wasting people's time to make money is highly unethical in my opinion, so there's no way I can recommend PipLogo.net.
I've come across other sites that promise you'll earn money easily like Thsocnews18, CoinHitPay and SpeedMoney.club and they all have ended up being scams. These kind of sites have only been created to generate profits for the scammers who are running them.
The truth is, making a living online requires hard work, learning, time, patience, persistence… It's not easy or fast like scam artists want you to believe.
If this "make money online" thing came with ease, don't you think everyone would be rich already?
If you're starting out and are willing to do what it takes to earn a living online, then I truly believe that my top ranked digital marketing platform will help you.
This platform is where I got started back in 2016 and I've never looked back since. I've learned so much and have earned money online as well.
Inside this platform, you'll find step-by-step training, video tutorials and other useful tools that will guide you through the process of building an affiliate marketing business the proper way, the way that works.
You'll also get to meet like-minded people who are on a similar path as you. I love how supportive the community members are, I've always got my questions answered so know that you're not alone on this, I'll personally be there for you =)
If you're interested in learning more (everything included in my favorite platform, the memberships…), click the button below to read my full review now:
Now is your time to get on the right way to make money online!
I hope you've found the answers you were looking for regarding PipLogo.net.
If you have any questions or want to share your thoughts with us, don't hesitate to leave a comment below and I'll get back to you as soon as possible.
Have a wonderful day! 🙂