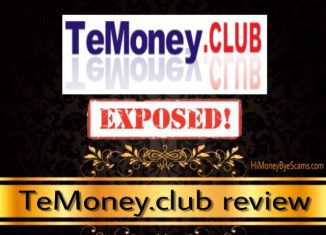 Hey everyone!
Have you come across TeMoney.club and are wondering whether it's a great site to make easy money or is TeMoney.club another scam that will only make money to the scammers?
I'm glad that you've decided to do your research before getting involved in it because there are many scams out there, so you need to make sure you know what you're really getting into.
In this review of TeMoney.club, you'll find the truth about this "make money online" opportunity and whether it will benefit you or not.
.
TeMoney.club review
---
Name: TeMoney.club
Website URL: temoney.club
Owners: Unknown
Created in: January 2018
Price: Free to register 
Overall Ranking: 0/10
.
---
If you're sick of scams, check out my 1st resource to make money online here!
---
.
What is TeMoney.club?
---
TeMoney.club is alleged to be a site that provides a way to make money by viewing ads and getting other people to register.
They claim you can earn 10 cents for every ad you view, so you can earn $100 per day if you view 1000 ads.
They also claim you can earn 50% of the profits of the active users who join through your referral link.
They're supposed to send payments via PayPal, Western Union, bank account or credit card.
It sounds so simple and easy because it's something that anyone can do. I mean, anyone can view ads and share links. In fact, that's something we all usually do on social networks. So wouldn't it be amazing to get paid for that?
It's cool the fact that it's free to join, which makes it possible for everyone to try it out.
After having a closer look at it I felt that something was not right, something was lacking.
.
Can you make money with TeMoney.club?
---
I hate to be the bearer of bad news, but the truth is that TeMoney.club will not make you any money.
I've found out many red flags that make me believe that site is not trustworthy. More on this later.
First of all, it makes no sense that they're going to pay you 10 cents just for watching an ad. It's complete BS.
They just want you to use their site to make them money. That's why it's free to join.
And they're telling you to get other people to join so that they get to earn more money.
They want as many people as possible because they want to collect as much personal information as possible. And then, when they have lots of email addresses, they will sell them to other companies or con artists.
That's why you can expect to get unwanted emails from people you don't know. If that happens, I recommend that you see if you can unsubscribe from their list.
But this doesn't end here. There's more.
If you try to claim your payment (by filling out a form with your financial information) without reaching the minimum payout, this message will appear:

Why couldn't they first say that you at least need $150 to cash out? I personally believe that it's not ok that they ask you for your financial information without telling you that you need at least $150. It's a lack of transparency.
And then, if you end up reaching $150 and try to cash out, they'll tell you that you at least need 40 referrals and will give you the option to buy them.
The problem is that they don't let you use the $150 to buy them, you'll have to pay them with your own money to get the fake referrals.
And this is how they try to get you. After paying them, they will not send you the $150. 
What they will do is to terminate your account and won't let you access it anymore. This is what scammers do when they have what they want from you.
.
Is TeMoney.club a scam?
---
Unfortunately, TeMoney.club is a scam.
In the previous section I've explained how they try to scam people, and now I'm going to post some red flags that prove that TeMoney.club is not what its creators claim it to be.
.
No information about the people behind TeMoney.club
---
There's no way to know who's running the show. Why can't they let us know who we're dealing with?
They are supposed to have an "about us" section in the footer menu but I clicked it and got taken to their "F.A.Q." section, so there's no section about them.
I personally don't like sites whose owners don't show up because it means that they're trying to hide something.
Scammers usually hide their identities or fake them in order not to get persecuted by their victims, so it's not weird that the con artists behind TeMoney.club are doing this.
.
No way to contact the owners
---
They have a support section but there's no way to know if those comments are written by other members or by the scammers behind TeMoney.club.
I personally believe that the comments are written by the scam artists because every time I've checked out their site, there are no new comments.
Another thing I don't like is the fact that they ask you to register in order to post a comment, which means that you can't contact them without signing up.
If they really cared about us, they would provide a real email address so that we could get in touch with them and ask them questions, but they don't.
Their news section is fake
---
They have a news section but the problem is that it makes no sense.
I checked out the TeMoney.club domain information and it says it was registered on January 23rd 2018, so it makes no sense that some updates took place before it was registered, like you can see in the picture above.
Perhaps they lie about those news in order to make you believe that they've been in business longer than they've really been.
.
Lack of legal information
---
Their site doesn't have terms & conditions, a disclaimer or a privacy policy page, something that all legit companies or sites have.
This is a scam sign because this legal information is something you want to take into consideration in order to decide whether to get involved in TeMoney.club or not.
Why can't they explain what they're going to do with the information you give them? They should tell you about the security of your personal data or if they're going to share it with third parties.
And they don't even explain the terms to use their site, which means that they can terminate your account whenever they want.
.
My final thoughts
---
I don't recommend that you try out TeMoney.club because it's not going to help you make money, it will leave you frustrated and upset instead.
No one has got paid from that site but the scammers who created it. Their only goal is to get your personal information and your money, and once they have it, they don't want anything to do with you. That's why I recommend that you avoid it.
I've come across many sites like TeMoney.club, for example Thnews18, Income4Tasks and Sharesjob.
These sites claim you can make easy money just for sharing your referral link and getting others to join, when the truth is that they just want to waste your time so that they generate profits. That's completely unethical.
Truth be told, making money online is not as easy as these scam artists want you to believe. It takes real work, patience, learning, time, persistence… If it were easy and fast, then everyone would be doing this.
If you're serious about making a full-time income online and are willing to do what it takes, then I strongly believe that my top ranked digital marketing platform will help you.
This platform (very affordable, free to join) is where I got started back in 2016 and I've never looked back since. I've learned so much and have also earned money.
Inside this platform, you'll find video tutorials, step-by-step training and other useful tools like a website builder and a keyword research tool that will help you build an affiliate marketing business from scratch and take it to the next level.
In addition, you'll also be able to get support and help from other members and experts. I'll personally be there for you too =)
If you're interested in learning more (what's included, the memberships…), click the button below to read my full review now:
Looking forward to seeing you in the right track to make money online!
I hope you've found the answers you were looking for concerning TeMoney.club.
In case you have any questions or you want to share your opinion with us, don't hesitate to leave a comment below and I'll get back to you very soon.
Best wishes 🙂