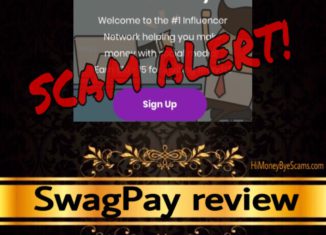 Welcome to my SwagPay review!
Are you wondering if swagpay.co is a scam? Or is it a legit website that can help you make $1,000 per day?
Before answering your questions, let me congratulate you on doing your own research!
That's the way to avoid fraudulent sites and find the genuine way to make thousands of dollars online.
Just for your information, I am not promoting SwagPay, which means that here you will not see any referral link.
Instead of that, I am about to show you how SwagPay really works and all the scam signs I have found.
SwagPay review summary
---
Name: Swag Pay
Website: swagpay.co
Owner: Hidden
Best for: The owner
Price: Free 
Recommended? No, it's a dangerous scam!
---
If you're sick of scams, check out my 1st resource to make a 4-digit monthly passive income HERE!
---
What is SwagPay supposed to be?
---
SwagPay.co is said to be an influencer website that is helping people earn money by inviting other people to sign up, and they also allow members to make money by completing some daily tasks.
They claim you get a sign up bonus of $25, but it's limited so you need to join as soon as possible.
Truth is, this sign up bonus is not limited and it's not even real because they don't allow you to withdraw that money.
Other scam websites use this "Free $25 bonus" to get you to join, but they never pay that money. So don't fall for this!
It just doesn't make sense… How can they even afford to give away $25 to every person who joins if joining is free?
Apart from that, the fact that they claim you can earn from $500 to $1000 per day is another red flag because it's not possible to make that kind of money from a GPT (Get Paid To) website.
I mean, it's possible to earn $500-$1000 per day but with other methods. Get Paid To sites that claim you can make money by inviting other people to join or completing tasks don't pay that much.
In fact, GPT sites that make the same claims as SwagPay tend to be scams.
SwagPay claims to pay members because they help increase ad revenue. But do you see any ads on the SwagPay site? I personally don't see any ads.
They make money when members complete those tasks, but they don't make as much as $30 per task, so what they claim still makes no sense.
How the SwagPay.co scam really operates
---
SwagPay does not work as advertised because it's not a website that can help you make money. The only ones who profit are the unethical marketers who are running it.
I know it's easy to get excited when you see your account balance grow and grow. Members get so excited that they don't stop promoting SwagPay. 
They share their referral links on social networks like Twitter, Facebook, YouTube and Instagram with the hope that other people will click on them and will join SwagPay.
Once they have reached a significant amount of money, they claim their payment. But the truth is that they never get paid. 
Therefore, completing tasks inside the SwagPay site or promoting it is a complete waste of time because they will never pay you.
How can SwagPay.co be a scam if it's free to join?
---
Just because a website is free to join, it doesn't mean it's legit.
SwagPay is free to join but the owners still make money at your expense.
The reason they are not asking you for money is to lead you to believe that there's no danger in trying it out.
However, it's more dangerous than it seems because they want to steal your information.
When you sign up, they collect your email address and password, which they want to use to profit as much as possible.
For example, they will sell it to other con artists who will do the same. And they will also use it to fill your inbox with spam. 
Apart from that, they want to get as much information as possible because that's how they can get as much money as possible. 
They will use your email and password to get access to your other accounts like your PayPal and take all your money. 
The more people who sign up, the more  information they get and the more money they can steal. That's why they want you to promote SwagPay and get others to sign up, they want you to work for them for free.
SwagPay is no different than other websites like CloutPay, Paid4Clout, CloutBucks, Task Walrus, MVPBucks, CashForKids, ReferralPay… 
There are too many scams like this one and they only work for the people who have created them.
When one of these scams gets exposed, scammers change its name to  mislead more and more people. They don't want potential victims to find honest reviews like this one I'm writing. 
Fake payment proofs
---
The swagpay.co site is full of payment proofs, but the problem is that they're fake.
Those payments proofs are the same I've found in other scam sites like ViralMarket and EazyDollars.
As you can see, the only difference between them is the logo:

They have the same amount, date and time. So it's clear they're fake. 
They have fabricated these payment proofs to make you believe that SwagPay is working for other people, but the truth is that they haven't paid anything to anyone.
Sick of scams? Want to make passive income every day?
Check Out My FREE Earn Money Online Guide Here!
Lack of transparency about the company
---
SwagPay claims to have been in business for more than 7 years. 
But then they claim to have been in business for less than 5 years. See the nonsense??
The truth is that SwagPay has existed for just a month! 
According to whois, the swagpay.co domain name was registered in June 23rd 2019, so it's been around for a short period of time. They're definitely not the #1 influencer network!
Other scams like this one also claim to be the top influencer network but they're not. Influencers are not using these scams to make money. 
Scammers are taking advantage of the fact that there are lots of people who want to become influencers or make money online but don't know how to get started.
Another red flag I want to mention is the fact that there's no information about the owners of SwagPay. 
I'm actually not surprised because scammers usually hide their identities. They think that nobody will catch them or sue them if they don't show up, but they can eventually get caught. 
Because of this, I cannot trust SwagPay. They want to know our information but they're not transparent about who they are, which is not fair. 
Oh, and they don't even provide us with an email address or phone number to get in touch with them, so there's no way I can trust them. 
A legitimate company would provide you with help and support, don't you agree?
SwagPay review – Is SwagPay.co a scam?
---
There's no doubt that SwagPay.co is a scam that doesn't work for members.
The owners want you to promote SwagPay for free so that they make money at your expense.
Not only that, they have a task wall full of tasks that require you to visit unsafe websites that ask you to download apps/games filled with malware. 
This kind of tasks are also about signing up for fraudulent sites or giving away your phone number & financial information. 
I definitely don't recommend that you try to complete those tasks because they will not make you any money and they will harm your device, so trying to complete their tasks can end up costing you money. 
Apart from that, when you claim your payment and they send you a payment confirmation, don't fall for it. They send payment confirmations to users to keep them promoting their scam.
When users start asking why they haven't got paid, they get no response and the scammers delete their accounts. This is when most members realize they have got ripped off. 
If you have already created an account and are promoting SwagPay, I recommend that you stop doing it because it's a waste of energy.
In case you have given them your main email address and password, I recommend that you add extra protection to your personal accounts to prevent them from stealing your hard-earned money. 
I've seen some members promote this kind of scams via YouTube or even reviews. But they never provide real proofs to back up their claims, so beware of the fake reviews!
I personally will not waste my time on SwagPay because it won't benefit me and I wouldn't like others to fall for this scam.
What you decide to do is up to you, but I cannot recommend SwagPay. 
If you're willing to take action, read this
---
There are too many scams like SwagPay, but the good news is that it's possible to generate a full-time income in a legit way.
If you've driven traffic to the SwagPay scam, you can definitely bring traffic to legitimate sites like Amazon and eBay. Sites that pay you.
There's this business model that many people are using to get paid commissions when other people purchase their recommendations.
It's a beginner-friendly business model because you don't need to create your own stuff. You will be able to choose between all kinds of products/services to profit from.
This has nothing to do with MLM, trading or spamming on social media. So don't you worry if you don't like recruiting or don't have much money to invest.
I started with no experience and I'm not good at selling. But I still managed to earn commissions on a daily basis, as you can see: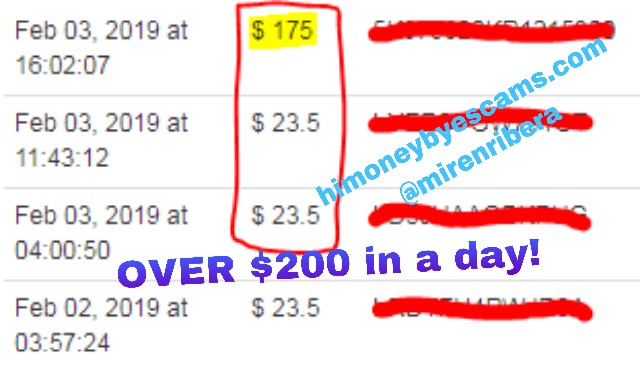 I deeply believe that if I can do this, anyone who follows a simple method can do it too. 
If you are serious about making this business work for you, I invite you to read my free guide now: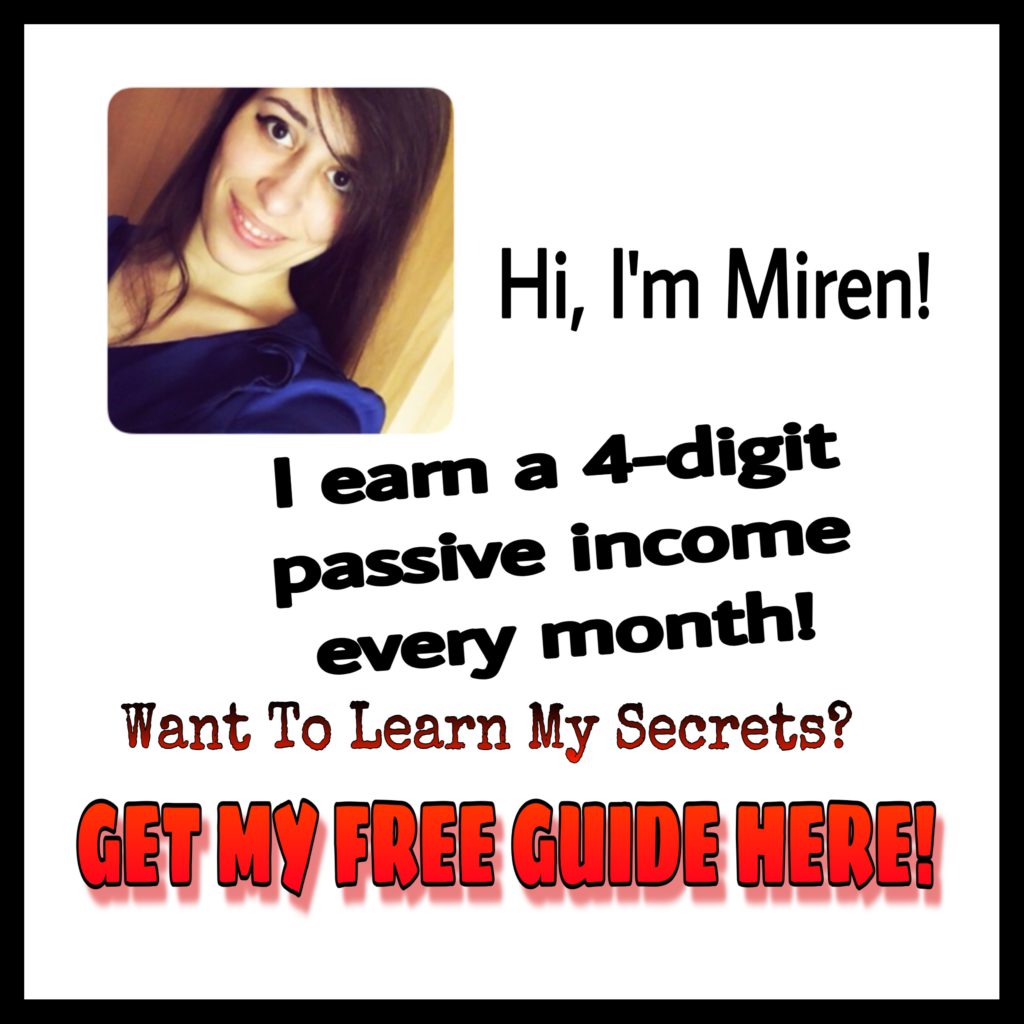 You see, my guide is FREE (no login information required, just click here to start reading it). You have nothing to lose and a lot to gain =)
Oh, and don't you worry if you ever get stuck or have questions, I'm not like those scammers because I show you who I am and I reveal how you can receive lots of support and help from me.
Stop wasting your time on data harvesting scams and start your online business today!
I'll leave this quote here:
If you want something you have never had, you must be willing to do something you have never done.
I hope this SwagPay review has been useful to you and you will make the best possible decision.
Feel free to share it with whoever you believe that will benefit from it!
If there's something else you want to know or you have any questions or would like to share your experience, please leave a comment below. I love hearing from you all!
Whatever you do next, I wish you nothing but the best =)