Welcome to my Influearn review!
Is Influearn.com a scam that doesn't work? Or will it help you profit from social media?
If that's what you have been wondering, I'm glad you have found this post because here you will find all the answers to your questions.
You know, there are too many frauds our there, so it's great that you're doing your due diligence. 
That's the way to avoid scams and find the real way to earn passive income every day!
InfluEarn sounds like an awesome site to make money online, but does it really work? Is there something they forgot to tell you?
Let's find out!
InfluEarn review summary
---
Name: InfluEarn
Website URL: influearn.com
Owner: Unknown
Launch date: May 2019
Price: Free to register
Best for: The owner
Do I recommend it? No, it's not legit!
---
If you're sick of scams, check out my 1st resource to make a 4-digit monthly passive income HERE!
---
What is InfluEarn about?
---
InfluEarn is a website that promises you can make money by getting other people to sign up and completing easy tasks.
They claim you can make from $10 to $30 per task and $20 per referral. 
It sounds amazing but also very unrealistic, since GPT sites don't pay that much. Sites that make this kind of claims end up being scams.
If you're already using social networks like Twitter, Facebook, Instagram or YouTube and have lots of followers, I'm sure it would be awesome for you to make money from it. 
I mean, if it's possible to make money just by sharing a link, why not try it? 
Most people don't think there's danger in sharing their InfluEarn referral links, but the truth is that it's more dangerous than it seems.
Apart from that, they also claim you receive $25 just by signing up, when in reality they never pay that money.
After signing up, you see $25 in your InfluEarn account, but they don't let you withdraw it.
All the stats in the InfluEarn website are fake! They haven't paid anything to their members and it's not even been a year since it was created.
As you can see, the influearn.com domain name was registered in May 2019, according to whois:
If members are not getting paid, then how does InfluEarn really work? Why is it free to join? 
How does the InfluEarn.com scam work?
---
InfluEarn doesn't work for members, it only works for the owner/s because they're the only ones who profit from it.
It works exactly the same way as other scam sites I have exposed like SwagPay, CloutPay, Paid4Clout, TaskWalrus, ViralMarket, EazyDollars, Viral Dollars… There are so many scams like this,
Many people wonder how a website like InfluEarn can be a scam if it doesn't require anyone to make a payment to join.
The thing is, signing up for InfluEarn means giving your email address and password to the people behind it. 
That's why they allow you to join for free. It's the easiest way they can get your information, which is what they need to make money at your expense. 
And then, they tell you to share your referral link because they want as many people as possible to register.
You see, the more people who sign up, the more information they collect and the more money they can make.
Once they have collected a big list, they will sell it to other unethical individuals, who will do the same. 
They will also try to access your personal accounts to steal your money. For example, they will use your email and password to see if they can access your PayPal account. 
When it comes to the tasks, I don't recommend that you do them because they are dangerous and you will not get paid. 
Where's the danger? These tasks require you to install apps, download files or sign up for fraudulent websites that ask for your phone number & financial information. 
Trying to complete those tasks means putting your identity at risk, not to mention that they can also get your device harmed.
Lack of transparency
---
The creators of InfluEarn are not transparent about who they really are.
Like I said earlier, they lie about the stats of InfluEarn, which is enough for me not to trust them. 
Because of that, I'm not surprised that they don't show any picture of themselves or mention their names. 
If they claim to have paid millions of dollars, why don't they show up? Don't you think they should feel enough confident to prove who they are?
Something that I find hilarious is the fact that InfluEarn claims to help people make money with social media but they have less than 500 followers on IG. 
Don't you think they would have more followers if it was true that there are 372,000 members on their site? Clearly, it's fake.
Apart from that, the email address they provide doesn't exist, so you will not get any support from them. 
According to this email checker, there's no mail server for support@influearn.com:
Honestly, a legitimate company wouldn't lie about this important information. They would give you a real way to get help and support from them.
Sick of scams? Want to make passive income every day?
Check Out My FREE Earn Money Online Guide Here!
The comments and testimonials are fake
---
The written testimonials we can find in the influearn.com website claim to have made thousands of dollars with InfluEarn, but the problem is that these comments are not genuine.
These comments have been written by the con artists behind InfluEarn, not real users. 
How do I know? According to one of the comments, this member Michael Cross joined InfluEarn 4 months ago, which cannot be true because InfluEarn.com was registered 2 months ago (as of this review). 
So don't take those comments seriously! No one has earned $25,000 with InfluEarn.
In addition, they have a fake testimonial on their Instagram account! 
This girl has nothing to do with InfluEarn, she's not a real member. The scammers behind this site have taken her picture from another Instagram account called myheartisgone, as you can observe below: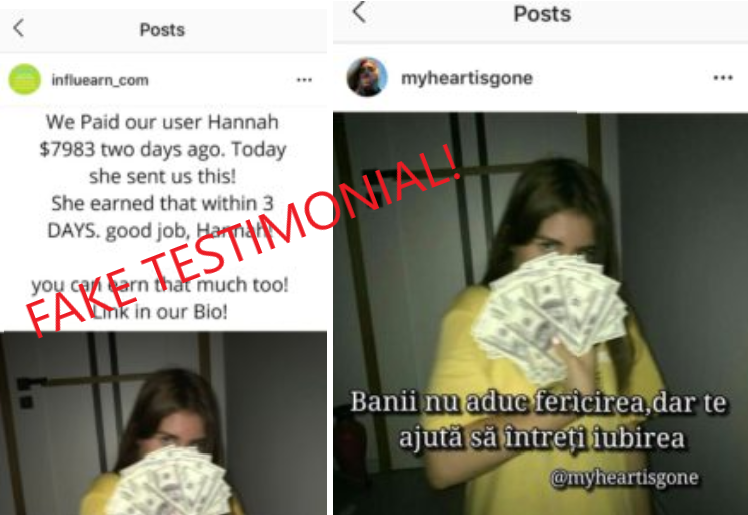 This girl hasn't earned any money with InfluEarn, so don't be fooled by their high income claims!
I personally haven't found any positive InfluEarn reviews so trust me when I say that no one has got paid. 
When a website helps a lot of people make money, people show payment proofs. This is something that we cannot find on their site or anywhere online. 
There's no proof that InfluEarn works, but there are sooo many scam signs that indicate it does not work.
Lack of legal information
---
Another reason I wouldn't get involved with InfluEarn is that it does not have any legal pages. 
All legitimate companies/websites that I know provide this type of information because it's very important.
Why don't they tell you how they will use your persona info? Will they keep it safe and private? Or will they share it with third parties?
I have reviewed lots of websites like this one and have concluded that the ones without this information end up being data harvesting scams. 
Because of that, I avoid this kind of sites. 
If they are not honest about who they really are and what they will do with our data, don't you think that giving them our information would be unfair?
InfluEarn review – Stay away from the InfluEarn.com scam
---
After everything I have explained, it's up to you whether you consider InfluEarn.com a scam or not.
Most members will consider it to be a fraud because they haven't got/will not get paid. 
The owners of InfluEarn just want to make money at other people's expenses, which is very cruel and unnecessary. 
If you have joined InfluEarn, I recommend that you don't waste time on the tasks or sharing your referral link.
Completing their tasks gets these scammers paid and sharing your referral link puts other people in a dangerous situation. 
I'm sure you don't want your friends or family members to get ripped off, right?
In case you have used your main email address or password to sign up, I suggest you to add extra security to your personal accounts. 
What you end up doing is up to you, but I highly recommend to stay away from InfluEarn.com.
Tired of scams? I have an alternative for you
---
If you're sick of scams and have been looking for a legit way to generate an income online, I believe you will like what I have to tell you.
There are so many scams out there, as you already know. But what if I told you that there are also companies that are willing to pay you? 
If you have brought traffic to the InfluEarn.com scam, I really believe you can drive traffic to companies like Amazon or eBay. 
When you help this kind of companies get customers, you get paid!
This business model is called affiliate marketing, and it's been working for decades. There are people from all over the world using it to make passive income online every single day.
I'm actually an affiliate marketer myself and I'm living proof this business works, as you can see below: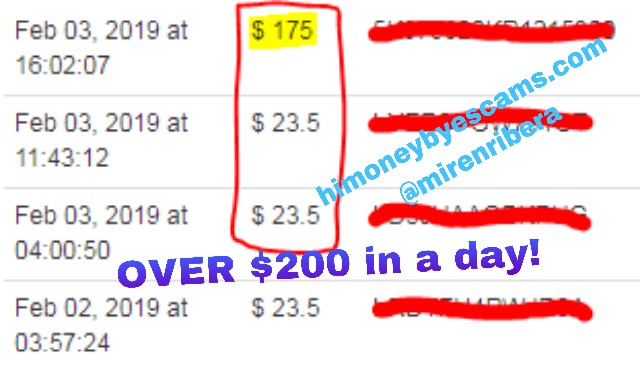 To be honest with you, I wouldn't have earned anything if I hadn't taken any action.
This is like anything worth accomplishing in life because it takes real work and commitment. 
If you dream big and are really serious about earning a full-time income online, I invite you to check out my free guide here: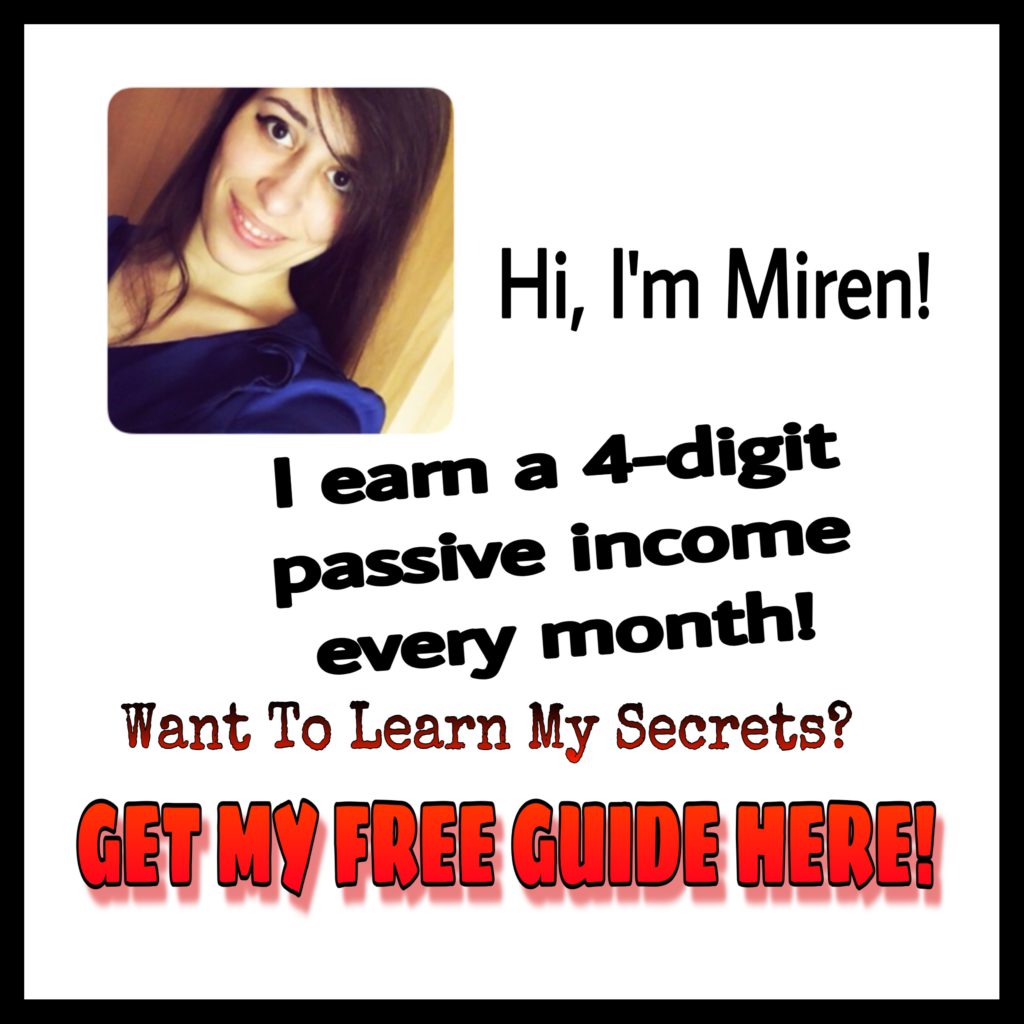 You see, my guide is FREE (no login information required, just click here to start reading it). You have nothing to lose and a lot to gain =)
Oh, and don't you worry if you ever get lost or need help, I'm not like those scammers because I show you who I am and I reveal how you can receive lots of support from a big community of affiliate marketers.
Stop wasting your time on phishing scams and start your online biz today!
I'll leave this quote here:
If you want something you have never had, you must be willing to do something you have never done.
I hope this InfluEarn review has been useful to you and you will make the best possible decision.
Feel free to share it with whoever you believe that will benefit from it!
If there's something else you want to know or you have any questions or would like to share your experience, please leave a comment below. I love hearing from you all!
Whatever you do next, I wish you nothing but the best =)