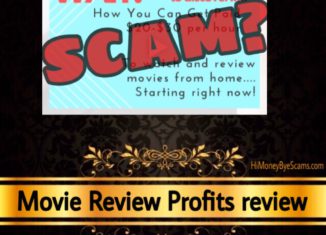 Welcome to my Movie Review Profits review!
Are you wondering if moviereviewprofits.com is a scam? Or can you really make money by reviewing movies?
If that's what you need to know, I'm happy that you have found this post because here I tell you everything you need to know about this program.
You know what? I'm glad that you are doing your due diligence because that's the way to avoid scams and find the legitimate way to profit online.
To be straightforward with you, I'm not associated with Movie Review Profits, which means that here you will see me promote it. 
Here you will find what others haven't told you yet and all the important factors to take into account before making a final decision.
Movie Review Profits review summary
---
Name: Movie Review Profits
Website: moviereviewprofits.com
Owner: "Jeff"
Price: $37 + upsells
Best for: The owner and affiliates
Recommended? No
---
If you're sick of scams, check out my 1st resource to make a 4-digit monthly passive income HERE!
---
What is Movie Review Profits review about?
---
Movie Review Profits is a program that is said to help you make money by reviewing movies.
They claim you can get paid $20-$30 per hour, which I believe it's kind of unrealistic.
I mean, it's possible to make that kind of money online, but not by reviewing movies.
The spokesman, "Jeff", claims many people are making lots of money with this, but he doesn't provide any proof.
He makes it sound as if watching and reviewing movies was very easy and anyone could do it. 
It sounds great because most people (not to say all) like watching movies, so wouldn't it be amazing to get paid for our opinion? 
It's an attractive idea but the truth is that getting reviews jobs is not that easy because there's a lot of competition. This is not easier than getting other online jobs.
If it was that easy, then anyone would be doing this. Lots of people would quit jobs they hate and watch movies all day to review them and get paid, don't you agree?
The Movie Review Profits sales video is full of hype and the spokesman literally tells you what you would like to hear.
This is similar to other products like Paid Social Media Jobs and Take Surveys For Cash. 
Both products don't provide any jobs or program to make money directly. They give you lists of sites that you need to join or buy to get access to online jobs or training. 
The spokesman is not honest because the sales page will not go down. There are no limits when it comes to the amount of spots or people who can purchase this product. 
How do I know? Well, it's being promoted through spam emails or false advertising, which means that they're trying to get the program in front of as many people as possible. 
You see, the main goal of the owner is to make as much money as possible so a payment will never get refused. 
Once inside the Movie Review Profits members area, users realize that it's different than what they had been told outside.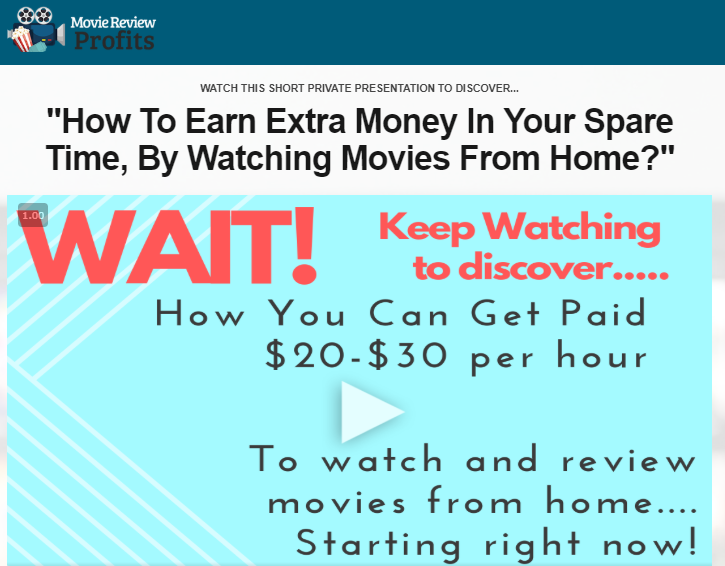 How Movie Review Profits really works
---
Movie Review Profits does not work like the spokesman claims because this is not an opportunity to make from $20 to $30 per hour. 
First of all, there's a limit when it comes to the amount of movies you can watch every day, which means that there's a limit when it comes to the amount of movies you can review per day. 
In order to make from $20 to $30 per hour, you would have to write more than 1 review per hour because each review you write will earn you way less than $20. 
Apart from that, you cannot write a review every single hour because each movie tends to last more than an hour. 
And that's not all. You need to provide a helpful and useful review. You cannot expect to get paid if your review is only a few words long because short review is something most people can do, so you need to provide a unique, original review. 
If you buy Movie Review Profits, you will  find some information about two different methods of making money online.
One of them is about the websites that pay you to review movies and videos. They don't allow you to review the movies/videos you want so you may get bored if they tell you to review something you don't like. 
The other part of the training provided is about building a website where you can review anything you want. This method definitely has a bigger income potential than reviewing movies, but it's not easy or fast.
The problem I see with their training is that it's not in-depth or up to date. It's quite basic and generic, which means that you can find this information for a very low price or even free online.
It's not the kind of training that can help you make the amount of money they talk about. They don't provide any tools like a keyword research tool or website hosting, which are a must if you want to build a profitable website.
I personally don't like products like this that contain information about different ways to make money online but are not comprehensive or thorough enough.
Sick of scams? Want to make passive income every day?
Check Out My FREE Earn Money Online Guide Here!
Does it only cost $37?
---
The Movie Review Profits sales page makes this money-making opportunity sound as if it was possible to make $20-$30 per hour by only spending $37.
However, reviewing movies is not enough to earn $20-$30 per hour, as I've explained before. 
Having a money-making website makes it possible to earn that money, but it costs way more than $37 because building a website requires you to invest in other tools like website hosting or a keyword tool. 
Not only that, they will try to get you to spend more than $37. There are some hidden costs that the sales presentation doesn't tell you about, like a monthly fee of $17.
I personally don't like products whose owners are not transparent about the cost because knowing the cost is important before making a decision.
The country exclusivity is fake
---
One of the fake claims they make is that you qualify for a discount because you're from "your country".
For example, in my case it says that I qualify for a discount because I'm from Spain, but this is not true because the country you're from doesn't matter. The cost is the same for everyone so don't fall for this kind of trick.
I remember coming across other scammy sales pages that make this kind of claims just to make you feel special and lucky. They want you to believe this product is so valuable to get you to purchase it.

No information about the owner
---
The spokesman claims to be named Jeff, but he doesn't tell us his last name and he doesn't even show up.
He tells us about his life and he also tells us a story about someone who's making a lot of money by reviewing movies, but he doesn't provide any real proof to back up his claims.
I have reviewed hundreds of programs like this one and many of them have pen names, so I wouldn't be surprised if Jeff wasn't the name of the real owner.
Anyway, I cannot trust a program whose owner is not transparent about his/her identity. They don't even tell us how we can get in touch with them, which is another red flag.
I mean, when someone is really interested in helping you, he/she gives you real contact information, don't you agree?
Hidden privacy policy
---
Another red flag I've found is that they hide their privacy policy page. 
There's no menu where we can find the link to access their privacy policy.
This is a red flag because hiding this kind of information is not good. Before asking you for your email or name, they should be straightforward about the way they use your personal information.
Apart from that, they don't provide any disclaimer or terms & conditions page, which is another red flag because these are two important pages that legitimate companies provide.
Movie

 

Review

 

Profits

 

review

 – Scam?
---
Is Movie Review Profits a scam? If you still have this question, the answer is that it depends on how you define a scam.
If you define a scam as something that takes your money for nothing, then this product wouldn't be a scam because you get some training for your money.
But if you define a scam by taking into consideration how something is being advertised, then you would call Movie Review Profits a scam because the sales presentation is misleading and lacks important information.
If you want to make money by reviewing movies, I don't believe you need Movie Review Profits because you can find a list of websites that pay you to write for free online, and you don't need to pay to apply for an online job.
In case you want to make money with your own website, you will need some tools not provided by this program.
In my opinion, Movie Review Profits is not a total scam because it's being sold through ClickBank, which means that you can get a refund.
What you decide to do is up to you, but I will not be recommending Movie Review Profits.
Writing for yourself can make you more money
---
If you like writing about a specific topic, it's best that you write about it on your own website.
When you write on your own website, you can make more money than when you write for someone else.
An article or review that you write can make you money multiple times. Isn't it cool? 
For example, your articles can recommend products or services that are relevant to your readers. So if your recommended product/service gets bought by multiple people, you can make a lot of money from your articles.
I'm living proof that doing this works, as you can see here: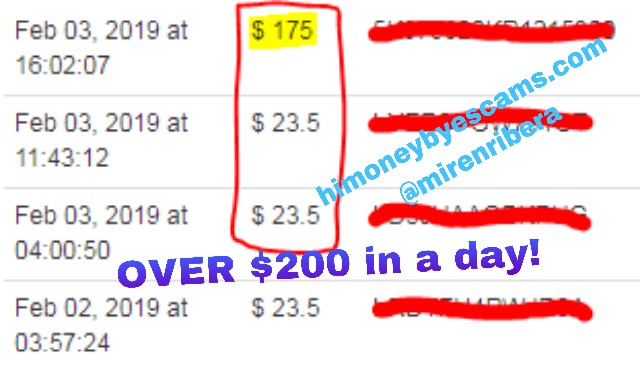 I believe anyone who is willing to learn and take action can do this. I didn't have any special skills when I was starting out and English is not even my native language. 
To be honest with you, making money with your own website takes effort and time, so this is not for people who need money fast.
If you're committed to doing what it takes, I encourage you to read my free guide here: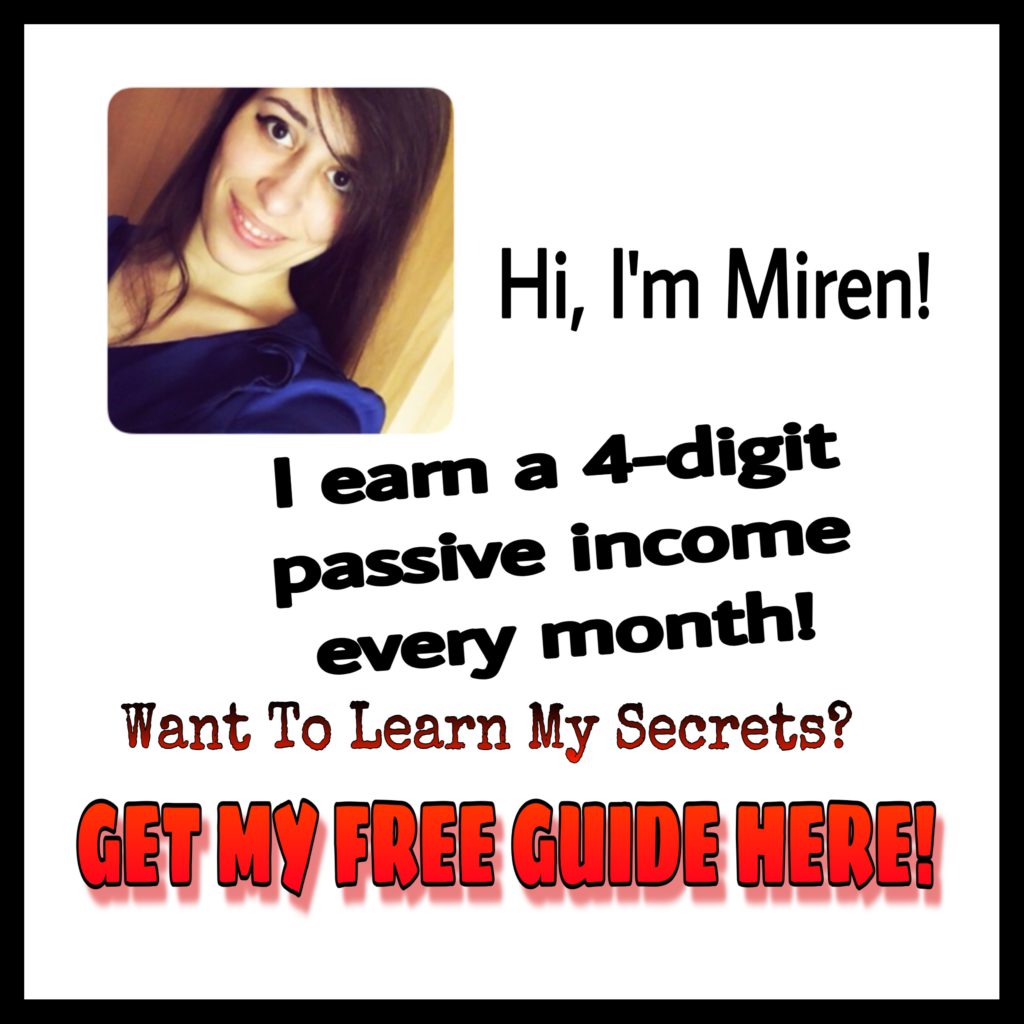 My guide is FREE (no login information required, just click here to start reading it), which means that you have nothing to lose and a lot to gain =)
Oh, and don't you worry if you ever get lost or need help, I'm not like those scammers because I show you who I am and in my guide I reveal how you can receive lots of support from a big platform of like-minded people.
Stop wasting your time on low-quality products and start your money-making website today!
I'll leave this quote here:
If you want something you have never had, you must be willing to do something you have never done.
I hope this Movie Review Profits review has been useful to you and you will make the best possible decision.
Feel free to share it with whoever you believe that will benefit from it!
If there's something else you want to know or you have any questions or would like to share your experience, please leave a comment below. I love hearing from you all!
Whatever you do next, I wish you nothing but the best =)