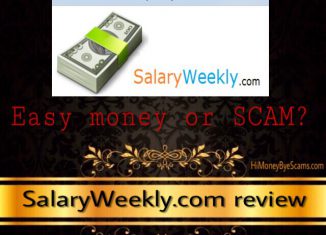 Hey guys!
I recently stumbled upon a site called SalaryWeekly.com and was wondering whether this one would be the real deal or just another online scam site that would go to the blacklisted list.
If you're also wondering whether you should give SalaryWeekly.com a try or avoid it, make sure you read this review to find out the truth.
.
SalaryWeekly.com review
---
Name: SalaryWeekly.com
Website URL: SalaryWeekly.com
Creator: unknown
Price: free
Created in: June 2017
Overall Rating: 5/100
.
---
If you're sick of scams, check out my 1st resource to make money online here!
---
.
What is SalaryWeekly.com about?
---
According to the information of the homepage of SalaryWeekly.com, you can easily make from $50 to $100 per day.
You'll only have to complete a small task that will take you 30 seconds and then you'll earn $10.
They are supposed to help the world's leading earners & professionals collect better data via an interactive & smart source of earning money by completing simple tasks. 
When I read that I thought that this would be about doing tasks like taking surveys or filling some kind of forms. But which task could make you $10 in 30 seconds? To be honest, I consider that making $10 within 30 seconds is too much just for doing a small task.
Even though I was curious to know what this amazing task is about, I didn't sign up with my details because I noticed a lack of important information in the SalaryWeekly.com homepage.
.
What's inside SalaryWeekly.com?
---
They ask for your email, a username, a password, your address and your name in order to join. But when I didn't give an address or a name and still got access to the account area.
The fact that they claim you can make $1200 today is a big red flag. This amazing task that is said to make you $10 within 30 seconds consists of sharing your referral link wherever you want.
You can post it on Facebook, Twitter, forums, blogs, private messages… and then you'll earn $10 for each person that visits the SalaryWeekly.com site through your affiliate link.
Below there's an example of this link:
So if I share the link above I would get $10 for each person that clicks it and visits the SalaryWeekly.com site, right? Wrong.
After taking a closer look at SalaryWeekly.com, I realized I would do more harm than good if I shared that link, so I'm not going to share it. 
After all, you and I won't get paid just for bringing traffic to the SalaryWeekly.com site. I know that site is a time waster so I won't bother spending time on trying to get others to join it.
.
Can SalaryWeekly.com make you money?
---
I hate to be the bearer of bad news, but SalaryWeekly.com won't make you any money. 
After you reach the minimum withdrawal amount of $300 and try to cash out, you'll be asked to complete a fake captcha test, which is merely a list of offers and sites.
If you click one of those offers, you'll be taken to another site where you'll have to fill in forms, take surveys or even join sites that require you to make some kind of payment.
These offers are very time consuming and never end! 
If you're wondering why they want you to complete those offers or sign up to other sites, the answer is that they're affiliated with those sites, which means that they'll get paid when you take some kind of action or make a payment. This is one of the ways they try to make money at your expense!
This wouldn't be a problem if they let you know about it in their site, but they say nothing about these offers so I consider this to be pretty unethical.
Another way they'll get paid is by selling your personal information to other scam artists. That's why they want you to get other people to join that site! They want to get as many personal details as possible. 
If you give them your personal information, you can expect to receive unwanted emails related to other scam sites or programs.
.
Is SalaryWeekly.com a scam?
---
SalaryWeekly.com is a scam that we need to stay away from.
I've explained how it works and how these scam artists will try to earn money at your expense, and now I'm going to post other red flags that expose that site as the hoax it is.
.
No information about the owners
---
There's no information about who's running the show. Whenever I come across a site or a program, I want to know who's behind it in order to determine whether I can trust them or not. 
I personally don't rely on sites whose creators don't show up. The fact that they hide is a red flag as it indicates a lack of transparency.
.
What advertisers are they talking about?
---
They claim that they're paying you in order to bring traffic to advertisers sites, but the problem here is that the SalaryWeekly.com site has no ads or products so it wouldn't make sense that they paid you $10 for each visitor as they're not offering anything, what means that they're not getting paid like they claim.
My guess is that the advertisers they mention are the scam sites they'll try to get you into when you claim your payment. 
.
They lie about the payment method
---
They claim they make payments via PayPal, Western Union and bank transfer.
But then after joining you can see the withdrawal type a.k.a. the payment method is check, and they don't let you change it.
Why can't they be honest about the way they're going to pay you? I guess claiming they'll pay you by check makes it easier for them to make excuses as to why you haven't got paid.
.
No privacy policy or terms & conditions page
---
Another red flag is the fact that they have no terms & conditions or privacy policy page.
Those pages contain important information like how they're going to use your information and the fact that they don't address it is another indication of lack of clarity.
Note that all reputable & legitimate companies have at least one of those important pages.
.
Lack of support
---
I checked out their support page to see whether it was possible to contact them but it was not found.

This is another scam sign because this means that they don't want you to get in touch with them. They don't want to hear about you and they don't care if you have any questions or issues. 
This clearly indicates that their intentions towards you are not good. 
.
My closing thoughts and suggestion
---
I believe SalaryWeekly.com is not worth our time or money so my advice for you is that you avoid it at all costs. It's no different from other sites like DollarTable.online or Bitcoin4Job.
They lie about their real purpose, they lie about the testimonial (yes, the testimony is fake too), they also lie about the money they've paid to members as they haven't paid anybody… There's no way I can recommend a site like that.
These sites and systems that claim you can make easy and fast money are only designed to generate profits for the people who have created them so I recommend that you stay away from them.
Making money online is like making money offline, without putting in the effort and time you won't earn a single penny.
If you're willing to do what it takes to earn a full-time income online, then I believe that my top ranked digital marketing platform will benefit you.
This platform offers courses, step-by-step training and other useful tools that will guide you through the process of building an online business based on what you love.
Furthermore, you can count on me and other bloggers for help and support. It's great the fact that you can rest assured knowing that you're not alone in this!
I also love that this platform lets you join for free so you can check it out and see if you like it without spending a penny.
If you'd like to learn more, click the button below now:
It's your time to say bye to online scams and get on the right track to success!
I hope this review has answered the questions you had concerning SalaryWeekly.com.
In case you have any questions or opinions, don't hesitate to leave a comment below. I always reply to my readers! 🙂 
Cheers =)