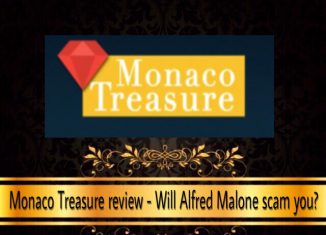 Welcome to my Monaco Treasure review!
Today I stumbled upon a website called Monaco Treasure and I read "last week 82 people went from rags to riches", so the first thing that came to mind was "is it legit or just another scam?".
In this review I'm going to explain what Monaco Treasure is about, how it works and most importantly, whether it can benefit you or not.
.
Monaco Treasure review
---
Name: Monaco Treasure
Websites:
www.monacotreasure.co

www.monaco-treasure.co

www.monacotreasure.com

www.monaco-treasure.com

www.monaco-treasure.net
Founder: "Alfred Malone"
Created in: 2017
Price: "Free"
Overall Ranking: 0/10
.
---
If you're sick of scams, check out my 1st resource to make money online here!
---
.
What is Monaco Treasure about?
---
Monaco Treasure is supposed to be a fully automated binary options software used by investment bankers, actors, politicians and ordinary folks. Alfred Malone defines it as an AI (artificial intelligence) software that allows people to enter and exit trades without leaving room for losses, since it supposedly has a 94.6% winning rate.
He claims that he's received hundreds of emails and thank you letters from Monaco Treasure members, since that software has apparently changed a lot of people's lives for the better.
If you watch the sales video, you'll see how Jessica and Steve talk about their experience with Monaco Treasure, claiming to make more than $7,000 a week!
To be honest, I couldn't help but laugh while watching the video because I don't believe in such claims, I've seen and heard this kind of stuff in other frauds like 1K Daily Profit or Dubai Lifestyle App.
.
Is Monaco Treasure a scam? Know the truth!
---
Monaco Treasure is a scam, that's the conclusion I've come to after watching the videos (the main video and the video you can watch after entering an email address), taking a look at the website and doing a little bit of research.
In this section I'll provide enough proofs that expose Monaco Treasure as the hoax it is.
.
Red flag 1 – Alfred Malone doesn't exist
---
The narrator of the video claims to be Alfred Malone, an ex-investment banker. 
The thing is, people who've made the main video only show a picture of the so-called Alfred Malone, he doesn't appear talking and they don't even provide any contact information.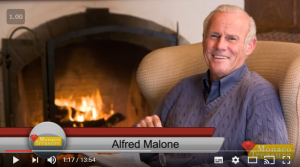 Therefore, I did a Google search to see if that picture could be found in another website. I ended up finding this picture in Shutterstock, as you can see below: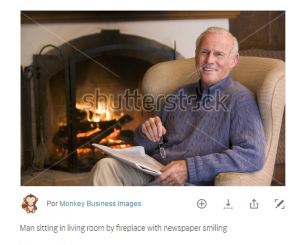 The picture above shows that the real creators of Monaco Treasure (a.k.a the scammers) purchased that picture on a stock imagery site like Shutterstock.com. 
So the question is, would you trust a software whose creators lie about its founder and don't even reveal their real identity? I obviously would not.
.
Red flag 2 – Fake testimonials
---
Jessica and Steve claim to be making huge amounts of money thanks to Monaco Treasure, but the truth is that they're nothing more than two paid actors who can be found on Fiverr.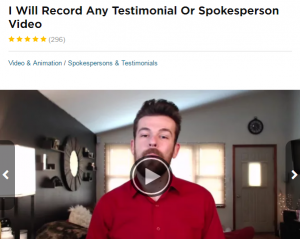 Those Fiverr actors sell their services for low prices like $5, so scammers hire them to have positive comments about their crap. The truth is that these actors haven't tried Monaco Treasure so both opinions are fake. I remember that this actor also recorded a video testimonial for the Bahama Banker scam.
.
Other scam factors
---
The main page and video present other stuff very common in scams like the following:
Annoying pop-up

. Whenever you're about to exit the Monaco Treasure website, you'll see this pop-up appear. This is used to make you join before leaving the scam page. If you enter your email, you can expect these scam artists to send you spam messages or even sell your information to other fraudsters.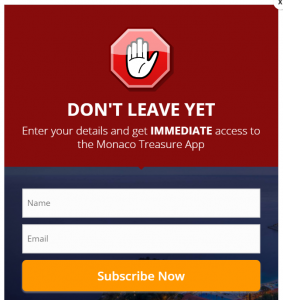 The hype. Don't get me wrong, not everybody who shows you a picture of expensive or luxurious stuff is a scammer, but scam artists always do that. They show you these kind of pictures to get you excited and make you think that you'll be able to have it as long as you do what they say.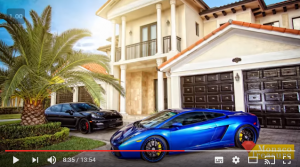 They lie and play with your feelings. They lied about the price because they first say that the software is absolutely free but then (after you enter an email) they claim that you need to invest at least $250 to get started. They try to convince you to register as soon as possible by stating that you'll lose that opportunity if you're not one of the first 500 who joins.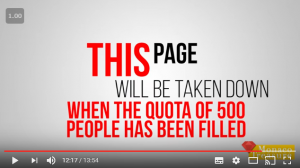 Get-rich-quick scheme

. Con artists will usually claim that making money online is fast and easy, since they want to take advantage of the completely desperate and inexperienced. The truth is, you'll need to work very hard put in a lot of effort before earning money online. 
.
How does Monaco Treasure work?
---
After reaching the conclusion that Monaco Treasure is a scam, I can confidently say that this software only works well for the people who've created it. 
First of all, they'll ask you to provide an email account, your name, a password and your phone number.
After that, you'll be redirected to a broker and will be asked to make a deposit of at least $250 (the broker's minimum requirement). The second you make that investment, you've already lost your money. You'll start seeing how the software starts trading automatically but will lose the trades instead of winning. 
Why? Because that software is designed to steal your money. Everyone behind Monaco Treasure will receive vast commissions and you'll be the only one who'll lose. They won't even let you transfer your money to your bank account.
If you contact them to get your money back, they won't reply and if they do, it will be to incite you to invest more instead. Scammers have no limits when it comes to the amount of money and information they can steal.
.
My closing thoughts 
---
I believe I've provided enough proofs and information to expose Monaco Treasure as the scam it is. This fraud is no different from other binary options scam softwares like Guaranteed Money System or Freedom Circle.
Everything about it it's fabricated and created to make the scammers rich. Their main goal is to steal as much money as possible without any kind of remorse or regret.
Earning money online is possible, but it's not quick or easy like those fraudsters claim it to be. They're the ones who want to get rich quick at your expense.
If you dream big like me and are committed to building an online business or generating an online income, then I suggest that you check out Wealthy Affiliate. 
WA it's a digital marketing platform where you'll learn how things are really done in the online world. You'll learn about SEO, PPC, video marketing, social media marketing, ways to monetize a blog… You'll also meet like-minded folks (myself included :-)) who will help and support you along the way. 🙂 

.
I hope this review has been helpful to you and you never fall for these ugly scams. Please feel free to share it on social media so more people get to know about this scam and avoid it.
If you have any questions or opinions related to Monaco Treasure or Wealthy Affiliate, don't hesitate to leave a comment below and I'll reply ASAP. 
Thanks for dropping by!