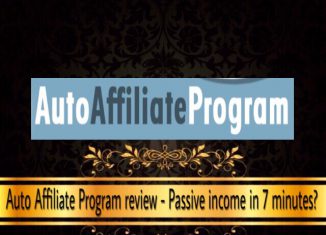 Hey there!
I recently came across a product called Auto Affiliate Program, so I was curious to know what it's all about and inform my readers about it. 
In this review I'll be explaining what's exactly Auto Affiliate Program, what it's included within it and whether it can make you money or not.
.
Auto Affiliate Program review
---
Name: Auto Affiliate Program
Website: www.autoaffiliateprogram.com
Founder: Steven Hall
Created in: 2011
Price: $47 per month
Overall Ranking: 38/100
.
---
If you're sick of scams, check out my 1st resource to make money online here!
---
.
What is Auto Affiliate Program?
---
When I first stumbled upon the sales page, I read "unlimited passive income streams in just 7 minutes!", so "scam" was the first word that came to my mind because scam artists are always the ones who promise that you'll make a lot of money fast and with no effort. 
If you take a look at the Auto Affiliate Program sales page, you'll see these questions being asked to you: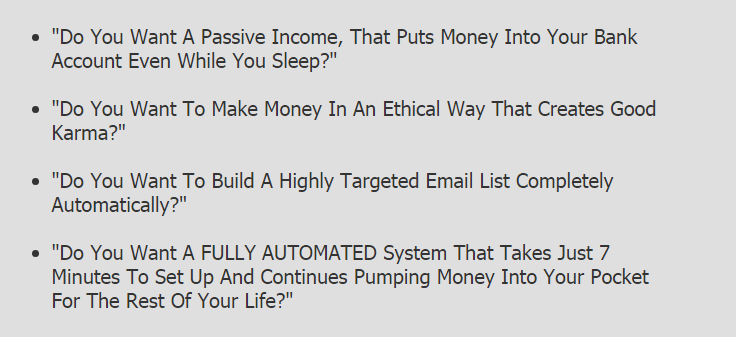 I think those questions are fine but I don't really like the last one, it's quite hyped up in my opinion. It's not possible to make money online in a short amount of time like 7 minutes, especially if you're a newbie with no previous experience.
I guess Steven ask that kind of question because he knows that many people are desperate to make easy money fast. That's something scammers usually take advantage of.
Ok, but what's Auto Affiliate Program about? It consists in giving away ebooks for free that have an affiliate link placed within them, so you can earn commissions each time someone buys something through your affiliate link. 
Everybody loves free stuff so it shouldn't be hard to get them to download a free ebook, don't you think?
.
What does Auto Affiliate Program include?
---
Steven claims that he provides everything you need to make this system work as soon as it's set up.
Done-for-you website (like the one below) that contains ebooks about various topics.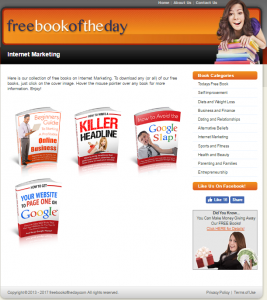 The free ebooks already have affiliate links (supposed to never expire) that link to Clickbank products.
"Set and forget" system that automatically promotes the ebooks to your Twitter followers and your Facebook friends.
Opportunity to build an email list – Steven and his team will provide you with email templates and affiliate products you can promote to your prospects.
Chance to promote the Auto Affiliate Program. You'll also get an affiliate link to promote this program.
As you see, they do a lot of work for you: they design the ebooks covers, they provide the ebooks for you, they store all the ebooks in the website they've created for you, they promote the ebooks… and you don't even have to think about what to write to your email subscribers.
 .
What I like & don't like about Auto Affiliate Program
---
I admit that this program seems good but hasn't convinced me 100%.
Yes, Steven and his team do a lot of work for you as I've explained before.
However, I also see some red flags I'm going to talk about in this section.
.
What I like 🙂
---
They do a lot of work for you so you'll save a lot of time.
The system can work on any electronic device.
I like the idea of giving away free ebooks and promoting affiliate offers within them.
The affiliate links never expire. The affiliate link links to another product within the same niche if a product goes out of stock.
There are books in various niches so there's always someone who might be interested in at least one book.
.
What I don't like 🙁 
---
You can't try it for free. They don't give you the option to try it without first paying for it, you'll need to pay $47 per month to take part of this program. 
The sales page has that scam vibe. 
You can't choose the products you want to sell. Every ebook comes with an affiliate link placed within it that leads to a product chosen by Steven and his team.
Clickbank products don't have a good reputation. There are a lot of poor quality products on Clickbank and they don't let you change those products for others of a higher quality.
The done-for-you website will not rank in the search engines. Google doesn't like sites with duplicated content so it will have a poor rank, which it won't be good for your business because it won't help you get visitors.
You have no power. You're 100% dependent on Auto Affiliate Program because if this program doesn't work or you leave it, your business will stop.
Not everybody who downloads an ebook will read it. Most people who download ebooks never read them, so it won't be easy to make sales if not many people read the ebooks.
You'll have a hard time driving traffic. If you're a beginner, you'll spend a lot of time learning how to get targeted traffic to your offers and if you pay for ads, you may end up spending lots of money before making any sale. 
Too hyped-up phrases very common in scam websites. "Everything is 100% automated", "This unique feature has never been seen before", "Unlimited passive income streams in just 7 minutes!"
The member reviews don't seem real. I clicked the links to check their websites but one of them doesn't exist and the other one leads you to a "freebookoftheday" website. They don't provide any other way to contact the members. Honestly, they seem to be made up to me.
The fake scarcity tactic. Steven claims that his system won't be available if you come back later but I don't think it's true because I visited that page last week and nothing has changed since then. Fraudsters and unethical sellers usually say this kind of stuff to make you feel pressured to purchase or join their program.

.
Is Auto Affiliate Program a scam?
---
I won't call Auto Affiliate Program a scam but it's not a good product because it doesn't live up to its promises. I won't be recommending it because it has more red flags than good points, as I've explained previously.
What I like the least about it it's the fact that it doesn't give you the option to choose the products you want to promote. I personally can say that I wouldn't feel good trying to sell something like a Clickbank product that I don't know whether it works or not.
I don't even think it's a good idea to put all your eggs in one basket, and that's what you'll be doing if you join this program and only rely on it to make money.
Done-for-you stuff and systems sound very appealing at first but they're not in the long run, since you'll be left with nothing if the system gets shut down or disappears. 
If you're looking to generate a long-term income and don't know where to start, then I suggest that you give Wealthy Affiliate a try.
WA it's an online business platform where you'll learn to build a business that you own and have full control over. You'll learn to build websites, SEO, PPC, social media marketing, video marketing…

You'll also receive help and support from me and other members so you never feel you're alone in your journey. 🙂 
I hope this review has been helpful to you. If you have any questions or opinions about Auto Affiliate Program, online scams or Wealthy Affiliate, feel free to leave a comment below so I can connect with you. Thanks for dropping by!
All the best! 🙂