Hi everybody!
I recently stumbled upon a new product called 10X Commissions so I did a research to know what it's all about. 
In this review I'll cover what's 10X Commissions, what you'll get if you purchase it and if it really can benefit you or not.
.
10X Commissions review
---
Name: 10X Commissions
Website: https://10xcommissions.com/live12971702
Creator: Brendan Mace
Created in: 2017
Price: $13.70 + upsells
Overall Ranking: 41/100
.
---
 If you're sick of scams, check out my 1st resource to make money online here!
---
.
What is 10X Commissions about?
---
10X Commissions is Bredan Mace's newest product (yes, he has other similar products to this one) that was released last month. 
He says that he's just a regular guy from a small town of Canada who desired to live life on his own terms and travel the world.
He claims to have wasted his time and money on the "dark lords of BS" systems (a.k.a. scams) but didn't give up and finally found how to get massive free traffic, which has supposedly allowed him to make $1000 per month and double and triple it the times he wanted.
He's apparently created the 10X Commissions system to teach people (especially newbies and folks struggling to earn money online) how they can make $1000 in less than 30 days and eventually turn it into $10,000 per month in their spare time.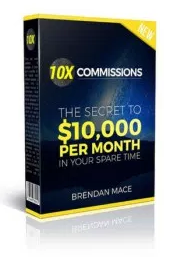 .
 

What does 10X Commissions include?
---
If you purchase 10X Commissions, you'll apparently receive and learn the following stuff:
A cheat sheet called "Unlocking the money making force". It's supposed to show you how to make a thousand dollars online within 30 days or less using free traffic.
A step-by-step video training. Brendan claims that he'll show you everything you need to start making money and go from a newbie to generating $10,000 in 90 days or less.
The simple method Brendan uses to get paid to build his list.
Additional traffic methods that take minutes to set-up.
A tactic Brendan has used to double his income with strategic affiliate promotions.
How to earn $1000 or more a day without a product creation or a list.
4 bonuses. How Brendan made $753.18 with one simple video, zero hour work days, private Facebook mastermind group, free training webinar.
This costs $13.70, which is affordable. However, if you purchase 10X Commissions, Brendan will offer additional products (upsells and downsells) at higher prices and you can also become an affiliate and earn commissions for each sale you make.
Upsell #1 ($19.95 per month). Subscription to learn how to make your own product.
Upsell #2 ($47). 10X money page.
Upsell #3 ($97). 10X license rights.
Upsell #4 ($997). Coaching program with Brendan.
.
Pros & Cons 
---
Some stuff looks ok to me but there's also some some things that I don't really like because I don't find anything genuine about it.
.
The cool 🙂 
---
The price is affordable for everybody.
The chance to earn up to 100% affiliate commissions.
The option to get a refund (30 day money-back guarantee).
You can contact Brendan via email, Skype and Facebook.
 .
The ugly 🙁 
---
Brendan doesn't reveal the information about the upsells and downsells in the 10X Commissions main page. I believe this kind of information is important and should be covered in the main website because nobody likes to be presented with unexpected costs or fees.
The hype. He claims that you can reach the 10K per month mark in less than 90 days and that it won't require you to spend a lot of time, what I think it's an exaggerated claim, considerating that nothing that good has ever come easily or fast.
He shows a lot of snapshots of his earnings and his lifestyle. I think it's ok to show a couple of pictures of the money he makes and the kind of life he lives, but I find it's quite annoying that he shows too many of them, since that's something scam artists usually do.
Fake footer menu. I scrolled down the 10X Commissions main website and saw a footer menu, so I clicked "earnings disclaimer", "privacy policy" & "terms & conditions" but I was taken to the top of the main page instead of the respective pages for terms & conditions etc, which proves that the footer menu is fake.
The fake scarcity method. Looks familiar? I bet, this is very common in scammy stuff. They claim that there are not many spots/copies left and that there's not much time left to join. Don't get me wrong, in some cases it may be true but I know it's not in this case, since I've kept refreshing the page and the same appears again and again lol.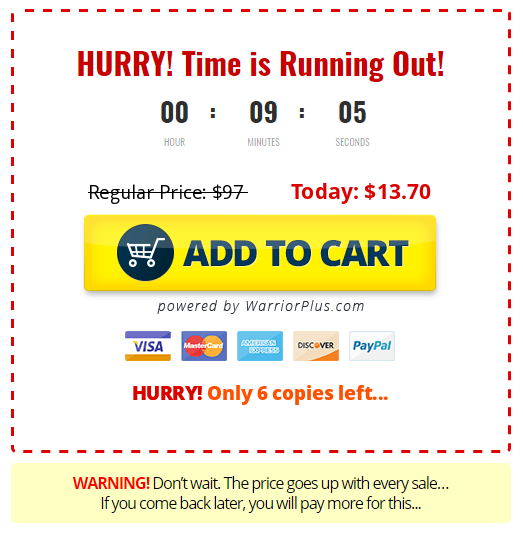 .
Is 10X Commissions a scam?
---
10X Commissions is not a fraud (even though the sales page has that scam vibe) like 1K Daily Profit or Dubai Lifestyle App, it's an ok product to me. Brendan Mace is a real person instead of a made up character.
You can purchase it and give it a try, and ask for a refund in case you end up not liking it.
Another thing I don't like is the fact that Brendan has released other products similar to 10X Commissions, like why not just focus on one product and try to improve it?
The fact that the 10X Commissions sales page presents some factors common in scams and that hides important information like the upsells and downsells makes me believe that it's not a high quality product and doesn't live up to its promises, so I won't be recommending it.
If you're a newbie and don't know how to get started in the online business world, I suggest that you give Wealthy Affiliate a try. I've been in that platform for a year now and can say that it's a great place to start building your own business based on your passions and learn how things are really done.
You won't only get a step-by-step training and tutorials if you join WA, you'll also get help and support from other members and even the owners, and sooo much more! 🙂 

.
I hope you've found this review useful. If you have any questions or opinions related to 10X Commissions, online scams or Wealthy Affiliate, please leave a comment below so I can help you out or connect with you. Thanks for reading!
Best wishes 🙂